Shark Week 2023: Dates, Times, and History
The Discovery Channel has been holding "Shark Week" in July or August every year since 1988. Shark Week 2023 is airing from July 23 until July 30. This event on Discovery Channel includes documentaries, miniseries, and reruns of Discovery Channel shows pertaining to sharks! Fans of the annual event start prepping for it long in advance to make sure they have all the time in the world to celebrate their favorite animals. So, here's everything you need to know about Shark Week 2023.
What Is Shark Week? The History of Shark Week
Legend has it that Shark Week dates back to a 1980s cocktail napkin. Supposedly, execs from the then-new Discovery Channel discussed new events to add to the channel's lineup when someone suggested Shark Week. Another exec took it to heart and scrawled it down on the closest scrap of paper they could find, a napkin.
The Jaws Effect
However, the cocktail napkin is not the true origin of Shark Week. Instead, Shark Week's source was the 1975 film Jaws. The release of Jaws resulted in what would later become known as the Jaws Effect. The release of Jaws increased public awareness of sharks. It resulted in a mass panic about man-eating sharks — something that doesn't actually exist in real life. To quell public fears, fishermen and other seafaring organizations began exterminating sharks.
As a result of the Jaws Effect, there was a push for a campaign of public interest in real information about sharks to help preserve the remaining shark populations. Thus, Shark Week and its subsequent mini-event, Shweekend, were born.
Shark Week later launched in 1988 to raucous success. The launch of the Discovery Channel event led to a reignition of America's interest in sharks, not seen since the initial release of the iconic Jaws film. However, the most significant difference between Shark Week and Jaws was that Shark Week focused more on the facts and teaching actual knowledge about sharks. Conversely, Jaws was a sensational movie that didn't present any meaningful information and just stoked the flames of fear.
Since its initial release, Shark Week has gained popularity and added more events and hosts to its repertoire to help entertain and educate people about these gorgeous ocean predators. The first guest host to appear on Shark Week was Peter Benchley, the author of the Jaws novel. Since then, the popularity of Shark Week has grown, and household names appear as hosts, such as Shaquille O'Neal, Mike Rowe, and Craig Ferguson.
Megalodon: The Monster Shark Lives
The event also came under fire in 2013 for releasing a mockumentary called Megalodon: The Monster Shark Lives. Scientific bodies criticized Discovery Channel for airing the mockumentary stating that they felt that it would have a similar effect on the public to Jaws and that the event should be focused on real-life factual information rather than sensationalist misinformation.
Megalodon: The Monster Shark Lives was not the only sensational program aired on Shark Week. They also aired Capsized: Blood in the Water which told a genuine tale of the group of friends who capsized while sailing their billionaire friend's yacht from Maryland to Florida. Stranded in the water, they ended up being picked off by Tiger sharks one by one, inspiring the film on Discovery Channel. However, since Capsized: Blood in the Water was based on actual events, it's hard to fault the documentary in contrast to Megalodon: The Monster Shark Lives, which is more like a horror movie.
There was also a more sensational event in 2022 where professional wrestlers fought a shark-themed cage match. They used the proceeds from their usual Fight for the Fallen to support ocean wildlife charities. This was the first event of its kind, and it's unclear whether this event or events like it will return as they are not the same kind of scientific and educational content we typically associate with Shark Week.
When Is Shweekend?
Shweekend was a one-time thing that aired in 2015 to increase the network's coverage of sharks and extend the event during the summer. If Shweekend occurs, it will happen in the month following Shark Week, based on the previous iteration of Shweekend. Shark Week is also available for streaming on Discovery+.
What Shark Week Specials Should I Stream?
Shark Week airs special features each year to celebrate the event. These features are usually unique, but they may rerun some of their older features each year. The features are also available to stream on Discovery+.
2008: Mythbusters & Dirty Jobs
The 2008 feature was a Mythbusters episode, which coincided with Shark Week being hosted by Adam Savage, Jamie Hyneman, and Mike Rowe. 2008 Shark Week also featured an episode of Dirty Jobs featuring sharks.
2009: Blood in the Water
2009's Shark Week feature was Capsized: Blood in the Water, a film detailing the real-life Jersey Shore shark attacks that inspired Peter Benchley's Jaws novel.
2012: Air Jaws Apocalypse, et al.
Starting in 2012, Shark Week featured six brand new features, and several returning features, including: Air Jaws Apocalypse, Shark Week's Impossible Shots, Sharkzilla, Mythbusters Jawsome Shark Special, How Jaws Changed the World, Adrift: 47 Days with Sharks, Shark Fight, Great White Highway, and Shark Week's 25 Best Bites.
2013: Megalodon: The Monster Shark Lives
While Megalodon: The Monster Shark Lives might not be a scientific marvel and represents a more sensational view of sharks than a factual one, it's still worth a watch. It's an excellent modern Jaws equivalent that delves shallowly into the history of sharks dating back to their prehistoric cousins.
Shark After Dark Live, an aftershow event after the feature premiers, was also introduced in 2013.
2015: Shark Week Sharktacular
Shark Week Sharktacular was a comprehensive "Best Of" special that premiered on July 23. It highlighted the best moments in Shark Week history and previewed the events and features coming in Shark Week 2015.
Shark Week 2015 premiered with eight "Sharkopedia Editions" and Shark After Dark Live each day.
2022: Shark-Themed Cage Match
All Elite Wrestling—who air the shows Dynamite and Rampage on Discovery Channel-owned channels—hosted a shark-themed cage match. It supported ocean wildlife charities with their Fight for the Fallen event.
Where Can I Stream Shark Week?
Shark Week specials can be streamed on Discovery+ on the occasion of Shark Week 2023. If you still have a DVD or Blu-Ray drive, you can purchase DVDs or Blu-Ray discs containing Shark Week specials, including several compilations of complete Shark Week seasons. The Mythbusters: Jaws Special even includes several un-aired mini-myths that were included to make the DVD something special.
Shark Week episodes stream on Sling TV, Amazon Prime Video, YouTube, The Roku Channel, Apple TV, Google Play Movies, and Vudu. Any of these services can be used to view all the previous and recently aired seasons of Shark Week.
Who Is Hosting Shark Week 2023?
Actor Jason Momoa is hosting Shark Week 2023. Check out the cool teaser trailer Discovery released featuring the Aquaman star.
Final Thoughts
Shark Week is a fantastic event that has attracted the love and dedication of hundreds of thousands of viewers worldwide. Many people mark their calendars to participate in Shark Week, so start prepping early if you're a big fan! Shark Week 2023 is airing July 23 through July 30. So mark your calendars and take a vacation if you're the world's biggest fan of sharks (like me!)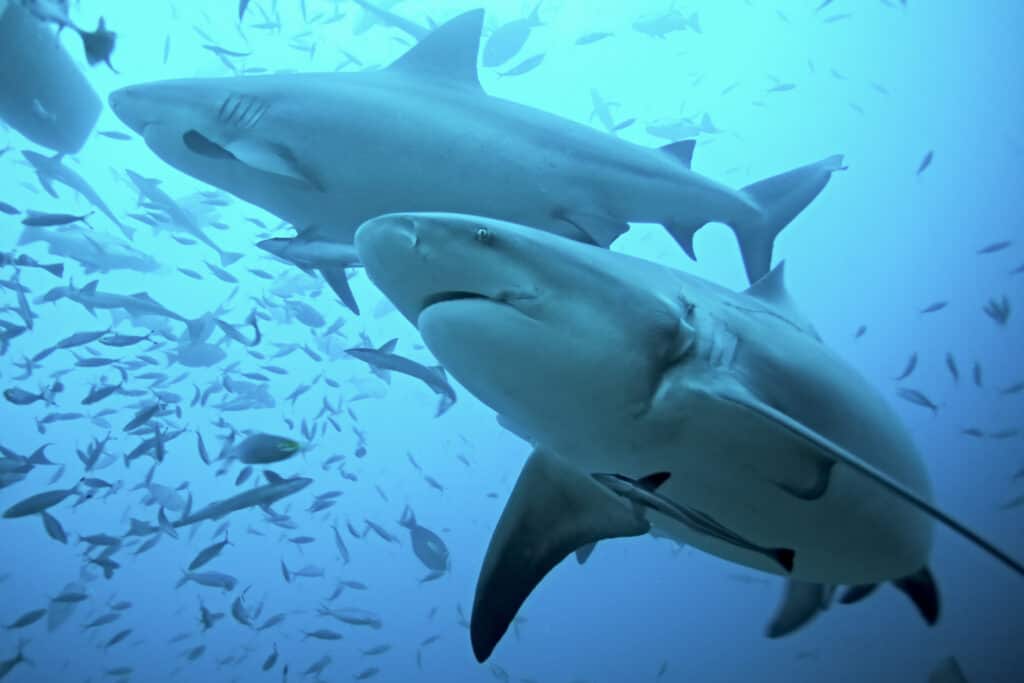 ---
The Featured Image
---
FAQs (Frequently Asked Questions) 
When does Shark Week usually occur?
Shark Week typically occurs in July or August, with an occasional preview in June and an occasional "Shweekend" the month after the initial Shark Week event.
What type of content typically airs during Shark Week?
Shark Week typically consists of educational and entertainment-related content about and supporting charities that work for the preservation of shark habitats and shark populations.
What is the purpose of Shark Week?
Shark Week is meant to educate and entertain. Its goal is to bring awareness of sharks and shark-related issues to the average person in a way that makes them want to learn more about sharks.
Is Shark Week primarily educational or entertainment?
Shark Week is primarily an entertainment event, with sensational mockumentaries, events like Megalodon: The Monster Shark Lives, and a shark-themed professional wrestling cage match under its belt. However, plenty of Shark Week features are primarily educational, such as the Sharkopedia Editions.
What controversies have come about due to Shark Week?
The most well-known Shark Week-related controversy is the controversy surrounding Megalodon: The Monster Shark Lives, which was criticized for its sensational and unrealistic portrayal of sharks and the potential for the mockumentary to have a second Jaws Effect causing people to become afraid of sharks.