Florida has a never-ending list filled with some of the best swimming spots in the world. The best part about swimming in Florida is that there are so many types of places to choose from. Although many people think of theme parks and beaches, Florida also offers lakes, rivers, springs, and more!
Follow along to discover the best swimming spots in Florida, including lakes, rivers, and more.
When is the Best Time to go Swimming in Florida?
Before you start planning a trip to Florida, it's a good idea to find out when is the best time to go swimming. The good thing about Florida is that the weather is almost always warm, but this doesn't mean the temperature of your favorite spring or beach is favorable. The best time to go swimming in Florida is between April and October. This is when the temperature of the water is the mildest. However, you should wear sunscreen and prepare to beat the heat. Florida's average temperature in April is 82°F. However, the temperature ranges between 77 to 85°F. April is also a good month for swimming in Florida because it's a relatively dry month.
Although many people think that the summer months are the best months to go swimming in Florida, it's a good idea to prepare. Florida summers are wet, not just because of swimming. During the summer, thunderstorms and rain showers are common. In June, Florida sees an average rainfall of about 8 inches. Florida's hottest month though is July, where daily temperatures run between 73° F and 95° F. The high temperature makes swimming feel refreshing, but the sun's harmful rays can lead to sunburns.
Swimming Holes
Swimming holes are natural spots deep enough to swim. In Florida, you can enjoy many cool springs to beat the heat. Florida has over 700 natural springs across the state. Many are in state parks and are open to the public. While each spring has its temperature, most are constant and in the 70s. It's important to keep in mind, however, that not all springs are accessible to the public or open for swimming. Some are protected to keep their natural state as untouched as possible.
While this is true, some of the most popular springs and swimming holes in Florida include Ginnie Springs, Wekiwa Springs, Blue Hole, Spring Creek Swimming Hole, Juniper Springs, and Williford Spring. Not only can you swim in these swimming holes but also admire the amazing animals living in the area. In Florida Springs, you can see manatees, otters, fish, turtles, and American alligators. But don't worry, although American alligators live in the area around swimming holes, they rarely surprise swimming guests. The water is typically too cold for them.
Lakes
Florida has some of the largest and most beautiful lakes in the country. Here, you can find over 30,000 lakes, both artificial and natural. They are great places to swim, fish, kayak, and paddle. However, it's important to always do your research before swimming in any Florida lake. Not all lakes are clean or safe. For example, all Florida lakes have American alligators and snakes, even if you can't see them right away. In the state, there are likely over 3 million alligators. While attacks are rare, it's better to be safe than sorry.
Animal ambush attacks aren't the only things you need to worry about. For instance, many Florida lakes and rivers have Naegleria fowleri, a brain-eating amoeba that enters the body through the nose. While rare, it's found in warm lakes, ponds, and rivers. If you'd like to swim in a Florida lake, choose a lake with a designated "beach". Some of the most popular lakes in Florida though are Lake George, Lake Apopka, Lake Kissimmee, and Lake Seminole.
Here are some more ideas for swimming lakes in Florida.
Rivers
Like lakes, Florida rivers might not be the best places to swim. Still, there are swimming holes and designated swimming spots within some of the most popular Florida rivers. Many of the rivers, however, have swamp-like features and are murky, perfect for predators to hide. Crystal River is a popular swimming and manatee-spotting river in Florida. Here, you can book a manatee snorkeling tour and see these beautiful water cows in person.
Another popular river is the Withlacoochee River, however, there are no public or accessible swimming spots. Instead, you can kayak and fish in the river. Instead, you can swim or float from Madison Blue Spring State Park's freshwater spring to the Withlacoochee River.
Beaches
In Florida, you can choose from over 100 official public beaches. Some of these beaches get very crowded, including Cocoa Beach and Daytona Beach. However, there are also hidden gems perfect for a peaceful, warm afternoon. Who wouldn't want to spend a day enjoying the sun, soft sand, and cool and refreshing water on a Florida beach? You can choose a beach from the Gulf of Mexico or the Atlantic. You must stay vigilant while visiting Florida beaches since not each beach has a trained lifeguard.
While you can visit Florida beaches all year round. There are some months when you might want to rethink swimming. For example, between December to March, the ocean's temperature drops. At Fernandina Beach, the water can be as cold as 55 °F. However, in the summer, the ocean's temperature is about 80 °F.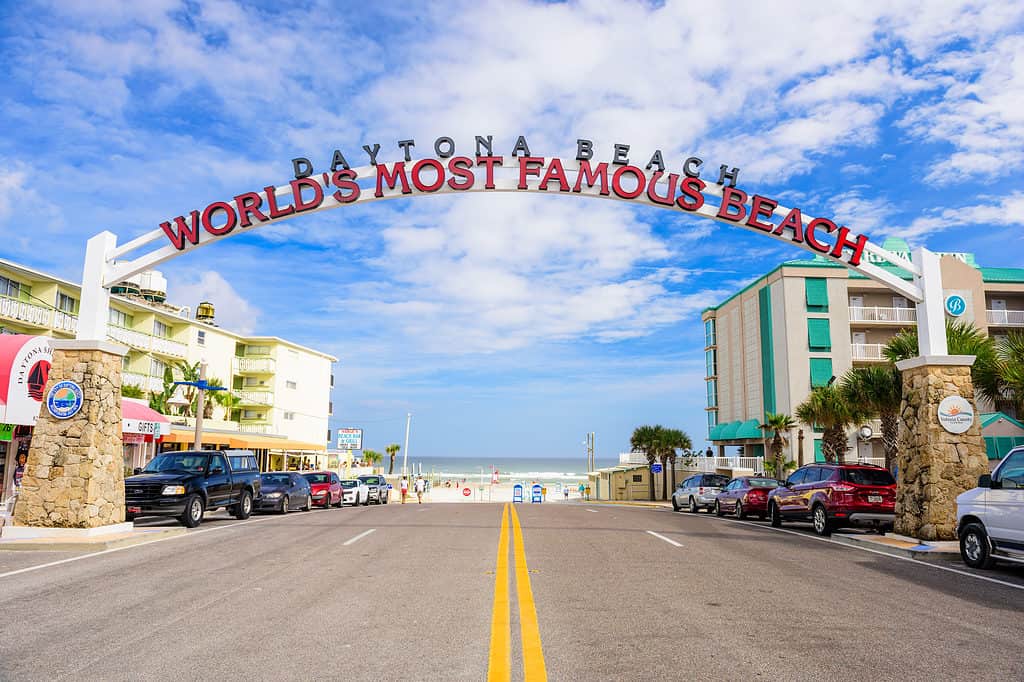 Water Parks
You aren't limited to lakes, rivers, beaches, and swimming spots while in Florida. You can also visit one of many water parks and community pools. Water parks are thrilling and refreshing. While visiting these parks, you can ride water slides, lay rivers, and enjoy wave pools. Many of Florida's water parks are located in Central Florida. For example, in Orlando, you can visit Aquatica Orlando, Universal's Volcano Bay, Treasure Cove Water Park, Disney's Typhoon Lagoon Water Park, and CoCo Key Water Park.
Orlando isn't the only big city in Florida where you can spend a day at a water park. For example, in North Florida, a popular water park is Big Kahuna's Water & Adventure Park. It's an indoor and outdoor water park located in Destin, Florida. It opened in 1986 and contains about 40 fun attractions.
Summary of the Best Swimming Spots in Florida: Lakes, Rivers, and More
| Number | Swimming Spot | Example |
| --- | --- | --- |
| 1 | Swimming Holes | Juniper Springs |
| 2 | Lakes | Lake Kissimmee |
| 3 | Rivers | Crystal River |
| 4 | Beaches | Daytona Beach |
| 5 | Water Parks | CoCo Key Water Park |
Up Next:
More from A-Z Animals
---
The Featured Image
---