Within Texas' beautiful state and national parks are clear lakes and rivers, stunning landscapes, and rugged mountains with scenic backdrops perfect for camping. Texas parks offer recreational and outdoor opportunities, including stargazing, swimming, fishing, and kayaking.
You can choose from a range of exquisite RV camps that feature impressive amenities to primitive camps for nature lovers who desire a little bit more peace to enjoy the wild with fewer distractions. Many parks also provide comfortable camps for family-friendly retreats and group camping. 
To help you pick the perfect place for an adventurous summer holiday or just some alone time for a relaxing weekend, here's our list of the 10 best camping spots in Texas you should consider calling for a reservation.
1. Big Bend National Park
The expansive 800,000-acre Big Bend National Park in West Texas along the borders of Mexico is one of the United States' largest national parks. This national park has four developed campgrounds, popular among camp lovers in Texas for their breathtaking landscape and vast wildlife.
These campgrounds feature tent camping, dry RV camping, and several primitive campsites with plenty of outdoor activities to participate in, ranging from backpacking to kayaking the Rio Grande.
2. Caddo Lake State Park
Named for the beautiful natural lake it encompasses, the Caddo Lake State Park features a variety of camping options with easy access to the free-flowing natural Caddo Lake. Popular as one of the best camping spots in East Texas, the park provides 8 RV-exclusive full-site hookups and 18 partial hookup sites for visitors looking to pitch a tent.
Tent camping and small pop-up trailers are available on sites close to the waters. Here, you can participate in hiking, mountain biking, paddling, and fishing — or you can just boat to marvel at the pristine lake.
3. Dinosaur Valley State Park
Near Glen Rose in Texas sits the Dinosaur Valley State Park, named after the dinosaur tracks seen in the limestone bed of the Paluxy River. The state park provides plenty of camping options to curious visitors exploring the dinosaur trackway.
Dinosaur Valley State Park features 15 primitive sites, 44 campsites with electricity, and two group campgrounds accommodating about 40 people. Dinosaur tracks are not the only thing to see here; visitors can also participate in other activities, such as horse riding in the South Primitive Area of the park.
4. Padre Island National Seashore
Padre Island National Seashore, located on North Padre Island, consists of a long beach where nature is preserved — the longest undeveloped barrier island in the world. Several unique camping options are available on the over 130,000-acre Padre seashore.
Visitors can enjoy beach camping in three designated areas, and the park campgrounds feature numerous primitive sites. Because most of the park is primitive and many sites on the beach require four-wheel-drive vehicles, you may need to pack everything you need because amenities are scarce on Padre Island.
5. Guadalupe River State Park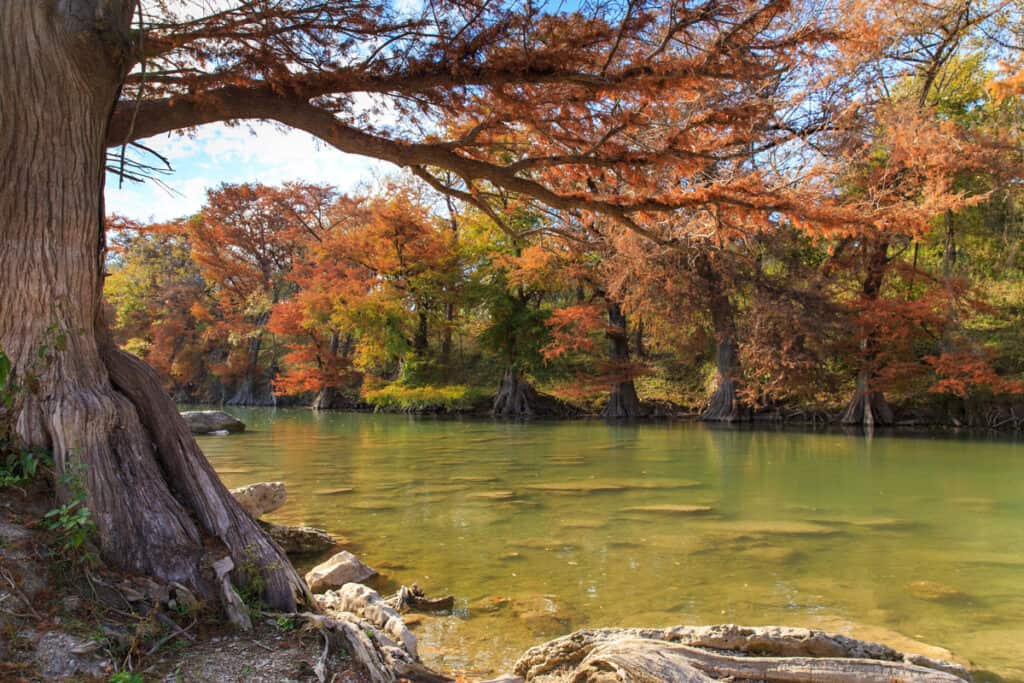 Sitting on a section of the Guadalupe River is a Texas state park featuring three developed campgrounds hosting about 100 campsites. The beautiful scenery of the river stretches over four miles through the park offering recreational activities such as swimming, tubing, floating, paddle boarding, and camping.
Visitors to Guadalupe River State Park can take a short walk from the parking area to primitive camps within the Wagon Ford Campground, which have access to the adjacent Guadalupe River and the Bald Cypress Trail. Campsites at Turkey Sink and Cedar Sage campgrounds are popular for RV camping. 
6. Colorado Bend State Park 
Our list would be incomplete without Colorado Bend State Park, one of the most beautiful state parks in Texas. The park's center of attraction is Gorman Falls, a 65-foot cascading waterfall that spills into a lush fern-coated cavern. Colorado Bend provides several camping options, including RV camping and tent camping with access to potable water and restrooms.
In addition, there are group campgrounds available to accommodate up to 48 people. Colorado Bend State Park also features a network of hiking trails and two backcountry camping areas accessible by a mile-long hike.
7. Garner State Park
Garner State Park is one of your best bets for a refreshing weekend with its spectacular scenery. Colorful trees and gorgeous hills surround the 2.9-mile-long Frio River in the middle of the park. Adventurous travelers visit Garner State Park to hike the 16 miles of scenic trails, as well as for swimming, tubing, and kayaking on the cool, clear Frio River. Campers can stay in cabins, campsites, or screened shelters and tent camps throughout the park, and there are group campsites and screened shelters available to large groups for rent. 
8. Inks Lake State Park
Another great spot for camping in Texas is the Inks Lake State Park, with about 200 campsites close to Inks Lake on the Colorado River. Inks Lake Park has campsites that cater to RVs with electrical hookups at weekly and monthly rates, which is popular for Texas Hill Country RV camping.
For visitors interested in primitive camping, there are nine options accessible by a 1.5-mile hiking trail. Inks Lake serves as a venue for outdoor recreation such as fishing, boating, swimming, and picnicking in the Texas Hill Country.
9. Palo Duro Canyon State Park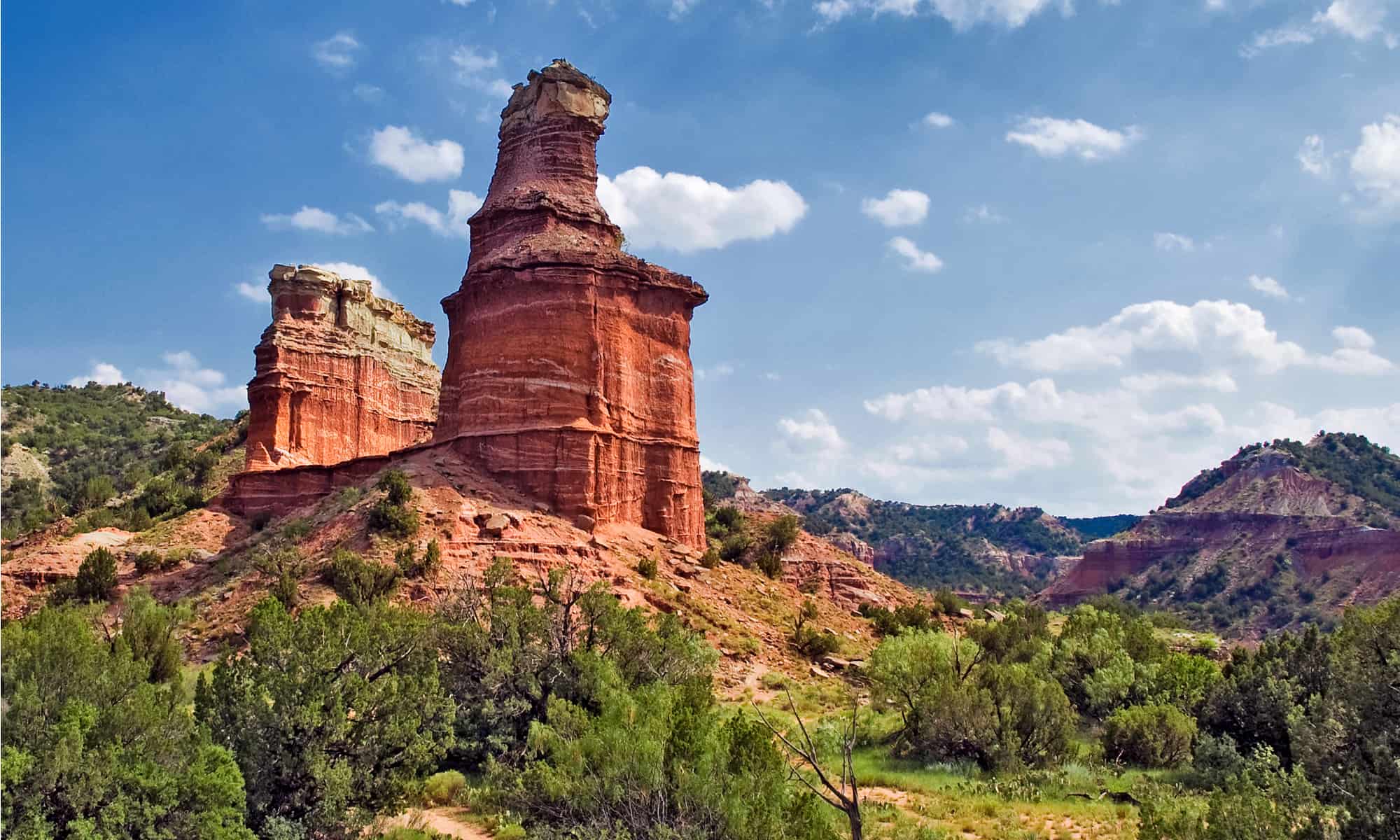 Also called the Grand Canyon of Texas for its wondrous beauty, Palo Duro Canyon State Park offers visitors an opportunity to enjoy campsites with a mile-long stunning view of Palo Duro Canyon.
Available on the campgrounds are campsites with electricity, sites for tents with water access, RV camping, and unique primitive sites only accessible by a short walking trail where visitors can pitch their tent wherever they want. Group camping and lodging cabins are also available for rent.
The beautiful backdrop of the canyon makes it a popular location for wedding parties and other events.
10. Caprock Canyons State Park
Last on our list, but definitely not the least exciting spot to camp in Texas, is the Caprock Canyons State Park, located approximately 100 miles southeast of Amarillo. The 15,314-acre park is the third largest state park in Texas and is famous for hosting the Official Texas State Bison Herd, where about 150 bison are reserved.
Not only does Caprock Canyons State Park feature camping options for visitors to witness these exotic near-threatened species, but it also offers 90 miles of hiking trails (including the Caprock Canyon Trailway passing through Clarity Tunnel) and horse riding and mountain biking opportunities. There are several primitive campsites available along the trail for people to spend the night.
Summary of the 10 Best Camping Spots in Texas
Here is a list of the top 10 camping sites in Texas that we took a look at.
| Rank | Camping Spots |
| --- | --- |
| 1 | Big Bend National Park |
| 2 | Caddo Lake State Park |
| 3 | Dinosaur Valley State Park |
| 4 | Padre Island National Seashore |
| 5 | Guadalupe River State Park |
| 6 | Colorado Bend State Park |
| 7 | Garner State Park |
| 8 | Inks Lake State Park |
| 9 | Palo Duro Canyon State Park |
| 10 | Caprock Canyons State Park |
---