Guarantee a lucky streak when you visit Nevada this summer. No, we're not talking about the casinos. We're talking about getting lucky by reeling in trophy-sized fish!
Nevada has a lot of lakes and rivers with fish-friendly waters. The type of fish that give you summer-long bragging rights. As long as you know where to look, you'll have a ton of fun fishing and taking in the gorgeous sights.
Where should you wet a line first? Let's find out! Here's a quick overview of some great fishing spots:
Here are the 10 best fishing spots in Nevada this summer.
1. Knott Creek Reservoir
Is this Nevada's best-kept secret? If so, it won't be for long! Knott Creek Reservoir beckons anglers from all over. Situated in the Pine Forest Mountains, Knott Creek has over 200 surface acres and a maximum depth of 24 feet. Choose this spot if you want to fly fish from the shore or use a float tube. This spot has crowd-less shores, remote hiking trails, and blue ribbon fly fishing conditions. You could spend an entire month exploring all these nature reserve offers. There's untamed wildlife, and stargazing will take your breath away if you stay the night. Plan on bringing plenty of water, and keep an eye out for scorpions on your hike.
2. Lake Mead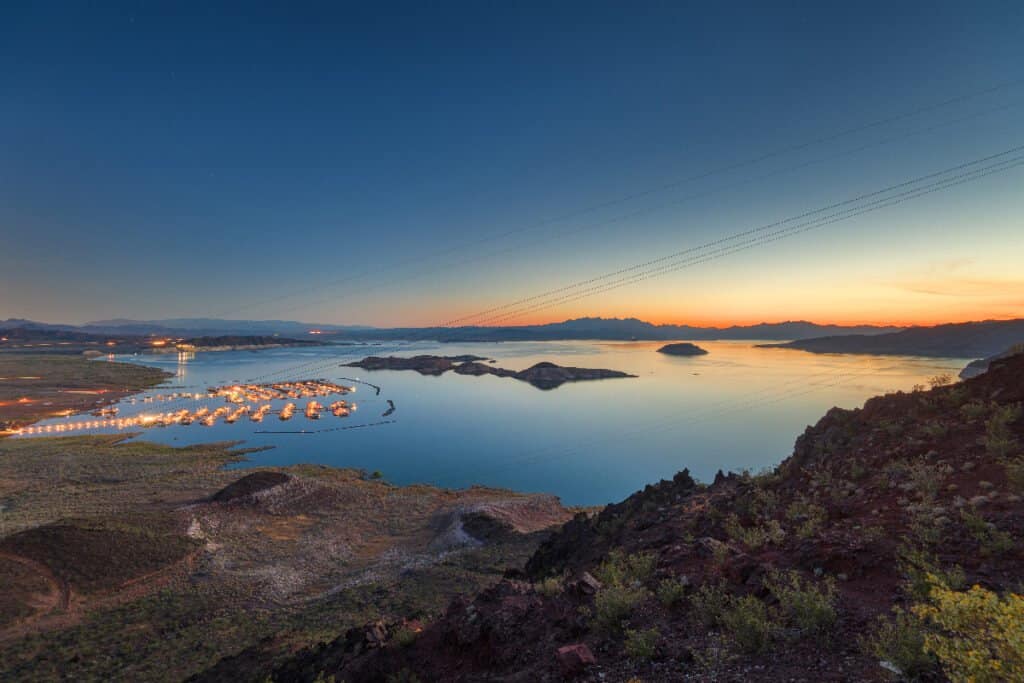 Access over 390 surface acres of water, and join avid anglers from all over the state. Lake Mead brings people together. It's the type of lake where novice and experienced anglers can have fun catching trout, sunfish, catfish, and crappie. You'll never have to worry about there being enough fish. Lake Mead is always a hot spot thanks to its class-a management. Every single Friday, the state releases rainbow trout by Willow Beach.
3. Eagle Valley Reservoir
Are you looking for a family-friendly fishing spot with wildlife? One that has rainbow trout, tiger trout (brown trout x brook trout hybrid), and brown trout? Then use the modern amenities at Eagle Valley Reservoir in Spring Valley State Park. There are fire pits, pristine bathrooms, campsites, showers, shade ramadas, and a library. It's a must-see location if you've never been to Nevada before. You'll be able to sit on the shoreline or fish off the dock. You'll also spot a lot of wildlife.
The reservoir is one of the best birding places Nevada has to offer. Hawks frequent the area, as do coyotes, deer, and ravens. It's exciting watching the ravens feed on all of the summer bugs.
4. East Walker River
The mighty East Walker River flows from the eastern slopes of the Sierra Nevada. Traveling through Lyon County, the Bridgeport reservoir is only 7 miles upstream from the CA-NV border.
Popular fisheries include rainbow and brown trout. There's also a lot of whitefish. This spot used to be hard to reach, but not anymore. Private areas are now open to the public. The variety of angling access makes this one of Nevada's most convenient fishing spots this summer.
5. Wild Horse Reservoir
The Wild Horse Reservoir is open 365 days a year. It has 2,830 surface acres, a 6,208-foot elevation, and a maximum depth of 70 feet. However, the average depth is 40 feet. What will you catch here? During the summer, get ready to catch small and largemouth bass, channel catfish, yellow perch, and wipers.
Spring and summer are the best times to fish the Wild Horse Reservoir. The reservoir is in a well-managed state park. You'll have access to a boat ramp, campground, hiking trails, and more. If you happen to be here during the winter, try your hand at ice fishing too!
Get ready for a lot of variety when it comes to fish environments. Some of the introduced species are changing the dynamics of the aquatic vegetation. You'll need to use various fishing techniques and approaches for success. For instance, try moving a few hundred yards if the bass won't bite.
6. Pyramid Lake
This world-class fishery site definitely belongs on our list of the best fishing spots in Nevada this summer. It has gigantic fish. Pyramid Lake is home to trout that can reach over 40 pounds in size! It's also the only spot in the entire world you can find the elusive Cui-ui fish. There's also the Tahoe Sucker Fish, Tui Chub, and Sacramento Perch.
This spot has it all with various species, large sizes, and scenic views. You won't need a Nevada fishing license either. Instead, grab a boating permit, and make sure you have current registration. Only barbless hooks are allowed in the water.
7. Ruby Lake
The National Wildlife Refuge NWR of Lake Ruby does a great job keeping this fishing spot in excellent condition. It's on our list of the best fishing spots in Nevada for a few reasons. For one, this lake is all-natural.
The waters are 100% spring-fed, and it has a high-elevation marsh. Nestled in the eastern stretch of Nevada, the waters divide into the north dike and south lake management areas. Surface water temperatures are usually around the mid 70's during the summer.
The temperature makes this lake a great spot to catch bass. The minimum size to keep bass here is 10 inches. Most of the bass you'll find are 10-12 inches in size. Some anglers catch over 50 bass a day!
Are you taking a boat with an electric motor? Avoid the heavy marsh, and stick to the main channels.
8. Little Truckee River
Visit the four-and-a-half-mile tailwater flowing from the Stampede Reservoir: The Little Truckee River. The river is scenic and abundant in trout. Sight fishing is possible, but you'll have to be patient. The fish here are clever and seem always to be one step ahead. This is a great spot to hire a guide or to join a group tour. Getting inside tips for where to find fish is always a help! Summer is the most popular time to fish in this river because of its prolific hatches. There are also a lot of carpenter ants that attract hungry fish.
9. Crowley Lake
Next, on our list of the best fishing spots in Nevada, let's explore Crowley Lake. This lake is a trout hot spot and a must-visit for anglers. You'll have a chance to make solid catches of browns, Lahontan, and rainbow trout. There's also a lot of perch (which the trout love snacking on).
The lake gets a perfect easterly flow of wind and water, creating bass havens. Even though it gets hot during the summer, the waters stay cool.
Make sure you abide by all of the lake's regulations. Starting August first through November, you'll need to use artificial lures.
10. Sheep Creek Reservoir
If gigantic fish are what you want, go to Sheep Creek Reservoir. The area sits in the state's northern region, right in the city of Elko. The area has a reputation for producing monster-sized trout. There are two boat launches you can use, as well as public dock areas. Since there are thirty camping shades, it's the perfect spot to set up a tent.
---