Oklahoma has a lot of lakes that support diverse fish populations.
You could catch catfish, crappie, sunfish, bass, and more by fishing a single lake. But you'll have to know the right lakes to spend the day at. To make things easy, we've put together this short fishing guide.
In this article, you'll learn about the best fishing spots in Oklahoma this summer, along with a few pro tips. For instance, channel catfish in Oklahoma love hot dogs. It's one of their favorite types of bait!
What else should you know? Here are the 10 best spots to fish in Oklahoma this summer.
1. Lake of Arbuckles
Only 8 miles southwest of Murray County, enter the Lake of Arbuckles. The 2,350-acre reservoir came to be in 1967, and the Bureau of Reclamation operates it. There are 36 miles of quality shoreline and a maximum depth of 82 feet. Fish that can be found in the lake include crappie, catfish, largemouth and white bass, perch, and bluegill. Take advantage of the covered fishing piers and nearby tackle shops.
2. Quanah Parker Lake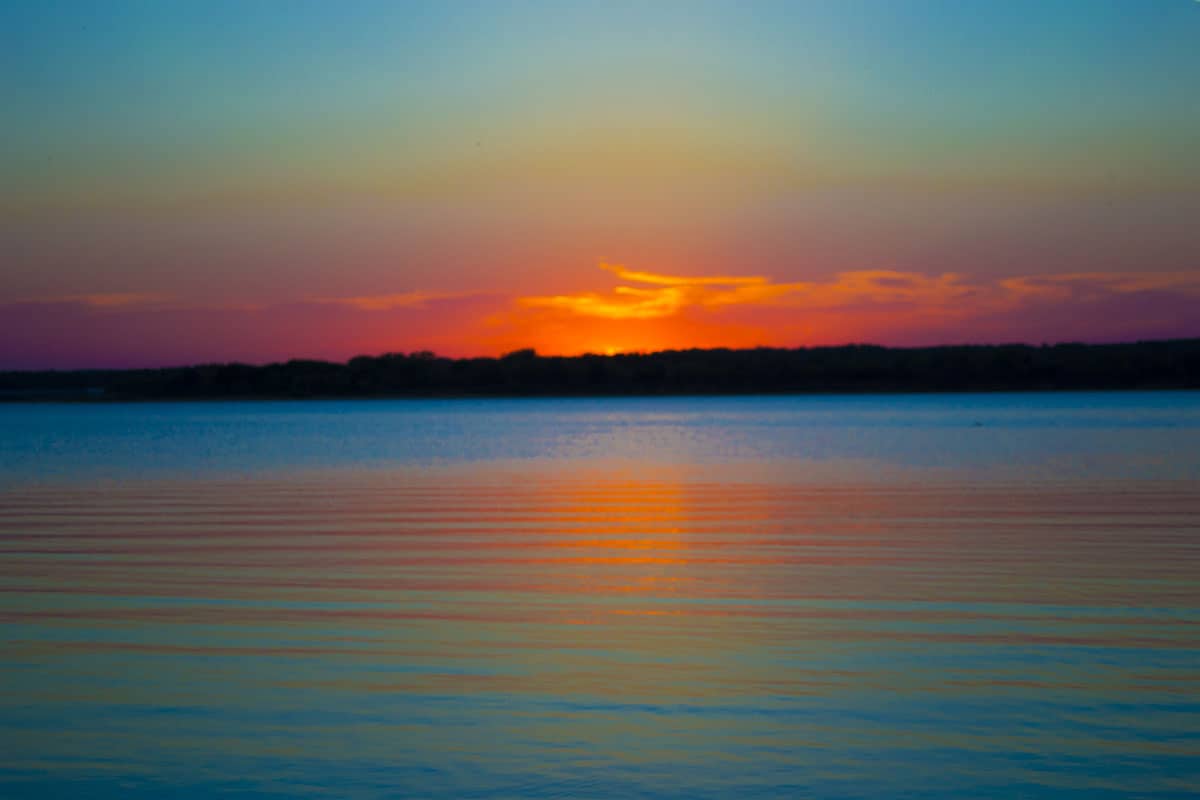 Fish the 89 surface acres of water and access three miles of shoreline, all at Quanah Parker Lake. Right inside the Wichita Mountains Wildlife Refuge, this park has a lot of recreational opportunities. Along with fishing, you can hike, rock climb, or picnic. While fishing, you can use electric trolling motors and hand-powered boats. Get ready to reel in bass, sunfish, crappie, and channel catfish.
3. Flint Creek
Oklahoma is such a popular fishing destination; angling opportunities contribute over $60 million to the economy annually! Even small creeks contribute. For instance, about 15 miles from Delaware County, you'll come across Flint Creek stream. It's an angling hot spot, and definitely belongs on a list of the best fishing spots in Oklahoma this summer. There's bass, trout, and catfish here. The bullheads are particularly active with livers, and the channel cats love hot dogs! You can also use bluegill to get the trout to start biting.
4. Grand Lake
Explore over 46,000 surface acres of water at Grand Lake. There are also 1,300 miles of shoreline, just begging you to launch a boat. There are so many crappies in this lake you're bound to catch them all day long. You'll also be reeling in largemouth bass, spotted bass, and white bass. This is hands down one of the best bass fishing lakes in all of Oklahoma. Huge cats are regularly pulled from the lake too. Channel, blue, flathead, and spoonbill catfish live here, and they get big. This is the lake to come to when you want all of the fish species in one place.
5. Lake Eufaula State Park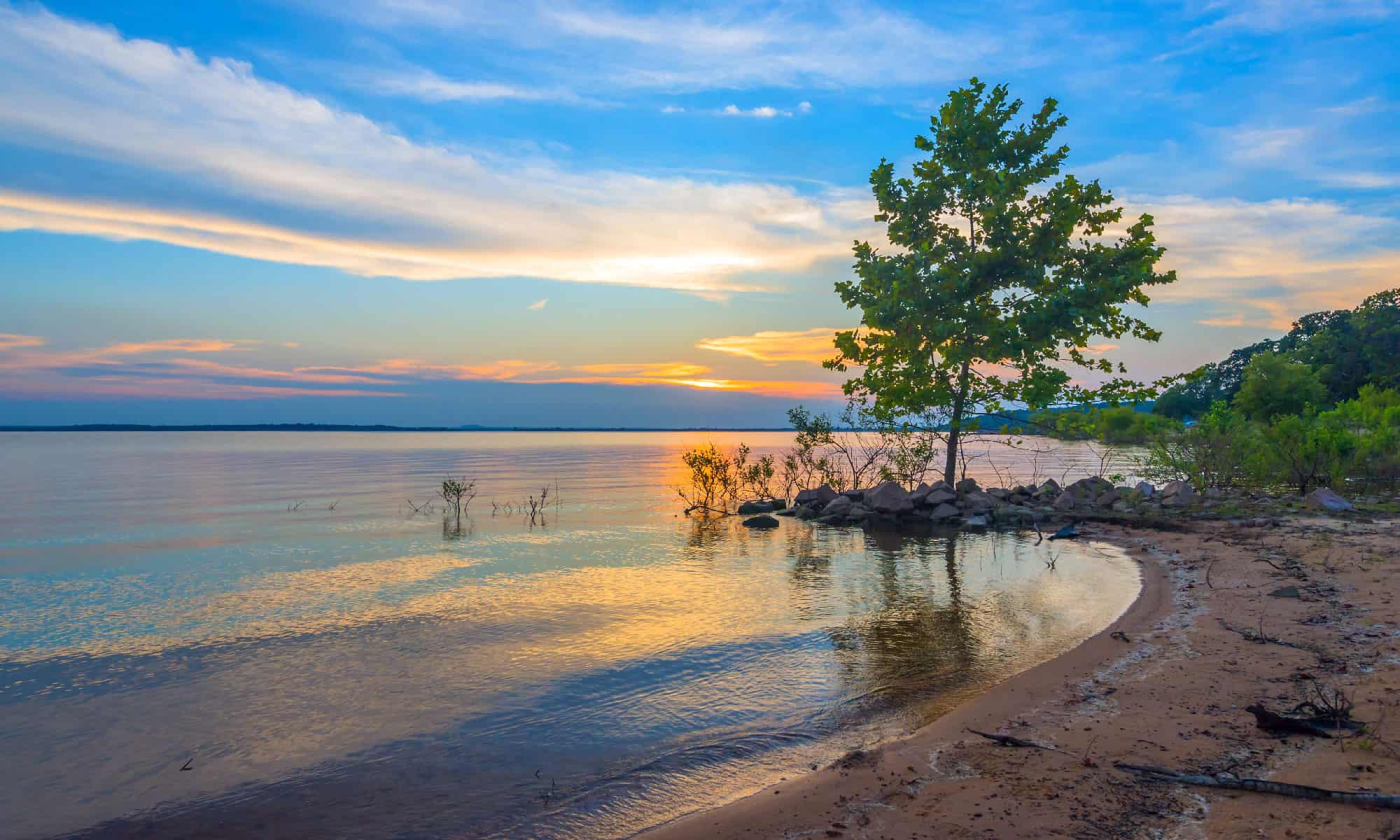 When you visit Oklahoma, you'll find out why anglers worldwide come here. It's gorgeous. The state is home to scenic hotspots like Lake Eufaula State Park. The lush green trees, pristine skylines, and waters invite you to fish all day! You'll find that crankbaits, small lures, and hair jigs work best for bass at this lake. You can also use hot dogs to catch channels, flathead, and blue catfish.
6. Vinita Lake Park
Visit one of Oklahoma's newest fishing areas, right in the heart of Vinita city. Vinita Lake Park opened in 2017, and it's a peaceful location. Immerse yourself in nature as you fish a 45-acre lake. You'll make regular catches of catfish, crappie, and bass during the summer season. Thanks to the trophy bass fishery, the sizes will be generous too. The lake has a maximum depth of 8 feet, and that's at a full pool. For safety reasons, avoid using gas-powered motors. Instead, use a canoe, kayak, or bass boat with an electric trolling motor.
7. Beavers Bend State Park
Professional and novice flyfishermen will enjoy Beavers Bend. Rainbow and brown trout are plentiful here. The waters also have white bass, smallmouth bass, sunfish, crappie, walleye, channel catfish, and more! It's one of the most scenic lakes on our list and easy to access. Several boat ramps are available, and you'll find the lake is properly managed.
The Oklahoma Department of Wildlife Conservation keeps the area natural and pristine. Expect to fall in love. Once you start fishing the fertile waters and taking in the fresh air, you won't want to leave.
8. Broken Bow
If you're the type of person who likes fishing in clear waters, plan a visit to Broken Bow. This is on our list of the best fishing spots in Oklahoma for a few reasons. The clear waters are gorgeous; there's plenty of space too. The lake has 180 miles of shoreline. The water is lined with rock floors, which promote a lot of fish activity. The river has a section called the "trophy section," and it's four miles long. The trophy section is a great place to catch gigantic trout! Since the lake is regularly stocked, you'll have a lot of success here.
9. Grand Lake O' the Cherokees
Grandiose is the perfect word to describe this spot! Grand Lake of the Cherokees is home to catfish, crappie, walleye, sunfish, bass, bluegill, paddlefish, and more. The lake has 46,000 surface acres and boasts 460 miles of shoreline. If you need a boat, pop over to the marina. There are also stores, bait and tackle shops, and restaurants nearby. Since there are a lot of public access areas, you'll be able to take your pick of entrances. You can launch kayaks, canoes, and small boats off the banks.
10. Foss Lake
Western Oklahoma is housing a gem for anglers: Lake Foss. This is the largest lake under operation by the United States Bureau of Reclamation. The elevation is 142 feet high, the dam width is 30 feet, and it's 18,130 feet long. The lake has 8,800 surface acres and 63 lovely miles of shoreline.
Foss Lake is on our list of the best fishing spots in Oklahoma because of the fish variety. You'll be able to catch saugeye, sunfish, white bass, striped bass, channel catfish, crappie, and largemouth bass. The lake also offers a variety of recreational activities.
When you're done fishing, why not try horseback riding? What about paddle boating? Set up camp, take a swim, ride the bike trails, and soak in nature. Foss Lake is the type of place you stay a while at.
Summary of the 10 Best Fishing Spots in Oklahoma This Summer
Here's a recap of the 10 best places to reel in a fish in the state of Oklahoma:
| Number | Location | Fish |
| --- | --- | --- |
| 1 | Lake of Arbuckles | Crappie, catfish, largemouth and white bass, perch, bluegill |
| 2 | Quanah Parker Lake | Bass, sunfish, crappie, channel catfish |
| 3 | Flint Creek | Trout, bass, catfish, bullheads, bluegill |
| 4 | Grand Lake | Channel, blue, flathead, and spoonbill catfish, crappies, and largemouth, spotted, and white bass |
| 5 | Lake Eufaula State Park | Bass, channel and blue catfish, flathead |
| 6 | Vinita Lake Park | Catfish, crappie, bass |
| 7 | Beavers Bend State Park | Rainbow and brown trout, white and smallmouth bass, sunfish, crappie, walleye, channel catfish |
| 8 | Broken Bow | Trout |
| 9 | Grand Lake O' the Cherokees | Catfish, crappie, walleye, sunfish, bass, bluegill, paddlefish |
| 10 | Foss Lake | Saugeye, sunfish, white and striped bass, channel catfish, crappie, and largemouth bass |
Up Next:
More from A-Z Animals
---
The Featured Image
---