Iowa is home to 34 natural lakes and many more man-made lakes and reservoirs. These waterways provide drinking water, irrigation, and flood control for Iowa residents. Many also serve as wildlife conservation areas or popular fishing holes. A few lakes in the state also function as popular swimming holes that attract thousands of visitors each year who come to swim and escape the summer heat. Here is a list of 10 of the best Iowa lakes for swimming. 
1. Coralville Lake
Coralville Lake is a man-made lake in eastern Iowa, about 20 miles north of the city of Coralville. This artificial lake was formed in 1958 because of the construction of the Coralville Dam on the Iowa River. 
Coralville Lake offers visitors plenty of recreation opportunities. These include hiking, camping, boating, fishing, and disc golf. The lake also boasts several recreation areas with beaches, including Sugar Bottom, Sandy Beach, and West Overlook. 
The beaches at Coralville Lake are well-maintained and clean. While the designated swimming areas are suitable for youth and adults, the water can get deep pretty fast, so you'll want to keep an eye on young members of your party.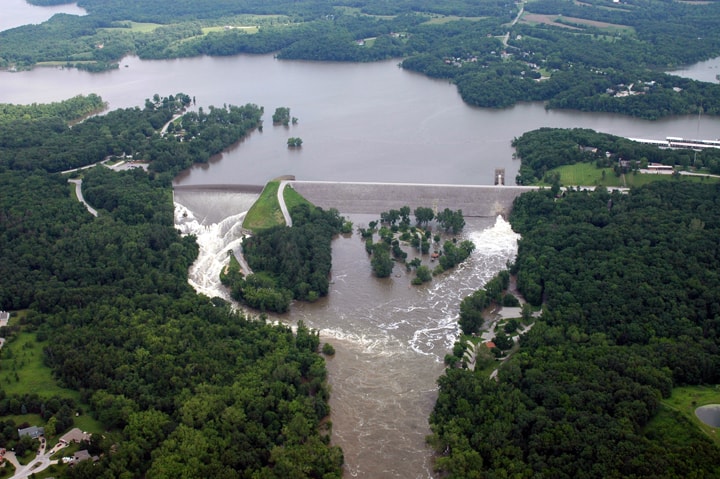 2. Rathbun Lake
Formed by the damming of the Chariton River, Rathbun Lake resides around 7 miles north of Centerville, Iowa. Originally constructed as a means of flood control, this 11,000-acre lake also serves as a popular recreation spot in southern Iowa.  
Popular activities at Rathbun Lake include fishing, boating, picnicking, sightseeing, and hiking. The lake features strong winds that make it one of the best sailing lakes in the state. 
If you want to escape the summer heat, consider visiting one of Rathbun Lake's three designated swimming beaches. The beaches are located at Honey Creek Resort, Island View Park, and Buck Creek Park. Each beach features changing houses and restrooms, while the Island View beach also features a sand volleyball net. Definitely one of the best Iowa lakes for swimming!
3. Big Spirit Lake
Part of the system of lakes known as the Iowa Great Lakes, Big Spirit Lake is located in northwest Iowa just north of Lake Okoboji. This natural lake measures 5,684 acres, making it the largest in Iowa. 
Big Spirit Lake allows visitors to participate in various water-related activities, including kiteboarding and fishing. However, no visit to Big Spirit Lake is complete without taking a dip in one of the best Iowa lakes for swimming! 
On the southern shore of the lake lies Orleans, which features a sandy beach, diving platform, and playground. Other popular swimming areas include Marble Beach and Templar State Recreation Area on the lake's western shore.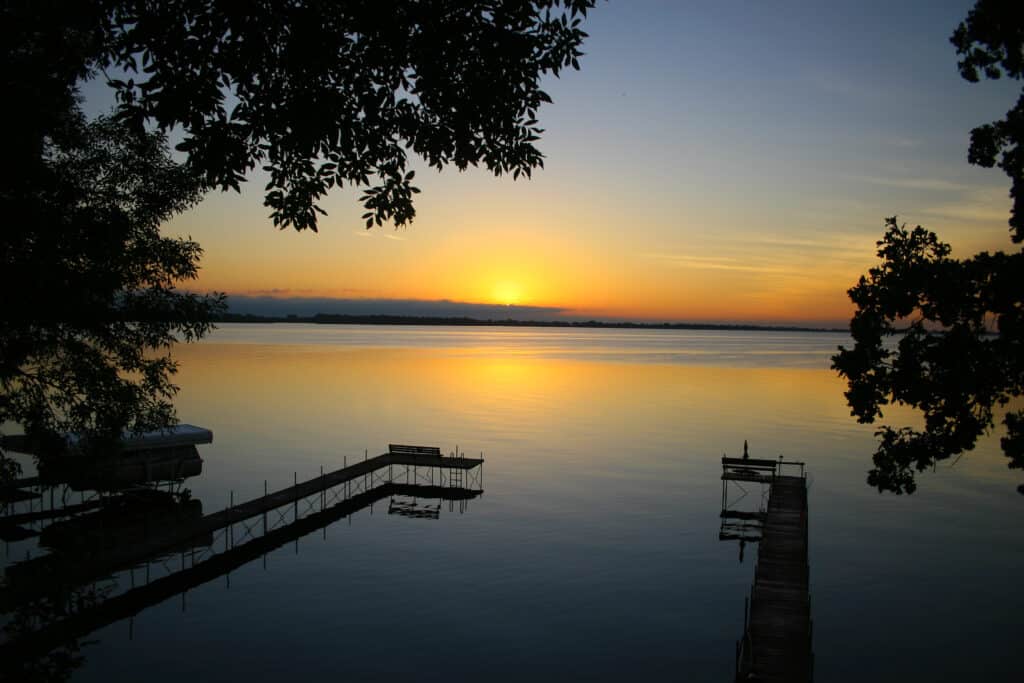 4. Clear Lake
The city of Clear Lake is located off Interstate 35 in northern Iowa. The city shares its name with the large lake on the western edge of the city. Its accessible location makes Clear Lake one of the most popular lakes in the state. 
Visitors come to the lake to engage in numerous recreational activities, including fishing, boating, and windsurfing. Numerous hotels, restaurants, and businesses line the shores of the lake, as well as several state parks. 
 If you want to go for a swim, make sure to check out one of Clear Lake's several beaches, including Clear Lake City Beach. Clear Lake State Park Beach, and McIntosh Woods State Park Beach. Clear City State Beach features a bathhouse, playground, and splash pad. Meanwhile, the beach at Clear Lake State Park measures nearly 900 feet long and features picnic areas and shelters. 
5. West Okoboji Lake
Also known as West Lake Okoboji, this natural 3,847-acre lake is part of the Great Iowa Lakes system. At 136 feet deep, it ranks as the deepest lake in Iowa as well as the second-largest lake in the state. 
Visitors flock to West Okoboji Lake for boating, sailing, water skiing, and fishing. The lake's depth and exceptional water quality mean that sunlight can easily penetrate the pure water. However, blue wavelengths do not absorb as easily as other colors, causing the water to appear bright blue.  
West Okoboji's clear blue water makes it one of the best Iowa lakes for swimming for locals and tourists alike. Terrace Park Beach features a long sandy beach that makes it one of the most popular beaches on the lake. Alternatively, you could head to the beaches at Pike's Point or Gull Point for a more relaxed and scenic swim.  
6. Kent Park Lake
About 11 miles west of Iowa City lies one of the most picturesque parks in eastern Iowa. Kent Park encompasses 1,062 acres of hill prairie, at the center of which lies the 27-acre Kent Park Lake.
Visitors to Kent Park Lake can enjoy numerous activities, including hiking, sightseeing, camping, and fishing. Weather permitting, you can also enjoy a dip in the lake to stay cool during the heat of the summer. 
Kent Park Beach is open daily from 11 am to 8 pm from Memorial Day to Labor Day. The beach is not lifeguarded, so visitors swim at their own risk. 
7. Lake Icaria
Located approximately 90 miles southwest of Des Moines, Iowa, Lake Icaria is a 650-acre man-made lake. Completed in 1978 as part of the Watershed Protection and Flood Prevention Act, the lake lies along Walters Creek and attracts visitors from all over Iowa. 
Lake Icaria's amenities include playgrounds, a marina, cabins, picnic shelters, and several hiking trails. Camping and fishing rank as two of the most popular activities at the lake, although plenty of people also visit the lake to swim in its waters. 
If you want to swim at Lake Icaria, make sure to check out Lake Icaria Beach. This 300-foot roped swim area features a sand volleyball court, picnic tables, a playground, and restrooms. The beach also attracts food trucks during the summer, where you can pick up a tasty treat in between dips in the water of one of the best Iowa lakes for swimming. 
8. Lake Wapello
Approximately 7 miles west of the town of Drakesville in southeastern Iowa lies Lake Wapello. This 289-acre man-made rests within Lake Wapello State Park. Both the park and the lake get their name from Chief Wapello, a famous chief of the Meskwaki Tribe in the early 1800s. 
Lake Wapello boasts a wide variety of recreational activities. Visitors flock to the lake to canoe, kayak, fish, and hike amidst the scenic tree-covered hillsides of Lake Wapello State Park. On hot days, visitors also cool themselves off by taking a swim in the waters of Lake Wapello. 
Lake Wapello features one of the best sand beaches found anywhere in southern Iowa. Right off the beach, you'll also find the largest beach house facility at any state park in all of Iowa. 
9. Lake Red Rock
Also known as Red Rock Reservoir, Lake Red Rock lies along the Des Moines River in southern Iowa. Situated around 41 miles southeast of Des Moines, this 15,520-acre lake ranks as the largest lake in the state. 
A day at Lake Red Rock provides visitors with a wealth of recreation opportunities, including boating, fishing, hiking, and camping. The Army Corps of Engineers maintains several recreation areas along the shores of the lake, including Whitebreast Park and North Overlook Park, both of which feature sandy beaches. 
Whitebreast Beach features a designated swimming area, playgrounds, a boat ramp, showers, and a fish cleaning station. Alternatively, head over to North Overlook Beach just to the north of Red Rock Dam to visit one of the best beaches on the lake. 
10. Big Creek Lake
Located just 2 miles north of Polk City in central Iowa, Big Creek Lake is an 814-acre man-made lake in Polk County, Iowa. Originally built to protect surrounding communities from flooding, the lake also functions as a popular recreation destination in the area. 
At its deepest point, the lake measures nearly 51 feet deep and boasts an average depth of 17 feet. This makes Big Creek Lake a popular fishing spot as it can accommodate boats of all sizes. The lake is also a popular site for people who want to take a dip in the water to escape the summer heat. 
If you want to swim in Big Creek Lake, head to Big Creek State Park on the southern shore of the lake. The park features a sandy beach that ranks as the largest in the Iowa state park system. At the beach can rent kayaks, paddle boards, and pontoon boats, and nearby amenities include concessions stand, picnic tables, and restrooms.  
Summary Of The 10 Best Iowa Lakes For Swimming
| Rank | Lake | Location |
| --- | --- | --- |
| 1 | Coralville Lake | Johnson County |
| 2 | Rathbun Lake | Appanoose County |
| 3 | Big Spirit Lake | Dickinson county |
| 4 | Clear Lake | Cerro Gordo County |
| 5 | West Okoboji Lake | Dickinson county |
| 6 | Kent Park Lake | Oxford |
| 7 | Icaria Lake | Adams County |
| 8 | Lake Wapello | Davis County |
| 9 | Lake Red Rock | 45 miles southeast of Des Moines |
| 10 | Big Creek Lake | Polk County |
---
The Featured Image
---