Michigan is bordered by the massive Great Lakes and is home to more than 11,000 inland lakes. So, whether you're searching for the perfect summer destination or want to cool off on a random day, Michigan offers you endless options of lakes perfect for different types of recreational activities. In this article, you'll discover the 10 best lakes in Michigan for swimming. 
1. Lake Michigan
Lake Michigan is the third-largest of the five Great Lakes of North America, bordered by the state of Michigan, Wisconsin, Illinois, and Indiana. Lake Michigan is one of the most popular lakes in the state for swimming. Several beaches dot the lake, including outstanding sand beaches along Sleeping Bear Dunes National Lakeshore, comprising over 35 miles of coastline. The 22,000-square-mile lake is also popular among vacationers for fishing, boating, and sailing.
2. Glen Lake
Glen Lake is considered by many to be one of the most beautiful lakes in the Great Lakes region. Its waters are filtered by the underlying and surrounding sands and are remarkably clear and pure –glowing with an iridescent indigo blue. Its beauty and purity make it a popular lake for vacationers, with opportunities for swimming and sport fishing for yellow perch, smallmouth bass, northern pike, brown trout, and lake trout.
3. Lake Huron
Lake Huron, also called "the freshwater sea," is one of the Great Lakes of North America and the third largest freshwater lake on Earth. Shared by Michigan by the Canadian province of Ontario, Lake Huron offers some of the best places to go for a swim. You can take a dip at Mackinac Island, a resort area on the lake that offers clear waters to swim in or enjoy the many beaches along the coast. Aside from swimming, Lake Huron is also a popular place to catch stunning sunrises, which is how this side of the state got its nickname "the sunrise coast."
4. Lake Leelanau
Lake Leelanau, located in Leelanau County, Michigan, is one of the best places to swim in the state. During summer in the Leelanau Peninsula, vacationers come to the area to enjoy its scenery, boating, fishing, restaurants, and shopping centers. In the surrounding area, you can make short trips to Northport, Suttons Bay, Glen Arbor, Leland, and Sleeping Bear Dunes National Lakeshore. Lake Leelanau is split into two divisions, each with different water depths and temperatures that appeal to the interests of different swimmers.
5. Burt Lake
The beauty of Burt Lake attracts visitors throughout the year with its clean water and scenic shoreline. Burt Lake's tributaries are also attractive with their good water quality and superb fishing opportunities. Burt Lake State Park is located on the lake's southeast shore with 2,000 feet of sandy shoreline. It comprises a network of gorgeous rivers and lakes perfect for those who enjoy swimming. Burt Lake is Michigan's fourth-largest inland lake and is regarded as "a waterman's paradise." Not only is it best for swimming, but it is also perfect for boating and fishing. 
6. Lake Charlevoix
Lake Charlevoix, located in Charlevoix County in Michigan, is the third largest inland lake in the state, with a surface area of over 70 km² (27 square miles). Depot Beach on Lake Charlevoix has warm waters, and swimmers often head out into the lake. Ferry Beach, also on Lake Charlevoix, has a gently sloping sandy swimming area and is a popular beach for friends and families. Other forms of recreation on the lake are kayaking, fishing, water skiing, sailing, boating, diving, water skiing, and just relaxing on the beach.
7. Lake Superior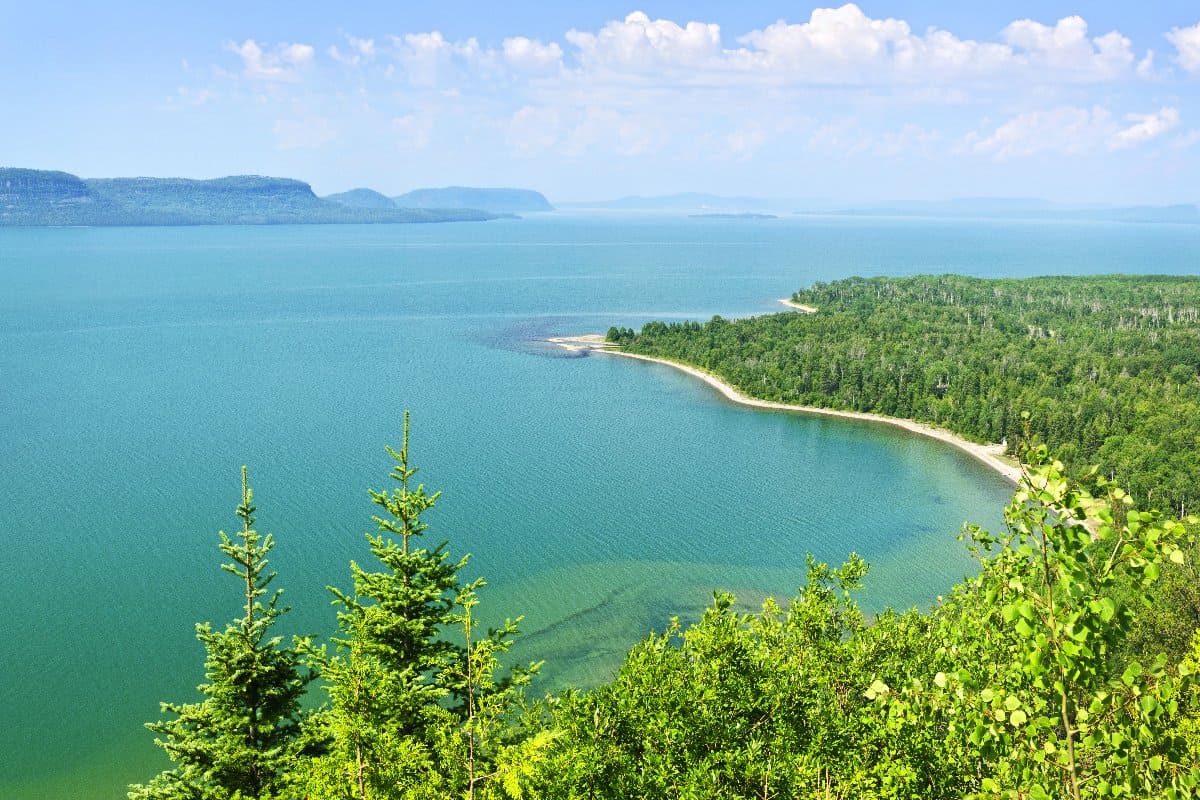 Lake Superior sits at the border between the United States of America and Canada, the largest of the famous five Great Lakes of North America and the world's largest freshwater lake by surface area. Lake Superior holds 10% of the world's surface fresh water. The beaches at Lake Superior are open and safe for swimming. The water is extremely clear, and it is easily the cleanest of the Great Lakes. There are more than 80 species of fish in Lake Superior, so besides swimming, fishing is a major activity on the lake.
8. Manistique Lake
Many seasonal residents use Manistique Lake as a center of summer recreational activity. The 10,130-acre beautiful lake is favored for swimming, boating, fishing, camping, and ice fishing. The relatively shallow lake is one of the largest lakes in the Upper Peninsula of Michigan, with its deepest point only 20 feet below the water's surface. With several other small lakes in the area, a vacationer on a visit to Manistique Lake can also enjoy the Lakes Superior and Michigan and hundreds of miles of rivers and streams. 
9. Lake Erie
Another perfect lake for swimming in Michigan is Lake Erie, the fourth largest of the Great Lakes. What makes Lake Erie so unique is that there are many access points and swimming beaches to enjoy on a visit to the lake. Other popular recreational activities on Lake Erie include fishing, water skiing, and visiting the nearby islands. Lake Erie also sees a lot of visitors from people looking to explore the Lake Erie Metropark for hiking, biking, playing golf, boating, and other activities. 
10. Lake St. Clair
A famous lake in southeast Michigan, Lake St Clair, serves many recreational purposes. It is sometimes referred to as "the sixth Great Lake" because it is considered part of the Great Lakes system. You can access this stunning lake via Lake St. Clair Metropark near Mount Clemens and dive into the water for a swim. Lake St Clair boasts numerous public beaches with clear water and sandy bottoms. Bordering the beach are nice shade trees and grass, great for cooling down in the summer.
Summary Of The 10 Best Lakes In Michigan For Swimming
| Rank | Lake |
| --- | --- |
| 1 | Lake Michigan |
| 2 | Glen Lake |
| 3 | Lake Huron |
| 4 | Lake Leelanau |
| 5 | Burt Lake |
| 6 | Lake Charlevoix |
| 7 | Lake Superior |
| 8 | Manistique Lake |
| 9 | Lake Erie |
| 10 | Lake St. Clair |
---
The Featured Image
---