Texas' weather varies from arid in the west to humid in the west. During summer, the searing heat drives everyone out in search of good spots to escape the discomfort. Thankfully, Texas is home to lakes offering cool refreshing waters for residents and tourists to cool off. They also offer various recreational activities for adventurous destination enthusiasts and vacationers. If you're looking for the most refreshing waters to cool off and take a relaxing dip, you should consider these 10 best lakes in Texas for swimming.
Lake Travis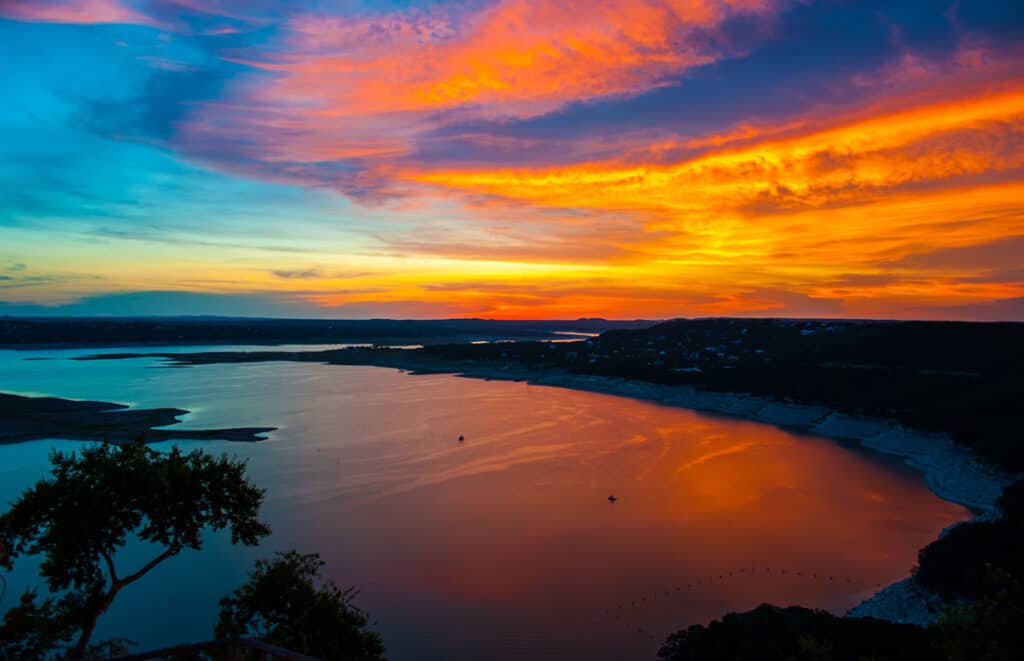 Lake Travis is considered one of the clearest lakes in Texas, a vital water supply source for Austin, Texas, and the surrounding metropolitan area. This lake is inarguably one of the best lakes in Texas for swimming, attracting hundreds of thousands of people annually – making it the state's most visited freshwater recreational vacation destination lake. Swimming is especially popular in the picturesque Hippie Hollow Park, located near the eastern end of Lake Travis. Other outdoor recreation opportunities on the lake include boating, fishing, camping, scuba diving, and picnicking.
Lake Lewisville
Lake Lewisville is an artificial lake covering 29,000 acres with 233 miles of shoreline, which makes it one of the largest lakes in Texas. With an average depth of 20 feet, this recreational lake is a popular destination in the Dallas Fort-Worth Area for swimming, fishing, skiing, recreational boating, and relaxing.
Surrounded by numerous beautiful parks, Lake Lewisville has an abundance of gorgeous sandy beaches, golf courses, campgrounds, hiking trails, and plenty of other outdoor activities.
The lakes in Lewisville tend to get very crowded in the summer months. There are six marinas and three restaurants on the lake. Recreational boating is popular, as well as boat tours. Visitors who are looking for a more bustling scene may visit Party Cove. Centrally located on the lake near Westlake Park is the place where boats tie up to one another, listen to music, drink, and have fun.
Inks Lake
Inks Lake State Park is a rocky 1,200-acre state park known for housing the Inks Lake used for recreational water sports. On a visit to Inks Lake Park, you can take a dip or dive off the granite cliffs around Devil's Waterhole, a popular swimming and cliff jumping spot in Texas. The Park also offers nearly nine miles of hiking trails, camping, canoeing, kayaking, scuba diving, fishing, water skiing, and boating. Located just one hour northwest of Austin, this beautiful state park has sparkling blue waters, colorful rocky outcrops, striking sunsets, and scenic landscape views.
Possum Kingdom Lake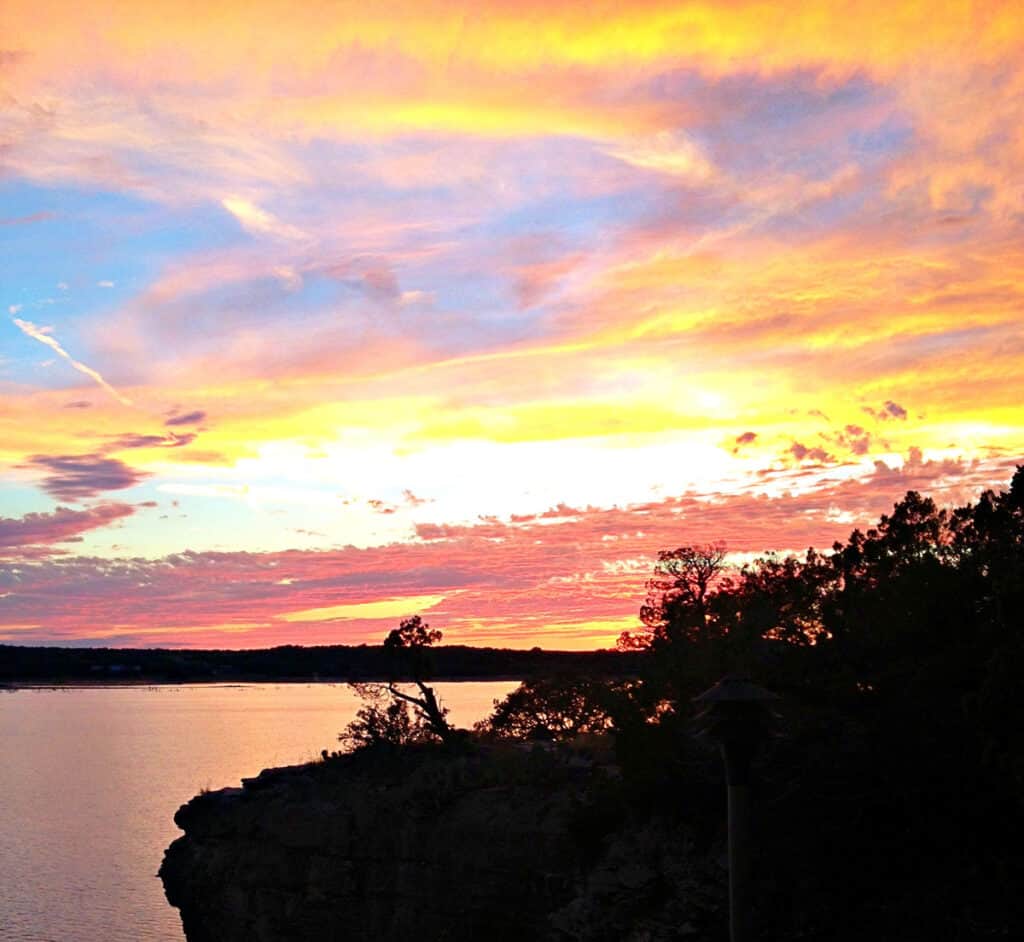 The striking scenery and clear blue water of Possum Kingdom Lake attract visitors yearly. The state park itself offers recreational activities both on water and land. Fishing, boating, scuba diving, skiing, and snorkeling are great water activities to enjoy in the lake, while camping, picnicking, hiking, and biking are available on land. Possum Kingdom Lake features over 300 miles of shoreline and many scenic coves. Located just an hour west of the Dallas-Fort Worth metroplex, the state park is one of the best places in Texas for you and your friends or family to have some summer fun.
Lake Tawakoni
Just about 50 miles east of Dallas is the beautiful and expansive Tawakoni State Park, known as home to the infamous largest spider web ever recorded. Lake Tawakoni is a 37,879-acre reservoir located within the Park. It is an excellent swimming spot, also popular for its abundance of catfish, largemouth bass, crappie, white bass, striped bass, and hybrid bass – so much so that it was nicknamed "The Catfish Capital of Texas." Besides being a hot spot for swimming and water recreation in Northeast Texas, the Park has nearly five miles of hiking and motor biking trails.
Lake Texoma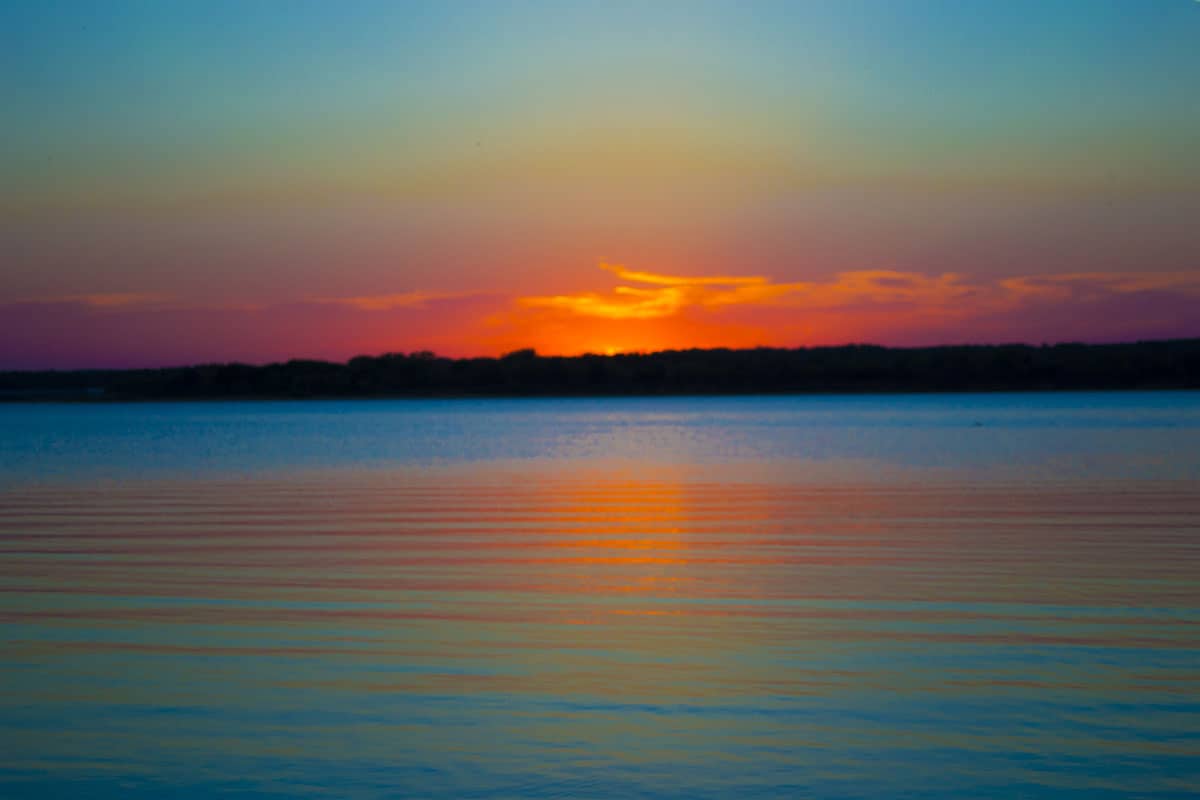 Lake Texoma, located on the Red River between Oklahoma and Texas and just an hour north of Dallas, is a popular swimming spot for Texan visitors and residents. It is one of the largest reservoirs in the United States, covering over 89,000 acres. Lake Texoma has an expansive surface area to accommodate a diverse range of recreational opportunities, including two state parks and two wildlife refuges, and is great for swimming and camping. The Lakefest Regatta is a popular attraction on the lake, which brings up to 100 keelboats and more than 500 sailors.
Lake Buchanan
Located 60 miles northwest of Austin, between Llano and Burnet, is the large Highland Lake, Lake Buchanan, covering 34.9 square miles of surface water. Fed by the Colorado River, it is one of the most scenic water bodies in Texas. There are several designated swim areas on the lake and many more on the lake's western shore. Lake Buchanan is famous for its abundant largemouth bass, white bass, striped bass, and catfish fishing. On a visit to Lake Buchanan, you can also visit Buchanan Dam, the 2-mile-long multi-arch dam in the United States completed in 1938.
Lake Whitney
Sitting just 90 minutes south of the Dallas and Fort Worth Metroplex is Lake Whitney, clean and clear, with fresh waters perfect for numerous recreational activities, including water sports, boating, fishing, and swimming. The calm water and scenic surroundings make Lake Whitney one of the best lakes in Texas for swimming. The public parks in the area offer plenty of campsites and a great place to relax with friends or family, and there are also lodging facilities with their pools. Whichever options you explore, you're sure to have plenty of fun.
Canyon Lake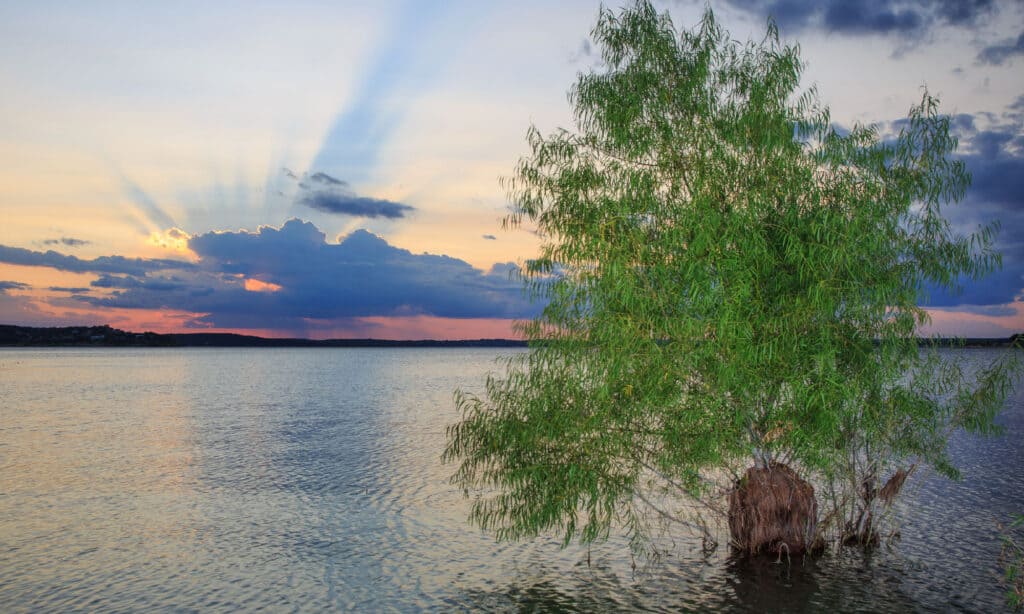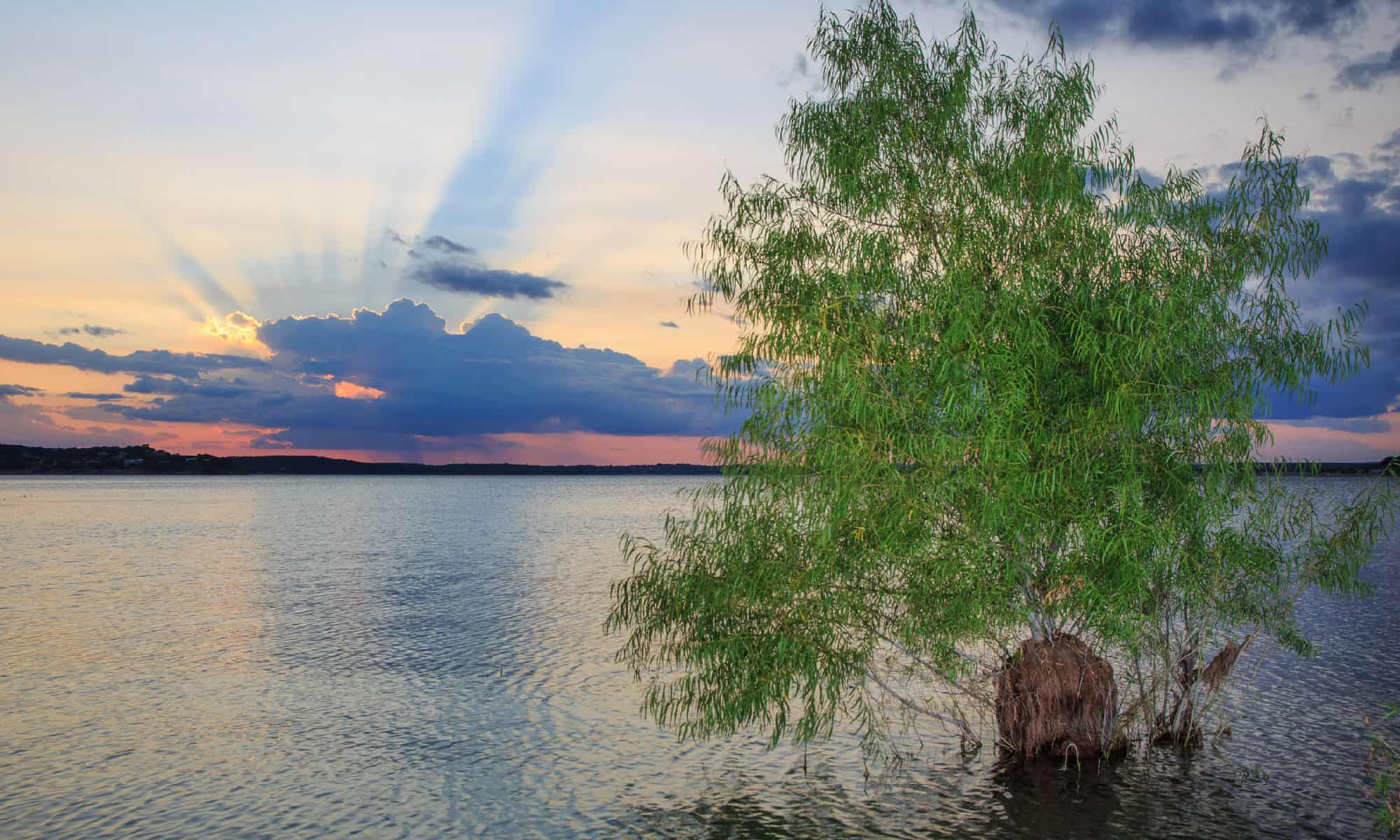 Canyon Lake is a popular recreational destination located on the Guadalupe River in the Texas Hill Country. The beautiful artificial lake is available for swimming and boating. Swimming beaches on the north shore of the lake near Hancock are open as day use facilities. In addition, Canyon Lake is located near New Braunfels, a town featuring several amenities, including cold-spring rivers.
Caddo Lake
Caddo Lake State Park is famous for its abundance of large bald cypress trees, and it also hosts Caddo Lake. For a refreshing swim, you can dive into the crystal-clear open waterways of the beautiful and mysterious Caddo Lake sitting on the border between Texas and Louisiana.
You can also enjoy camping, canoeing, hiking, and fishing. If you want a perfect getaway spot, Caddo Lake State Park is perfect for relaxing under the tall trees for a cool, refreshing day.
Honorable Mentions: Lakes in Texas for Swimming
While we did provide you with some awesome choices to consider for lakes in Texas for swimming, however, we did find a few extras that didn't make our list.
Here are a few honorable mentions:
Lake Longhorn
The Blue Hole
Waxahachie Lake
Lake Longhorn, known as "The Multisport Training Lake of Houston," offers a diverse range of aquatic activities. The lake offers recreational scuba diving, scuba diving training, and triathlon swimming.
The Blue Hole Park welcomes visitors during regular operating hours, but swimming is only permitted during the designated swimming season. But, when it is in season, the swimming is fantastic!
Lake Waxahachie is a two-acre park that includes fishing, a swimming area, playground equipment, boat ramps, picnic tables, and public restrooms.
The photo featured at the top of this post is © Daniel Mullins/Shutterstock.com
---