Delaware, the United States' second-smallest state, occupies the Delmarva Peninsula, a vast peninsula on the East Coast. It's a long, narrow state with only three counties – the most developed being New Castle County in the north. The state's total area is only 513,335 hectares (1,982 mi²), significantly less than Atlanta. The state's shoreline runs the length of the east side, while Maryland borders it on the west.
Rehoboth Beach in Delaware is known as "The Nation's Summer Capital" because of the reputation it has for vacationers coming from Washington, D.C. Its attractive and lively beach towns draw nearly 8 million tourists each year.
Many people are unaware that Delaware has a plethora of lakes and ponds. It may come as a surprise, but some of Delaware's ponds are larger than its lakes, despite their names. Nonetheless, both provide a calm, serene ambiance and are ideal places to relax. If you visit the state during the summer, be sure to spend some time at one of the 10 biggest lakes in Delaware.
The 10 Biggest Lakes in Delaware
    10. Lake Como
Smyrna's Lake Como, covering only 53 acres, is famous for its swimming and other water activities, uncommon in Delaware lakes. Because swimming in the ocean can be scary, a calm and clean lake is a good place to start. Other water sports such as paddle boating, canoeing, and fishing are also prevalent. This lake has a lifeguard-supervised swimming beach, which contributes to its popularity. It can get fairly crowded on weekends when local families visit, so it's better to go during the weekdays. Along the lake's shoreline, there is a playground and picnic spaces. 
Largemouth bass, crappie, white perch, catfish, bluegill, perch, pumpkinseed, and pickerel are common in the lake. On your vacation, get to know nature by going to the Blackbird Forest in nearby Smyrna, where you may hunt and trek.
    9. Garrisons Lake
Garrisons Lake, an 84-acre (0.33 km2) impoundment located 3 miles south of Smyrna in the state's central region, is home to bass, crappie, sunfish, and perch. Baitfish and predators inhabit a 2-mile stretch of shoreline with abundant aquatic vegetation. There is also a shoreline for fishing from the bank on the pond's south side, near the boat launch ramp and the north parking lot. Fishing is also permitted on a pier and a walkway that spans the dam. Kayaks, car-top boats, and canoes are all good options for fishing in this productive area. In addition, Garrisons Lake Golf Club is one of Delaware's most popular golf courses and "your place to play." This 160-acre championship golf course was recently refurbished. 
8. Records Pond
Looking to go somewhere quiet to revitalize your energy? Records Pond is the place to be. Records Pond, also known as Laurel Lake, is a shallow body of water with a 90-acre surface area. It sits along Broad Creek in the town of Laurel and is a picturesque pond surrounded by trees and plants. Moreover, you may enjoy some of the popular activities in the area, including kayaking, canoeing, and paddleboarding.

Trap Pond State Park Marina offers boat rentals from the northern bank to access the waters. The rich greenery that surrounds the lake adds to its beauty. You can fish for catfish, sunfish, and crappies from the pond while sitting on the shore, as fish are plentiful, ensuring a successful fishing trip.
7. Trap Pond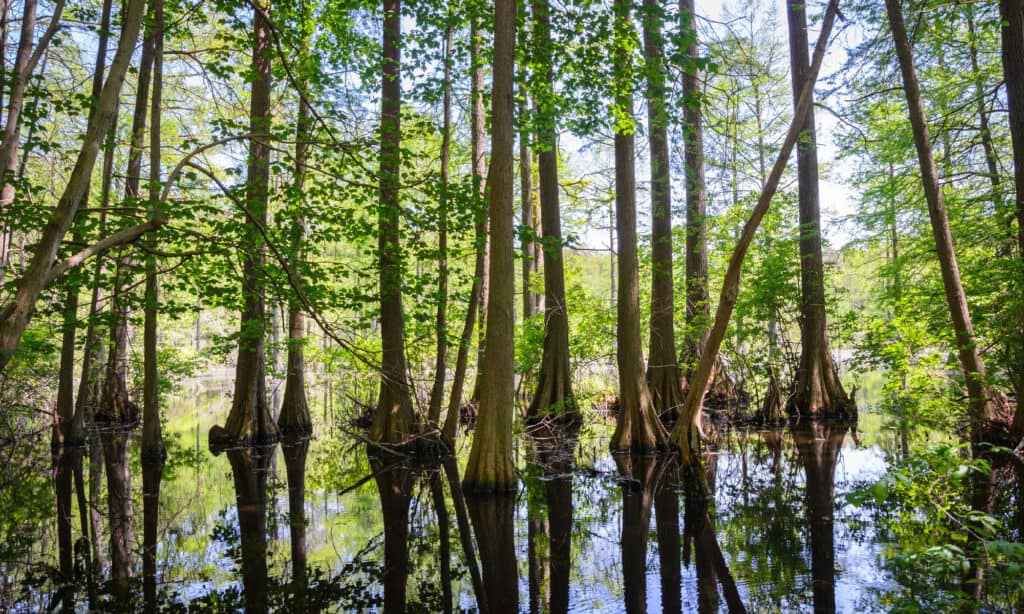 A charming state park and pond of the same name, once huge wetlands of 90 acres (0.36 km2), lie in the state's southwest corner. Trap Pond offers you and your family the opportunity to hike or bike the park's paths and fish in the pond. The beautiful park, packed with lush trees and plants, caters to bird aficionados who will enjoy seeing great blue herons, woodpeckers, owls, warblers, and bald eagles. Stop through the Bald Cypress Nature Center to see amphibians, reptiles, and fish before returning to your rustic holiday accommodation. An hour-long guided boat tour through the cypress swamps, cemeteries, and a historic church is available. You may also hire kayaks or paddleboards and launch them from the boat ramp. All regular catches are largemouth bass, chain pickerel, bluegill, crappie, yellow perch, and catfish.
    6. Millsboro Pond
Millsboro Pond in Sussex County covers 134 acres (0.54 km2) of surface area. Make Millsboro Pond your holiday location and travel back in time as the Nanticoke Indians lived near Millsboro Pond, which is now a popular hunting and fishing spot. Many people come to Millsboro Pond for its tranquility, canoeing or kayaking, or to take in the scenery.
Bird watching is extremely popular, as the pond is frequently visited by waterfowl and bald eagles. With its surface area, Millsboro Pond is ideal for fishing from the bank or in a small boat. You can catch largemouth bass, black crappie, pumpkinseed, pickerel, and other fish when fishing here. Tourists will discover a variety of lodgings, restaurants, and shopping in downtown Millsboro, which has retained its original small-town charm.
    5. Silver Lake
Silver Lake, located in Dover, is one of a kind, and you may relax beside it to get away from the hustle and bustle of the city. This 167-acre (0.68 km2) freshwater lake is another fantastic Dover destination, where you may fish, paddle, or picnic. The beach area is great for splashing in the water or sunbathing while watching ducks and swans wade. If you don't have a boat, Dockside Boat Rentals can rent one for you to explore the waters. A picnic area with picnic tables and BBQ grills is also available for a good dinner.
Carp, largemouth bass, crappie, white perch, and striped bass are among the many fish species present in Silver Lake. The lake is also home to laughing gulls, herring, ring-billed gulls, double-crested cormorants, great blue herons, and red-winged blackbirds.
    4. Hoopes Reservoir
Hoopes Reservoir is a beautiful water body in Newcastle County, covering 188 acres (0.76 km2) of surface area. In 1932, the reservoir was created by damming the Old Mill Stream and Red Clay Creek. The flora around this lake will astound you, making it a peaceful location to visit. Valley Garden Park has lovely gardens, walking trails, and plenty of open space at the northeast corner of the lake. Due to the difficulty in getting to it, it is a lesser-visited lake. It is also not very accessible to public leisure because its principal purpose is to provide water to the citizens of Northern Delaware. It would be best if you do not attempt to fish here, or you would have to pay a fine.
    3. Red Mill Pond
Red Mill Pond is a 192-acre (0.78 km2) body of water in Sussex County, Delaware. It is a popular destination for water enthusiasts who love boating, water sports, and scenic vistas. In addition, the pond, the gazebo, and the boat launch at the water's edge are all accessible by picturesque walking pathways. The clubhouse's outdoor pool area will appeal to those who prefer swimming or simply relaxing poolside. Red Mill Pond is home to many pike, largemouth bass, crappies, sunfish, bluegills, and bullhead. The pond is only lightly fished and features a long stretch of shoreline for fishing.
    2. Lums Pond
Lums Pond is a 198-acre (0.80 km2) freshwater pond in Delaware, making it the state's second largest. The pond sits right in the heart of Lums Pond State Park. It is open all year to provide visitors with various leisure opportunities. Swimming is not permitted during the summer months, although rowing, sailing, kayaking, canoeing, and fishing are available. Black crappie, white crappie, largemouth bass, bluegill, sunfish, and perch are among the fish living here. If you're bringing pets, you can take them to the dog park for some fun.
Zip-lining over the pond and through the hardwood forests is another option for thrill-seekers. Camping is also available at rustic campsites that are clean and roomy, with spectacular views. In the winter, snowmobiling and cross-country skiing attract visitors, while hiking is open all year. There are volleyball courts, basketball courts, tennis courts in the park, and a few sports grounds.
    1. Shearness Pool
Shearness Pool sits within the Bombay Hook National Wildlife Refuge, located on the east coast of Delaware. It's a freshwater impound covering 203 acres (0.82 km2) and is accessible by climbing the Parsons Point Trail or driving through the refuge on the picturesque Auto Tour Route. Over 350 bird species thrive here, some of which you will see on your way to the lake. The wildlife refuge was founded in 1937 as a breeding site and shelter for migratory and winter fowl, making it a bird watcher's paradise. Winter birds, snow geese, American black ducks, great egrets, wood ducks, common yellowthroats, and warblers can all be seen with binoculars. Other wildlife, such as the red fox, rodents, and turtles also live around the waters.
Up Next:
More from A-Z Animals
---
The Featured Image
---