Key Points:
A large variety of fish are available in these lakes including various kinds of bass, catfish, crappie, sunfish, trout, and perch.
Recreational activities abound such as boating, tubing, swimming, fishing, picnicking, and visiting the surrounding villages and parks.
Several of the lakes resulted from dams built for flood control, hydroelectric power generation, and as a source of water for the state population.
Georgia is well-known for its stunning natural beauty. It boasts different climate zones, ranging from the Mediterranean to subtropical, and natural scenery, including seas and high mountain settings, deserts, vineyards, forests, and glaciers. But one of the reasons Georgia is a great place to visit is its magnificent bodies of water.
Dams created many of Georgia's lakes, and most of the lakes on our list are no exception. These lakes provide excellent fishing and recreational boating opportunities, ranging from small, quiet lakes to massive party lakes. Since most of these lakes' construction was under the Tennessee Valley Authority Act, which was signed into law by Franklin D. Roosevelt, each lake has its distinct history. A number of the lakes have villages or even bridges hidden beneath their serene waters. Below, we will explore the 10 biggest lakes in Georgia.
The 10 Biggest Lakes in Georgia
10. Lake Allatoona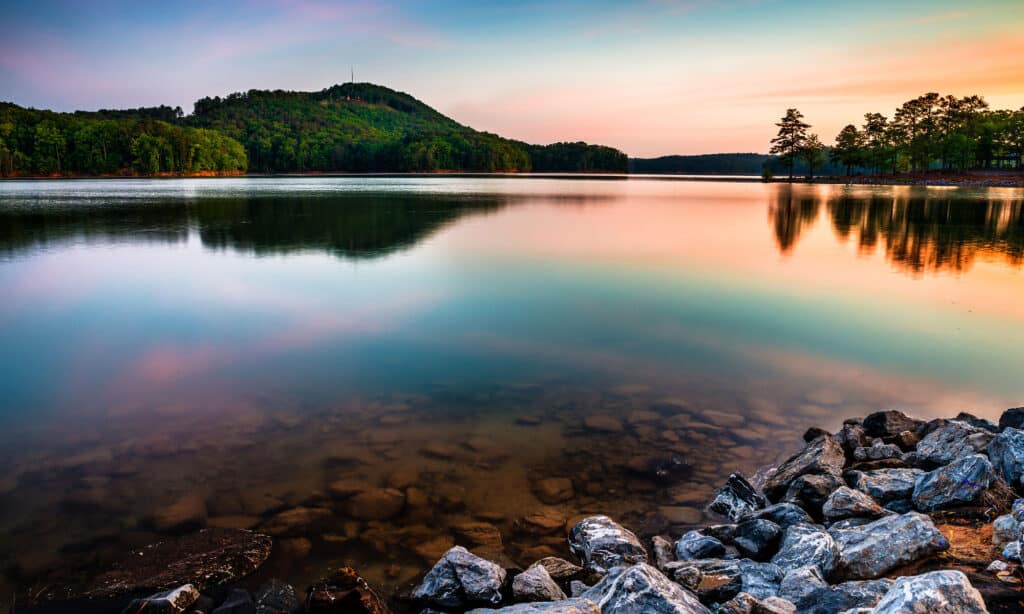 Lake Allatoona is a reservoir built by the US Army Corps of Engineers on the Etowah River in Georgia's northwest region. The ruins of Etowah's town are now at the bottom of the lake. Flood control, hydroelectric power generation, water supply, quality fish and wildlife management, and recreation are all uses of Lake Allatoona. The fish in the lake include bass, crappie, catfish, and bream. With 270 miles of shoreline and 12,000 acres (48.6 km2) to explore, this massive lake is perfect for boating and fishing.
Not only is Allatoona beautiful, but it is also one of the cleanest lakes in the state. offering pure drinking water to the surrounding communities. Camping, boat ramps, marinas, and parks abound on Lake Allatoona. You can go to the swimming areas, rent a boat, have a great picnic, or go fishing while admiring the magnificent Georgia scenery.
9. Lake Sinclair
Situated in the historical heartland of Milledgeville, Georgia, you will find the gem of Lake Sinclair. Operated by Georgia Power, Lake Sinclair came to life in 1953. It is an artificial lake encompassing 15,300 acres (62.04 km2) of winding coves and several vast stretches of open water, boasting 417 miles of shoreline. It is a prime location for fishing, tournaments, swimming, boating, and camping and even offers several marinas for the convenience of locals and visitors. There are several varieties of bass and catfish as well as crappie, and sunfish. Since Lake Sinclair is one of the cleanest lakes in Georgia, there are no eating restrictions on the fish caught out of it. The clarity of the water on Lake Sinclair varies depending on where you go. This lake has mud, sand, and rock bottoms and is not as pristine as mountain rock bottom lakes.
8. Lake Oconee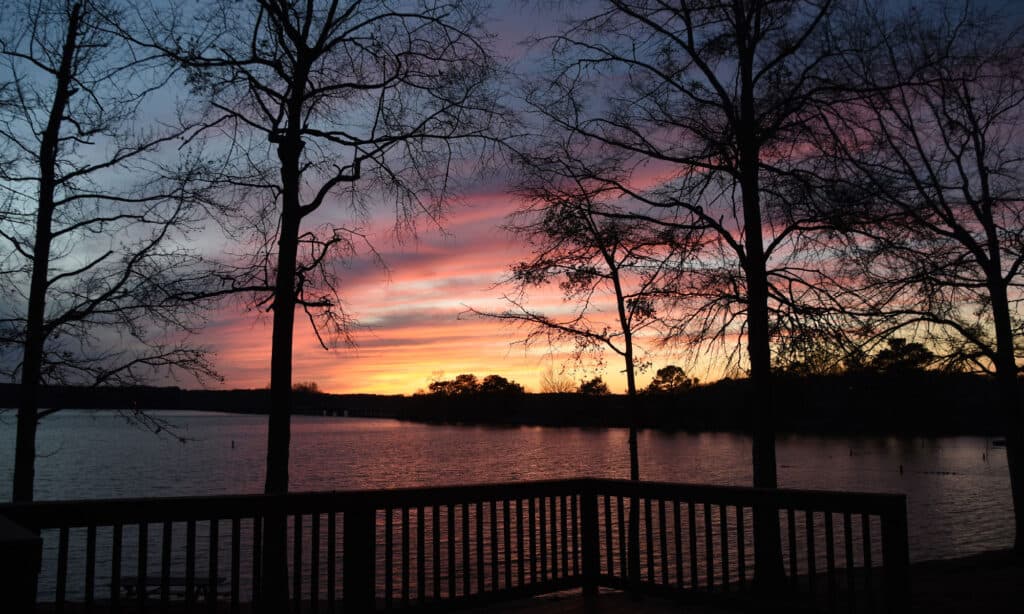 Lake Oconee is a reservoir on the Oconee River near Greensboro and Eatonton in central Georgia, United States. This large lake covers a surface area of 19,071 acres (77.09 km2) and has 374 miles of shoreline. Those who prefer to fish from the bank or a boat can find lots of fishing spots on the lake. Here you'll find crappie, catfish, white bass, bluegill, stripers, hybrid striped bass, and sunfish. Lake Oconee is a family-friendly spot with local gift shops, on-site lodging, picnic areas, and options for boating, fishing, and golfing. The possibilities at Lake Oconee are virtually endless, from markets to boutiques, breweries, restaurants, and eateries. It is a must-see attraction on your next trip to a Georgia lake.
7. West Point Lake
West Point Lake is a 35-mile stretch of the Chattahoochee River on the Alabama-Georgia state line that we share with our Alabama neighbors. Maintained by the US Army Corps of Engineers (USACE), it is the smallest of the four major USACE lakes, containing 25,864 acres (104.8 km2) of water and has the second shortest shoreline at 604 miles. Nonetheless, it still provides excellent opportunities for fishing, camping, boating, and other recreational activities for families and pets. Many animals, some of which are harmful to people, live in and around the lake. Two venomous snakes that thrive in the area are the copperhead and cottonmouth. The bluestripe shiner, southern brook lamprey, and high scale shiner are three fish on this list. Although there are American alligator sightings, they are exceedingly rare. For recreational fishing, catfish, crappie, and bass are found in this lake.
6. Richard B. Russell Lake
Richard B. Russell Lake (known to locals as simply "Lake Russell") is a man-made reservoir built by the US Army Corps of Engineers by the construction of Richard B. Russell Dam on the Savannah River bordering Elbert County, Georgia, and Abbeville and Anderson counties in South Carolina. It offers a rural, pristine, and quiet setting with 21 public recreation areas where visitors enjoy water sports, hunting, hiking, picnicking, camping, and fishing. The lake consists of 26,650 acres (108 km2) of water and 540 miles of shoreline. There are a couple of state parks that provide boating access and picnic spots. Lake Russell is distinctive in that it maintains a habitat for a diverse assemblage of warm-water, cool-water, and even cold-water sport fish. Bass, catfish, crappie, trout, sunfish, perch, and striped bass thrive here.
5. Lake Lanier
Lake Sidney Lanier, often referred to as Lake Lanier, is a reservoir that stretches out over 37,000 acres (150 km2) and 692 miles of shoreline along the foothills of the Blue Ridge Mountains in northeast Georgia. There is too much to do at Lake Lanier in a single weekend, from shopping to fishing to tubing to dozens of different types of lodging; you will have to return to complete the fun. Lake Lanier is famous among striper anglers because of its excellent striped bass fishing. The lake also has healthy populations of catfish, crappie, sunfish, walleye, perch, and gar. However, because of its murky water covered with tree trunks and other debris that can easily entangle swimmers, Lake Lanier can be dangerous.
4. Lake Seminole
Lake Seminole, located near the Florida border, is closer to the city of Tallahassee than any metropolitan area in Georgia. Spanning 37,500 acres (152 km2), it is the perfect spot for fishing, boating, and birding. Although the area is well-known for its excellent goose hunting, it is also known for its variety of wildlife. "Discover Nature" trails lead past gopher tortoise burrows, and you may also spot osprey and bald eagles.
Unfortunately, there is no safe swimming area in the lake because of the infamous alligators. The fish include largemouth bass, crappie, chain pickerel, catfish, striped bass, and other species. Picnic spaces, campers, and cottages provide beautiful views and easy access to the water. Seminole State Park surrounds a cove. Because of this, guests typically enjoy smooth waters for water skiing and tubing activities.
3. Walter F. George Lake
Walter F. George Lake (Lake Eufaula) is a 45,000-acre (182.8 km2) lake on the Chattahoochee River along the state line of Alabama and Georgia. Known as the "Big Bass Capital of the World," it is a popular year-round location for fishing, boating, and other outdoor sports.
Bass and sunfish love to hide among boat docks and bush and the coastline of Lake Eufaula has enough of both. Bass use this shallow cover for feeding and spawning in the spring, then migrate to outer structures such as points, islands, ledges, and creek channels in the summer.
There are 800 miles of shoreline to explore, including sandy swimming beaches, high cliffs, and vibrantly wooded areas teeming with wildlife. There's never a dull moment with outdoor activities such as boating, skiing, swimming, four-wheeling, fishing, hunting, and exploring the two state parks.
2. Lake Hartwell
Lake Hartwell is the second largest lake in the state, with approximately 56,000 acres (226.6 km2) of water! Encompassing parts of the Savannah, Tugaloo, and Seneca Rivers, Lake Hartwell has a 978-mile shoreline located at the border of Georgia and South Carolina. Hartwell is a great place to go fishing and boating. Abounding with largemouth and spotted bass, Hartwell also boasts hardy populations of striped bass, hybrid bass, black crappie, bream, trout, and stocked walleye. You'll never feel crowded here because of the vastness, but you might feel lost. There are numerous marinas and lakeside restaurants, and there are fishing tournaments, boat rallies, and other events. Lake Hartwell is a little far from Atlanta, but it offers highly reasonable lake-living alternatives and is not as crowded as other lakes.
1. Clarks Hill Lake
Lake Strom Thurmond, officially designated J. Strom Thurmond Reservoir at the federal level, and Clarks Hill Lake in Georgia is an artificial reservoir at the border between Georgia and South Carolina in the Savannah River Basin. It tops our list at 71,000 acres (290 km2) and is the third-largest artificial lake east of the Mississippi River. Its 1,000+ miles of shoreline offer plenty of fishing, boating, and Corps of Engineers recreational areas. Hundreds of campgrounds, villages, and attractive tiny towns are available to explore. Largemouth bass, striped bass, bluegill, redbreast sunfish, bass, giant catfish, and crappie fishing are prevalent at Clarks Hill. The lake also has excellent shellcracker fishing during the late spring.
Honorable Mentions: More Large Lakes in Georgia
But wait, there's more! The ten lakes we included in our list are not the only large lakes in Georgia. We wanted to make mention of two more that certainly don't compete in overall acreage with the top 10, but can also be celebrated for their largeness.
Lake Blackshear
Lake Blackshear is a notable Georgia lake for more reasons than one. Besides being a lake that spans 8,700 acres with a shoreline that runs 85 miles, this lake is notable for possibly being the most alligator-infested lake in Georgia. It's located in southwestern Georgia in Crisp County, and was created when a dam was built in the Flint River to form it. The area houses the Lake Blackshear Resort and Golf Club. 
Recreational activities that can be enjoyed at Lake Blackshear include boating, water sports, fishing, golfing, hiking, and more.
Lake Chatuge
In 1942, the Chatuge Dam was built to create Lake Chatuge, a reservoir near the town of Hiawassee that spans 7,000 acres with a shoreline of 132 miles. This lake has the highest elevation of any major lake in Georgia, sitting 1,926 ft above sea level.
The lake is known for its gorgeous scenery given its placement in the southern part of the Appalachian mountains. Recreations to be enjoyed include fishing, boating, water skiing, hiking, and camping.
Summary Of The 10 Biggest Lakes In Georgia
| Rank | Lake | Size in Acres |
| --- | --- | --- |
| 10 | Lake Allatoona | 12,000 |
| 9 | Lake Sinclair | 15,300 |
| 8 | Lake Oconee | 19,071 |
| 7 | West Point Lake | 25,864 |
| 6 | Richard B. Russell Lake | 26,650 |
| 5 | Lake Lanier | 37,000 |
| 4 | Lake Seminole | 37,500 |
| 3 | Walter F. George Lake | 45,000 |
| 2 | Lake Hartwell | 56,000 |
| 1 | Clarks Hill Lake | 71,000 |
The photo featured at the top of this post is © iStock.com/Eric Benz
---