Every direction in Iowa leads to a new body of water to discover, and it is home to some of the country's largest, longest, deepest, and most picturesque lakes. The Hawkeye State has a long history that traces back to the 1600s and includes many of the man-made and natural sources of water that lie throughout the state. The lakes in Iowa sit between rolling hills and deep valleys, surrounded by lush forests and beautiful woodlands, and bordered by sandy beaches and marshy wetlands.
Like most of Iowa's natural lakes, the Iowa Great Lakes are glacial, and they're always a favorite destination for family vacations. The state's largest freshwater lake and a series of lakes entice travelers for summer vacations in this area in northwest Iowa. When it comes to spending a day hiking, mountain climbing, boating, sailing, swimming, or fishing, Iowa's lakes do not disappoint. Below, we will explore the 10 biggest lakes in Iowa. 
The 10 Biggest Lakes in Iowa
10. Lost Island Lake
Lost Island Lake is a 1,162-acre (4.70 km2) lake located north of Ruthven, Iowa. Bass, catfish, crappie, walleye, sunfish, perch, and northern pike thrive within 7 miles of the shoreline. Hiking and touring the local state parks are never enough for nature lovers! They offer a variety of activities and opportunities to get outside and enjoy the beauty of nature. Lost Island Lake County Park is no exception, sitting on the eastern edge of Lost Island Lake. It has two difficulty levels: a paved hiking/biking track and a more challenging rock and dirt trail that travels closer to the lake. The county park, which borders the Nature Center and Huston Park, has plenty of picnic spots, shelter facilities, and restrooms). 
9. East Okoboji
East Okoboji Lake is a natural body of water in Dickinson County, Iowa, with roughly 1,835 acres (7.42 km2) surface area. It's part of the Iowa Great Lakes chain of lakes, and the Santee or Eastern Dakota Sioux had long lived in the area. Okoboozhy, which means reeds and rushes in Dakotan, inspired the name given to the lake. It is Iowa's longest natural lake, but it is not particularly deep. Despite this, the number of bullheads makes it a popular fishing spot. Paddlefish were also once prevalent in these waters, and they were enormous freshwater fish.
The Elinor Bedell State Park lies along the lake's western shoreline and allows visitors to enjoy boating, fishing, and swimming. There are also camping areas, picnic shelters, and several miles of hiking routes throughout the park.
8. Okamanpeedan Lake
Okamanpeedan Lake, also known as Tuttle Lake, sits in northern Iowa, sharing a border with Minnesota, and is a popular vacation destination with a variety of outdoor and recreational activities. The 2,300-acre (9.30 km2) lake, which spans three counties: Emmet, Martin, and Minnesota, is named after a Native American word that means "a nesting place of the herons" due to the vast population of herons that lives in the towering trees along the coastline. Boating, canoeing, kayaking, fishing, and swimming are among the most popular water activities in Okamanpeedan Lake. While fishing, anglers can count on getting black bullhead, bluegill, channel catfish, largemouth bass, northern pike, walleye, white crappie, yellow bullhead, and yellow perch. Seasonal cabins and summer houses occupy the lake's southwest shoreline, while permanent residential homes and a camping ground with a boat launch line the lake's south bank.
7. Clear Lake
Clear Lake is one of 34 naturally occurring glacial lakes in Iowa, created about 14,000 years ago by the melting and movement of glaciers. It is noted for excellent sailing and is a boater's fantasy world. The 3,684-acre (14.91 km2) lake, which is home to the Clear Lake Yacht Club, offers a variety of watersports, including pleasure and power boating, sailing, tubing, wakeboarding, waterskiing, and more relaxing activities like canoeing, kayaking, and swimming. There are many boat ramps, jetties, and a fish cleaning facility on the lake, with an abundance of bullhead, yellow bass, and walleye. Clear Lake State Park is along the lake's shoreline, dotted with permanent and summer houses. On the north shore of the lake, McIntosh Woods State Park lies, and its numerous shade trees provide welcome relief from the summer heat.
6. West Okoboji Lake
West Okoboji Lake, part of the Iowa Great Lakes chain, is a 3,847-acre (15.57 km2) natural lake in northwest Iowa that is one of the most popular lakes in the region for excellent recreational activities. Its outstanding water quality is responsible for its bright, stunning shade of blue. The water quality is so good that it got the title of Outstanding Iowa Water by the Iowa Department of Natural Resources. Locals and visitors enjoy boating, sailing, swimming, and waterskiing on the lake's magnificent waters, as it also has world-class fishing for bluegill, yellow perch, and walleye. The cities of Arnolds Park, Okoboji, West Okoboji, and Wahpeton, all named after Dakota Sioux and Santee people, now line the lake's beaches, which provide a variety of residential and vacation houses, amusement parks, natural reserves, campgrounds, restaurants, and shops.
5. Coralville Lake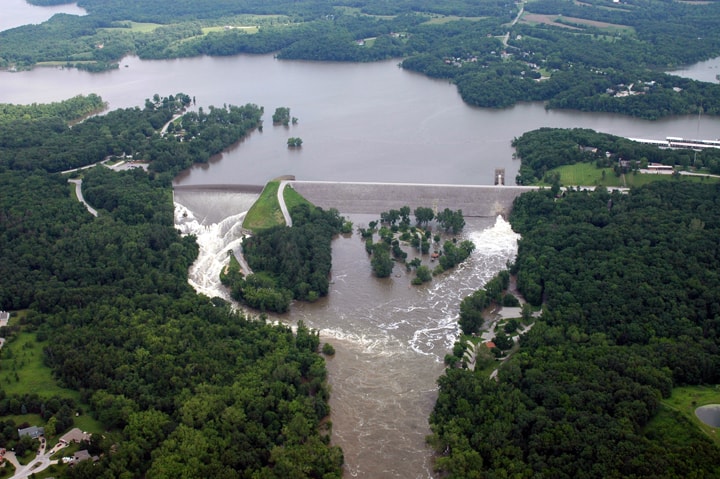 Coralville Lake is an artificial lake formed by the Coralville Dam in Johnson County, Iowa. Coralville Lake is the star of east-central Iowa's recreational lakes, with a surface area of 5,340 acres (21.61 km2) and a history of bringing tourists to its waters and shoreline for more than 60 years. Hiking, biking, camping, fishing, and boating are just a few of the activities available on the lake and its surrounding shoreline. There are 11 recreation areas, four swimming beaches, three marinas, 18 boat ramps, three campgrounds (620 campsites), seven huge picnic shelters, two disc golf courses, and seven trails. Lake MacBride State Park is just the beginning of the public lands near Lake MacBride and the Coralville Reservoir to explore. This pet-friendly park is popular with dog owners who like walking through wooded valleys and along beautiful lake trails.
4. Big Spirit Lake
Big Spirit Lake is the largest lake in Iowa's Great Lakes Chain, formed about 13,000 years ago during the last ice age, and sits in Dickinson County in northwest Iowa. Spirit Lake is Iowa's largest natural lake, with a surface area of 5,684 acres (23 km2), 16 miles of shoreline, and a maximum depth of 24 feet. Dakota Native Americans gave the lake its name, believing that evil spirits guarded the lake. Canoeing, kayaking, swimming, and fishing for bluegill, crappie, big and smallmouth bass, yellow perch, and walleye are all popular activities in the upper section of East Okoboji Lake, where the shallow depth is suitable for canoeing, kayaking, and swimming.
3. Saylorville Lake
Saylorville Lake, stretching approximately 50 miles across three counties just outside of Des Moines, is along the Des Moines River outside the city and is well-known for land and water-based sports. The 5,950-acre (24 km2) reservoir, built by the Army Corps of Engineers for flood control in 1977, now attracts locals and visitors to enjoy boating, swimming, fishing, kayaking, camping, hiking, and mountain biking. The American Bird Conservancy listed Saylorville Lake as an internationally significant birding area. Beginning in August and culminating around Labor Day, tens of thousands of American White Pelicans congregate on the flats. Bald Eagles also thrive on the lake ice or along the Des Moines River below the dam during the winter months. While in winter, coyotes and deer walk on the lake ice and in wooded areas.
2. Rathbun Lake
Rathbun Lake has something for everyone, no matter what your interests are. It's Iowa's second-largest lake, with 11,000 acres (44.52 km2) of beautiful water and 150 miles of shoreline. The lake, nestled in Appanoose County, is suitable for boating, sailing, and swimming. It also has the state's largest warm-water fish hatchery, making it a great place to fish for crappie, channel catfish, largemouth bass, and walleye. The lake is home to white-tailed deer, wild turkey, Canada geese, and other mammals, birds, and fish. The nearby Rathbun Wildlife Management Area also has deer, pheasant, waterfowl, quail, and dove. Eight parks surround the lake's shoreline, including camping and picnic areas, public docks, boat ramps, children's playgrounds, and the state-run Honey Creek State Park Resort's massive indoor waterpark.
1. Lake Red Rock
Lake Red Rock, Iowa's largest lake, is an artificial reservoir with a surface area of 15,520 acres (62.81 km2). This enormous reservoir sits along the Des Moines River about 88 kilometers (55 miles) southeast of Des Moines, close to the Dutch-inspired city of Pella, one of Iowa's best little towns. The magnificent woodlands and swamps encircling the lake are popular recreational destinations, offering water-based recreation and land activities. Red fox, badger, coyote, pika, and raven are year-round dwellers among these rich habitats. The lake's shoreline is home to Elk Rock State Park, Cordova Park, Roberts Creek Park, beautiful swimming beaches, and numerous hiking and mountain bike paths.
Summary of the 10 Biggest Lakes in Iowa
| Rank | Lake | Surface Area |
| --- | --- | --- |
| 10 | Lost Island Lake | 1,162 acres (4.70 km2) |
| 9 | East Okoboji | 1,835 acres (7.42 km2) |
| 8 | Okamanpeedan Lake | 2,300 acres (9.30 km2) |
| 7 | Clear Lake | 3,684 acres (14.91 km2) |
| 6 | West Okoboji Lake | 3,847acres (15.57 km2) |
| 5 | Coralville Lake | 5,340 acres (21.61 km2) |
| 4 | Big Spirit Lake | 5,684 acres (23 km2) |
| 3 | Saylorville Lake | 5,950 acres (24 km2) |
| 2 | Rathbun Lake | 11,000 acres (44.52 km2) |
| 1 | Lake Red Rock | 15,520 acres (62.81 km2) |
---