Natural lakes are uncommon in Kansas and are substantially smaller than the state's reservoirs. Hence, artificial lakes account for all ten of Kansas' largest lakes. Flood management, water supply for irrigation and residential usage, fishing, and recreation are just a few of the functions they serve. In addition to providing hours of fun and relief from those hot summer days, many of these lakes offer activities such as canoeing and kayaking, fishing, hiking, and bird viewing during the off-season. However, the most significant function of these lakes is to provide habitats for aquatic wildlife such as plankton, snails, worms, frogs, turtles, insects, and fish. With that, it's essential to know which of these lakes has the largest surface area. Below, we will explore the 10 biggest lakes in Kansas. 
The 10 Biggest Lakes in Kansas
10. Cedar Bluff Reservoir
Cedar Bluff Reservoir is a reservoir located in Trego County, Kansas. It has a surface area of 6,869 acres (27.80 km2), making it the 10th largest lake entirely within the state. More than 14,000 acres of water and wildlife areas make the Cedar Bluff State Park an excellent destination for campers, hunters, anglers, and year-round explorers. During the fall and spring months, visitors to the area will notice thousands of migrating birds making the reservoir their home. During the winter, geese and eagles thrive in the vicinity. You will find many birds of prey soaring freely on thermal drafts caused by the dam during the summer. And they don't call it Cedar Bluff for anything! Drive to the top of the 150-foot tall, cedar-covered limestone bluffs on the south side of the lake for a breathtaking perspective of the area.
9. Clinton Lake
Clinton Lake is a reservoir on the southwestern edge of Lawrence, Kansas. This lake, making up 7,000 acres (28 km2) of surface area, is placed ninth on our list. The Wakarusa Valley had a history of violent floods that had destroyed numerous communities in the vicinity (Belvoir, Bloomington, and Sigil) several times before the barrage construction. The Clinton Dam, managed by the United States Army Corps of Engineers, created the reservoir. Many species live around the reservoir's wooded shorelines, including whitetail deer, quail, turkey, doves, rabbits, and squirrels. But fishing is what draws people to the area. Clinton Lake is one of the top catfishing lakes in the state. Striped bass fishing, both hybrid and pure, is popular here, with many fish over 10 pounds caught each year. A walleye is hard to beat for superb dining, and Clinton Lake has plenty of them.
8. El Dorado Lake
El Dorado Lake is a reservoir on the Walnut River, 0.5 miles (0.80 km) northeast of El Dorado in Kansas' Flint Hills region. Its primary purposes include flood control, leisure, and water delivery by the Army Corps of Engineers. With about 8,000 acres (32 km2) of surface area, the lake deserves the eighth spot among the largest lakes in Kansas. El Dorado Lake is the ideal location for different activities on RV trips, from peaceful, refreshing camping vacations to full-fledged recreational activities. While many anglers associate El Dorado Reservoir with monster walleye, hard-fighting wipers, or slab crappie, the 8,000-acre impoundment is gaining a following for blue catfish. Public grounds are available for hunting and animal viewing within the six-square-mile wildlife area.
7. Wilson Lake
Wilson Lake is a reservoir on the border of Russell and Lincoln counties in Kansas, United States. It has a surface area of 9,045 acres (36.60 km2) which earned the number seven spot. The Army Corps of Engineers uses it for flood control, wildlife management, and recreation. Wilson State Park, located in the center of the Smoky Hills, is widely regarded as the most picturesque in the state. It has a rough coastline with scenic cliffs and rocky outcroppings. Viewing and photographing deer, pheasants, ducks, songbirds, and furbearers is best done at the park and its neighboring wildlife area.
6. John Redmond Reservoir
John Redmond Reservoir is a reservoir in eastern Kansas on the Neosho River. It has multiple functions, including flood control, recreation, water supply, and wildlife management. It shares a boundary with the Flint Hills National Wildlife Refuge to the northwest and ranks sixth with a surface area of 9,400 acres (38 km2). The John Redmond Reservoir offers good fishing and hunting opportunities. White crappie, walleye, white bass, channel catfish, and flathead catfish are among the lake's most common fish species. The Kansas Department of Wildlife and Parks has a wildlife management license for 1,472 acres. Hunting is permitted on public land surrounding the reservoir, including the Flint Hills Refuge, but subject to regulations.
5. Cheney Reservoir
Cheney Reservoir is a reservoir on the North Fork of the Ninnescah River in Reno, Kingman, and Sedgwick counties in Kansas in the United States. Its primary purpose is for local water supply but is also used for flood control and recreation. The Cheney Reservoir is the fifth largest lake in Kansas, encompassing 9,550 acres (38.6 km2) surface area. The lake provides fantastic sailing opportunities and holds national sailing regattas. Seeing more than 100 multicolored sailboats on the lake at one time is a breathtaking sight. There are four approved swimming spots in the park and several picnic/day-use facilities. For those who don't want to "rough it," there are eight modern cabins on the lake's west coast. In addition, the lake is home to a variety of fish species, including channel catfish, white bass, wiper, walleye, and striped bass.
4. Perry Lake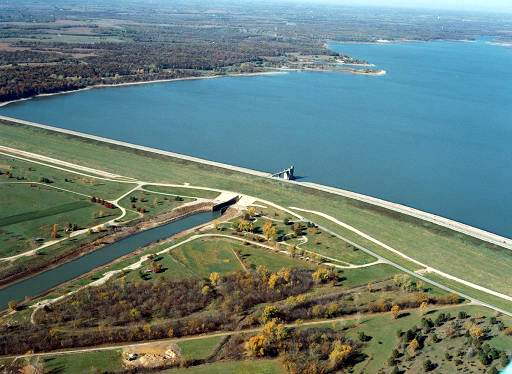 Perry Lake is a reservoir in northeast Kansas, managed by the US Army Corps of Engineers. Flood management, water storage for nearby areas, and regional leisure are its principal objectives. The lake is about 11,150 acres (45 km2) in surface area, making it the state's fourth-largest lake. It offers a wide range of recreational options. The spectacular panoramic vistas available across the lake area will delight visitors. Several wetland habitats are home to a variety of bird species. In addition, Perry Lake has several camping facilities with sites appropriate for everyone, from tent campers to RV campers. Anglers will find boat ramps and easy shoreline access at each park.
3. Tuttle Creek Lake
Tuttle Creek Lake is a 50-square-kilometer or 12,355-acre lake in northeast Kansas, located 31 miles north of Manhattan. It is Kansas's third-largest lake. The 1.9-square-mile Tuttle Creek State Park borders the lake, which offers campsites, nature paths, and an artificial beach, among other things. Around the lake, almost 16,000 acres of land underwent renovation to promote wildlife and provide outstanding hunting and wildlife viewing opportunities. Tuttle Creek Lake is a boater's delight, whether you like to power, paddle, or sail. It is one of Kansas' top sailing lakes because of its size (14 miles long) and the prevailing winds. On calm days, power boaters will enjoy water skiing, tubing, and pleasure boating on the main body of the lake. Many of the coves and the face of Tuttle Creek Dam provide shelter from turbulent water on windy days.
2. Waconda Lake
Waconda Lake is Kansas' second-largest lake. It is 12,602 acres or 51 square kilometers in size, located in the state's Mitchell and Osborne counties. The land was home to the Waconda Spring, a naturally flowing artesian well, before the construction of the Glen Elder Dam that created Waconda Lake. The mineral springs that gave rise to the legend were once a revered gathering spot for all Plains Indians. It later became a white man's health retreat until Lake Waconda engulfed the area.
Today, the reservoir provides water for agricultural and flood control purposes. Tourists can enjoy recreational activities such as hiking paths, swimming beaches, camping, boat ramps, and marinas in Waconda Lake. Glen Elder State Park, located on the lake's northwestern coast, adds to the area's natural beauty and accessibility for visitors. In addition, you will witness some of America's most breathtaking panoramas and sunsets.
1. Milford Lake
Topping our list of the largest lakes in Kansas, with 15,700 acres (64 km2) surface area, is an artificial reservoir called Milford Lake. The lake serves many purposes, including water supply, flood control, navigation, and recreation. The East Rolling Hills day-use park is the Corps of Engineers' largest day-use site at Milford Lake, with six shelters available for reservations. In addition, Milford Lake visitors can access fishing, swimming, camping, boating, picnics, and other outdoor activities. The diverse habitats support birds, mammals, reptiles, and aquatic life. It is a popular destination for anglers eager for walleye, crappie and largemouth bass, white bass, catfish, and smallmouth bass. In the 19,000-acre wildlife area on the reservoir's west side and upper end, there are several opportunities to see or photograph wildlife.
Summary Of The 10 Biggest Lakes In Kansas
| Rank | Lake | Size in Acres |
| --- | --- | --- |
| 10 | Cedar Bluff Reservoir | 6,869 |
| 9 | Clinton Lake | 7,000 |
| 8 | El Dorado Lake | 8,000 |
| 7 | Wilson Lake | 9,045 |
| 6 | John Redmond Reservoir | 9,400 |
| 5 | Cheney Reservoir | 9,550 |
| 4 | Perry Lake | 11,150 |
| 3 | Tuttle Creek Lake | 12,355 |
| 2 | Waconda Lake | 12,602 |
| 1 | Milford Lake | 15,700 |
---
The Featured Image
---