New Jersey is renowned as the Garden State for its blueberries, tomatoes, and cranberries. With its position along the Atlantic Ocean, New Jersey also boasts many pristine beaches. It does, however, include a significant number of freshwater inland lakes, which provide opportunities for sports such as swimming, fishing, boating, and even ice skating in the winter.
If you enjoy being outside, a trip to the Garden State would not be complete without visiting at least a few of these lakes. Those willing to forego the ocean in favor of an inland vacation will find the state's stunning lakes hidden in forests, sprawling at the bottom of mountains, and sitting alongside bustling highways. Whether you are determined to beat the heat in the summer or locate the perfect ice fishing site in the winter, the 10 biggest lakes in New Jersey are listed here. First, we'll show them in an overview graph:
The 10 Biggest Lakes in New Jersey
    10. Splitrock Reservoir
Splitrock Reservoir is a 625-acre reservoir surrounded by 1,500 acres of wilderness (part of Farny State Park) on the boundary of Rockaway Township and Kinnelon in Morris County, New Jersey. The pool is surrounded by hills and rock cliffs and has various islands, making it a perfect destination for those seeking an adventure. Splitrock has many outdoor activities. An interpretative kiosk with three panels is located near the parking lot. One gives a fisherman's overview, another provides a hiker's insight, and the third shows a recorded history of the Splitrock/Cobb furnace. Splitrock is a popular fishing spot for small boats and kayaks. Smallmouth and largemouth bass, catfish, crappie, sunfish, perch, pickerel, and baitfish inhabit the reservoir.

Many scenic hiking trails of varying complexity are also available. During the spring and fall migrations, hikers should expect to see white-tailed deer, black bears, wild turkeys, waterfowl, and neotropical species.
    9. Merrill Creek Reservoir
Merrill Creek Reservoir is a remote 650-acre (2.63 km²) lake excellent for fishing and boating, nestled in a 290-acre natural preserve. It is a man-made lake, yet it is the deepest in New Jersey, allowing it to maintain a robust lake trout population all year. The reservoir does not allow swimming, but visitors can fish from rowboats, electric motorboats, or the shore. There are plenty of nooks and inlets to explore by canoe or kayak, and the lake is stocked with bass. In addition, it will provide an opportunity for hikers to see a variety of species, including bears, deer, foxes, and bald eagles, on six different nature routes around the lake. 
    8. Oradell Reservoir
The Oradell Reservoir Dam formed the Oradell Reservoir on the Hackensack River in Bergen County, New Jersey, the United States. The reservoir is mainly in the borough of Oradell, although it also extends into the municipalities of Haworth, Emerson, Closter, and Harrington Park. A combination of deciduous and coniferous forest surrounds this mostly open water site, and it covers 733 acres (2.97 km²) of surface area.
The most popular species that thrive here are largemouth bass, black crappie, and smallmouth bass. The reservoir is frequently open during the fall and winter, providing a habitat for migrating and wintering waterfowl such as mallards, Canada geese, and double-crested cormorants. The adjacent woodlands provide bald eagles with perches and nesting and stopover habitat for a variety of passerines.
7.  Manasquan Reservoir
The Manasquan Reservoir, covering 770 acres, serves as a drinking water supply and is a popular fishing and boating destination. With over a million locals and tourists each year, this is one of New Jersey's busiest lakes. It promotes fishing, boating, swimming, beaches, and miles of hiking, running, biking, and horseback riding paths. If necessary, this location might keep you entertained for days. It allows electric motorboats, sailboats, and rowboats, but many anglers choose to fish from the shore. The visitors center rents rowboats and kayaks, and boat trips to the lake are available on weekends.
The 5-mile track that winds around the reservoir is another attraction of the region; it provides plenty of opportunities to see wildlife, and visitors can learn more about them in the environmental center.
    6. Union Lake
Union Lake is one of the state's largest lakes with 898 acres (3.63 km²) surface size, formed by damming the Maurice River. The lake is renowned for its excellent bass fishing. Bass competitions are held regularly, and it is one of the state's few areas where smallmouth bass thrive. Visitors can use two boat launches, and motorboats with less than ten horsepower are allowed.
The water is ideally warm and perfect for swimming in the summer, and Union Lake Park has a sandy swimming beach with amenities such as a volleyball court, a snack kiosk, and a playground. Bald eagles, belted kingfishers, and wintering waterfowl are likely to be seen in the winter. Union Lake draws a diverse variety of ducks, including scaup, ring-necked duck, American wigeon, mallard, northern shoveler, and green-winged teal, making this a perfect time to practice your duck identification skills.
    5. Lake Tappan
Lake Tappan is a reservoir created by the Tappan Dam on the Hackensack River, straddling the border between New Jersey and New York in the United States. Within New Jersey, the lake runs between the communities of River Vale and Old Tappan in Bergen County and over the New York state line into the town of Orangetown in Rockland County. The lake reservoir covers 1,255 acres (5.1 km²) and contains 3.5 billion US gallons (13,000,000 m3) of water, mainly in New Jersey.
There is no boating, swimming, or wading allowed in the lake because it is a Category One protected body of water. Only fishing from the shore is permitted, and anyone over 16 requires permission. Yellow and white perch, small and largemouth bass, catfish, sunfish, and carp are among the fish found in Lake Tappan.
    4. Spruce Run Reservoir
Spruce Run Reservoir, built in the 1960s and currently one of the state's largest, was one of the first reservoirs constructed in New Jersey. During the summer, a public swimming beach is open, and there are various picnic sites with great views of the reservoir. The 1,290-acre (5.22 km²) waters are home to about 30 different fish species, and it is highly regarded as one of New Jersey's top bass fishing lakes.
The lake's jagged shoreline is ideal for exploring by canoe or kayak, but boats with motors under ten horsepower are also allowed. Many diverse animal species can be found in the reservoir and neighboring parks. White-tailed deer are abundant, and deer hunting is permitted. In addition, many waterfowl species can be found in the vast reservoir. Waterfowl hunting with guns is allowed in the garden as long as the hunter stays below the high waterline.
3. Greenwood Lake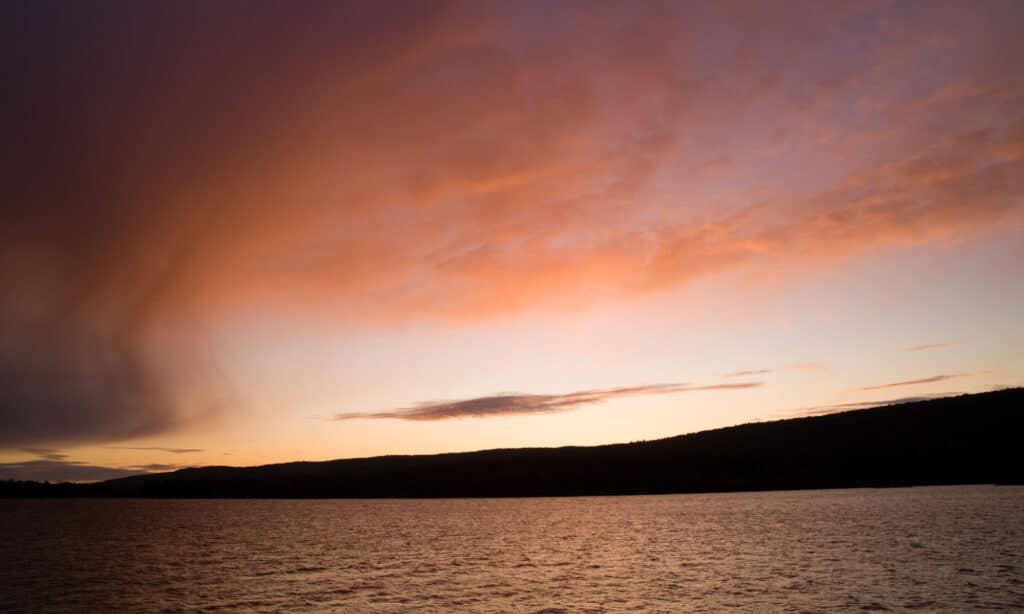 This interstate lake runs for just over seven miles, from West Milford, New Jersey, to Orange County, New York, with half of the lake in each state. Greenwood Lake is 1,920 acres (7.8 km²) in size and offers spectacular views of the adjacent Bearfoot Mountain Ridge. The lake is widely known as one of the top destinations in New Jersey to catch bass, but it also has other fish species such as catfish, perch, and pickerel.
Greenwood Lake's north end is home to a charming village of the same name. In the 1800s, the neighborhood became a playground for the elite. It was the ideal location for a revitalizing weekend away, only 50 miles away from New York City. It is now filled with lovely shops, beautiful vacation homes, and delicious restaurants, making it a perfect place to spend a weekend in New Jersey.
    2. Round Valley Reservoir
Round Valley Reservoir, located in the Cushetunk Mountain valley, is recognized for its clear waters and good fishing. Round Valley Reservoir's calm blue waters draw swimmers, boaters, fishers, picnickers, and campers to its lovely coastline. The reservoir comprises around 2,350 acres (9.3 km²) and is about 180 feet deep, making it New Jersey's second deepest lake. Fishing is allowed from the shore or by boat, but motors must be under ten horsepower.
A public beach is open with amenities such as showers, snack shacks, and even a children's playground during the summer.If you visit when the sun is rising or setting, you will think twice about creating ripples on the reservoir's perfectly reflective surface.
    1. Lake Hopatcong
Summer dreams are made of Lake Hopatcong. With a surface size of 2,500 acres (10.16 km2), it is Garden State's largest freshwater lake. This gleaming beauty entices swimmers, fishers, and water skiers to spend hours frolicking. The lake is bordered by 45 miles of well-appointed beachfront that has made the most of its popularity, just 40 miles from the main attractions of New York City, in the center of Hopatcong State Park. This holiday hotspot is a lovely location to unwind, with miles of public beaches, delicious restaurants, and marinas.
| Lake | Size |
| --- | --- |
| 10. Splitrock Reservoir | 625 acres |
| 9. Merrill Creek Reservoir | 650 acres |
| 8. Oradell Reservoir | 733 acres |
| 7. Manasquan Reservoir | 770 acres |
| 6. Union Lake | 898 acres |
| 5. Lake Tappan | 1,255 acres |
| 4.. Spruce Run Reservoir | 1,290 acres |
| 3. Greenwood Lake | 1,920 acres |
| 2. Round Valley Reservoir | 2,350 acres |
| 1. Lake Hopatcong | 2,500 acres |
Table of 10 biggest lakes in New Jersey, ranked by size.
Up Next:
More from A-Z Animals
---
The Featured Image
---