As one of the least populated states in the United States, North Dakota is a predominantly flat state that borders Canada to the north and the Red River to the east. The Badlands and Theodore Roosevelt National Park, located in the southwestern corner of the state, are notable for their buttes and hills. North Dakota is geographically diverse in general, supporting around 2,000 plant species. The Missouri River flows through the state's western region, forming several lakes. You won't be sorry if you spend a summer day exploring the crystal clear waters of North Dakota's beautiful lakes. It boasts plentiful fishing and exciting outdoor recreational options for everyone, and the beauty of the water and the countryside around it is almost overwhelming. If you ever set foot in the Peace Garden State, here is a list of North Dakota's 10 biggest lakes you can enjoy.
The 10 Biggest Lakes in North Dakota
    10. Carpenter Lake
Carpenter Lake is in North Dakota's Rolette County. This lake has a surface area of 761 acres (3.08 km²), and at its deepest point, it is around 15 feet deep. While fishing, anglers can catch different species, including northern pike and yellow perch. However, North Dakota fishing restrictions are subject to change throughout the year. Local regulations rule when you can fish, the maximum size of fish you can keep, how many fish you can retain, and other factors.
Carpenter Lake is the perfect place to get out of the house if you've been stuck inside for too long. People come from far and wide to enjoy the cheerful atmosphere and well-kept amenities. Swimming, fishing, and golfing are just a few of the outdoor activities offered nearby, so you'll never run out of fun things to do. It has a lot to offer nature enthusiasts, with its beautiful forest covering the shorelines and creating stunning views.
    9. Lake Isabel
Kidder County, North Dakota, is home to Lake Isabel. This lake has an area of 817 acres (3.31 km²) and is around 13 feet deep at its deepest point. The whole west shoreline of Lake Isabel, situated just south of Harker Lake, is surrounded by Highway 3, making it relatively accessible. The Slade National Wildlife Refuge sits along the northern end of the lake's shoreline, stretching more than six kilometers (3.7 miles). The refuge is home to different species year-round, including white-tailed deer, coyote, mink, muskrat, raccoon, and skunk. Northern pike, walleye, and common carp are the most popular fish captured in the lake.
    8. Lake Tewaukon
Lake Tewaukon is a 1,058-acre (4.28-km²) lake in the Tewaukon National Wildlife Refuge in southern North Dakota. It is a reservoir near Cayuga, North Dakota, located 33.5 miles from Lisbon in Sargent County. Each year, over 245 different bird species visit the lake, attracting birdwatchers from all around the world. In addition, ducks, geese, swans, pelicans, herons, and cormorants use the wetlands for nesting and resting during migration. Muskrat, red fox, minx, coyote, and badgers are among the animals that live in the dense grasses surrounding the lake. Anglers can catch northern pike, perch, walleye, and bullheads in Lake Tewaukon, available for fishing.
7. Goose Lake
Goose Lake is in North Dakota's Wells County. This lake has a surface area of 1,220 acres (5 km²) and is about 20 feet deep at its deepest point. It is a natural lake in North Dakota and the natural habitat of geese, hence the name. Before fishing on Goose Lake or nearby fishing lakes, anglers should contact guides and other local resources. The number of pikes in the lake is increasing, and their size structure is shifting. The walleye population is good, accounting for 60% of the species assessed, with plenty of fish greater than 17 inches. The number of perch is reasonable, with the majority measuring around 8 inches.
    6. Sibley Lake
Sibley Lake is a body of water lying six miles north of Dawson in Kidder County, North Dakota. Walleye and perch thrive in the lake, which has a surface area of 1,304 acres (5.277 km2). The National Park Service listed Sibley Lake as a National Natural Landmark in 1975. Sibley Lake is a popular fishing site with a number of boat ramps where you can jump into the water and enjoy a fun day in the sun. Drop your fishing pole in the water for a day of catching and releasing fish, then take advantage of the surrounding attractions, which include tours of the Ronald Reagan Minuteman Missile State Historic Site and the Midland Continental Depot Transport Museum. Only a few miles from Steele county, you can see the world's most giant sandhill crane.
    5. Lake Metigoshe
Lake Metigoshe lies in the Turtle Mountains, on the far northern boundary of North Dakota and Manitoba, Canada. It has a surface area of 1,544 acres (6.25 km²) and is ideal for catching bluegill, largemouth bass, northern pike, walleye, and yellow perch. The lake's name came from a Chippewa word that means "clear water," since the water is clean and bordered by beautiful oak trees. It's a lovely lake with plenty of recreational opportunities, particularly at Lake Metigoshe State Park. Fishing, canoeing, kayaking, boating, and camping are all available in the park, situated in the northeastern part of the lake.
The lake is also famous for its encircling hiking and cycling routes that run the length of the shoreline. During the winter months, tourists can enjoy cross-country skiing, snowmobiling, sledding, ice fishing, and skating on Lake Metigoshe.
    4. Devils Lake
Devils Lake is a 4,435-acre lake in northeastern North Dakota and sits at an elevation of 443.24 meters above sea level. Devils Lake is a well-known recreational lake that draws locals and visitors around the globe. Grahams Island State Park and Sullys Hill National Game Preserve nestle there, while the Spirit Lake Reservation is on the lake's southern shoreline.
The guests come for the bountiful fishing, especially the perch. After catching a few fish in Devils Lake, you'll notice how healthy and fat the fish are. Freshwater shrimp populations in huge numbers help them grow faster and provide nutrition for larger game fish. Anglers will find boat ramps here, and some leisure activities such as camping, picnics, and boating are also available. In the winter, ice fishing is permitted on the lake.
    3. Lake Ashtabula
Lake Ashtabula is a picturesque artificial reservoir on the Sheyenne River, nestled in a scenic river valley only 12 miles northwest of Valley City, North Dakota. Anglers will find plenty of opportunities to catch different game fish species in this 5,234-acre (21.18 km²) lake. "Ashtabula" comes from a Native American term that means "fish river," an appropriate name given the lake's fish population. The lake is also fishing-friendly, with seven boat ramps, two accessible fishing piers, and four automated fish cleaning facilities. The lake is long and narrow, with a greenish tint to it at times. You can go fishing, boating, skiing, camping, or simply relax on the beach here.
    2. Lake Audubon
Lake Audubon, a 16,612-acre (67.23 km²) lake in the west-central region of the state, sits just east of US 83 in Coleharbor. Anglers and sightseers can explore over 150 miles of shoreline thanks to the broad shores and several islands. This massive lake is a great place for fishing and is teeming with fish. Bass, walleye, perch, muskie, and pike are among the species that thrive here, and they are all available for ice fishing in the winter and conventional fishing in the spring, summer, and fall. Smallmouth bass and walleye are some of the most common catches in the lake. In the northern quadrant of the lake, there are five boat launch ramps/landings. There is a campground, RV hookups, motels, and restaurants at the lake.
1. Lake Sakakawea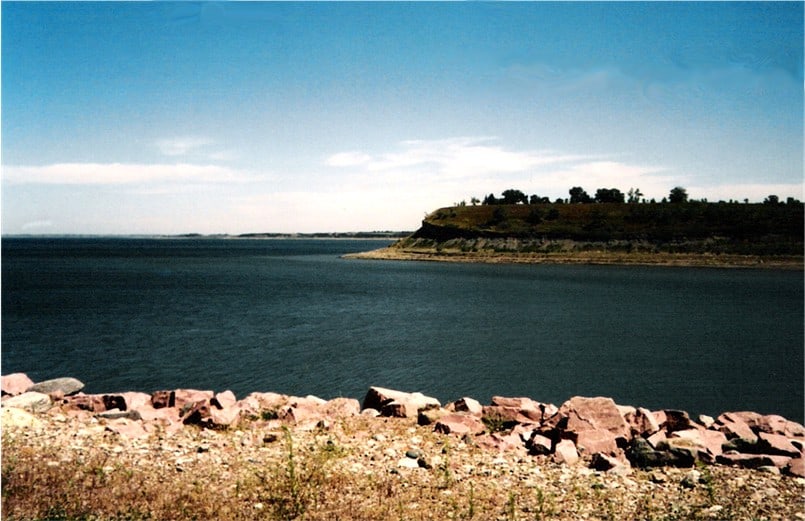 Lake Sakakawea is the largest man-made lake in the state and the second-largest in the US by size, with a surface area of 307,000 acres (1,240 km²). This lake in western and central North Dakota has more miles of shoreline than California, and it boasts recreational sports, parks, playgrounds, and sandy beaches to enjoy. Lake Sakakawea State Park allows visitors to stroll along the North Country National Scenic Trail, bird watch for rare species, and explore the lake on watercraft and boats rented at the De Trobriand Bay Marina.
Lake Sakakawea has become a favorite destination for anglers, water sports enthusiasts, and nature lovers due to its picturesque splendor, abundant fish population, and excellent depth for boating activities.
Summary of the 10 Biggest Lakes in North Dakota
| Rank | Lake | Size | Activities |
| --- | --- | --- | --- |
| 10 | Carpenter Lake | 761 acres (3.08 km²) | Swimming, fishing, and golfing |
| 9 | Lake Isabel | 17 acres (3.31 km²) | Fishing, sightseeing |
| 8 | Lake Tewaukon | 1,058-acre (4.28-km²) lake | Fishing, sightseeing |
| 7 | Goose Lake | 1,220 acres (5 km²) | Fishing |
| 6 | Sibley Lake | 1,304 acres (5.277 km2) | Fishing, sightseeing |
| 5 | Lake Metigoshe | 1,544 acres (6.25 km²) | Fishing, canoeing, kayaking, boating, and camping |
| 4 | Devils Lake | 4,435-acre | Camping, picnics, boating, ice fishing |
| 3 | Lake Ashtabula | 5,234-acre (21.18 km²) | Fishing, boating, skiing, camping, |
| 2 | Lake Audubon | 16,612-acre (67.23 km²) | Angling, ice fishing |
| 1 | Lake Sakakawea | 307,000 acres (1,240 km²) | Boating, fishing, watersports |
Table of the 10 Biggest Lakes in North Dakota
---