Key Points
Lake Nockamixon covers 1,450 acres and has a shoreline that stretches for 98 miles.
Lake Wilhelm is currently the shallowest lake seen in Pennsylvania. In addition, this lake has a surface area of 1,680 acres and a length of 18 miles of shoreline.
In terms of size, Lake Erie is the largest lake in Pennsylvania. This lake has a surface area of 6.3615 million acres or 9,910 square miles
Pennsylvania has a diverse range of natural areas to explore. The Pocono Mountains, for example, offer a magnificent landscape in this state. On the other side, you will be able to find a large number of beautiful lakes around the state.
Although some of Pennsylvania's largest lakes are outside the state's borders, several of the waterways near the top of the state's big-waters list are homespun. In total, there are more than 2,500 lakes in the state. These lakes provide water to more than just the residents of the state.
Pennsylvania's lakes are a treasure trove for visitors, with miles of forests enclosing pristine waters and plethora of boating and swimming activities in the summer. Furthermore, visitors can participate in recreational activities such as fishing and kayaking. While keeping that in mind, let us explore the 10 biggest lakes in Pennsylvania.
The 10 Biggest Lakes In Pennsylvania
10. Lake Marburg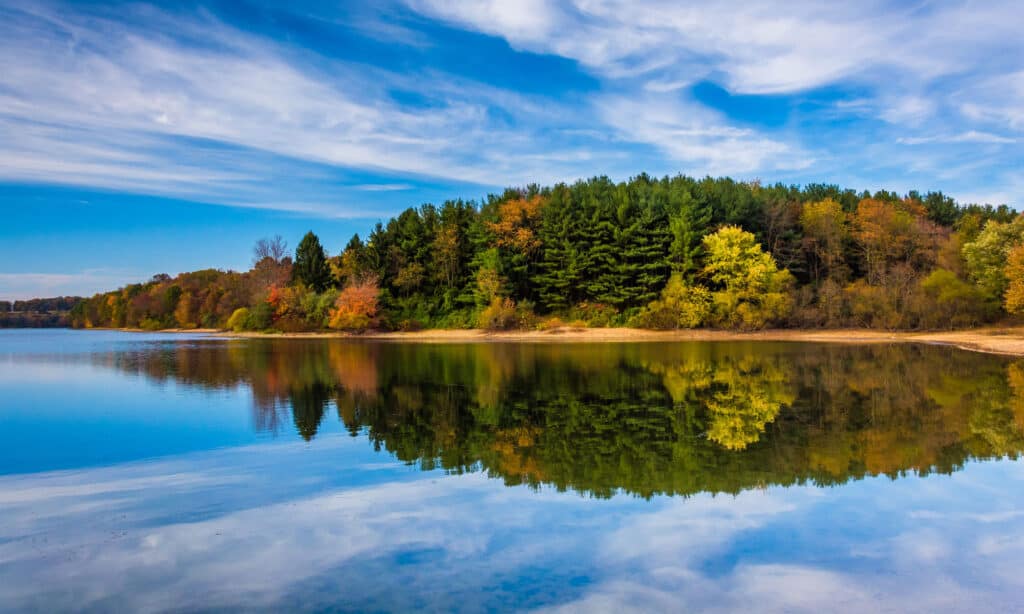 Lake Marburg, located in York County, is a stunning lake where people can enjoy their recreational activities in a beautiful setting. This lake has a surface area of 1,275 acres, and its shoreline stretches for about 26 miles. In addition, the lake's maximum depth is 19 feet. However, extreme water level fluctuations make it hard to maintain a swimming beach, so swimming is prohibited. There are seven boat launch ramps around the 1,275-acre Lake Marburg.
All are open to the public, except the campground launch, which is only for registered campers. Codorus State Park encompasses nearly the entirety of the lakeshore. Lake Marburg, also known as Codorus Lake, attracts anglers looking for largemouth bass, yellow perch, crappie, muskellunge, catfish, northern pike, and bluegill.
The east branch of Codorus Creek offers cold-water rainbow and brown trout fishing in addition to the warm-water fisheries.
9. Lake Nockamixon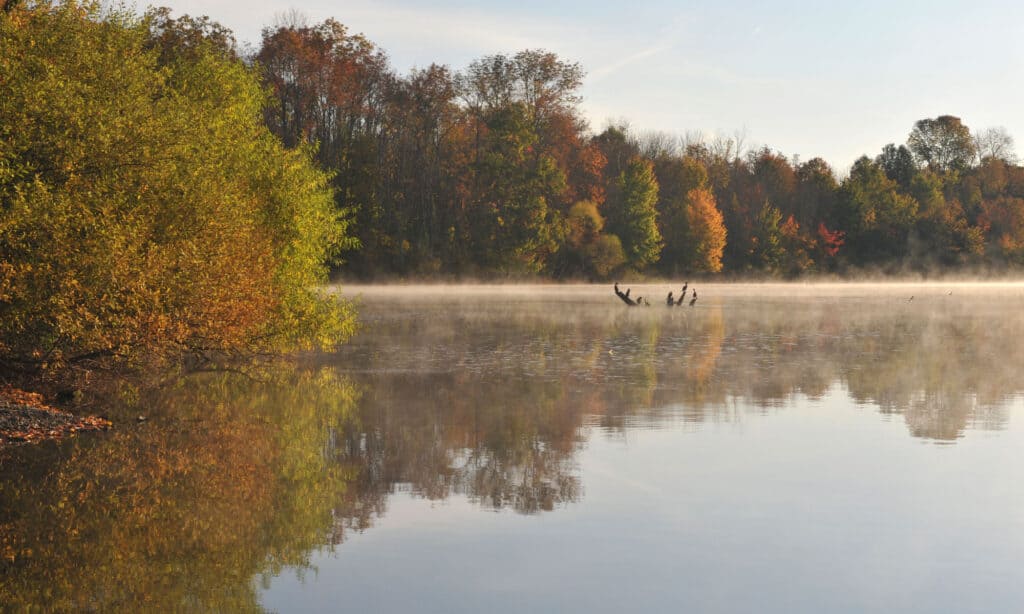 Lake Nockamixon is a Pennsylvania destination getaway that is accessible to many visitors. This lake covers 1,450 acres and has a shoreline that stretches for 98 miles.
It is located in Bucks County, Pennsylvania, and is part of the 5,283-acre Nockamixon State Park. Although most of the park is open from sunrise to sunset, specific fishing and boating areas are available all year. Sailboats, motorboats, canoes, kayaks, and even inflatable watercraft abound in the lake's pristine waters, with people enjoying the peace.
Unfortunately, algae growth affects all lake users. As it rots, it consumes a large amount of oxygen, essential for aquatic life. It puts a strain on fish populations and zooplankton at the bottom of the food chain. Excess algae also cause odor problems, discouraging swimming and lowering overall lake enjoyment.
8. Lake Wilhelm
Lake Wilhelm is currently the shallowest lake seen in Pennsylvania. In addition, this lake has a surface area of 1,680 acres and a length of 18 miles of shoreline. Lake Wilhelm is in Maurice K. Goddard State Park in Mercer County, about 15 miles west of Franklin, Pennsylvania. The park is full of natural beauty, wildlife, rivers, and public recreation facilities.
In Lake Wilhelm's waters, birdwatchers can spot bald eagles and osprey fishing. The nearby meadows, fields, and woodlands are home to bluebirds, purple martins, woodpeckers, woodcocks, nighthawks, snipes, and warblers. Migratory waterfowl such as loons, common teals, goldeneyes, mergansers, and buffleheads frequent Lake Wilhelm in the spring and fall.
7. Lake Arthur
Lake Arthur is a Pennsylvania lake with crystal clear water. This lake covers 3,225 acres and has a shoreline that stretches 29 miles. This picturesque lake in Butler County, bordered by Moraine State Park, offers thousands of acres of water to fish, boat, and explore.
Sailboats flutter over this beautiful Pennsylvania water-like swarms of multicolored birds in the warm summer air. With its gently sloping slopes, abundant wildlife, and excellent fishing, Lake Arthur is an outdoor enthusiast's dream.
However, this was not always the case. Just 40 years ago, the land that currently makes up Moraine State Park was covered with abandoned strip mines, oil, and gas wells. In the late 1800s, people intensively mined for oil and natural gas wells, and deep coal mines and strip mines severely altered the land's contour.
6. Shenango River Lake
The Shenango River Lake protects the Shenango River from flooding. This lake has a surface area of 3,560 acres with a 35-mile-long shoreline.
Shenango Reservoir releases water during dry seasons to improve the quality and quantity of downstream water for household and industrial use, recreation, and aquatic life. The 11-mile-long Shenango River Lake provides a wide range of outdoor recreational opportunities such as picnicking, camping, boating, and taking in the beauty of nature.
Anglers flock to the area because of the bass, walleye, muskellunge, and panfish. And every spring, thousands of anglers go to the dam's outflow section to catch trout. Boating is one of the most popular and diversified recreational activities at Shenango River Lake, with six boat launch ramps.
5. Lake Wallenpaupack
People frequently visit the lakes in Pennsylvania for leisure purposes. Lake Wallenpaupack, for example, is a prime recreation destination in the state's northeastern section. The lake is in northeast Pennsylvania Pocono Mountains, situated between the counties of Hawley, Pike, and Wayne. It covers 5,700 acres and has a shoreline length of 799 miles. The lake serves as a hub for water activities such as boating, water skiing, swimming, and fishing.
Species like smallmouth bass, largemouth bass, rock bass, muskellunge, rainbow trout, walleye, pickerel, and yellow trout inhabit the lake. It also has a fantastic picnic area, ideal for those who want to do some quick grilling. Finally, one of the main reasons people enjoy visiting the lake is that it is a safe area to swim. Swimming in Lake Wallenpaupack is a popular recreational activity.
4. Raystown Lake
There are numerous artificial lakes in Pennsylvania, and the largest of them is Raystown Lake. This lake covers an area of 8,300 acres and has a shoreline that stretches for 79 miles. The lake is in the southern Allegheny Mountains of Huntingdon County. The US Army Corps of Engineers dammed the Raystown Branch Juniata River in 1913 for flood control, hydroelectric generation, and recreational uses.
Raystown Lake, also known as The Crown Jewel of Pennsylvania, boasts 110 miles of mostly undeveloped coastline. This is because of the restrictions on residential and commercial development. Yearly, almost 2 million people visit the lake's unspoiled shores and natural beauty, each yearning for a relaxing day on the water. Ruffed grouse, woodcock, wild turkeys, waterfowl, raptors, and different species of songbirds are among the birdlife.
3. Pymatuning Lake
Pymatuning Lake is the second-largest body of water in the state of Pennsylvania. This lake has a surface area of 17,088 acres and a length of 170 miles of shoreline. It is a superlative-filled lake in northwest Pennsylvania that spills into northeastern Ohio. Pymatuning Lake is a significant conservation area in North America, especially for common goldeneye, Canada goose, and hooded merganser.
With approximately 4.5 million visits each year, Pymatuning State Park is the second most visited in Pennsylvania. It is well-known for its activities that take place all year. Water sports opportunities abound beginning in the hot summer months. Take a relaxing dip or spend the afternoon floating on a raft in the calm waters.
All these words point to the same conclusion: you and your family will definitely have a great time.
2. Allegheny Reservoir
The third-largest lake in Pennsylvania also lies in another state, New York. It has a surface area of 21,180 acres, formed behind Kinzua Reservoir. Allegheny National Forest in Pennsylvania and Allegany State Park and the Seneca Nation's Allegany Reservation in New York surround the Allegheny Reservoir. The artificial lake is located about 198 miles (319 kilometers) above the river's mouth near Pittsburgh, Pennsylvania.
The lake provides a vibrant atmosphere that is ideal for vacationers. The reservoir and the National Forest System offer some of the best outdoor activities in northwestern Pennsylvania. Paved campsites, pressurized water systems, electric service, and sewage treatment plants are all part of the recreation areas' high-end infrastructure.
The Army Corps of Engineers looks after the reservoir, but the Allegheny National Forest looks after the recreation areas.
1. Lake Erie
In terms of size, Lake Erie is the largest lake in Pennsylvania. This lake has a surface area of  6.3615 million acres or 9,910 square miles. It is one of the North American Great Lakes, crossing the states of Ohio, Pennsylvania, New York, Michigan, and Ontario in Canada. The "Walleye Capital of the World," Lake Erie, is widely recognized as having some of the best walleye fishing worldwide.
If walleye isn't your thing, don't worry. The lake is also home to yellow perch, steelhead, salmon, and smallmouth bass. Lake Erie is a massive body of water with a myriad of leisure activities. Swimming, boating, hiking, birdwatching, viewing natural flora and animals, playing on a sandy beach, water skiing, dining at lakeside, and other activities are all possible.
Summary Of The 10 Biggest Lakes In Pennsylvania
| Rank | Lake | Size in Acres |
| --- | --- | --- |
| 10 | Lake Marburg | 1,275 |
| 9 | Lake Nockamixon | 1,450 |
| 8 | Lake Wilhelm | 1,680 |
| 7 | Lake Arthur | 3,225 |
| 6 | Shenango River Lake | 3,560 |
| 5 | Lake Wallenpaupack | 5,700 |
| 4 | Raystown Lake | 8,300 |
| 3 | Pymatuning Lake | 17,088 |
| 2 | Allegheny Reservoir | 21,180 |
| 1 | Lake Erie | 6.3615 million |
Bonus: The Biggest Lakes in Pennsylvania
Here are a few beautiful but not as big lakes found in Pennsylvania:
Blue Marsh National Recreation Area
Lake Harmony
Lake Jean
Located to the northwest of Reading, Pennsylvania. Blue Marsh Lake is an artificial reservoir managed by the U.S. Army Corps of Engineers Philadelphia District. This man-made lake is neatly tucked away in the western part of Berks County and is fed by the Tulpehocken Creek.
Lake Harmony, although not open to the general public, offers kayaking and water-based recreational activities for guests staying at Split Rock Resort and select vacation rentals in the vicinity. To learn more, please inquire with your accommodation provider.
Lake Jean is a lake that straddles Luzerne County and Sullivan County in Pennsylvania. It covers about 245 acres and is located in Colley Township (Sullivan County) and Fairmount Township (Luzerne County).
The photo featured at the top of this post is © Adam Kenneth Campbell/Shutterstock.com
---