Key Points:
The South Carolina lakes offer a huge variety of fish, especially bass, crappie, catfish, and sunfish.
These lakes may be natural or artificial, have clear mountain waters or border a marsh.
All the lakes provide abundant recreational activities, tournaments, and wildlife.
Nestled in the southern United States, South Carolina is a state rich in history, culture, and delicious cuisine. The scenery is equally breathtaking, with majestic mountains, stunning coastlines, and picturesque forests. South Carolina is also known for its numerous lakes. Its biggest lakes cover 683.4 square miles, which is quite a bit for one of the country's smallest states. These lakes are a cultural institution and a way to pass the time in this beautiful state.
Although the state's scenic coastline and historic towns draw attention, most inhabitants prefer to spend their time fishing, resting, swimming, or boating at the lakes. Whether you are on vacation in South Carolina or a resident, the lakes within the state provide a wealth of recreational choices. In addition, they make an excellent excuse to go out of the city. Below, we will explore the 10 biggest lakes in South Carolina.
The 10 Biggest Lakes in South Carolina
    10. Lake Jocassee
One of the state's most beautiful lakes also has a small number of public access points, making it one of the least crowded. The Jocassee Gorges and Lake Jocassee are natural wonderlands. It's a 7,565-acre (30.61 km²) artificial lake in the South Carolina mountains, mostly untouched and crystal clear, and only accessible through Devils Fork State Park. It is famed for its views of the Jocassee Gorges Wildlife Management Area and surrounding mountains, formed by multiple rivers and waterfalls.
The water is very pure all year due to its mountain source. The lake is ideal for swimmers, scuba divers, and fishers. A large variety of fish are available, including 6 types of bass, channel catfish, flathead catfish, black crappie, white crappie, rainbow trout, brown trout, bluegill, pumpkinseed sunfish, redbreast sunfish, red ear sunfish, warmouth, yellow perch, and chain pickerel
The beauty of Lake Jocassee has drawn Hollywood directors on occasion and is perhaps most known for its appearance in the 2012 film The Hunger Games. It isn't surprising, given that it's one of the most beautiful of South Carolina's lakes.
    9. Lake Greenwood
Lake Greenwood spans three South Carolina counties, with 11,400 acres (46.13 km²) and 212 miles of shoreline. Greenwood County possesses Lake Greenwood, and the residents of that county have been caring for it to develop a vibrant fishing community. Locals flock to Ware Shoals and are always eager to show visitors around. Boating, fishing, swimming, hiking, picnicking, camping, and other activities are available at Lake Greenwood State Park. Crappie Masters from all around South Carolina descend on Lake Greenwood every March to compete in the Crappie Masters South Carolina State Fishing Championship. Other fish in the lake are three kinds of sunfish, largemouth bass, channel catfish, flathead catfish, bluegill, warmouth, white perch, yellow perch, striped bass, and chain pickerel.
    8. Lake Wylie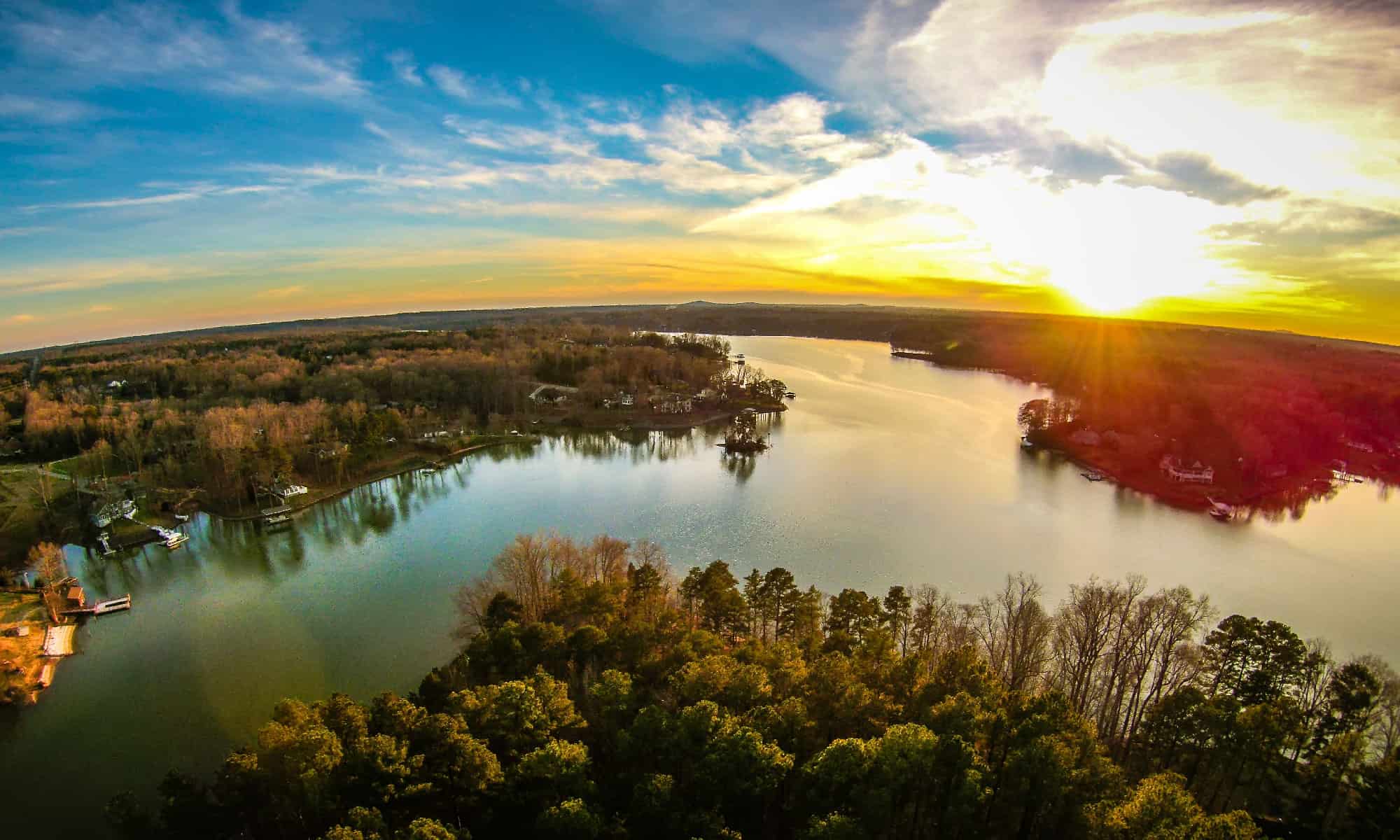 Although most of this artificial lake is in South Carolina, it also spills into North Carolina. Its position makes it a popular tourist attraction for citizens from both states and those from other parts of the country. Lake Wylie is a 12,177-acre (49.28 km²) lake near Tega Cay, South Carolina, on the state's northern border. Crappie, white bass, perch, sunfish, chain pickerel, and catfish are abundant in these waters.
Picnic places, boat launches, fishing piers, yacht clubs, and even golf courses are everywhere along the lake's 325-mile (523-kilometer) shoreline. Team tournaments for water sports, live music festivals, fireworks exhibitions, and beer festivals are just a few of the annual events held in the Lake Wylie area. If you're lucky, you might be able to schedule your lake vacation around one of these entertaining events.
    7. Lake Wateree
Lake Wateree is a year-round favorite of campers, fishers, and recreational boaters, with over 13,025 surface acres (52.71 km²) and 242 miles of shoreline. Bass, catfish, bream, and crappie fishing are rich at this lake. A hydroelectric power source was built by Duke Energy in 1919, making it one of the state's oldest artificial lakes. The resulting ecology has had more time to mature, and numerous animals have taken advantage of the lake's protection. Deer frolicking across the grass or a fox scuffling at night are prevalent sights, but you might also see an alligator or turtle gently swimming through the lake. With its native hawk, egret, duck, and osprey populations, it's also the closest thing South Carolina has seen to Birdland.
    6. Lake Keowee
Lake Keowee is a must-see in South Carolina, as it is one of the state's bluest and most beautiful lakes. The Cherokee people, who lived there for generations and built their entire town on the lake's bounty, have inspired its name. It is often known as one of the finest retirement lakes in America, with a surface size of 18,372 acres (74.35 km²). The unpolluted waters are at an ideal temperature all year, and there's never a bad day to eat along Lake Keowee's edge. High Falls County Park, South Cove County Park, and Keowee-Toxaway State Park all include lake access points to enjoy lakefront activities and lake access.
River otters, most common in South Carolina's coastal marshes and blackwater swamps, thrive in Lake Keowee's open water. The fish in the lake are largemouth bass, smallmouth bass, spotted bass, black crappie, white crappie, rainbow trout, brown trout, bluegill and yellow perch.
    5. Lake Murray
Lake Murray is a 48,000-acre (195 km²) reservoir and is well-known for its fantastic recreational opportunities. It sits outside of Columbia and is a great place to spend hours (or days) on and around the water, with different marinas, restaurants, and parks. Take a day trip to Lake Murray and float. The tranquil waters are great for sailing, and there are dozens of marinas to make getting in and out easier. The lake's dam was formerly the world's largest dam, and it has naturally established a bustling recreation scene alongside the hydroelectric power-generating waters.
The lake now has 500 miles of shoreline ideal for exploration, with enough beauty to make it South Carolina's crown treasure. Lake Murray is home to hardshell turtles, striped bass, large/smallmouth bass, bream, crappie, and catfish, among other aquatic species. After a day of boating, anchor at the Dreher Island State Recreation Area for a beautiful picnic lunch. White-tailed deer, grey squirrels, egrets, osprey, purple martins, Canadian geese, and mallard ducks are among the animals that thrive here.
    4. Lake Hartwell
Lake Hartwell is the state's fourth-largest lake, covering approximately 56,000 acres (226.6 km2)! The lake, which straddles the Georgia-South Carolina border and includes parts of the Savannah, Tugaloo, and Seneca Rivers, has a 962-mile shoreline. Hartwell is a fantastic fishing and boating destination. It is home to a diverse range of fish, including largemouth and spotted bass, striped bass, hybrid bass, black crappie, bream, trout, and stocked walleye. Because of its vastness, you'll never feel crowded here, although you might get lost. Around the lake, there are various marinas and lakefront restaurants, fishing tournaments, boat rallies, and other activities. Lake Hartwell is a ways from Atlanta, but it provides excellent lake living options at a lower cost than other lakes.
    3. Lake Moultrie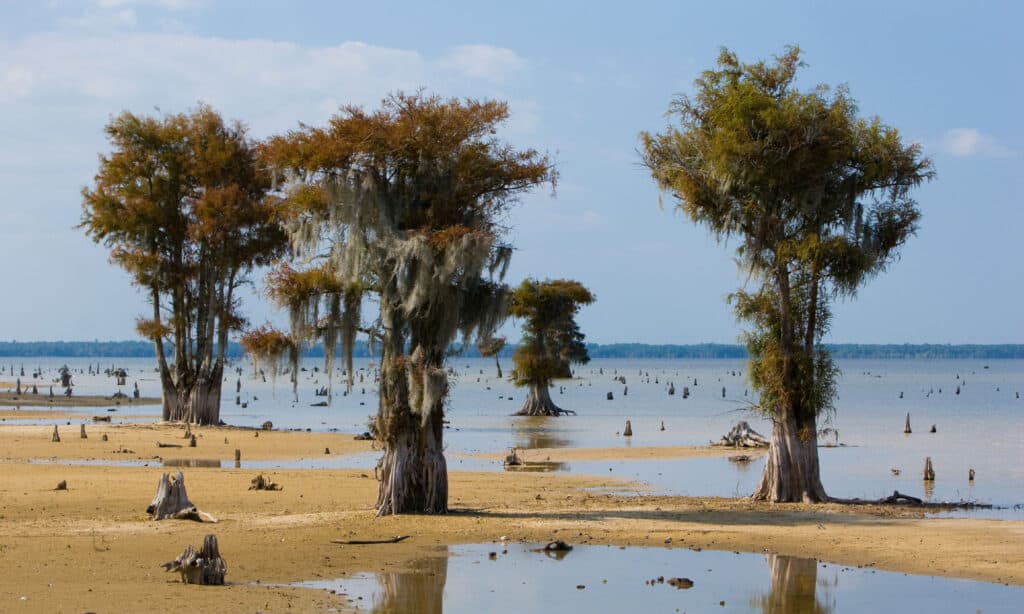 Lake Moultrie is among the most attractive lakes in the Lowcountry, so it draws a large crowd. Its proximity to Charleston is also advantageous. This lake provides excitement for anyone looking for a day of activities away from the city. The lake's 60,400 acres (244.4 km²) have produced world records for black crappie and catfish catches.
The diverse ecosystems that surround the lake will delight visitors. The great blue heron, blue crab, and green anole lizard, among many other species, live in this area. The coastlines are lined with blackwater ponds, marshes, and cypress trees, and the waters are abundant with fish. The lake's accessibility and the numerous water activities available have made the area a popular day trip destination.
    2. Clarks Hill Lake
The Strom Thurmond Reservoir, also known as Clarks Hill Lake, is a man-made reservoir on the Georgia-South Carolina border in the Savannah River Basin. It is the second-largest lake east of the Mississippi River, covering 70,000 acres (283 km²). In addition, its 1,000-plus miles of shoreline provide ample opportunities for fishing, boating, and Corps of Engineer activities. There are also hundreds of campgrounds, thriving villages, and charming small towns for you to visit. Clarks Hill is known for its largemouth bass, striped bass, bluegill, redbreast sunfish, crappie, and some gigantic catfish, as well as exceptional shellcracker fishing during the late spring spawn.
    1. Lake Marion
Lake Marion has so many good qualities! The state's largest lake has roughly 110,600 acres (447.6 km²) to explore, from soggy cypress stands to a little-known ghost town jutting above the water. It is so large that it spreads across five counties! Known as Santee Cooper Country, the lake area is known for its giant fish and rich wildlife, and is home to foxes, deer, alligators, hawks, egrets, wild turkeys, and ducks. Smaller ships can enter the marshes created when the lake overtakes its streams, and boaters can cruise from island to island. The Santee State Park includes cute small circular huts perched above the lake for a memorable stay-cation. The lake's tranquil shores attract not just humans but also other animals. Several bird species opt to nest in the wetlands and dig for worms.
Summary Of The 10 Biggest Lakes In South Carolina
| Rank | Lake | Size |
| --- | --- | --- |
| 10 | Lake Jocassee | 7,565 acres |
| 9 | Lake Greenwood | 11,400 acres |
| 8 | Lake Wylie | 12,177 acres |
| 7 | Lake Wateree | 13,025 acres |
| 6 | Lake Keowee | 18,372 acres |
| 5 | Lake Murray | 48,000 acres |
| 4 | Lake Hartwell | 56,000 acres |
| 3 | Lake Moultrie | 60,400 acres |
| 2 | Clarks Hill Lake | 70,000 acres |
| 1 | Lake Marion | 110, 600 acres |
---