The US government owns over half of Wyoming's territory, mainly composed of mountains, national parks, forests, and wildlife sanctuaries. It also has several national historical routes, national monuments, and national outdoor spaces, making it a sought-after vacation spot. Wyoming has nearly 4,000 lakes and reservoirs, providing excellent fishing and water leisure options. Whether you want to water ski in a state park, go for a relaxing canoe in a national country park, or catch a few trout in the finest fishing sites, Wyoming waters are guaranteed to fit your holiday needs. This article will list the 10 biggest lakes in Wyoming and other fascinating facts.
Wyoming is a relatively high state, with the lowest point being 3,100 feet above sea level and the highest peak at almost 13,780 feet. Because of the state's varied heights, multiple lakes are scattered around the state.
The 10 Biggest Lakes in Wyoming
10. Two Ocean Lake
Two Ocean Lake is found in Grand Teton National Park in Wyoming, United States. It has 806 acres (3.26 square kilometers) and lies 6,896 feet above sea level (2,102 m). The 2.4-mile-long (3.9-kilometer) glacially created lake can be accessed from a parking lot near the lake. The Two Ocean Lake Area in Grand Teton National Park is a lovely spot to unwind and enjoy a gorgeous yet somewhat leisurely stroll around a beautiful lake. This popular spot offers stunning views and excellent wildlife viewing, including trumpeter swans, Canada geese, various other waterfowl, moose, black bears, and the rare grizzly bear. Two Ocean Lake is a tiny lake bordered by lush meadows, soaring aspens, and deep woodland in Grand Teton National Park.
9. Emma Matilda Lake
Emma Matilda Lake is found in Grand Teton National Park in Wyoming. It spans 960 acres (3.88 square kilometers) and lies at 6,873 feet (2,095 meters). Emma Matilda Lake is a picturesque body of water bordered by hills and mountain peaks. The lake's trail is 10.7 miles (17.2 kilometers long) and gives breathtaking views of the lake and the surrounding Teton Range, then around the lake. The area is home to bears. Thus tourists are advised to pack bear spray.
8. Jenny Lake
Jenny Lake is situated in Grand Teton National Park in Wyoming, United States. It covers 1,191 acres (4.82 km2) of surface area and is located at 6,783 feet (2,067 m) above sea level. Over 12,000 years ago, glaciers pushed rock debris into the Cascade Canyon, a hole now home to Jenny Lake. The lake is a prominent feature of Grand Teton National Park, and it is surrounded by numerous hiking trails, including the Jenny Lake Trail. The 482-hectare lake is also surrounded by some of the Teton Range's highest peaks. It serves as a starting point for many hiking trails and a starting point for many climbing routes. Jenny Lake is a favorite area for scenic boat rides because the scenery is nothing short of breathtaking.
7. Leigh Lake
In Grand Teton National Park, Leigh Lake is a glacial-formed lake at the edge of the Paintbrush and Leigh Canyons, making it a stunning location. The glacially created lake spans 1,792 acres (7.25 km2) and is located at 6,877 feet (2,096 meters) above sea level. Leigh Lake is only reachable by trekking along the Leigh Lake Trail from the North Jenny Lake Junction to the south. The lake runs 2.4 miles (3.9 km) wide and 2.8 miles (4.5 km) long from north to south.
6. Fontenelle Reservoir
On the Green River, Fontenelle Dam, Powerplant, and Reservoir of the Seedskadee Project are located 24 miles southeast of La Barge, Wyoming. The project group includes Fontenelle Reservoir, which spans 8,000 acres (32.37 km2). The lake is 20 miles long and has a 56-mile shoreline when full. While the project was initially planned to supply irrigation water for crops, it was decreased once issues with successful irrigation in Wyoming's high semi-desert were discovered.
Boat launching ramps and campers are available at the reservoir for recreation. Although recreational use is limited and seasonal, the fish caught in the lake's water is plentiful all year. Rainbow, brown, and cutthroat trout are among the fish species commonly found in the reservoir.
5. Shoshone Lake
Shoshone Lake is a wilderness lake in Yellowstone National Park, Wyoming, with 8,050 acres (32.58 km2) and is elevated at 7,795 feet (2,376 m). The Shoshone Geyser Basin, located in the southwest portion of the lake, is home to one of the world's biggest collections of geysers. According to the US Fish and Wildlife Service, Shoshone Lake is the biggest backcountry lake in the lower 48 states that is not accessible by road, as hiking is the only way to get to the lake and campgrounds.
Fisheries staff planted lake and brown trout in 1890, resulting in a popular fall fishery, particularly for huge brown trout. The Utah chub, presumably introduced by bait anglers accidentally in the 1950s, is also found in the lake. Brook trout have been planted in numerous tributary streams and can occasionally be spotted in the lake.
4. Glendo Reservoir
Glendo Reservoir is a reservoir on the North Platte River in Platte and Converse Counties, Wyoming, United States. Glendo Dam creates a reservoir with a surface area of approximately 18,659 acres (75.51 km2) that can hold up to 1,170,505 acre-feet of water, primarily utilized for irrigation and flood control. Glendo State Park encompasses the entire lake, making it a popular recreation spot. It is well-known for its fishing and water activities. There is a marina, a 1.5-mile sandy beach, a boat ramp, and 45 miles of mountain biking routes along its shorelines. The lake's scenery, including rugged pine-lined woodlands and sandy beaches, is as diversified as its animals.
3. Jackson Lake
Jackson Lake is located in Grand Teton National Park, northwest Wyoming. The completion of the Jackson Lake Dam increased the size of this natural lake. It has a total area of 25,540 acres (103.40 km2), attracts many visitors during the summer months, and provides a variety of other recreational activities. The lake is encircled by mountain peaks, which adds to its beauty. Jackson Lake was established in 1911, although it has subsequently been extended to accommodate farmers from Idaho. Although it is a natural lake generated by a massive glacier, it is the state's fourth-largest reservoir.
Jackson Lake is a popular destination for park visitors seeking a refreshing bath in alpine waters—and perhaps a glimpse of animals. Located at the base of the Tetons in Grand Teton National Park, Jackson Lake is deep, chilly, and home to lake cutthroat, brook, brown trout, and salmon and pike. Ice fishing begins in January, which is a favorite of many anglers because big fish are plentiful at this time. Fish travel to deeper areas when the weather warms, and skilled fishers trawl the depths, concentrating on deep bars.
2. Flaming Gorge Reservoir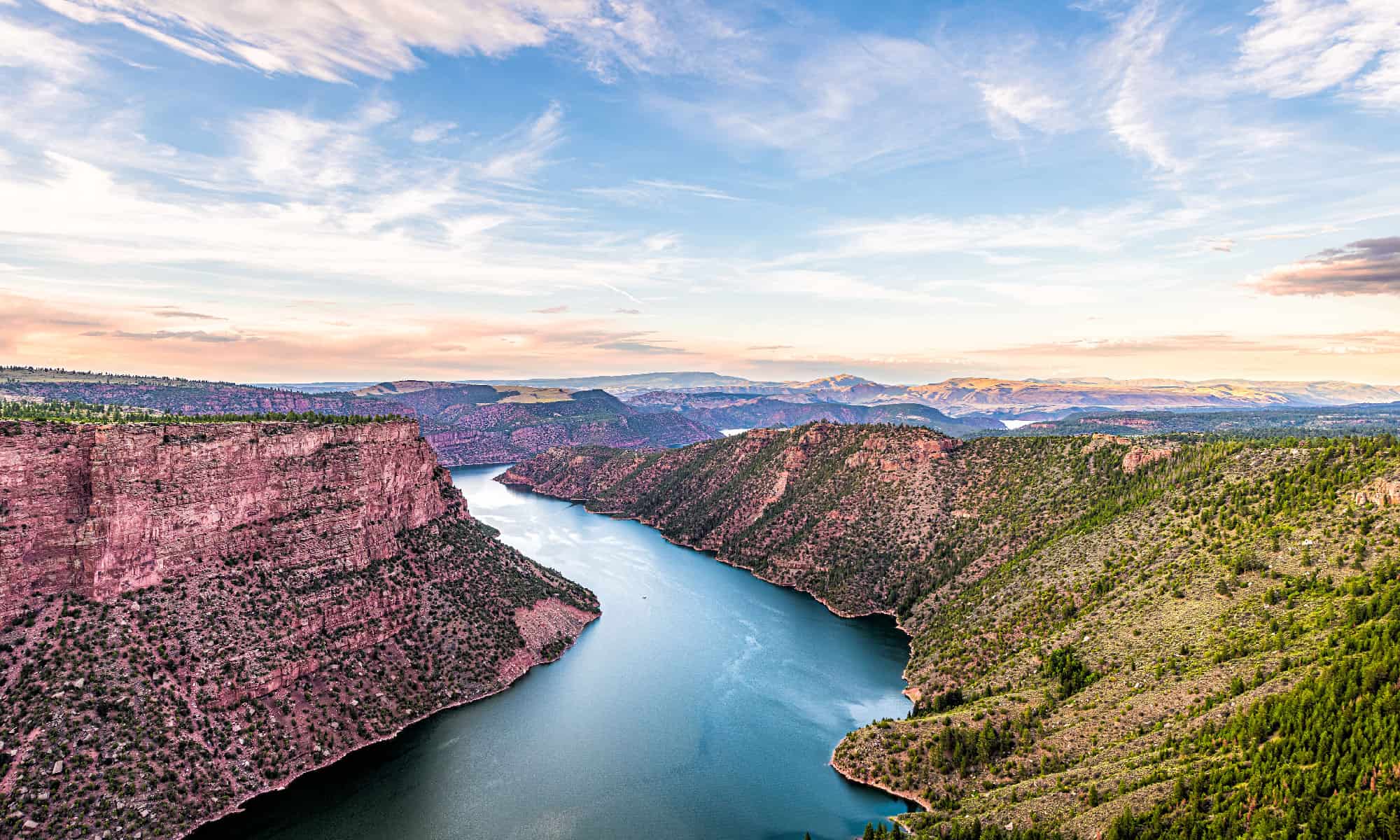 With a surface area of 42,020 acres (170 km2) and a surface height of 6,045 feet, Flaming Gorge Lake can hold 3,788,900 acre-feet of water. It's in the heart of the Ashley National Forest, on the Wyoming-Utah border, and it's also one of Utah's largest lakes. The Flaming Gorge National Recreation Area surrounds most of the lake, located in Wyoming along the Green River. It's a scenic reservoir nestled amid a steep, narrow ravine at 6,040 feet (1,841 meters) above sea level. This also results in some stunning geological scenery that is well worth photographing.
The lake is the focal point of the recreation area, which offers excellent water skiing, boating, windsurfing, and fishing options. Other popular activities include hiking, cross-country skiing, and snowmobiling. The reservoir is famed for its lake trout, but it also has smallmouth bass, kokanee salmon, rainbow and brown trout, and largemouth bass. The lake's incredible clarity attracts scuba divers and anglers.
1. Yellowstone Lake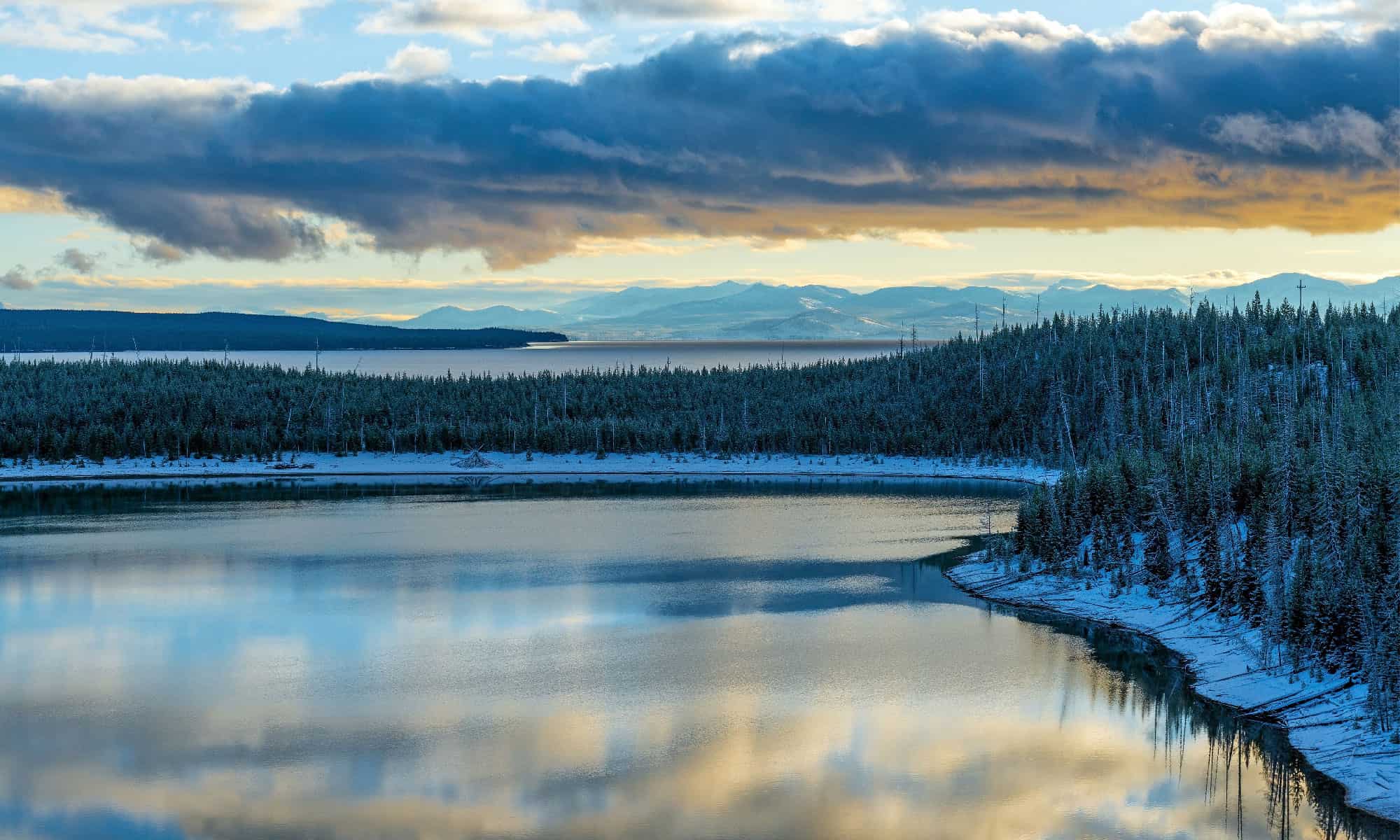 Yellowstone Lake is a major natural lake in Yellowstone National Park in the United States, located in northwestern Wyoming. It covers 84,500 acres (342 km2) and has a shoreline of 141 miles (227 km), making it Wyoming's largest lake. Yellowstone Lake is chilly all year, with an average water temperature of 41 degrees Fahrenheit (5 degrees Celsius). Swimming is not recommended due to the excessively chilly water. In the southern part of Yellowstone Lake, the geology shows lava flow shaping within the caldera and glacial and other activity sculpting beyond the caldera. Cutthroat (and non-native) lake trout swim across it, white pelicans and bald eagles fish it, and grizzlies patrol its outskirts.
Summary of the 10 Biggest Lakes in Wyoming
| Rank | Lake | Surface Area |
| --- | --- | --- |
| 10 | Two Ocean Lake | 806 acres (3.26 km2) |
| 9 | Emma Matilda Lake | 960 acres (3.88 km2) |
| 8 | Jenny Lake | 1,191 acres (4.82 km2) |
| 7 | Leigh Lake | 1,792 acres (7.25 km2) |
| 6 | Fontenelle Reservoir | 8,000 acres (32.37 km2) |
| 5 | Shoshone Lake | 8,050 acres (32.58 km2) |
| 4 | Glendo Reservoir | 18,659 acres (75.51 km2) |
| 3 | Jackson Lake | 25,540 acres (103.40 km2) |
| 2 | Flaming Gorge Reservoir | 42,020 acres (170 km2) |
| 1 | Yellowstone Lake | 84,500 acres (342 km2) |
Table of the 10 Biggest Lakes in Wyoming
The photo featured at the top of this post is © Alma Taylor Brown III/Shutterstock.com
---