Climbing some of the world's deadliest mountains is said to be a feat that not many people tend to achieve. Despite these mountains being dangerous, plenty of climbers consider reaching the summit challenging. However, climbing the ten deadliest mountains on Earth requires training, experience, and dedication.
Thousands have attempted to climb the world's deadliest mountains. While some of the mountains are easier to climb these days due to clear pathways, they still pose a risk of death. As of 2023, there have been 909 deaths collectively on the ten deadliest mountains.
Discover The 10 Deadliest Mountains
Deadly mountains are those known as the eight-thousanders. The term "eight-thousanders" refers to The International Mountaineering and Climbing Federation (UIAA) 's list of the 14 mountains with summits that are at least 26,247 feet (8,000 meters) above sea level. Many of these mountains in the Himalayas have over 3,411 named peaks.
Harsh weather conditions, death zones, steep cliffs, and other obstacles make these the deadliest mountains. While we only list ten mountains, plenty of other peaks have claimed climbers' lives. So, let's take a look at the ten deadliest mountains.
1. Mount Everest (310 Deaths)
Mount Everest is the world's tallest mountain and is one of the most dangerous climbs. Located between Nepal and Tibet, it sits on the Himalayas. With its peak sitting at 29,029 ft above sea level, it's safe to say that this is the most difficult to climb.
Climbers who have challenged Mount Everest have found that extreme altitude and everchanging weather conditions make climbing the most dangerous. The temperatures can drop to -76 F with wind speeds reaching 200 mph.
Since the first successful climb by Sir Edmund Hillary and Tenzing Norgay in 1953, thousands of climbers have gathered to try their luck at reaching the summit. More than 310 people have died attempting to reach the mountain's peak. Many of these deaths have been attributed to altitude sickness, falls, and avalanches.
2. K2 (91 Deaths)
The second most dangerous mountain is also the second tallest. K2, also known as Godwin-Austen, is located between China and Pakistan. Its peak reaches an elevation of 28,251 feet above sea level, which is only an 800 feet difference from Mount Everest.
However, K2 is very different, as the climate and topography are more unpredictable and rigid. Climbers have difficulty climbing K2 due to its steep ridges that lack aunty flatten edges. With Everest, at least there is a clear pathway on where to go. However, K2 is less climbed, and fewer people have mapped it out.
Currently, K2 has a recorded number of 91 deaths. Most of these are attributed to the Death Zone, located 26,000 feet at the bottleneck of the mountain. The Death Zone describes a harsh environment where the body dies cell by cell due to oxygen deprivation.
3. Nanga Parbat (85 Death)
Nanga Parbat is less dangerous than the previous two mentioned and is the ninth tallest mountain in the world. It's located in the Himalayas and is located between Pakistan and India. The peak of the mountain reaches 26,660 feet above sea level.
While Nanga Parbat isn't as challenging as some other mountains, it does pose its own challenges. Some include icy slopes, unpredictable weather conditions, and a high altitude. Temperature-wise, Nanga Parbat drops to -40 F and has high wind speeds of up to 200 mph.
Currently, there are 85 known fatalities reported on the mountain. However, a handful of people go missing without being reported. Many of these fatalities are due to avalanches.
4. Manaslu (84)
Manaslu, also known as the Mountain of the Spirit, falls just underneath Nanga Parbat's height, making it the eighth-tallest mountain in the world. It's also located in the Himalayas, but inside of Nepal. The peak sits at 26,781 feet above sea level.
Climbers find that Manaslu is one of the more technical mountains to climb in the Himalayas. This is because you need experience with high-altitude mountaineering and technical terrain training. Manasly has icefalls, crevasses, and much steeper terrain, unlike other mountains.
With the climate dropping to -22 F and strong winds of up to 75 mph, it's definitely less dangerous than the other mountains. Only 84 deaths have been reported, most of which are from falls and avalanches. Other deaths also were from altitude sickness and extreme weather conditions.
5. Dhaulagiri I (82)
Known for being the seventh tallest mountain in the world, Dhaulagiri I is located in the Himalayas of Nepal. The peak of this mountain is located 26,795 feet above sea level, which is just under Manaslu.
Climbers can expect the same difficulties as the other mountains but with more icefalls. The weather generally stays at -22 F with winds up to 62 mph. However, the mountain is prone to avalanches and lots of snowfall.
Currently, there are 82 reported fatalities, most of which are from avalanches. The mountain is also located in a remote location, which makes it harder to bring resources and get help. However, the climb is known for being worth it, as you get an amazing overlook at the surrounding mountain ranges and ice faces.
6. Annapurna I (73)
Annapurna I is the tenth-highest mountain in the world, located in the Annapurna mountain range of Gandaki Province of Nepal. The mountain's peaks reach 26,545 feet above sea level, and it is known as one of the deadliest mountains to climb.
From 2012 to 2022, Annapurna I held the highest fatality rate of the eight-thousander summits. Luckily, this rate is steadily decreasing thanks to a better understanding of pathways and resources needed to succeed on the climb. Only 73 fatalities have been recorded.
The mountain poses multiple threats to climbers, including avalanches, unpredictable weather, and steep climbing pathways. One pathway is located on the south face at 9,800 feet and is the most difficult path in the world. Trekkers also should be weary of snowstorms, as there was one in 2014 that claimed 43 lives.
7. Kangchenjunga (58)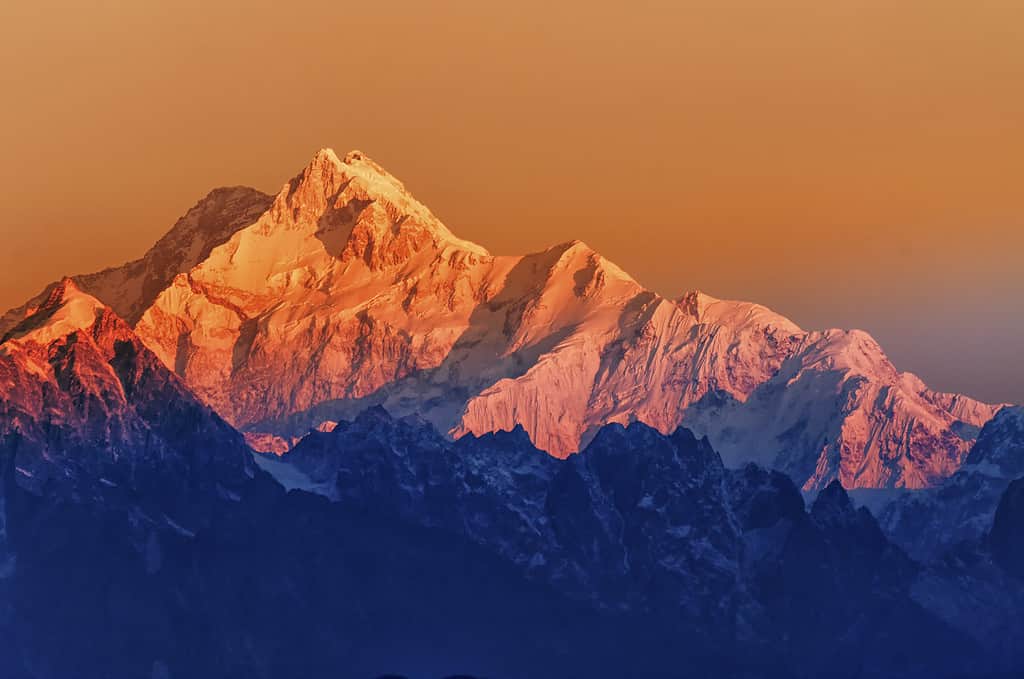 Kangchenjunga is the third tallest mountain in the world, with its summit being 28,169 feet above sea level. It's located in the Himalayas in a place called the Kangchenjunga Himal. The mountain lies between Nepal and India.
With unstable weather, avalanches, and high altitudes, Kangchenjunga is challenging for most climbers. Currently, there are recorded 58 fatalities. Most of these fatalities are from Yalung Kang and Camp IV, where many climbers have fallen due to the steep ledges.
8. Cho Oyu (52)
Cho Oyu is located in a sub-section of Mahalangur Himalaya and stands between the China, Tibet, and Nepal borders. The summit sits at 26,864 feet, making Cho Oyu the sixth-highest mountain in the world.
Luckily, Cho Oyu is the easiest of the eight-thousander mountains to climb. Fit climbers can trek to the summit even with low mountaineering skills. However, this doesn't mean just anyone can do it.
Sadly, there are still 52 recorded fatalities on the mountain. Many of the deaths were due to various reasons. Recorded deaths include four members from an avalanche, two from exhaustion, and a few from falls.
9. Makalu (40)
Makalu is the fifth-highest mountain in the world, and the summit sits 27,825 feet above sea level. It's located on the Mahalangur Himalayas and has a distinctive four-sided pyramid-shaped peak.
The mountain has taken the lives of 40 climbers to this day. A few were killed due to harsh weather conditions, such as a windslab avalanche. In contrast, others were from altitude sickness or unfortunate events.
10. Gasherbrum I (34)
The last deadly mountain on our list is the Gasherbrum I, also known as K5, the eleventh-highest mountain in the world. It's located between the Gilgit-Baltistan region of Pakistan and Xinjiang in China. The summit reaches up to 26,510 feet above sea level.
So far, there have been 34 recorded deaths. Many of these deaths have been to falls or unpredictable storms. The death zone has also taken a few lives of unprepared climbers.
The photo featured at the top of this post is © Vixit/Shutterstock.com
---