Florida is known for its beautiful beaches. With almost 66,000 square miles of land, it ranks as the 22nd largest state in the United States. However, only 53,000 square miles of this massive area is land, as about 19% of Florida is water, with lakes encompassing around 3 million acres. Florida has a plethora of lakes, which all serve as home to the state's diverse wildlife. Most of the animals that live in Florida are found in these bodies of water, and most of them are very rare. These Florida lakes provide residents and people from other parts of the world with some unique things to do where they can explore the state's unique groups of fish, mammals, and birds. Below, we will enumerate the 12 biggest lakes in Florida and the fauna found in and around the lakes.
The 12 Biggest Lakes in Florida
12. Lake Monroe
Located in the St. Johns River system, Lake Monroe measures 9,637 acres or 39 km2 in surface area. Anglers who want to catch big bass and good panfish come here all the time as the lake qualifies among the best fishing lakes in the system. Bass fishing on Lake Monroe is satisfactory all year round, but you can catch a lot of bass in the spring. There are also black crappies, bluegills, and redear sunfish that are popular and grow well in the water. There are lots of big fish in the St. Johns River, and there are also a lot of panfish that grow bigger there than elsewhere in Florida. 
11. Lake Talquin
Lake Talquin is a man-made lake constructed for hydroelectric power generation. It has a surface area of 10,800 acres (43.7 km2) and is replete with largemouth bass, bream, striped bass, speckled perch, and catfish. The lake is a great place to see wildlife and watch birds. Several types of animals can also be found in the park adjacent to the lake. There are deer, squirrels, turkeys, and sometimes a bear. If you're a birdwatcher, you will likely see bald eagles and ospreys above the lake's waters.
10. East Lake Tohopekaliga
Often called "East Lake Toho," the East Lake Tohopekaliga is a lake in the southern part of Orlando that measures almost 11,968 acres (4,843 ha) in surface area. East Lake Tohopekaliga is a smaller sister to Lake Tohopekaliga and is the 10th-largest lake in Florida. It is one of the most popular lakes in Florida due to its clear water and many exciting activities to explore. The lake is also replete with catfish, black crappie, bluegill, and largemouth bass. 
9. Lake Harris
Located in Lake County, Florida, Lake Harris sits 31 miles (50 km) northwest of Orlando in the Upper Ocklawaha River Basin, part of the St. Johns River. It belongs to the seven lakes in the Harris Chain of Lakes, also known as the "Ocklawaha Chain of Lakes." Lake Harris is a 13,788-acre (56-square-kilometer) lake characterized by an irregular shape when you look at it from the sky. There are a lot of big-mouth bass fishing opportunities available in Lake Harris, especially in the winter when the bass starts to reproduce. Every year, bass can be found near the deep water edges of vegetation and the canals. Lake Harris and the canals around it are great places to look for black crappie floating in the lake's open water areas.
8. Crescent Lake
Crescent Lake in Florida spans 15,960 acres (64.6 km2) of water, making it the state's eighth-largest lake in terms of surface size. It has a lot of freshwater fish species, making it a good choice for anglers. Crescent Lake offers clean water and a lot of greenery and beautiful scenery. The bald eagle is one of the most beautiful birds often spotted in the lake. The saline level in the lake, which reaches higher than typical saline lakes, supports a diverse array of fish and marine species, including blue crab, catfish, and bass, that aren't typically found in Florida's waterways. Crescent Lake's water is ideal for bluegill fishing, and it's most popular in the late spring and early summer when the fish converge for their spawn. 
7. Lake Tohopekaliga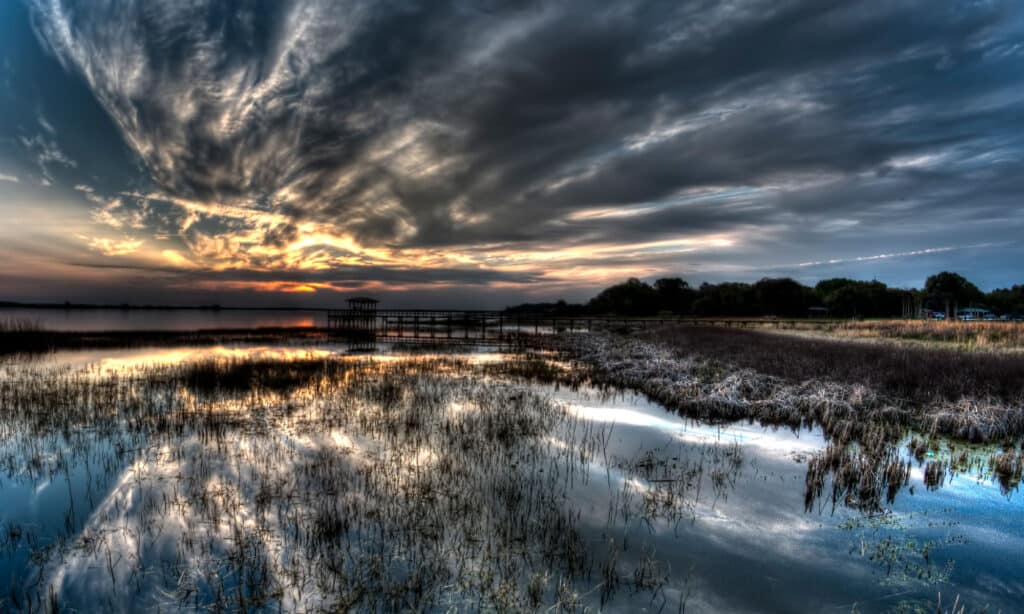 With 22,700 acres (91.86 km2), Lake Tohopekaliga is Florida's seventh-largest lake, known for its diverse biodiversity. The Everglades snail kite and the whooping crane can be seen in the region, and guests can take an airboat trip around the lake to see alligators, turtles, bald eagles, and osprey. The fish species caught in the lake include walleye, black crappie, spotted bass, largemouth bass, and bluegill. It is also known as Lake Toho, West Lake, or just Toho, and is the largest lake in Osceola County, Florida. Canal 31 connects it to East Lake Tohopekaliga, the state's 10th largest lake.
6. Lake Istokpoga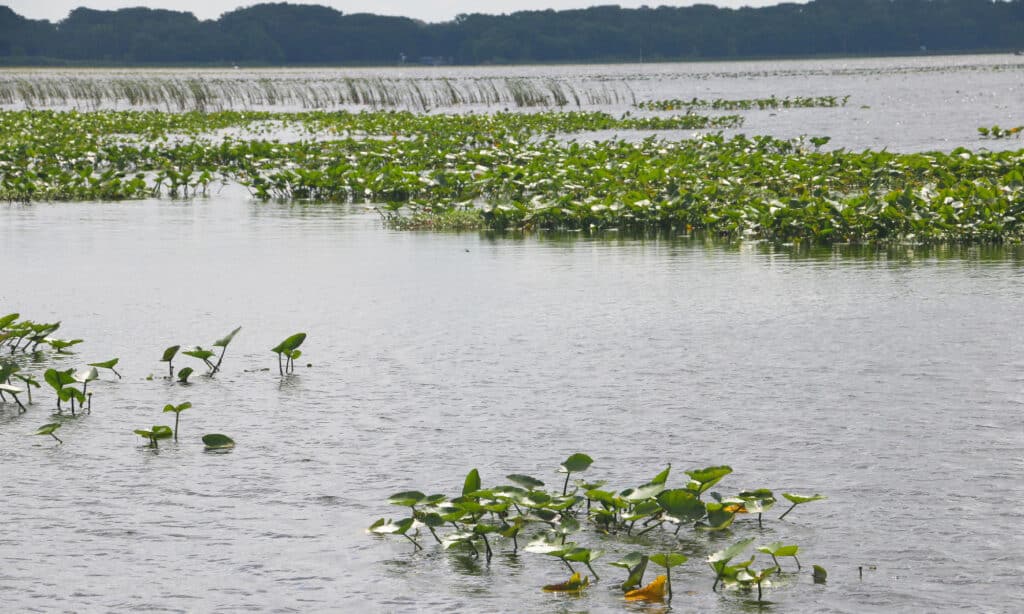 Lake Istokpoga is Florida's sixth-largest lake, measuring 27,692.9 acres (108 km2). Lake Istokpoga, like Lake Okeechobee, is a shallow body of water with an average depth reaching only 4 to 10 feet. Despite its modest depth, boating is still a popular activity on Lake Istokpoga, and the lake's many gullies are home to a diverse ecosystem of fish and other aquatic species. Around Lake Istokpoga, several fish camps offer camping, cabin rentals, and fishing trips. The oblong-shaped lake is around 5 miles long and 10 miles wide. Lake Istokpoga, the coldest of the state's lakes, is located in the northern part of the state.
5. Lake Apopka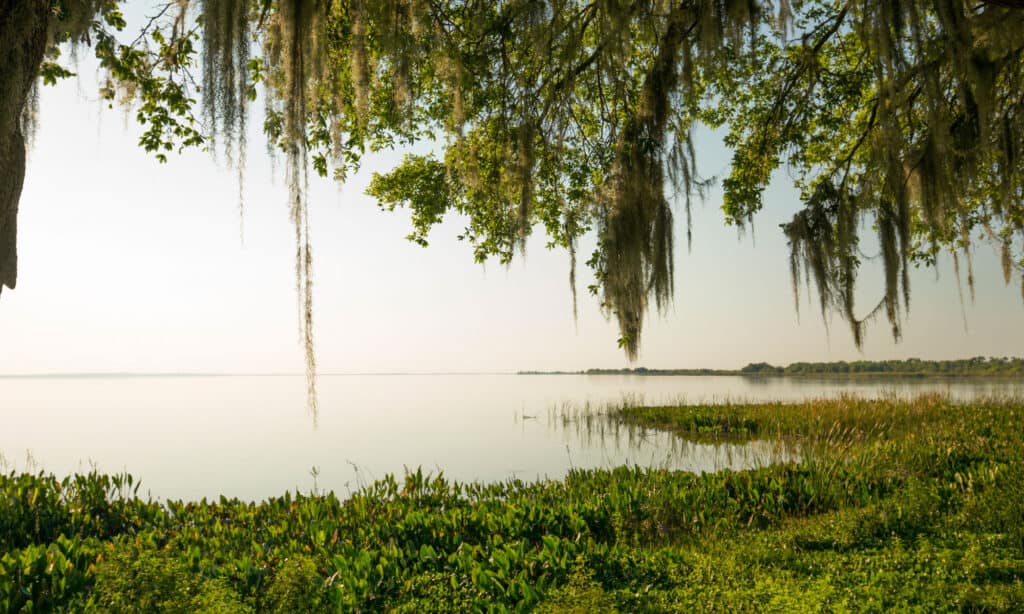 Lake Apopka, near Orlando in central Florida, is the fifth-largest lake in the state, covering over 30,800 acres (125 km2). This previously renowned bass fishing lake was once considered among the most contaminated major lakes in the state. Yet, this enormous body of water is still perfect for bass fishing. It has attracted international notice as a world-class bass fishing destination. In addition, a huge number of fishing events are held here. The pristine water of Lake Apopka makes it well-known. On the other hand, agricultural operations are taking place in the area, resulting in the development of algal blooms. 
4. Lake Kissimmee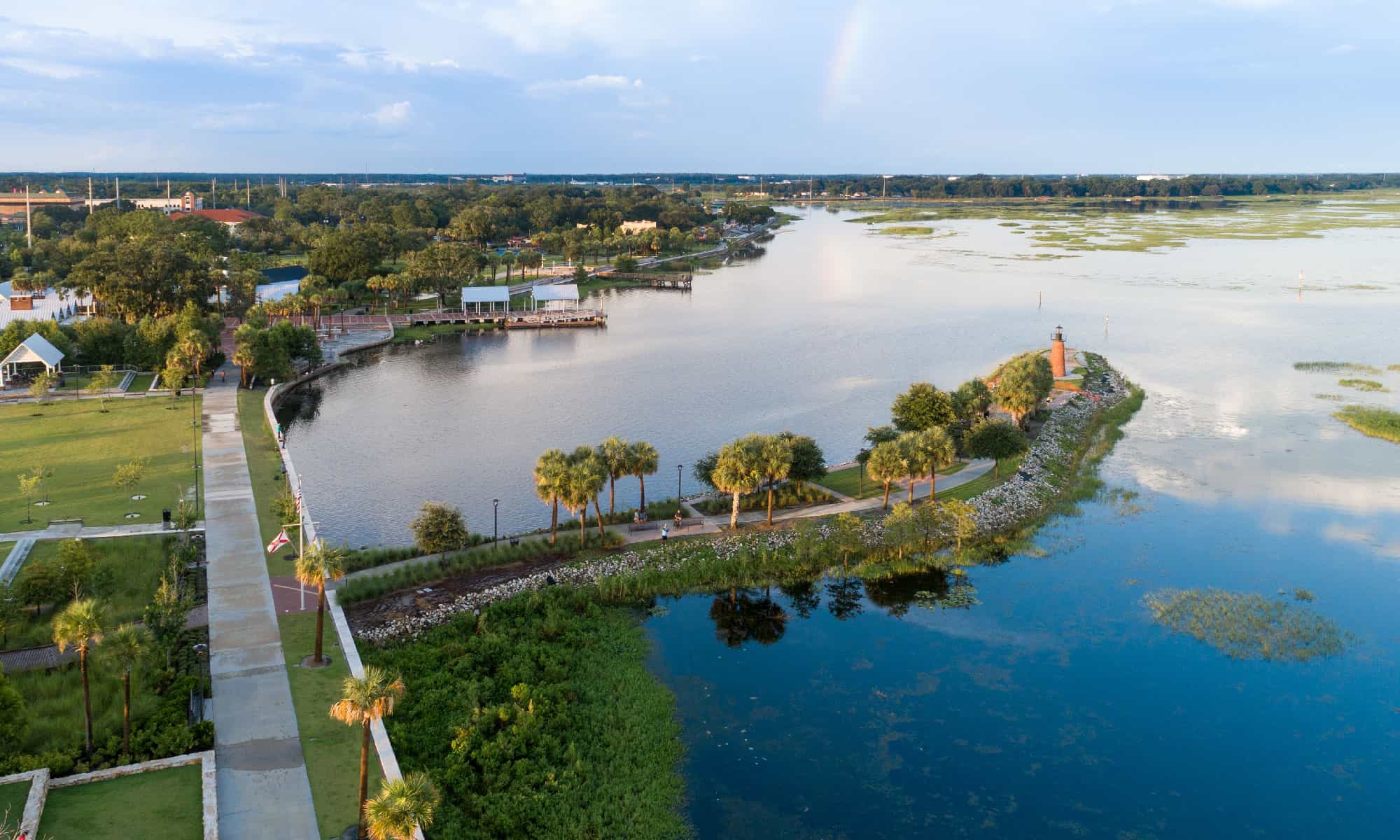 Lake Kissimmee is Florida's fourth-largest lake, covering 34,950 acres (141.43 km2) and stretching over two counties, Osceola and Polk. Bald eagles, white-tailed deer, alligators, ospreys, bobcats, turkeys, and sandhill cranes can all be found in Lake Kissimmee State Park. The lake is one of the most alligator-infested globally, harboring 1,935 gators and 170 bull gators. Lake Kissimmee is seated in the center of Lake Kissimmee State Park, where a live display of the state's historical "cow hunters" takes place in an 1876-era Florida cow camp. 
3. Lake Seminole
Lake Seminole is a 37,500-acre (152-square-kilometer) water reservoir in Florida. The pristine waters of Lake Seminole, which lies between Georgia and Florida, are its most well-known qualities. Originally, the dam and Lake Seminole were built for navigation and hydroelectric power generation. It's also one of the best fishing spots in the Panhandle. Thousands of waterfowl of various varieties and alligators, bass, gophers, tortoises, and a variety of fish species call it home. Canoeing and kayaking are two popular water sports on the lake. Largemouth bass, crappie, chain pickerel, catfish, striped bass, and more species can be found in Lake Seminole.
2. Lake George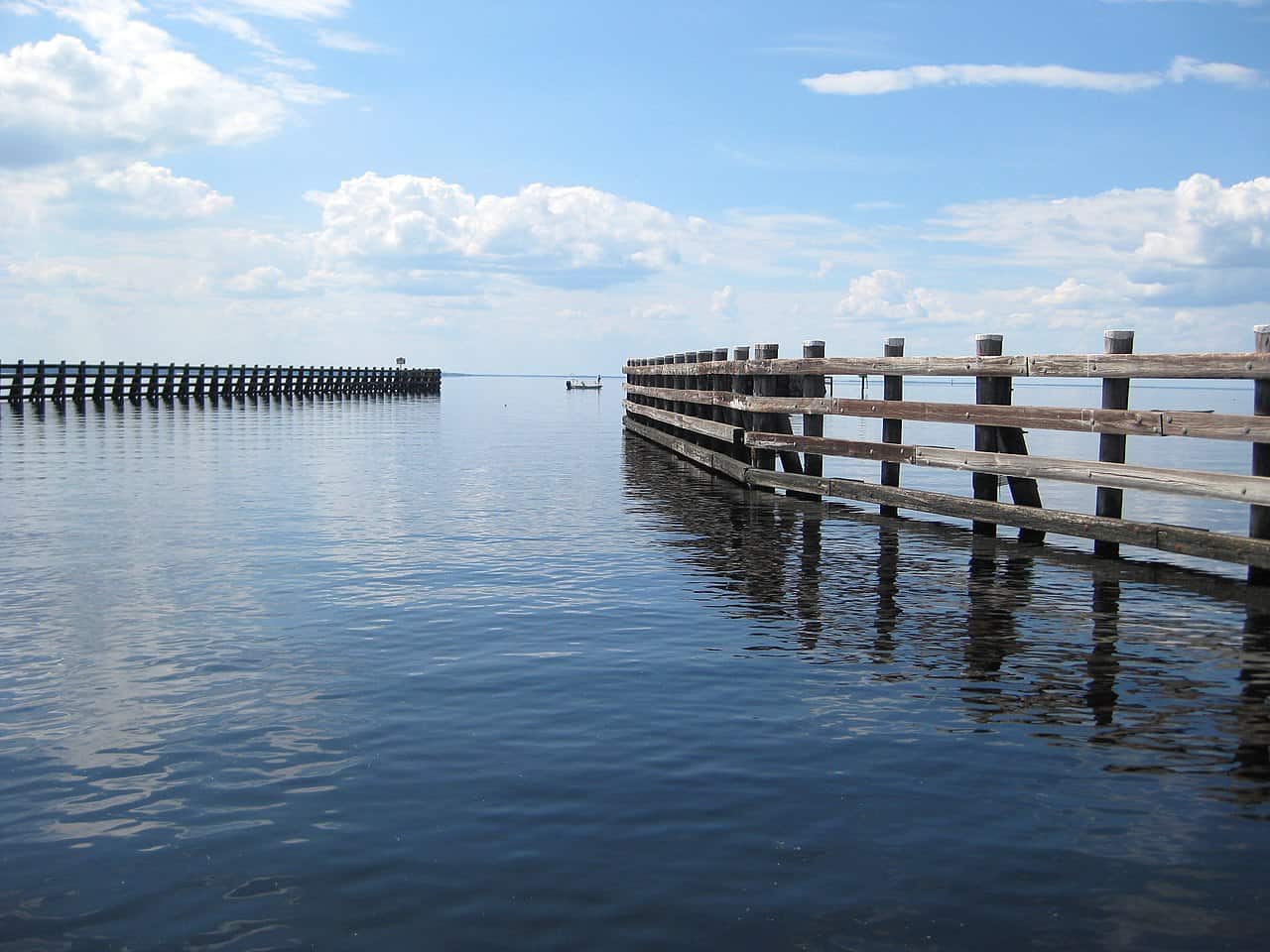 Lake George is the second-largest lake in Florida, and it's known for its brackish water, which nourishes both saltwater and freshwater species. It covers 46,000 acres (19,000 ha) of surface area and has an average depth of 8 feet (2.4 m). Though there are many unique lakes in Florida, Lake George is one of the most peculiar. The lake's bottom is relatively consistent, but its high saline content is likely its most distinguishing trait. The lake is home to both freshwater and saltwater types of plants and fish, thanks to feeder streams that pump a lot of salt into it. In reality, you may stumble upon a shark in Lake George, though such encounters are uncommon. What's common, though, are alligators. There are 2,322 gators in Lake George, with 26 bull gators.
1. Lake Okeechobee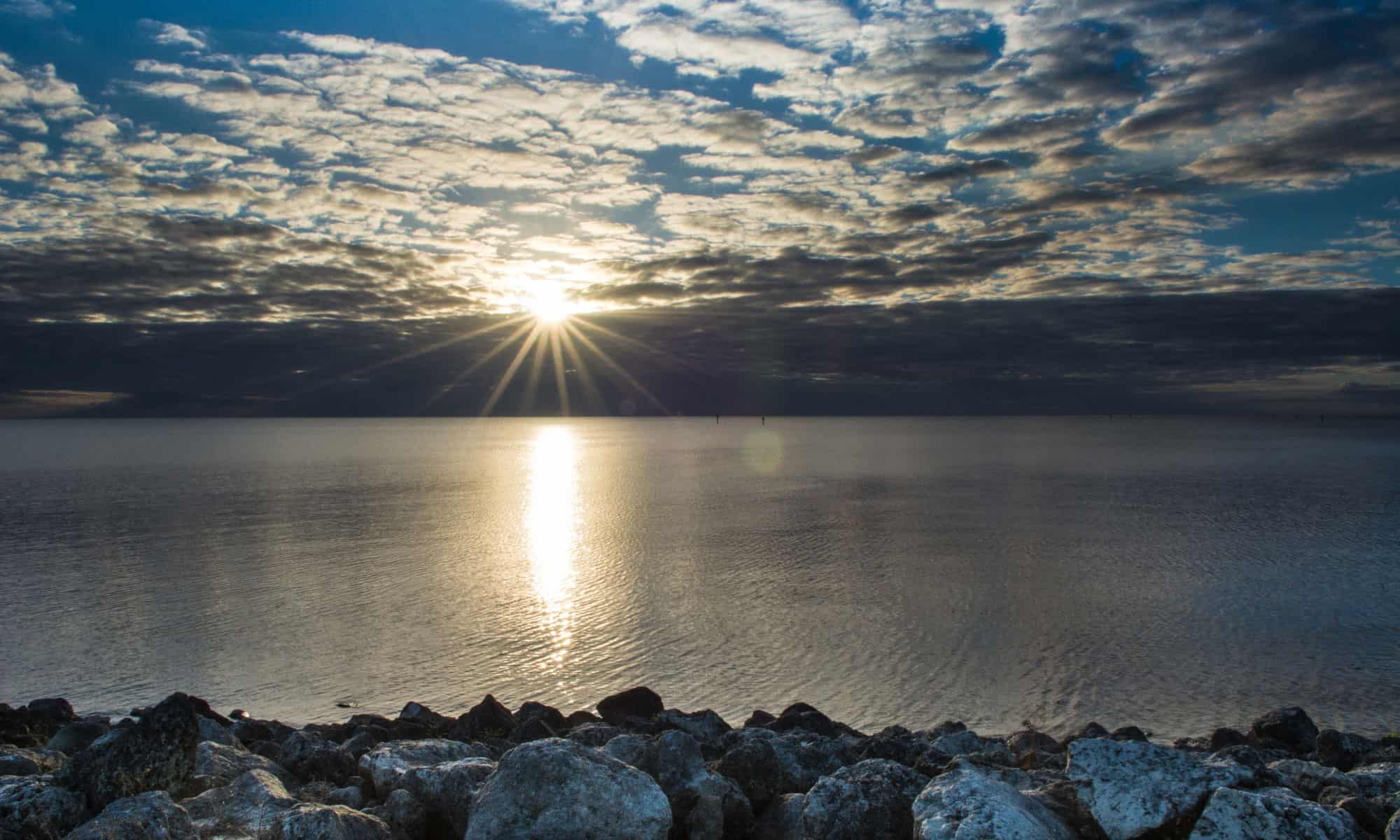 Many people know that Lake Okeechobee is the state's largest lake but they are unaware that it is also the country's second-largest freshwater lake, and the largest lake in the country's southeastern region as well. The Seminole word for "big water" inspired the lake's name. It covers 467,200 acres (1,891 km2) and has a maximum depth of 12 feet (3.7 m).
While the lake's vastness is spectacular, its average depth is only 12 feet, making it one of the southeastern United States' shallowest lakes. Lake Okeechobee, often known as Florida's Inland Sea, is home to approximately 3,800 different arthropods, including insects and arachnids, and over 400 distinct nematode species. However, because of its vastness and availability of suitable habitats, the lake is home to at least 30,000 alligators.
Summary of the 12 Biggest Lakes in Florida
| Rank | Lake | Area |
| --- | --- | --- |
| 1 | Lake Okeechobee | 467,200 Acres |
| 2 | Lake George | 46,000 Acres |
| 3 | Lake Seminole | 37,500 Acres |
| 4 | Lake Kissimmee | 34,950 Acres |
| 5 | Lake Apopka | 30,800 Acres |
| 6 | Lake Istokpoga | 27,692.9 Acres |
| 7 | Lake Tohopekaliga | 22,700 Acres |
| 8 | Crescent Lake | 15,960 Acres |
| 9 | Lake Harris | 13,788 Acres |
| 10 | East Lake Tohopekaliga | 11,968 Acres |
| 11 | Lake Talquin | 10,800 Acres |
| 12 | Lake Monroe | 9,637 Acres |
---