Massachusetts is the seventh-smallest state in the United States, and is seated in the country's northeast. It is a stunning state with coastal plains, hills, mountains, and urban centers. Massachusetts is a New England state in the United States whose coastline is shaped by many huge bays parallel to the Atlantic Ocean. Because of the enormous number of bays along its coastline, it is nicknamed "The Bay State."
In Massachusetts, there are several bodies of water. Some flow into the Charles River, Connecticut River, or the Atlantic Ocean. There are also numerous lakes in the state and man-made reservoirs built to suit the state's water needs. These lakes are also major fisheries and provide opportunities for recreational activities such as boating, camping, swimming, fishing, and bird viewing. Below, we will explore the 12 biggest lakes in Massachusetts.
Discover the 12 Biggest Lakes in Massachusetts
12. Great Herring Pond
The 424-acre Great Herring Pond, once known as Lake Manomet, has an average depth of 21 feet and a maximum of 47 feet. Herring River, originally known as Monument River, used to drain into Buzzards Bay as its exit. White sucker, brown bullhead, banded killifish, yellow perch, white perch, smallmouth bass, largemouth bass, chain pickerel, golden shiner, pumpkinseed, tessellated darter, American eel, and river herring were among the fish species discovered during MassWildlife surveys. Rubble, sand, and sludge make up the lake's bottom. In 1979, a tire reef was created to give extra fish habitat. Little Herring Pond provides the inflow, and the Herring River in Bourne receives the outflow.
11. Lake Monomonac
Lake Monomonac is a man-made lake in the United States that crosses the boundary between Rindge, New Hampshire, and Winchendon, Massachusetts. 594 acres (240 ha) of surface water make up Lake Monomonac, with 411 acres (166 ha) in New Hampshire and 183 acres (74 ha) in Massachusetts. The lake's maximum depth is 22 feet (6.7 meters), with an average depth of 10 feet (3.0 m). It was formed by damming the North Branch of the Millers River, part of the Connecticut River watershed, from a tiny pond in New Hampshire.
Black crappie, chain pickerel, smallmouth and largemouth bass, bluegill, horned pout, white perch, pumpkinseed, and green sunfish have all been seen in the lake, which is designated as a warm-water fishery.
10. Lake Cochituate
Lake Cochituate, a lake in Cochituate State Park, comprises three interconnected ponds. It was once utilized as a reservoir for Boston, but it is now used for recreational purposes. North Pond, Middle Pond, and South Pond are three interconnected ponds that make up Lake Cochituate. The three ponds and their connecting ponds comprise 635 acres in total.
Natick High School is located south of Cochituate on the 40-acre Dug Pond. In the summer, families flock to Lake Cochituate to enjoy boating, sailing, swimming, and fishing. There are also fantastic walking routes in the neighboring park and picnic sites and barbecues along the shoreline.
9. Lake Quinsigamond
Lake Quinsigamond (also known as Long Pond) is a lake located in Worcester County, between Worcester and Shrewsbury. It stretches 4 miles (6 kilometers) long, boasts a maximum depth of 85 feet (15 to 26 meters), and covers 772 acres (3.1 sq km) in surface area. Rowing is a popular sport on the lake, with contests held regularly all year. Visitors to the lake can also enjoy sailing, swimming, and fishing. It hosts eight islands, the majority of which are privately owned. Most of the recreational activities are available in Quinsigamond State Park, which is located along the western border of the lake.
8. Otis Reservoir
Otis Reservoir is a 1,036-acre reservoir in Otis, Massachusetts, that has been constructed by the filling of three surrounding ponds. It was once used for storing water, but it is now a popular entertainment area. Swimming, fishing, boating, camping, water skiing, snowmobiling, and other water-related activities are all popular at the lake. Bass, tiger muskies, catfish, white perch, yellow perch, and bluegills are among the fish found in the lake. Cottages owned by middle-class residents from New York, Connecticut, and Massachusetts encircle Otis Reservoir. At the lake's side is the Tolland State Forest, which offers camping and hiking.
7. Lake Chaubunagungamaug
Webster Lake is a lake in Webster, Massachusetts, sometimes known as Lake Chaubunagungamaug. It has a surface area of 1,442 acres near the Connecticut state line. The lake has been known by its lengthier name since 1921, with 45 letters and fourteen syllables: Lake Char­gogg­a­gogg­man­chaugg­a­gogg­chau­bun­a­gung­a­maugg. It means "English knifemen and Nipmuck Indians at the boundary or neutral fishing place." The lake's name, the third-longest single-word place name globally and the first in the United States, contains 15 letter Gs, even more than its average depth of 13 feet. Two marinas are located on Lake Chaubunagungamaug, making it a popular boating destination. It is also a tourist attraction, with the surrounding area providing excellent opportunities to see wildlife, particularly when hiking along the Walkabout Trail.
6. South Watuppa Pond
South Watuppa Pond is a 1,460-acre body of water with a very modest depth (2.8 square miles). It is located directly south of the North Watuppa Pond and reaches a maximum depth of 23 feet. The North and South Watuppa ponds were once joined to form one huge lake. The South Watuppa Pond is fed by several streams and springs and is a popular recreational spot, especially for fishing. Chain pickerel, white perch, yellow perch, brown bullheads, smallmouth bass, largemouth bass, bluegill, black crappie, golden shiner, pumpkinseed, and white sucker were among the fish species discovered during MassWildlife surveys.
Northern pike and tiger muskellunge have also been introduced to South Watuppa. The rest of the shoreline comprises residential and commercial development, with about a third of the 10 miles of shoreline being wooded or rip-rapped and accessible to fisherman on foot.
5.  Long Pond
Long Pond is a lake in the state's southern corner that shares its waters with Assawompset Pond. The lake covers 1,721 acres and has a maximum depth of 12 feet. It provides drinking water to the city of New Bedford. Within the lake, there are three islands: Goat, Lewis, and Nelson. Long Pond's leisure activities include fishing and boating. However, when navigating the lake, the shallow depth, jutting rocks, and sand bar connecting Nelson to the mainland offer dangers. Many huge rocks represent a severe concern due to the lake's shallow depth. Although not all of these rocks are clearly labeled, most are.
4. North Watuppa Pond
The North Watuppa Pond is the second-largest naturally occurring body of water in Massachusetts, with a surface size of 1,805 acres. It is a glacier-formed spring-fed pond that reaches a maximum depth of 25 feet. The lake is fed by several small streams, with the Quequechan River serving as its principal outlet. Because the North Watuppa Pond is the city of Fall River's primary drinking water source, the public cannot visit its shores for enjoyment. Copicut Reservation, on the northeastern edge of North Watuppa Pond, is lightly built and contains many protected areas as a component of the city's water supply.
3. Assawompset Pond
With a surface size of 2,404 acres, Assawompset Pond is Massachusetts' third largest body of water and largest natural lake. It is located in southeastern Massachusetts and serves as the city of New Bedford's primary source of drinking water. The lake is home to the largest herring run on the east coast. It is freely connected to Pocksha Pond and shares its waters with Long Pond.
New Bedford, the biggest city in southeastern Massachusetts, gets its drinking water from these lakes. In 1894, the Nemasket River was dammed, raising the water level by nearly five feet. No swimming, wading, boating, fishing, or other water activity is permitted because Assawompset Pond is a restricted drinking-water pond.
2. Wachusett Reservoir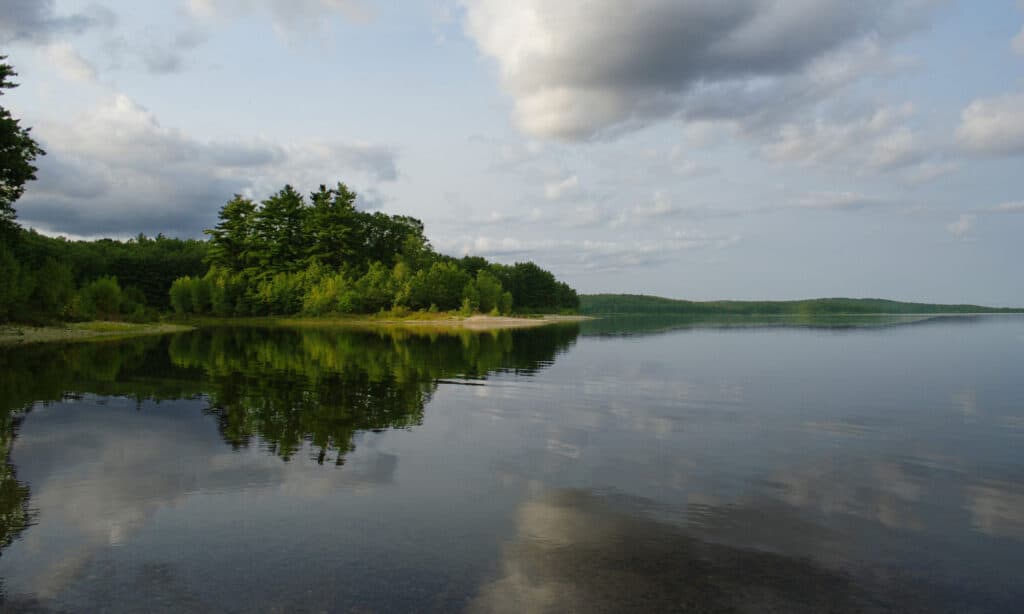 The Wachusett Reservoir, with a surface area of 4,057 acres and a capacity of 59.7 billion gallons, is a man-made massive drinking water supply reservoir in central Massachusetts. It is the state's second-largest body of water, completed in 1905. It also serves as a temporary storage pool for water from the Quabbin Reservoir. The reservoir, fed by its watershed, features twelve native and imported fish species due to the restricted access and ample, high-quality habitat, brown trout, landlocked salmon, smallmouth bass, and white perch, all established state records.
1. Quabbin Reservoir
The Quabbin Reservoir is the largest inland body of water in Massachusetts and one of the country's largest raw water supplies. Built between 1930 and 1939, the Quabbin provides water to three villages west of the reservoir and serves as a backup source for three more. The artificial lake spans 24,700 acres and holds 412 billion gallons of water (1.56 cubic km). Recreational activities are regulated around the lake and restricted to protect 3 million people's drinking water.
Summary of the 12 Biggest Lakes in Massachusetts
Here's a recap of the 12 largest lakes in the state of Massachusetts that we took a close look at:
| Rank | Lake | Size |
| --- | --- | --- |
| 1 | Quabbin Reservoir | 24,700 acres |
| 2 | Wachusett Reservoir | 4,057 acres |
| 3 | Assawompset Pond | 2,404 acres |
| 4 | North Watuppa Pond | 1,805 acres |
| 5 | Long Pond | 1,721 acres |
| 6 | South Watuppa Pond | 1,460 acres |
| 7 | Lake Chaubunagungamaug | 1,442 acres |
| 8 | Otis Reservoir | 1,036 acres |
| 9 | Lake Quinsigamond | 772 acres |
| 10 | Lake Cochituate | 625 acres |
| 11 | Lake Monomonac | 594 acres |
| 12 | Great Herring Pond | 424 acres |
---
The Featured Image
---