Oklahoma is known as the "Land of the Red Man" due to its Choctaw name, which means "red people." Today, over 25 Native American languages are spoken in Oklahoma, and the state's tremendous landscape diversity matches its cultural diversity. Most of its lakes are man-made, setting it apart from other states.
Oklahoma has the most artificial lakes in the country, with around 200, most of which were formed by damming rivers. A collection of oxbow (U-shaped or curved) and playa (dry lake bed) lakes are among the natural ones. Most of them offer a gorgeous perspective pleasing to the eye, as massive bluffs and pine forests surround them. These, like most other lakes in the United States, are part of a state park, allowing visitors to swim, fish, boat, and camp. Below, we will explore the 13 biggest lakes in Oklahoma.
Discover the 13 Biggest Lakes in Oklahoma
13. Skiatook Lake
This 10,500-acre (4,200-hectare) federally owned and operated reservoir is bordered by undulating hills, making it exceptionally tranquil. Skiatook Lake is lovely, with high cliffs and grasslands all around it. Picnicking and camping are among the many activities available along its stunning shoreline, with hiking routes also available here, from which you may enjoy some breathtaking views.
Skiatook Lake is located directly northwest of Tulsa, within the Osage Reservation. Fishing, swimming, and boating are popular activities for both city inhabitants and visitors to the lake. Sportfishing is quite popular, and there are several yearly fishing events at Skiatook Lake. There are plenty of black and white crappie, channel catfish, largemouth, smallmouth, striped bass, and numerous sunfish or lake perch caught in the lake's waters.
12. Webbers Falls Lake
Webbers Falls Reservoir is a 10,900-acre lake on the McClellan-Kerr Arkansas River Navigation System in Oklahoma, allowing barge navigation on the Arkansas River and its tributaries. A beautiful viewpoint, located on a bluff well above the powerhouse, offers views of the lock and dam and the lockage of barges and pleasure ships.
The waterway system offers a gorgeous lake for recreation, sport fishing, hydroelectric power, and cost-effective waterway transportation. Fishing, boating, hunting, camping, picnics, and sightseeing are just a few of the outdoor activities available at the lake all year round. The River and Harbor Act of July 4, 1946, initiated the project, reinforced by the Flood Control Acts of 1948 and 1950.
11. Tenkiller Ferry Lake
Tenkiller Ferry Lake, sometimes known as "Oklahoma's Clear Water Wonderland," is located in the Cookson Hills of the Ozark Mountains. The lake covers 12,900 acres (52 km2) in size and has a 130-mile shoreline. Called "Lake Tenkiller," the lake was created by damming the Illinois River in eastern Oklahoma. Scuba divers flock to this lake since it is one of Oklahoma's deepest. Marinas, boat ramps, campgrounds, and tents are available here, so you may boat and camp to your heart's content. The lake is home to white bass, spotted bass, largemouth bass, smallmouth bass, and channel catfish.
10. Broken Bow Lake
Broken Bow Lake, one of Oklahoma's deepest and most picturesque lakes, is located in the southeast part of the state, bordered by mountains, forests, and hills. It's the ideal location for water sports, swimming, fishing, boating, and more, with 14,000 acres and 180 miles of shoreline.
Broken Bow Lake is among Oklahoma's largest freshwater lakes, with spectacular views of the neighboring countryside. It is an oasis of visual splendor, from gorgeous, deep forests to the magnificent Ouachita Mountains. The lake is also great for birdwatching because the location's natural setting attracts various native birds. Deer and wild turkeys are other common visitors to the area. Mixed bass such as largemouth, smallmouth, white, spotted bass, catfish, crappie, sunfish, and bluegill are all available for fishing.
9. Sardis Lake
Located 5 miles from North Clayton in southeastern Oklahoma, Sardis Lake has 14,360 acres of surface water with a 117-mile shoreline. The Ouachita Mountain Range, which borders it, provides beautiful views. Three well-kept campgrounds, fishing docks, a swimming beach, and picnic shelters are also available. Sardis Lake is known for catching some of the state's largest bass. Freshwater fish like walleye, crappie, and catfish are also available. It was named after the now-defunct town of Sardis, Oklahoma, which was forced to be evacuated before the lake flooded the area.
8. Kaw Lake
On the Arkansas River, Kaw Lake is located in north-central Oklahoma, about 8 miles east of Ponca City. At an average elevation of 1,010.00 feet above sea level, the lake encompasses 17,000 surface acres and has 42 miles of shoreline. The Arkansas River and Kaw Lake have a long history of producing some of Oklahoma's largest catfish. Anglers can also catch sand (white) bass, crappie, and walleye on the lake, while abundant populations of turkey, quail, whitetail deer, rabbit, and squirrel put hunters' skills to the test. Kaw Lake attracts many migratory ducks and geese during the fall waterfowl seasons. The American Bald Eagle is one of Kaw Lake's most famous tourist attractions. Kaw Lake has long been home to one of the state's biggest wintering bald eagle populations.
7. Fort Gibson Lake
Fort Gibson Lake has a normal pool size of 19,900 surface acres. However, during floods, this size can rise to 51,000 surface acres. Fort Gibson, which sits about 50 miles southeast of Tulsa, provides 225 miles of beachfront that reaches into the counties of Wagoner, Cherokee, and Mayes. The numerous leisure possibilities provided by various organizations and concessionaires are another advantage of visiting the lake.
6. Keystone Lake
Keystone Lake is nestled among sandstone cliffs, grasslands, hills, and sandy beaches. The beautiful backdrop, along with the blue-green water of the lake, makes it an ideal holiday destination. The lake is located 15 miles west of Tulsa, Oklahoma, on the Arkansas River. This 26,000-acre lake is a true urban oasis. Many places viewing the lake are accessible via a system of county, state, and federal routes, making it a visual treat all year. Striped, sand, black bass, smallmouth bass, crappie, and catfish are all found in Keystone Lake. White-tailed deer, bobcats, beavers, raccoons, rabbits, doves, ducks, and geese have also been seen on the lake's land.
5. Oologah Lake
The Verdigris River feeds Oologah Lake, which supplies water to the Tulsa region. The Cherokee term 'oologah,' by which the lake's name was inspired, means 'black clouds.' The lake has a surface area of 29,500 acres (119 km2), 209 miles (336 km) of shoreline, 11 lakeside parks, and a 552,210 acre-foot water storage capacity.
Flood control, navigation, recreation, water supply, and fish and wildlife are all goals of the dam and lake. The shoreline is densely packed with parks, boat ramps, a swimming beach, campgrounds, and a marina where anglers can catch sand bass, largemouth bass, walleye, catfish, and crappie.
4. Robert S. Kerr Reservoir
With a surface area of 43,800 acres, Robert S. Kerr Reservoir is located within the Cookson Hills on the Arkansas River. Much of the lake is shallow, and there are several sand bars and islands, particularly in the mid to upper regions of the lake, in a typical Arkansas river valley manner. Fishing, boating, and hunting are all popular activities near the lake. Boat ramps, bathing beaches, picnic spaces, hiking trails, RV and tent campgrounds, and concession stands are all available at the lake. The Army Corps of Engineers also administers public hunting on about 10,000 acres (40 km2) around the lake.
3. Grand Lake o' the Cherokees
Grand Lake o' the Cherokees is located in the northeast corner of Oklahoma, on the slopes of the Ozark Mountain Range. With 46,500 acres of surface water and an elevation of 741 feet above sea level, it is the third-largest lake in the state. Because of its natural setting and picturesque shoreline, the lake is among the most beautiful lakes in the state. Grand Lake is continually named among the best bass fishing lakes in the country, and it also offers a wide range of other sport and non-sport fishing opportunities. Sailors from all across the country flock here because of the consistent breezes. Bass, sunfish, bluegill, catfish, crappie, and paddlefish are also abundant.
2. Lake Texoma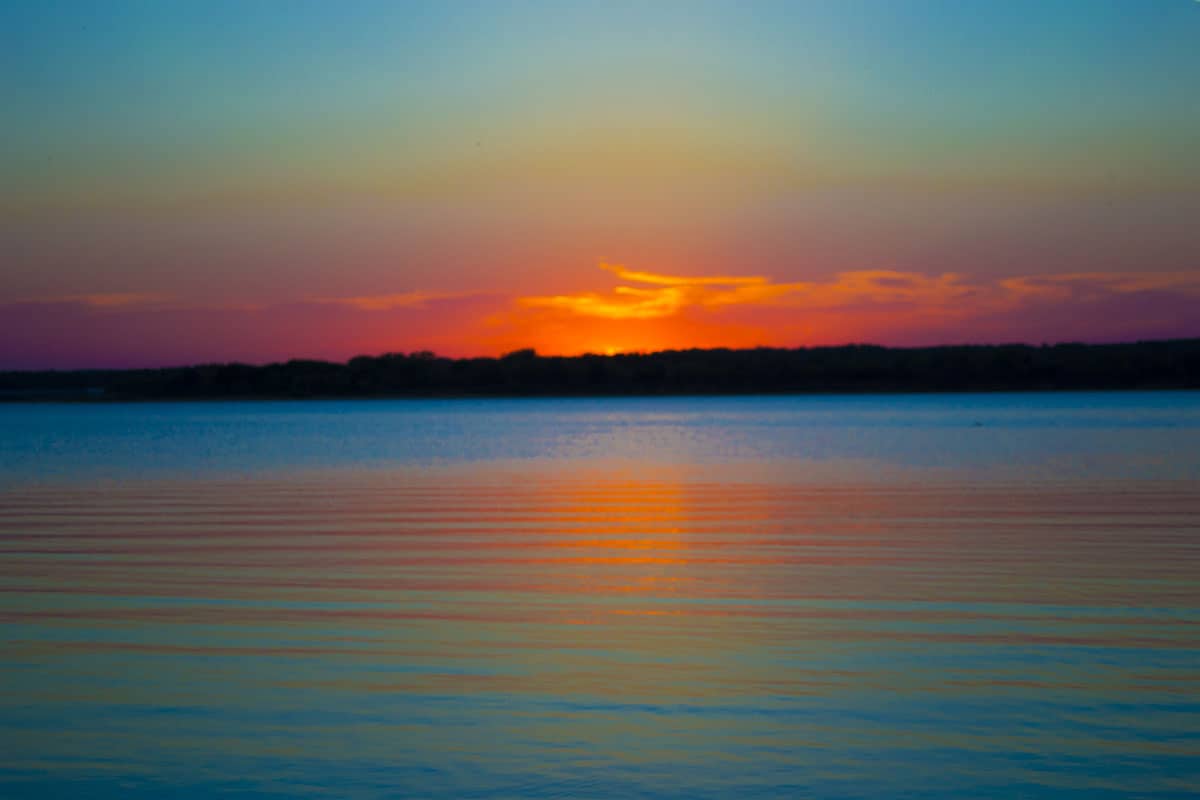 Lake Texoma is Oklahoma's largest lake by volume, with 2,643,000 acre-feet, and the state's second-largest lake by surface area, with 89,000 acres. Lake Texoma is also one of the country's largest reservoirs, the 12th largest US Army Corps of Engineers (USACE) lake, and the biggest in the Tulsa District. Denison Dam creates the lake, which receives water from the Red River and the Washita River. The dam and lake were built for flood control and hydroelectric power generation.
Many small islands dot Lake Texoma, home to roughly 70 different fish species, where catfish and bass are two of the most prevalent. Tourists go to Lake Texoma in droves, with over 6 million visits each year.
1. Eufaula Lake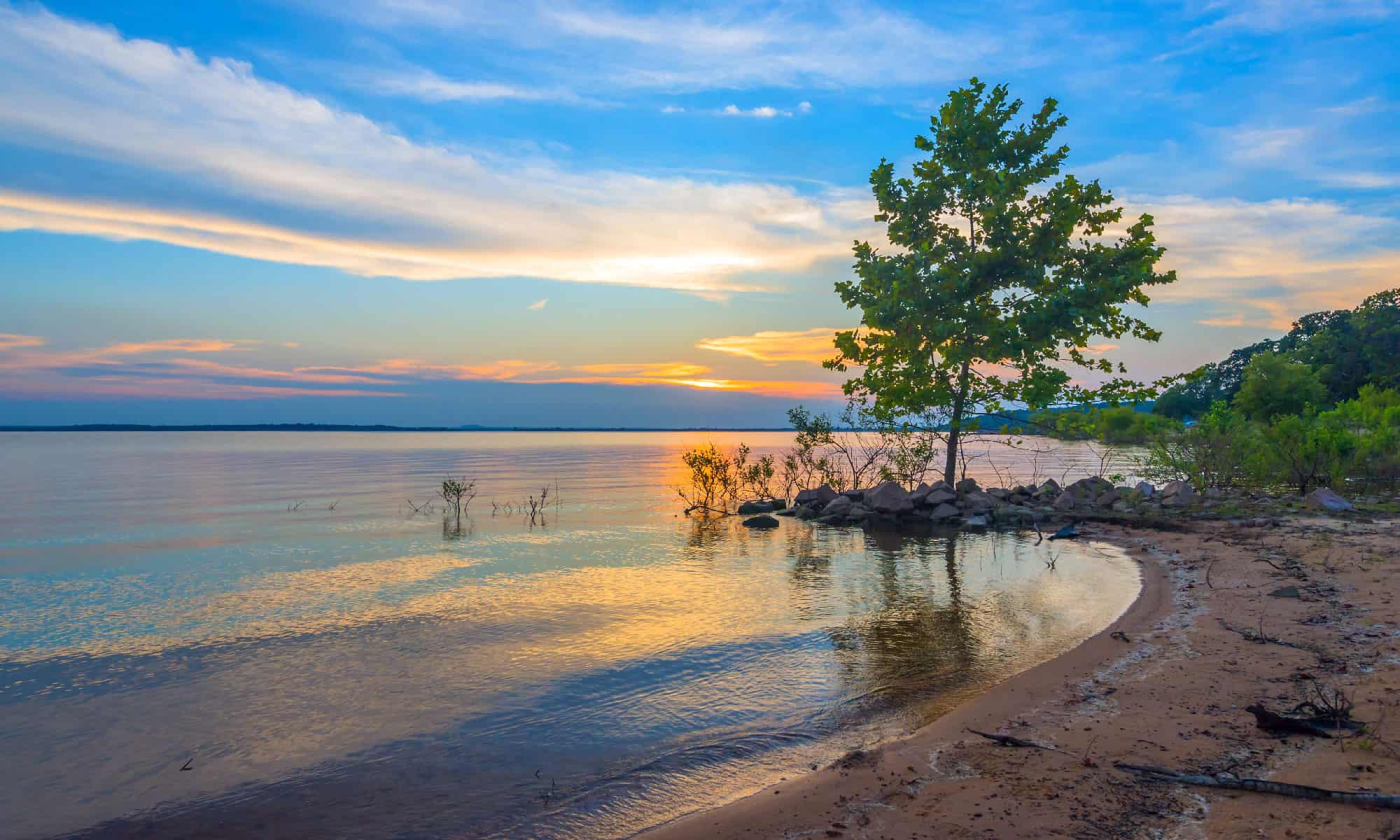 The largest lake in Oklahoma spans three counties and has a surface size of 102,000 acres. Eufaula Lake also has a 602-mile shoreline with various camping grounds, marinas, and lodging possibilities. A well-known event draws anglers from across the country to the lake, where they catch largemouth bass, smallmouth bass, Kentucky bass, catfish, crappie, and sand bass. Swimming, boating, hiking, horseback riding, and picnics are just a few of the additional activities available at Eufaula Lake. It's even feasible to go hunting or play a round of golf.
Summary of 13 Biggest Lakes in Oklahoma
| Rank | Oklahoma Lake | Area |
| --- | --- | --- |
| 1 | Lake Eufaula | 102,000 acres |
| 2 | Lake Texoma | 89,000 acres |
| 3 | Grand Lake o' the Cherokees | 46,500 acres |
| 4 | Robert S. Kerr Reservoir | 43,800 acres |
| 5 | Oologah Lake | 29,500 acres |
| 6 | Keystone Lake | 26,000 acres |
| 7 | Fort Gibson Lake | 19,900 acres |
| 8 | Kaw Lake | 17,000 acres |
| 9 | Sardis Lake | 14,360 acres |
| 10 | Broken Bow Lake | 14,000 acres |
| 11 | Tenkiller Ferry Lake | 12,900 acres |
| 12 | Webbers Falls Lake | 10,900 acres |
| 13 | Skiatook Lake | 10,500 acres |
The photo featured at the top of this post is © iStock.com/loki1982
---