With its temperate rainforests, mountain ranges, deep fjords, and Pacific shoreline, Washington is probably the most stunning state in the United States. The finest lakes in Washington have a unique aesthetic and natural charm, with glacier-carved coastlines and azure waters. You can have an exciting time exploring the areas and taking in the vistas because various hiking routes have access points. A variety of other recreational activities, such as fishing, boating, camping, and cross-country skiing, can be enjoyed in the state, making it a year-round destination. If you're seeking the best Washington lakes for your next getaway, this article will list the 12 biggest lakes in the state.
The Biggest Lakes in Washington State
12. Little Kachess Lake
Located along the Kachess River's course, Little Kachess Lake is a lake and reservoir in Washington state. The lake has 4,540 acres or 18.37 square kilometers of surface area. The Yakima Project, an irrigation project administered by the United States Bureau of Reclamation, uses the lake as a storage reservoir. It was originally a natural lake, although its size and drainage are regulated by Kachess Dam, a 115-foot (35-meter) high earth fill project erected in 1912. In contrast to Keechelus Lake, whose name translates to "few fish," Kachess is named after a Native American phrase that means "more fish."
11. Lake Whatcom
Lake Whatcom supplies drinking water for approximately 85,000 people in Bellingham and Whatcom County. The lake, which is located in Whatcom County, Washington, is 5,003 acres (20.25 square kilometers) in size and runs for about 10 miles (16 kilometers) long and 1 mile (1.6 kilometers) wide. Swimming, fishing, motorboating, and other leisure activities are popular at the lake. Bellingham regulates water flow to keep the limit under control, store the input, meet the demands in drinking water, and maintain appropriate streamflow for the endangered Chinook salmon. The zebra mussel, New Zealand mud snail, and Asian carp are all invasive species that threaten Lake Whatcom.
10. Lake Crescent
This crystal-clear, glacially sculpted lake is located 18 miles west of Port Angeles, near the Juan de Fuca Strait shoreline. The lake is one of Washington's pride in beauty and surface area, encompassing 5,127 acres or 21 square kilometers. Lake Crescent is surrounded by several hiking routes and park facilities, providing ample opportunities for a day excursion or overnight stay. It is considered the second-deepest lake in Washington, with a maximum depth of 624 feet (190 meters), succeeding Lake Chelan. Hiking is a common sport in the area surrounding the lake.
9. Osoyoos Lake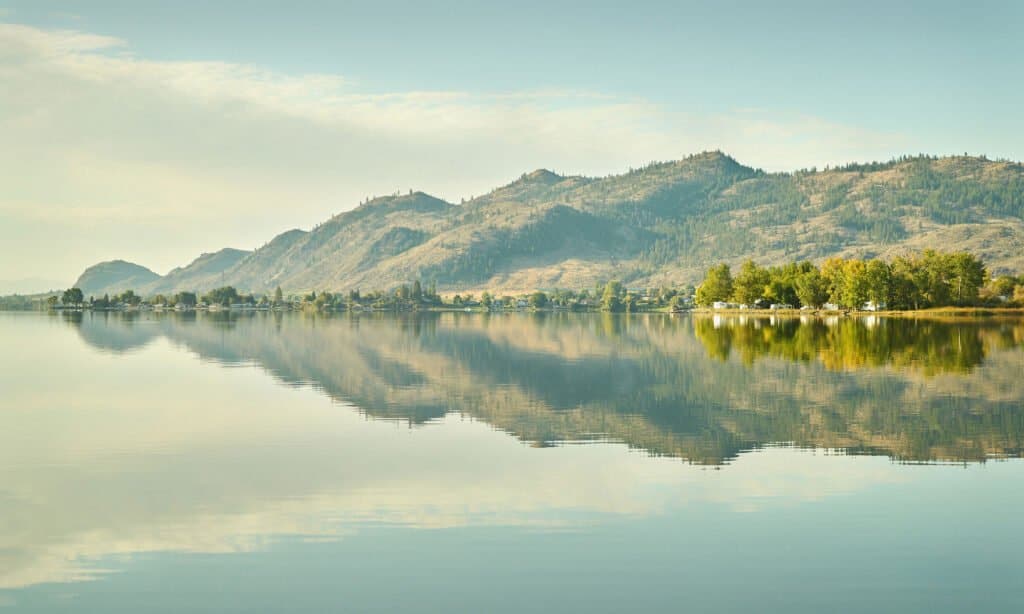 Osoyoos Lake straddles the Canadian province of British Columbia and the U.S state of Washington. Osoyoos Lake is the third-largest by size and third-deepest among Okanagan lakes, yet it is only the fourth-largest by volume, covering 5,733 acres (23.2 square kilometers) of surface area.
'Osoyoos' is derived from the word 'suius (soo-yoos),' which means 'place where two lakes meet.' During the last Ice Age, a massive glacier carved out the Okanagan Valley. The glacial meltwaters created Osoyoos Lake and others in the basin when the ice sheet retreated. During severe drought, lake levels may drop below the average range, driving British Columbia to strive in keeping flows up to safeguard aquatic habitats and return migrating salmon.
8. Moses Lake
Moses Lake is a reservoir and lake located along Crab Creek in Washington State. Crab Creek is a tributary of the Columbia River, making Moses Lake a part of the Columbia River basin. It measures 6,800 acres (28 square kilometers) in surface area and boasts a maximum depth of 38 feet (12 meters) and a shoreline length of 62 miles. The lake where the city of the same name lies was once a shallow natural lake that was dammed for irrigation in the early 20th century. Moses Lake offers a variety of camping, boating, fishing, and swimming possibilities. It also provides a variety of species that anglers can feast on. The lake is home to rainbow trout up to 17 inches long, making it one of the best trout fishing sites. Anglers can also discover significant quantities of largemouth bass and walleye. Perch, crappies, and bluegills are also available, but their numbers are not as large.
7. Ozette Lake
With 7,787 acres (29.5 square kilometers), Lake Ozette is Washington's biggest unspoiled natural lake. Lake Ozette was given the Makah name "Kahouk," which means "big lake." Its maximum depth reaches 331 feet (101 meters) below sea level. The lake comprises three islands, namely, Tivoli, Garden Island, and Baby Island. Overnight tent campers prepared to make the long trip down the lake can enjoy Tivoli's sandy coast, which is a kayaking and canoeing destination. 
6. Riffe Lake
Riffe Lake, created by the Mossyrock Dam, is another massive lake in Washington, measuring 11,830 acres (47.87 square kilometers). The lake boasts a healthy smallmouth bass population and has an open fishing season all year. Riffe Lake is a great place to catch landlocked coho, Chinook salmon, and the occasional huge brown trout. Cutthroat, landlocked salmon, rainbow trout, brown bullheads, and a few bluegill and crappie are among the warm freshwater fish present in the lake. Due to worries that the Mossyrock Dam could fall after a large earthquake and create catastrophic flooding, Tacoma Power decreased the lake's maximum water level by 30 feet (9.1 meters) in 2017.
5. Lake Washington
In King County, Lake Washington runs between Seattle and Bellevue. It is King County's largest lake and the state of Washington's second-largest natural lake, behind Lake Chelan, with a surface area of 21,750 acres (88 square kilometers). Cutthroat trout, largemouth and smallmouth bass, yellow perch, and black crappie are among the popular game fish in this lake, which is open all year. Enjoying Lake Washington means visiting one of its lakefront parks. Many surrounding cities and towns around the lake have lakefront parks where visitors can have a picnic or walk along the beach walkway.
4. Banks Lake
Banks Lake is a vast man-made reservoir in Eastern Washington that stretches from Coulee City to Electric City. This one-of-a-kind lake is part of the Columbia Basin Project, which supplies water and energy to the entire region. It boasts 26,890 acres (108.8 square kilometers) of surface area and is replete with smallmouth and largemouth bass, walleye, kokanee, yellow perch, rainbow trout, and whitefish. On the lake's north coast lies Steamboat Rock State Park which is the hub of activities around the lake. Over 50,000 feet of freshwater beachfront can be found in the state park offering numerous activities. There are seven boat launches scattered throughout three sites that provide access to Banks Lake.
3. Potholes Reservoir
Potholes Reservoir is a man-made lake located in central Washington created by the O'Sullivan Dam. It is one of Washington's largest lakes, measuring 27,800 acres or 112.5 square kilometers in surface area and bordered by 6,000 feet (1,800 meters) of coastline. Fed by Moses Lake, another massive reservoir in the state, Potholes Reservoir is filled with walleye, smallmouth bass, and largemouth bass, making it an ideal spot for anglers. Potholes State Park, a 640-acre (2.6 square kilometers) component of the Washington State Park System, is located on the reservoir's coastline. Panfishing can be excellent in some years, although it varies yearly. Trout fishing for rainbows up to 20 inches can be excellent during the winter, early spring, and fall months.
2. Lake Chelan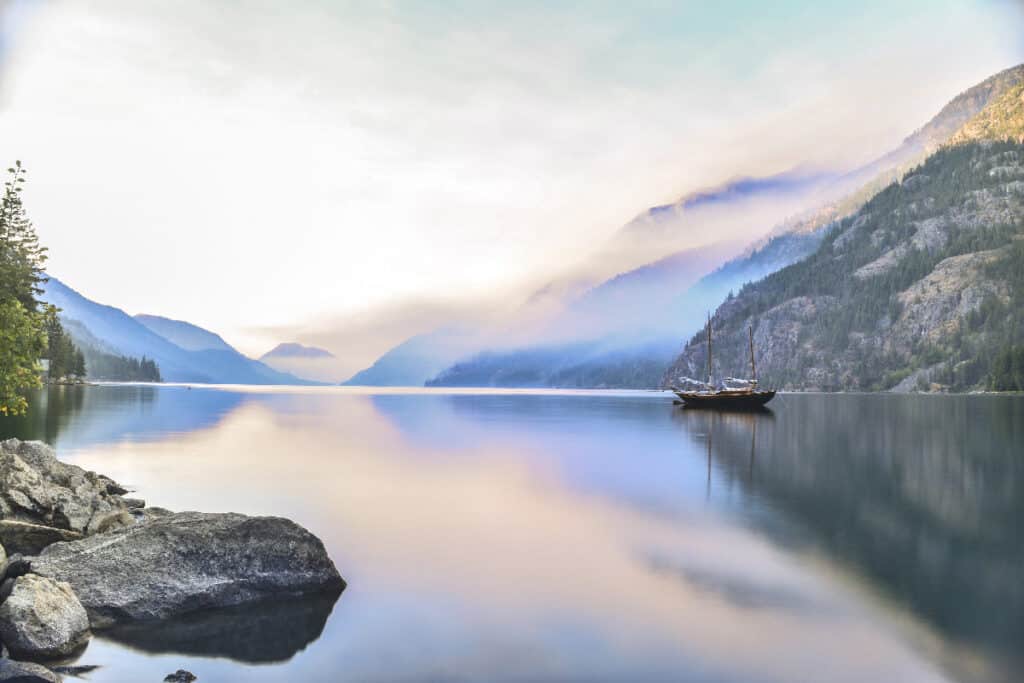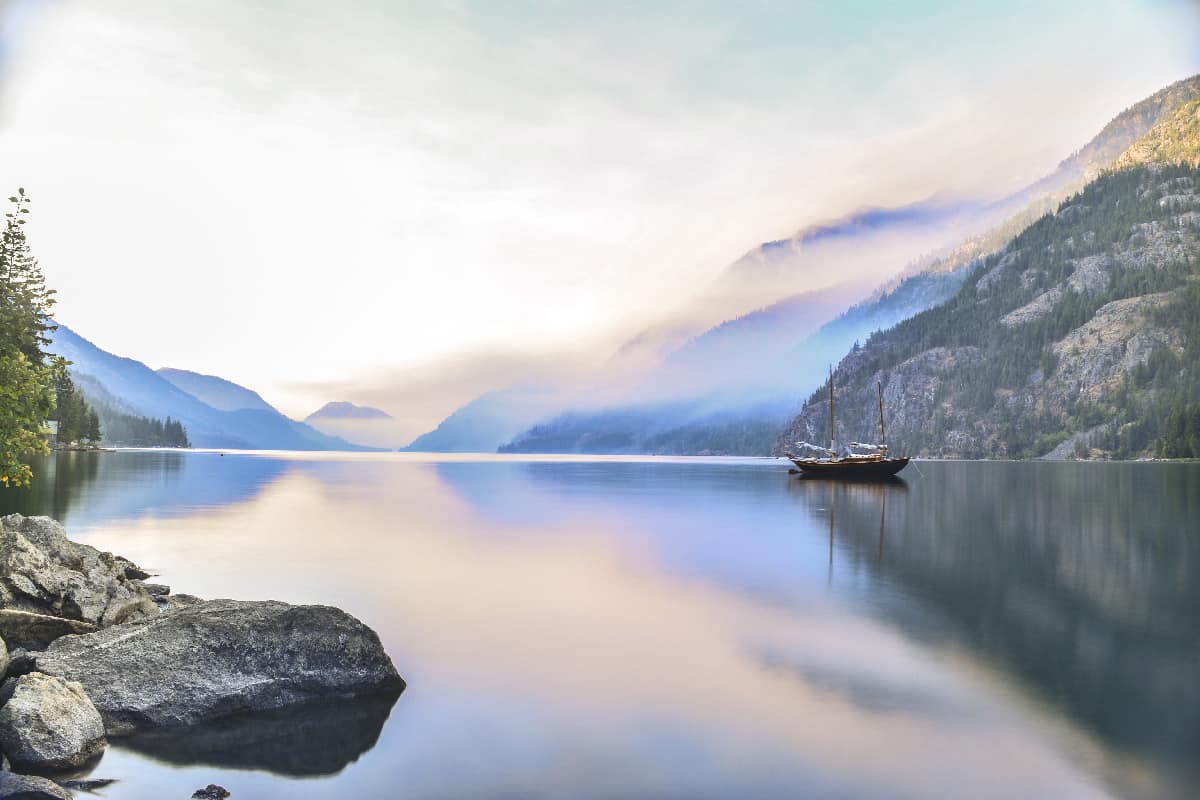 Lake Chelan is a beautiful 33,340-acre (134.9 square kilometers) lake that stretches into the North Cascades' eastern edge. It is the sixth deepest lake in North America, the third deepest in the United States, and the 25th deepest globally, with a maximum depth of 1,486 feet (453 meters). "Chelan" comes from a Salish word that means "deep water." Chelan, the lake's southernmost city, is a popular tourist destination and a great place to start if you want to get out on the water. Chinook salmon and lake trout can be caught in abundance in this lake. It's a year-round pastime in the area with the option of hiring a fishing guide.
1. Franklin D. Roosevelt Lake
The largest lake in the state is a reservoir with a surface area of 79,070 acres (320 square kilometers) and 603 miles of shoreline. Franklin D. Roosevelt Lake receives its water from the Columbia River and is surrounded by Lake Roosevelt National Recreation Area. The varied activities available here are suitable for visitors of all ages. Aside from the activities, it's also a great place to enjoy a relaxed holiday with a few other people. Rainbow trout, white sturgeon, kokanee salmon, walleye, and smallmouth bass are among the lake's many fish species. Except for white sturgeon, all species are available all year. Lake whitefish, burbot, and yellow perch are some of the other species you might luckily catch.
Summary of the 12 Biggest Lakes in Washington State
Here's a recap of the 12 largest lakes in Washington, according to their total surface area measurements:
| Rank | Lake | Size |
| --- | --- | --- |
| 1 | Franklin D. Roosevelt Lake | 79,070 acres |
| 2 | Lake Chelan | 33,340 acres |
| 3 | Potholes Reservoir | 27,800 acres |
| 4 | Banks Lake | 26,890 acres |
| 5 | Lake Washington | 21,750 acres |
| 6 | Riffe Lake | 11,830 acres |
| 7 | Ozette Lake | 7,787 acres |
| 8 | Moses Lake | 6,800 acres |
| 9 | Osoyoos Lake | 5,733 acres |
| 10 | Lake Crescent | 5,127 acres |
| 11 | Lake Whatcom | 5,003 acres |
| 12 | Little Kachess Lake | 4,540 acres |
---