While Minnesota is dubbed the land of 1,000 lakes as it holds actually tens of thousands of beautiful lakes and reservoirs, Michigan also prides itself on having many vast lakes located within its borders. Michigan is caught in the middle of North America's largest freshwater system as four of the five North American Great Lakes touch Michigan's shores. That alone proves that the state is home to numerous humongous lakes that provide various functions, ranging from fishing to recreation, drinking water, hydroelectricity, and more. Aligning with the definition from Michigan's Inland Lakes and Streams Act that says lakes should be 5 acres or larger, the state has around 10,031 lakes. All of them are worth noting and discovering, but this article will focus on the 10 biggest lakes in Michigan and other facts about them. Here's a preview in pictures:
Now read on for all the interesting details about location, size, and activities.
15. Crystal Lake
Crystal Lake, located in Benzie County, about 25 miles southwest of Traverse City, is a lake near Lake Michigan. It is Michigan's ninth largest inland lake and the 15th overall, measuring 2.5 by 8 miles or 9,854 acres, with a maximum depth of 165 feet. Crystal Lake was known as "Cap Lake" until and during the American Civil War because of the frequent whitecaps observed on its surface.
14. Higgins Lake
Higgins Lake is a significant fishing and recreational lake in Roscommon County, Michigan, United States. It covers 9,900 acres and is recognized for its deep, crystal-clear water. Excluding the four Great Lakes in the state, Higgins Lake would rank as the 10th largest inland lake in Michigan. It has also been dubbed "one of the most beautiful lakes in the world." The Cut River connects Marl Lake with Higgins Lake, providing excellent perch, trout, and pike fishing. The natural splendor of the lakes, wildlife observation, and, most importantly, breathtaking sunrises and sunsets will surely enchant you.
13. Manistique Lake
Manistique Lake, often known as Big Manistique Lake, is a 10,130-acre (4,100 ha) lake in Michigan's Upper Peninsula. It sits 686 feet (209 meters) above sea level and 105 feet (32 meters) above Lake Michigan and empties into the Great Lake through a swampy outlet on its west end, one of the Manistique River's sources. If fishing is a sport, hobby, or pleasure for you, Big Manistique Lake is an excellent site to cast a line.
12. Black Lake
Located in northern lower Michigan, Black Lake is the state's seventh-largest inland lake, with a surface size of 10,130 acres. It is the biggest body of water in the Black River watershed, draining into Lake Huron through the Lower Black and Cheboygan Rivers. Many families from the Detroit suburbs and other nearby states and residents of the neighboring village of Onaway visit Black Lake throughout the summer.
11. Lake Gogebic
Lake Gogebic is Michigan's Upper Peninsula's largest natural inland lake, located inside the one million acre (4,000 km2) Ottawa National Forest. The western shore of Lake Gogebic is home to Lake Gogebic State Park. It has a surface area of 13,380 acres and is home to dozens of fish species beneficial for human life. Northern pike, smallmouth bass, black and brown bullhead, cisco, walleye, pumpkinseed, black crappie, golden shiner, and yellow perch are known to inhabit the lake.
10. Mullet Lake
Mullet Lake, another lake in Cheboygan County, sits beside Burt Lake and Black Lake. It has a total surface area of 16,630 acres and stretches 10 mi (16 km) long. Mullett Lake is a fantastic fishing spot, with abundant populations of lake trout, rainbow trout, brown trout, brook trout, smelt, northern pike, splake, muskellunge, yellow perch, walleye, smallmouth bass, largemouth bass, sunfish, and, most notably, lake sturgeon.
9. Burt Lake
Measuring a surface area of 17,120 acres, Burt Lake is a vast Michigan lake located in Cheboygan County. It took its name from William Austin Burt, who conducted a federal study of the region from 1840 to 1843 with John Mullett. From north to south, the lake measures about 10 miles (16 kilometers) long, 5 miles (8 kilometers) wide, and 73 feet (22 meters) deep. It is known for its population of lake sturgeon, which once held the record for the largest sturgeon taken in the United States, along with neighboring Mullett Lake and Black Lake.
8. Lake Charlevoix
Located in Charlevoix County, Michigan, Lake Charlevoix is one of the state's largest lakes, measuring about 17,200 acres (70 km2) and 56 miles (90 km) of shoreline. The central basin has a maximum depth of 122 feet (37 meters), whereas the south branch has a maximum depth of 58 feet (14 meters) (18 m). In a USA Today poll in 2012, Lake Charlevoix was rated the second-best lake in America after Lake Tahoe. Swimming, diving, boating, sailing, fishing, and simply relaxing on the beach are just a few of the activities available at the lake which have earned it this accolade.
7. Torch Lake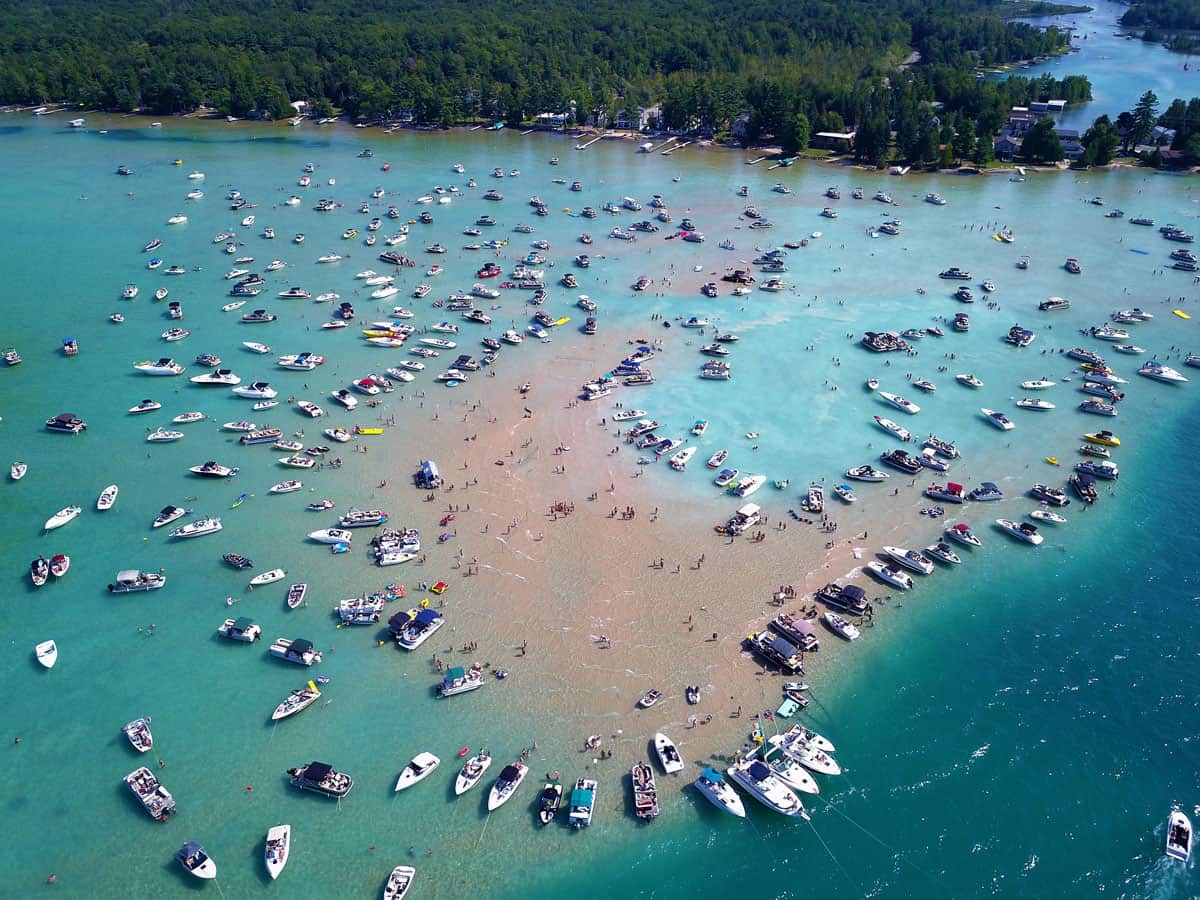 Torch Lake in Michigan, which was once part of Lake Michigan, is known for its crystal blue waters and recreational opportunities. It is nicknamed the Caribbean Lake because its turquoise water resembles the Caribbean Sea. Torch Lake is a popular vacation spot in Michigan for both visitors and residents. It is also Michigan's longest inland lake, measuring 19 miles (31 kilometers) in length and covering around 18,770 acres (29.3 square miles), making it the second-largest inland lake after Houghton Lake.
6. Houghton Lake
Houghton Lake is Michigan's largest inland lake and one of the country's largest natural inland lakes. It has a total shoreline of around 30 miles (48 kilometers), and its waters span 20,044 acres (81.12 km2). Throughout the year, it is a very renowned resort and fishing spot. Many events are held in the Houghton Lake waters, including Tip-Up-Town USA, a big ice fishing and winter sports festival, and other frozen water sports.
5. Lake Saint Clair
Located between Ontario, Canada, and Michigan, Lake St. Clair is a freshwater lake named after Saint Clare of Assisi by French Catholic explorers in 1679. The lake is part of the Great Lakes freshwater system and flows to Lake Huron (to the north) and Lake Erie via the St. Clair River and the Detroit River (to the south). Lake Saint Clair covers 275,200 acres or 430 square miles, making it the fifth-largest lake touching Michigan's borders.
4. Lake Erie
The fourth-largest Great Lake is also Michigan's fourth-largest lake. Lake Erie, which stretches from the Canadian province of Ontario to the American states of Pennsylvania, Ohio, New York, and Michigan, is 6.3615 million acres in size. It has 116 cubic miles (480 cubic kilometers) of freshwater at a maximum depth of 210 feet (64 meters). Because it serves as a border between Canada and the United States, Lake Erie is a prominent geographical feature in North America. The Welland Canal connects Lake Erie to Lake Ontario, the smallest of the Great Lakes.
3. Lake Michigan
Lake Michigan is the third largest of the Great Lakes in surface area, but it is also one of the largest lakes within the US territory. While the Great Lakes usually touch several states in the United States and parts of Canada, Lake Michigan is the only Great Lake confined within the country. Lake Michigan is 14.34 million acres (22,300 square miles) in size. It also holds about 1,200 cubic miles of water, equal to one quadrillion gallons. According to satellite data, emptying 400 billion gallons of water from the lake would only result in a one-inch dip in water level. The lake is 321 miles (517 kilometers) long and 118 miles (190 kilometers) wide and is shared by four states: Michigan, Illinois, Indiana, and Wisconsin.
2. Lake Huron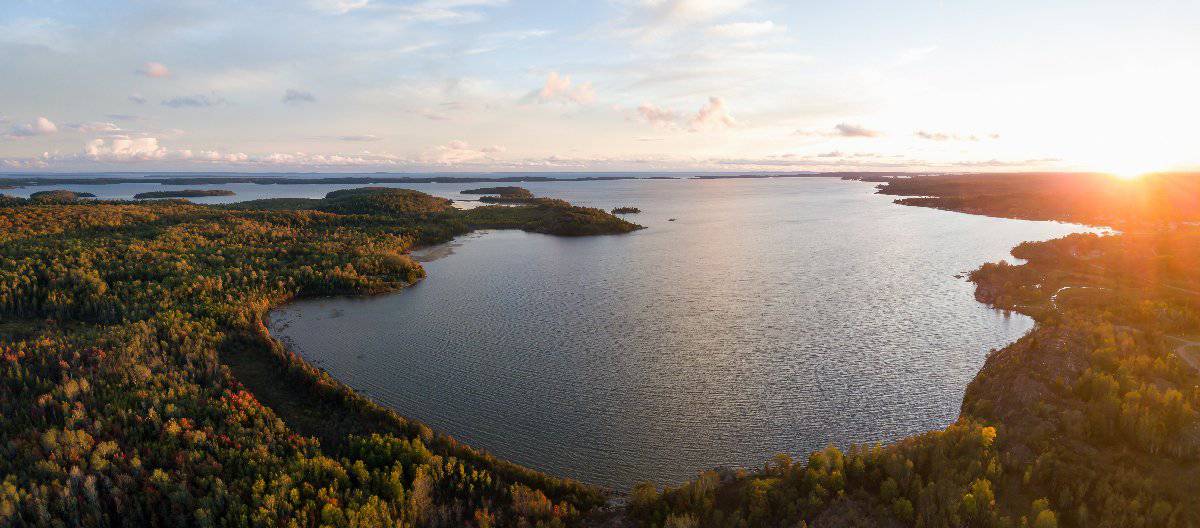 Lake Huron, the second-largest of the Great Lakes, covers 14.727 million acres (23,007 square miles) of surface area and is connected to Lake Michigan by the Strait of Mackinac. Lake Huron runs across both the US state of Michigan and the Canadian province of Ontario. Lake Huron is noted for its magnificent beauty and is the second-largest lake among the Great Lakes and the fourth-largest lake on the planet by surface area. There are wetlands, woods, beaches, dunes, and large river systems on Lake Huron.
1. Lake Superior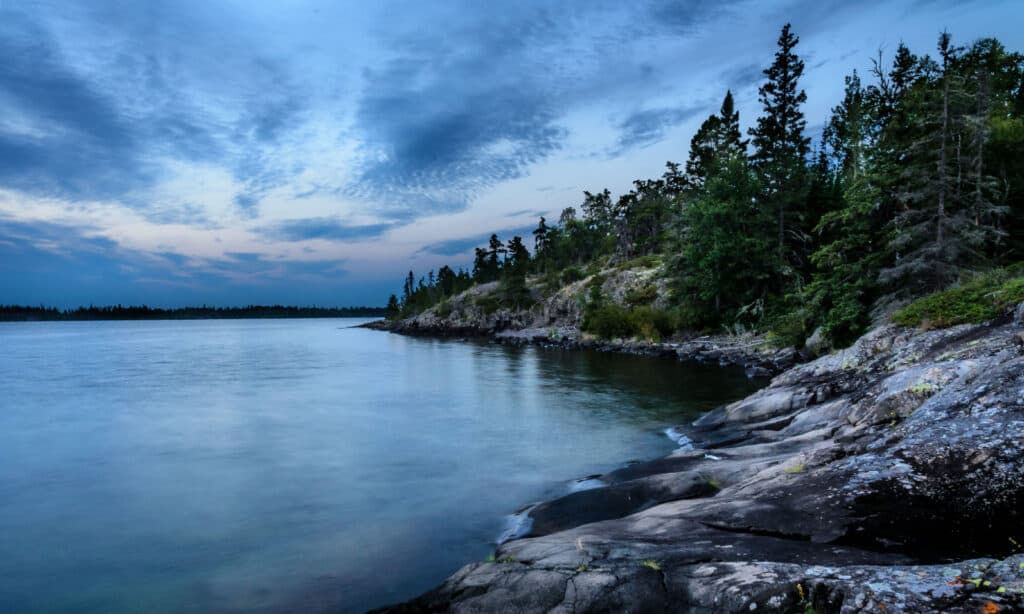 Lake Superior is the biggest of the five Great Lakes, with a surface size of 20.288 million acres (37,700 square miles). It extends from Ontario, Canada, to Wisconsin, Minnesota, and Michigan's Upper Peninsula in the United States. The term "Lake Superior" refers to the lake's massive size and location in the far north. It also holds the title of the second-largest lake in the world, behind the Caspian Sea, thanks to its vast surface area. Because the Caspian Sea is a saltwater lake, Lake Superior is the world's largest freshwater lake. Lake Superior is deserving of its moniker, as it contains 10% of the world's freshwater.
Summary of the 15 Biggest Lakes in Michigan:
| Rank | Lake | Size in Acres |
| --- | --- | --- |
| 15 | Crystal Lake | 9,854 |
| 14 | Higgins Lake | 9,900 |
| 13 | Manistique Lake | 10,130 |
| 12 | Black Lake | 10,130 |
| 11 | Lake Gogebic | 13,380 |
| 10 | Mullet Lake | 16,630 |
| 9 | Burt Lake | 17,120 |
| 8 | Lake Charlevoix | 17,200 |
| 7 | Torch Lake | 18,770 |
| 6 | Houghton Lake | 20,044 |
| 5 | Lake Saint Clair | 275,200 |
| 4 | Lake Erie | 6.3615 million |
| 3 | Lake Michigan | 14.34 million |
| 2 | Lake Huron | 14.727 million |
| 1 | Lake Superior | 20.288 million |
The photo featured at the top of this post is © iStock.com/Paul Massie Photography
---