Rhode Island, Maine, Connecticut, Massachusetts, New Hampshire, and Vermont comprise the New England region, spanning six states in the northeastern United States. Fall scenery and historical heritage could be the main factors that come to mind when thinking of New England holidays. Still, the region also has a few of the country's most picturesque lakes. There's no shortage of things to do on a family vacation in New England's top lake towns, with fishing, hiking, mountain biking, swimming, boating, and even moose safaris to keep families entertained. Below, we will explore the 15 biggest lakes in New England and other facts.
The 15 Biggest Lakes in New England
15. Ossipee Lake
Ossipee Lake is located in the communities of Ossipee and Freedom in Carroll County, New Hampshire. It's a man-made reservoir with a 3,245-acre surface area, giving it a fantastic playground for all seasons. It's among the state's largest lakes, and it's popular due to its many attractions. The lake is classed as a cold- and warm-water fishery where rainbow trout, lake trout, chain pickerel, yellow perch, white perch, land-locked salmon, smallmouth and largemouth bass, sunfish, and brown bullhead thrive.
14. Wachusett Reservoir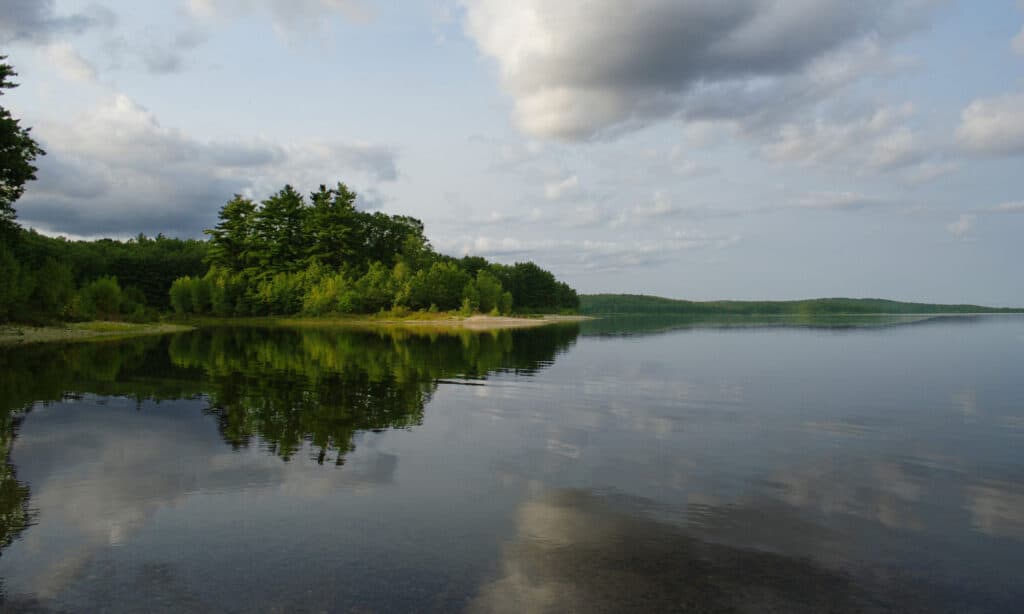 The Wachusett Reservoir is a man-made drinking water supply reservoir in central Massachusetts with a surface area of 4,057 acres and a capacity of 59.7 billion gallons. It was finished in 1905 and is the state's second-largest body of water. It also acts as a water source and a temporary storage pool for water from the Quabbin Reservoir. Fed by its watershed, the reservoir has twelve native and twelve imported fish species. Brown trout, land-locked salmon, smallmouth bass, and white perch all set state records thanks to the restricted access and abundant, high-quality habitat.
13. Lake Sunapee
Lake Sunapee is the sixth-largest lake in New Hampshire, straddling Sullivan and Merrimack Counties in the state's western section. Three of New Hampshire's five lighthouses are located on this glacial lake that covers 4,155 acres. Smallmouth bass, lake trout, salmon, and pickerel can all be caught in Lake Sunapee if you enjoy fishing. Lake Sunapee has built a solid reputation as a fishing destination. The water is very clean during the summer, and visibility is good. The unique biodiversity of the Lake Sunapee Region makes it well-known. Bears, coyotes, turkeys, deer, moose, and foxes abound in backyards and roadways.
12. Lake Winnisquam
Lake Winnisquam is located in Meredith, Laconia, Sanbornton, Belmont, and Tilton, in Belknap County, in the Lakes Region of central New Hampshire. With 4,238 acres, it's the fifth-largest lake entirely within New Hampshire. Popular activities in the vicinity include fishing tournaments, animal observation, hiking, and swimming. The lake also boasts clear waters and significant populations of largemouth and smallmouth bass, rainbow trout, lake trout, and yellow perch fishing.
11. Newfound Lake
The Newfound Lake is located in Grafton County, New Hampshire, and is the state's fourth-largest lake, covering 4,451 acres (18.01 km2). It's one of the cleanest lakes in the country and one of New Hampshire's deepest. The wealth of trekking opportunities on Newfound Lake is one of its most enticing features. The watershed of Newfound Lake today supports 22 different fish species. Six species were listed in the 2006 New Hampshire Wildlife Action Plan as needing special attention: brook trout, burbot, lake trout, rainbow smelt, round whitefish, and slimy sculpin.
10. Rangeley Lake
Rangeley Lake is a body of water in Franklin County, Maine. Fed by various streams, it has a surface size of 6,302 acres and is a great site to hear loons howling at night throughout the wide seas on warm summer evenings. The Rangeley Lakes region has six large lakes, including the amusingly named Mooselookmeguntic Lake, Maine's fourth-largest lake, and hundreds of smaller lakes and streams.
Visitors were initially drawn to the area by the world-class trout, but now landlocked salmon are also a common catch. Rangeley Lake fishing is just breathtaking, with Saddleback Mountain looming over the waters.
9. Squam Lake
Squam Lake is a lake in southern New Hampshire that straddles the borders of Grafton, Carroll, and Belknap counties. It is located south of the White Mountains. It is the third-largest lake in the state, with a surface size of 6,791 acres (27.48 km2) and 67 islands to explore. It was formerly known as Keeseenunknipee, which means "goose lake in the highlands," and is one of the country's cleanest water sources. The Squam Lakes Natural Science Center features native creatures such as black bears, river otters, mountain lions, raptors, and bobcats.
8. Umbagog Lake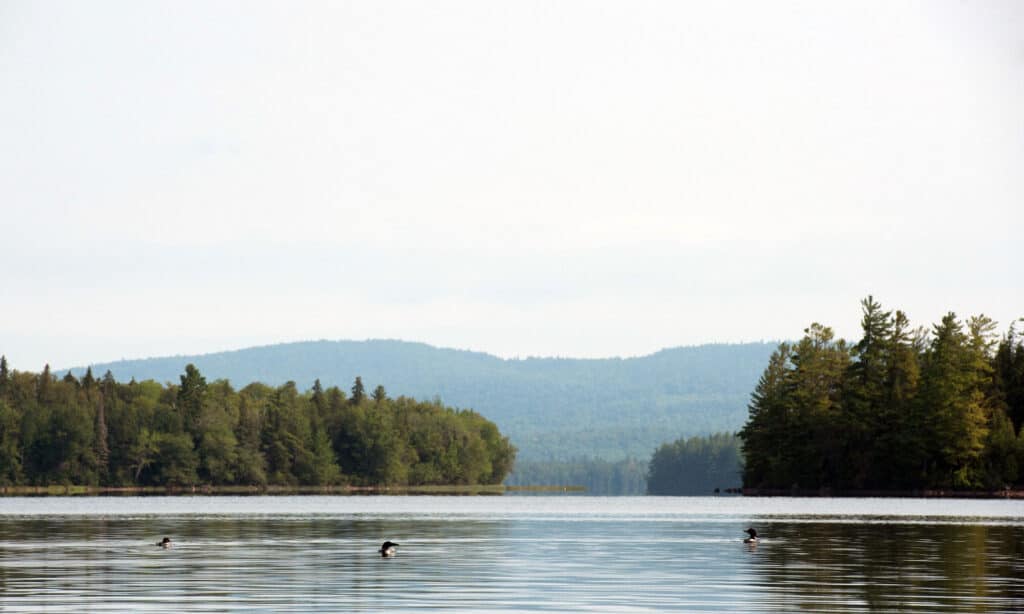 Umbagog Lake is a natural lake in Coös County, New Hampshire, and Oxford County, Maine. It is the second-largest lake along the Maine/New Hampshire border, with a surface size of 7,850 acres (31.77 km2). The principal boat launch facility and access to the shoreline for bank fishing are located at Umbagog Lake State Park, which offers swimming, excellent fishing, wildlife watching, and boating. Raccoons, red foxes, bobcats, black bears, coyotes, white-tailed deer, and a dense moose population thrive in the lakes and rivers.
7. Mooselookmeguntic Lake
Mooselookmeguntic Lake is situated in Franklin and Oxford Counties in Maine, between New Hampshire and the province of Quebec in Canada. The lake covers a surface area of 16,300 acres and has a diverse fish population. Fishing is a prominent tourist attraction at Mooselookmeguntic Lake. The Abnaki term "mooselookmeguntic" directly means "moose feeding place." Moose gazing at the lake is a fantastic experience that you should attempt. Snowmobiling and alpine skiing are also available at nearby Saddleback Mountain in the winter.
6. Quabbin Reservoir
The Quabbin Reservoir is Massachusetts' largest inland body of water and one of the country's greatest unprocessed water supplies. The Quabbin, built between 1930 and 1939, provides water to three communities west of the reservoir and serves as a backup source for three others. The man-made lake covers 24,700 acres and contains 412 billion US gallons of water (1.56 km3). Recreational activities are controlled and limited to preserve the drinking water of 3 million people.
5. Lake Memphremagog
Located 5 miles north of Newport, Vermont, is Lake Memphremagog, a lengthy finger lake that crosses the US–Canadian boundary. The lake is 25,200 acres in size, with three-quarters of it in Quebec and one-quarter in Vermont. Lake Memphremagog provides drinking water to over 175,000 Canadians and is utilized for various human activities such as boating, swimming, and fishing, drawing a considerable number of tourists and residents. Increasing nutrient levels in the lake and the cyanobacteria and blooms that arise limit these uses.
4. Sebago Lake
Sebago Lake is Maine's deepest and second-largest lake. The lake is 316 feet deep at its deepest point, with a surface area of around 30,513 acres and a shoreline length of about 105 miles. The lake provides drinking water to 200,000 people or about a fifth of Maine's inhabitants. The state opened Sebago Lake State Park in 1938, which currently spans 1,400 acres (5.7 km2) and has two public boat launches and a 250-site campground.
3. Lake Winnipesaukee
New Hampshire's largest lake and the United States' sixth-largest natural lake is also the third largest lake in New England. It's no surprise that Lake Winnipesaukee spreads into two of the state's counties, with a total surface size of 45,586 acres. Locals and visitors enjoy swimming, boating, and fishing in the lake's pristine water, surrounded by stunning mountains and woodland. The animals that make Lake Winnipesaukee home are otters, beavers, muskrats, minks, fishers, moose, deers, black bears, coyotes, and bobcats.
2. Moosehead Lake
Nestled in Northwestern Maine, Moosehead Lake is a deep, cold water lake. It is New England's second-biggest lake, the region's largest, and the biggest mountain lake in the eastern United States. Moosehead Lake also ranks among the largest freshwater lakes in the country, covering 75,451 acres. Apart from all those titles, it is also the largest lake east of the Mississippi, confined within a single state and home to approximately 80 islands. Peregrine falcons and unusual plants are some of the species that live among the cliffs and talus slopes.
1. Lake Champlain
Lake Champlain sits on the border between Canada and the United States. Encompassing a surface area of 278,400 acres (435 square miles) and an overall shoreline length of 587 miles, Lake Champlain is Vermont's and New England's largest lake and New York's largest freshwater lake. This fantastic site is not only a scenic gem, but it also has a plethora of fish species. We're speaking about a lake with over 80 different species and up to 400 feet in depth! Elevated at 95 to 100 feet above sea level, the lake is also one of the country's lowest lakes.
Bonus: Three More Large Lakes in New England
New England is home to so many beautiful lakes that we want to present three more for your consideration. These large lakes are popular fishing destinations known for stunningly beautiful scenery and clear waters.
East Grand Lake, Maine
Maine shares the 15,917 acres of East Grand Lake with the Canadian province of New Brunswick, Canada. Anglers enjoy fishing in a stunning natural landscape from boats or 78 miles of beautiful shoreline. East Grand Lake is teeming with landlocked salmon, yellow and white perch, smallmouth bass, American eel, and several types of trout.
Candlewood Lake, Connecticut
One of the most popular lakes in Connecticut – Candlewood is a beloved recreational destination for locals in nearby towns. The lake's expansive 5,420 acres offer opportunities for swimming, boating, fishing, and picnicking. Scuba divers come to see 18th-century buildings and artifacts at the bottom of the lake's clear waters. Anglers come for the lake's abundant walleye, trout, crappie, perch, sunfish, catfish, chain pickerel, and largemouth bass.
Lake Willoughby, Vermont
Lake Willoughby's deep, clear waters and high elevation of 1,171 feet above sea level make it one of Vermont's most beautiful recreational destinations. Stunning wooded landscapes surrounding 1,687 acres of prime fishing make Lake Willoughby a favorite of anglers. Rainbow trout, lake trout, landlocked salmon, yellow perch, longnose sucker, lake chub, and native round whitefish can be caught on this pristine lake.
The photo featured at the top of this post is © iStock.com/Eric Broder Van Dyke
---