With 15,000 lakes, Wisconsin is a state you'll easily fall in love with. The state makes it to the top list when it comes to nature-filled sceneries. It harbors breathtaking landscapes providing a home to healthy wildlife and a wide array of recreational opportunities. The state prides itself as one of the states in the country with the highest number of lakes. Its lake diversity provides a plethora of opportunities. The lakes include areas as large as the Great Lakes to as little as a few acres in some inland lakes, with depths ranging from hundreds of feet to just a few feet. But which of them is the largest? This article will list the 15 biggest lakes in Wisconsin.
The 15 Biggest Lakes In Wisconsin
15. Rock Lake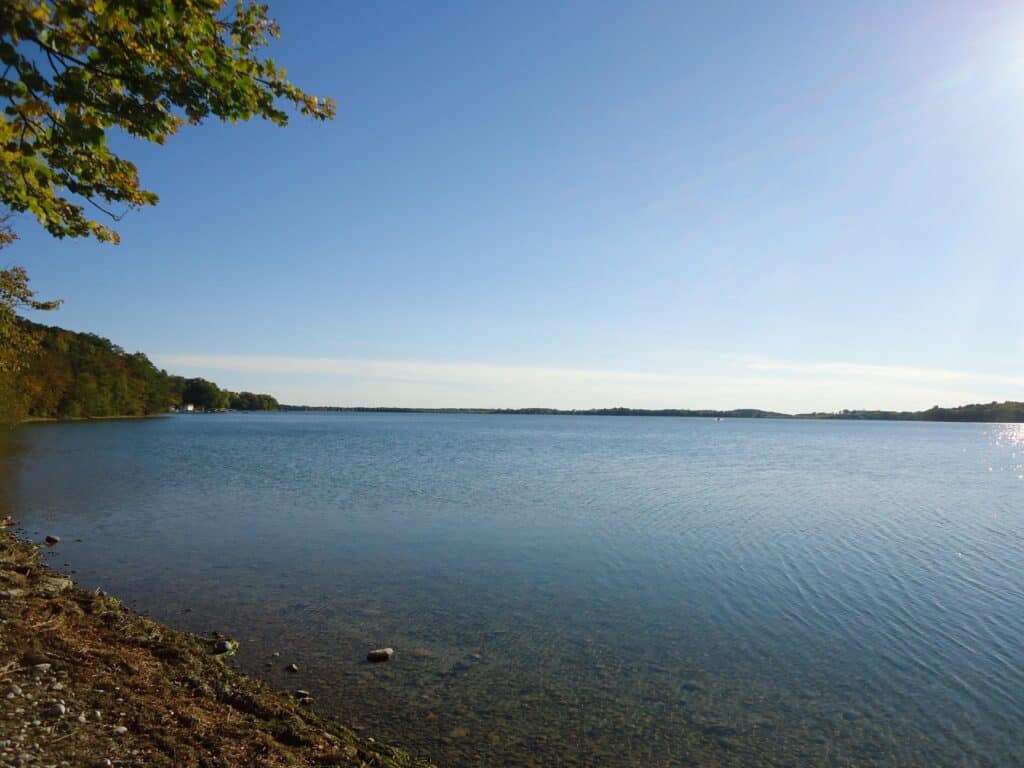 Rock Lake is located in south-central Wisconsin, near Lake Mills in Jefferson County, about 20 miles (32 kilometers) east of Madison. It measures 1,365 acres in surface area and has a maximum depth of 60 feet or 18.3 meters. Public boat docks and public beaches provide accessibility to the lake for visitors. The lake is also home to many fish species like the panfish, northern pike, largemouth bass, smallmouth bass, and walleye. 
14. Lake Monona
Located in Dane County, Wisconsin, Lake Monona is a freshwater drainage lake with a surface area of 3,274 acres (13 km2) and a maximum depth of 74 feet (23 m). It is the second-largest of four lakes along the Yahara River. Much of the shoreline is densely vegetated, providing a good breeding ground for fish and plenty of possibilities for shore anglers. White bass, crappie, northern pike, and walleye are among the species that make spawning excursions to the Yahara River.
13. Lac Courte Oreilles
Lac Courte Oreilles is a vast freshwater lake in Sawyer County in northwest Wisconsin. The lake boasts a total surface area of 5,039 acres (20.39 km2) and deepest point reaching 90 feet (27 m). It also has 25.4 miles (40.9 km) of shoreline, providing countless opportunities to catch fish. It has an uneven shape, with various peninsulas and bays, and measures around six miles in length with a maximum width of about two miles (3 km). A 60-inch-class muskie was caught here as a prize muskie hangout. Northern pike is also prevalent in the lake along with bass, perch, and bluegill. The clear yet deep waters in Lac Courte Oreilles makes catching fish a difficult endeavor.
12. Geneva Lake
Geneva Lake is famous for being the only site where mail jumping is still practiced as a traditional practice. The lake has a maximum length of 7.5 miles (12.1 km), a maximum depth of 135 feet, and a surface area of about 5,401 acres (8.439 sq mi).
11. Green Lake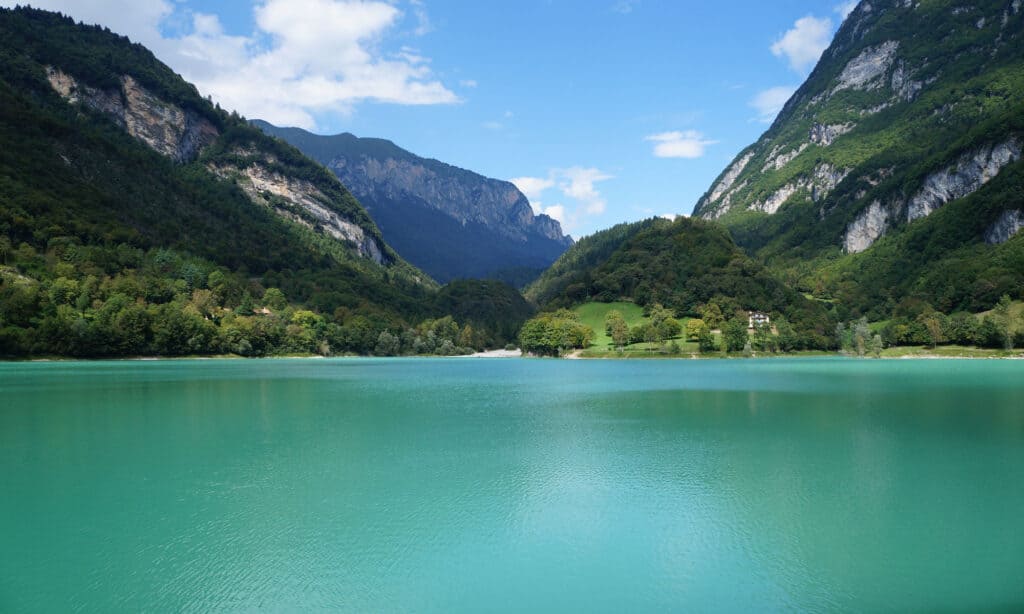 Green Lake, also known as Big Green Lake, has a surface area of 7,340 acres (29.72 km2) and an average depth of 100 ft. It is located in Green Lake County, Wisconsin, and boasts a shoreline that stretches for 27.30 miles, spanning from sandstone bluffs to marshes. Big Green Lake has exceptional cold-water and warm-water fisheries and is best renowned for the high quality of its lake trout. However, this lake thrives on smallmouth bass, channel catfish, muskie, northern pike, walleye, white bass, yellow perch, crappie, cisco, and brown trout.
10. Lake Butte des Morts
Lake Butte des Morts, sometimes known as Big Lake, is a shallow freshwater lake in Wisconsin, United States, and a part of the Winnebago Pool (Winnebago System). It has a surface size of 8,575 acres (34.7 km2). Walleye, largemouth bass, smallmouth bass, carp, crappie, yellow perch, flathead and channel catfish, northern pike, bluegill, and sturgeon are among the fish present in the lake.
9. Lake Wisconsin
Lake Wisconsin is a reservoir located in southern Wisconsin. It is 24 feet deep at its deepest point (7.3 m) and covers 9,500 acres (38.45 km²). Both recreational boaters and anglers flock to Lake Wisconsin and the Wisconsin River for fishing opportunities. In late spring and summer, the walleye population shifts to the river channel's edges and stump-covered flats. 
8. Lake Mendota
Lake Mendota is a eutrophic freshwater lake nestled in Madison, Wisconsin. It is the northernmost and biggest of the four lakes in Madison, covering 9,740 acres (39.4 km2) and reaching a maximum depth of 25.3 meters (83 ft). It also holds 500 million cubic meters of water, providing a home to many native aquatic plant species. The aquatic flora in the lake serves as a baseline for the marine food chain and a refuge for native fish species like northern pike and yellow perch.
7. Lake Chippewa
The East Fork Chippewa River and the West Fork Chippewa River feed Lake Chippewa, also known as Chippewa Flowage, a man-made reservoir in northwestern Wisconsin. It has a surface size of 14,593 acres (5,906 ha) and a depth of 92 feet (28 m) at its deepest point. Public boat landings provide access to the lake for visitors. Panfish, largemouth bass, smallmouth bass, muskellunge, northern pike, walleye, sturgeon, and catfish may all be found in the lake. 
6. Castle Rock Lake
An artificial drainage lake in central Wisconsin, Castle Rock Lake covers 16,640 acres (6,730 ha) and reaches a maximum depth of 35 feet (11 m). Castle Rock Lake is Wisconsin's fourth-largest inland lake, with approximately 70 miles of shoreline. A wide diversity of fish, birds and other species call Castle Rock Lake home. The most common species captured are white bass, walleye, and crappie, but northern pike, bluegills, largemouth bass, smallmouth bass, redbreast sunfish, and perch are also caught.
5. Petenwell Lake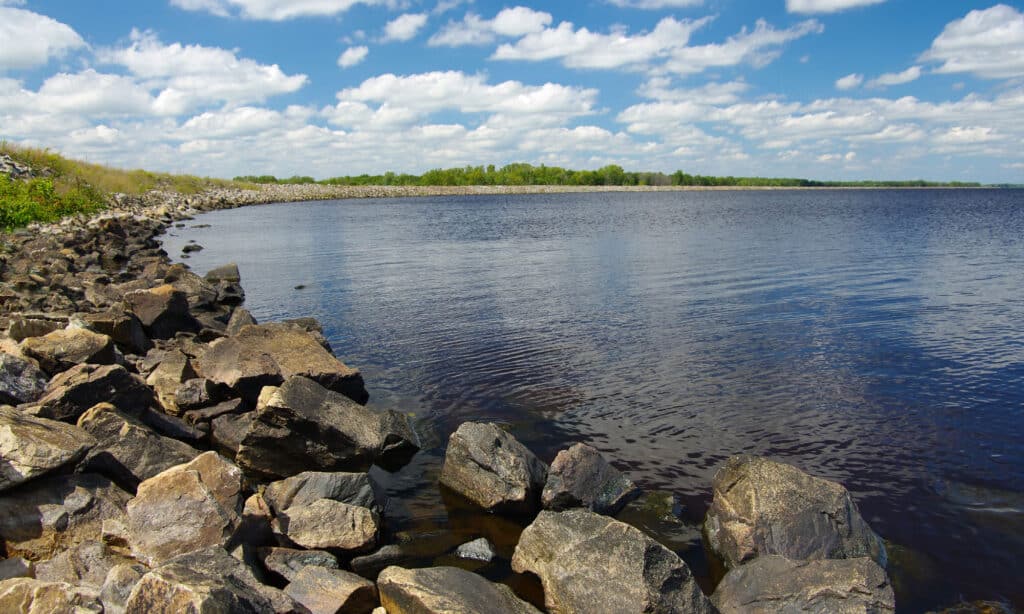 Lake Petenwell is a man-made reservoir sitting next to Castle Rock Lake in Adams, Juneau, and Woods counties. The lake is 42 feet (13 meters) deep and comprises 23,040 acres (93.2 km2) of surface area, making it Wisconsin's second-largest inland lake. It was founded in 1948 when the Wisconsin River Power Company built a dam in Necedah across the Wisconsin River. Wintering bald eagles can be found in the lake as well as freshwater fish like walleye, panfish, northern pike, bass, and muskellunge.
4. Lake Pepin
A naturally occurring lake on the Mississippi River, Lake Pepin straddles the states of Minnesota and Wisconsin in the United States. Lake Pepin, which borders Minnesota and Wisconsin, has a total surface area of 25,600 acres (103.6 km2). It was produced by the discharge of a huge glacier lake during the last Ice Age. Lake Pepin is currently a water, roadway, and rail transportation corridor. It hosts several recreational activities and is known as the origin of water skiing. Excess nutrients (eutrophication) in the lake generate algal blooms, which are particularly severe during low-flow months.
3. Lake Winnebago
A shallow freshwater lake in east-central Wisconsin, Lake Winnebago is the third largest lake touching the state and the largest lake completely within Wisconsin. It gets its title by covering an area of about 137,700 acres and having a shoreline that stretches 88 miles. Despite its vast surface, the lake is relatively shallow, with 21 feet maximum depth. Although Lake Winnebago is not an artificial reservoir, two dams on either side of Doty Island boosted its level by nearly 3 ft (0.9 m). Lake Winnebago is one of the state's most actively fished lakes. Any angler would consider it one of the best walleye fisheries in the country.
2. Lake Michigan
Although Lake Michigan is the smallest of the Great Lakes in terms of surface area, it is one of the largest lakes in the United States and Wisconsin's second-largest lake. The lake is bordered and shared by four states: Michigan in the east and north, Illinois in the southwest, Indiana in the southeast, and Wisconsin in the west. It covers 14.34 million acres (58,030 km2) and holds roughly 1,200 cubic miles of water, equivalent to one quadrillion gallons of water. Lake Michigan is the world's fifth-largest lake and one of the largest freshwater lakes. The lake also has a collection of islands located in its northern region.
1. Lake Superior
With a surface area of 20.288 million acres (82,103 km2), Lake Superior is the largest of the five Great Lakes and the largest of all lakes that touch Wisconsin's borders. The lake extends from Ontario, Canada, to Wisconsin, Minnesota, and Michigan's Upper Peninsula. Lake Superior is the second-largest lake in the world, behind the Caspian Sea, thanks to its vast surface area. The lake has so much water in it that emptying it at its current rate would take nearly two millennia! The water inside all of the Great Lakes, plus three more Lake Erie's is just as big as Lake Superior is.
Summary Of The 15 Biggest Lakes In Wisconsin
| Rank | Lake | Size In Acres |
| --- | --- | --- |
| 15 | Rock Lake | 1,365 |
| 14 | Lake Monona | 3,274 |
| 13 | Lac Courte Oreilles | 5,039 |
| 12 | Geneva Lake | 5,401 |
| 11 | Green Lake | 7,340 |
| 10 | Lake Butte des Morts | 8,575 |
| 9 | Lake Wisconsin | 9,500 |
| 8 | Lake Mendota | 9,740 |
| 7 | Lake Chippewa | 14,593 |
| 6 | Castle Rock Lake | 16,640 |
| 5 | Petenwell Lake | 23,040 |
| 4 | Lake Pepin | 25,600 |
| 3 | Lake Winnebago | 137,700 |
| 2 | Lake Michigan | 14.34 million |
| 1 | Lake Superior | 20.288 million |
---
The Featured Image
---