Arizona is known for its hot dry weather and half of it is desert so if you are thinking about heading to the lake Arizona may not be the first state that comes to mind. But there are many beautiful lakes for fishing, boating, swimming and more! Some of these lakes you may be familiar and a few are hidden gems. Let's look at the 20 best lakes in Arizona!
Best Lakes in Arizona for Fishing
Arizona is home to a number of lakes that are famous for fish ranging from catfish, to bass, to trout and beyond. Let's dive into a few of the best lakes for fishing in Arizona.
1) Bartlett Lake, Rio Verde, 50 miles NE of Phoenix
Bartlett Lake is known for its record-breaking catfish. Anglers can enjoy both recreational and tournament fishing. Besides excellent catfish fishing, you can find largemouth bass and bluegills. Bartlett Lake is 12 miles long and over 2,830 acres. The largest flathead catfish was caught here in 2013 by Eddie Wilcoxson.  Can you imagine a catfish that is 76 lbs and 53 inches long! That is big fish!
The largest carp in Arizona was also caught in Bartlett Lake, by Jonathan Gardner, it weighed 37 lbs and was 40 inches long.
2) Big Lake, Springerville, about 200 miles E of Phoenix
Big Lake certainly doesn't get the award for most creative name but it is a big lake. It is in the White Mountains and is considered a fishing lake. It is known as some of the best trout fishing including rainbow trout, brook trout, and cutthroat trout.
Big Lake, Springerville is one of the biggest lakes in Arizona. 532 water surface acres with an average depth of about 16 feet. There is a few different species of fish variety such as rainbow, brook, and cutthroat trout. Anglers have also been known to catch the occasional native Apache Trout.
3) Lake Mead, Border of Arizona and Nevada 24 miles E of Las Vegas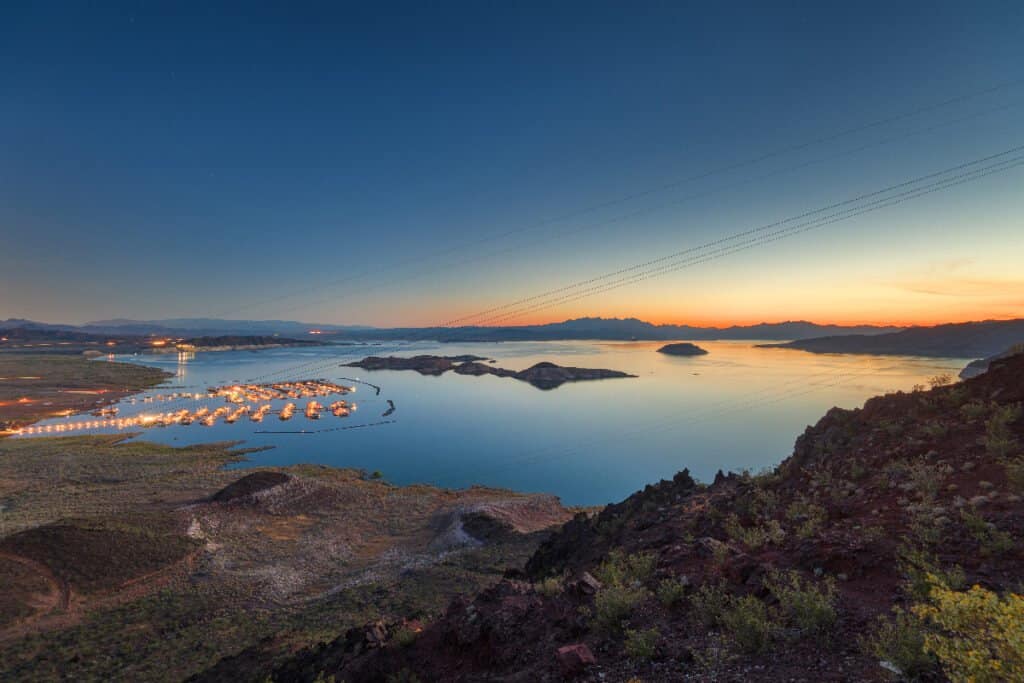 If you are looking for some of the best bass fishing Lake Mead is the place. It is the largest reservoir in the United States and is formed by the Hoover Dam on the Colorado River. The first-ever B.A.S.S Bassmaster Classic was hosted at Lake Mead in 1971. Boating and swimming are also popular activities at Lake Mead National Recreation Area.
Lake Mead is one of the bigger lakes in Arizona has been ranked as one of the best freshwater lakes in the United States for scuba diving as well as fishing. It offers a few different depths and submerged sites for divers to hop in and explore. One of these sites is a B-29 Superfortress bomber from WWII and many divers travel from all over just to see it.
4) Lake Mohave, Border of Arizona and Nevada, about 100 miles SE of Las Vegas
Lake Mohave is stocked with bass and trout so the best of both worlds. It is stocked with bass and trout and is warm most of the year. Visitors also enjoy swimming and if you love the outdoors but don't want to rough-it, try out the full-service Glamping onsite.
5) Theodore Roosevelt Lake, Roosevelt, 2 hour drive NE of Phoenix
Theodore Roosevelt Lake is one of the largest man-made lakes in the world. It is 21,491 acres along the Salt River. Because of its popularity, many record-breaking fish have been caught in its waters like the biggest smallmouth bass (7lb .96 oz, 22.75 inches), bigmouth buffalo fish (36lb 6 oz, 38.5 inches), and flathead catfish (catch and release, 53 inches!).
6) Martinez Lake, Yuma, 3 hour drive SE of Phoenix
One of the hidden gems for fishing is Martinez Lake in the SE corner of Arizona. For a day of fishing away from the crowds this is a great option. Anglers can find a variety of fish like largemouth bass, smallmouth bass, channel cats, and crappie.
Best Lakes in Arizona for Canoeing and Kayaking
If you're looking for an active day of canoeing or kayaking in Arizona, there are plenty of options that range across the state.
7) Lake Pleasant, Morristown, 45 miles NW or Phoenix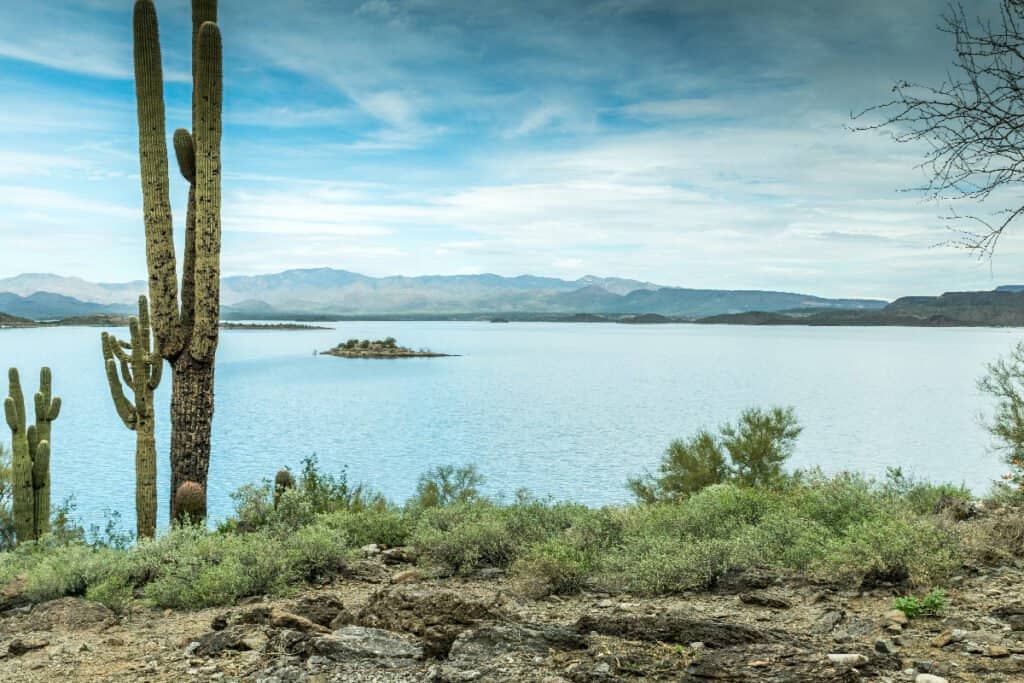 A great place to canoe or kayak in the canyon with towering cliffs and dotted islands. Lake Pleasant is a six-mile lake. (It is also a great place for fishing!)
8) Watson Lake, Prescott, 2 hours N of Phoenix
Kayaking in Watson Lake gives up-close views of the Granite Dells. These rippled boulders that seem to rise out of the water are all along the shoreline. You can see the stripes and coloration changes in the boulders from thousands of years ago. There is a kayak/canoe rental store right in Prescott.
9) Saguaro Lake, Mesa, 40 minute drive E of Phoenix
Easy to get to Saguaro Lake is an excellent place to canoe and kayak. It is a 1,264-acre lake that follows the Sale River. If you make your way down the river you might be lucky enough to see wild horses!
10) Fool Hollow Lake, Show Low, 3 hours NE of Phoenix
Fool Hollow Lake is a 150-acre lake in the Apache-Sitgreaves National Forest. Canoers and kayakers can enjoy the peacefulness of this lake because there are no wake boats allowed. This is great place to escape the Arizona heat too, since the average daytime temperatures stay around the mid-80's.
11) Canyon Lake, Mesa, 50 miles E of Phoenix
Canyon Lake is a beautiful lake that has several secluded coves on the east side for exploring. Located in Toto National Forest you will get to see an abundance of red-rocks, and cactus and you may even see a bighorn sheep, so keep your eyes peeled.
12) Lake Powell, Page, 200 miles N of Flagstaff, Utah Border
If you want to see some of the best canyons then canoeing or kayaking in Lake Powell is the best place. Some of the most popular places are Antelope Canyon, Lone Star Canyon and Labrynth Canyon. Lake Powell is a large recreation area so be aware of larger boats and stay close to the shoreline to avoid choppy water.
Also check out these already mentioned lakes for canoeing and kayaking:
Read about the Lake Powell water crisis, and the seven states most threatened.
Best Lakes in Arizona for Paddle Boarding (SUP's)
With calm lakes and gorgeous scenery, Arizona is one of the best locations for paddle boarding in the world. Some of the best paddle boarding lakes in Arizona include:
13) Tempe Town Lake, Tempe, just south of Scottsdale
There is an area in Tempe Town lake set aside for racing! A 2 mile inlet off the Salt River can be used for training and racing for paddle boards, canoers, and row teams. If you want to test your speed this is the place for you!
14) Lake Havasu, Lake Havasu City, 200 miles NW of Phoenix
The beautiful blue waters of Lake Havasu are a popular destination for all kinds of water sports and boating. For a festive vibe and social time, this is the scene for you. You can explore some of the islands or stop at the London Bridge (a bridge actually bought from London in 1968 and reconstructed in Lake Havasu City!).
Also check out these already mentioned lakes for Paddle boarding:
Best Lakes in Arizona for Boating (Pontoon, Speedboat, motorized boating)
The best lakes for boating have already been mentioned above and include:
Theodore Roosevelt Lake
Lake Mead
Lake Powell
Best Lakes in Arizona for Camping
A number of Arizona lakes have campsites next to them where you can camp and launch boats.
15) Apache Lake, Roosevelt, 2 hours NE of Phoenix
Apache Lake is a clear lake that claims to be a hidden gem. It has a small resort on it as well as an RV park and tent camping. There are even some sites right on the shoreline. You can also boat or jet ski while you visit.
16) Patagonia Lake, Patagonia, 75 miles S of Tucson, near the border of Mexico
For a unique camping experience visit Patagonia Lake. There are a few boat-in-only campsites, so load up your canoe or kayak to really get away from it all.
Other great camping sites are at these already mentioned lakes:
Big Lake
Lake Mead
Saguaro Lake
Lake Havasu State Park
Patagonia Lake
Best Lakes in Arizona for Glamping
If you like the idea of camping but aren't so sure about the rustic life, try glamping, it is similar to camping but with upscale amenities. There are outfitters like Arizona Luxury Expeditions, LLC that will bring the Glamping experience to you. So you could choose any of the lakes on the camping list and have them set up a luxury tent for your convenience. Call ahead to the campground to see if these accommodations are allowed.
Lake Mohave (mentioned above): Full service glamping available
Best Lakes in Arizona for Swimming
17) Lyman Lake State Park, Springerville, about 200 miles E of Phoenix
Lyman Lake is a 1,500 acre reservoir fed by the snowmelt from Mount Baldy and Escudilla Mountain. So you might think it would have frigid water, but in the summer the weather gets up to 80 -90 ° is a popular place for swimming, boating and fishing.
18) Havasu Falls, Lake Havasu City, 200 miles NW of Phoenix
For the ultimate swimming hole, you have to hike the 10-mile trail to the beautiful turquoise waters of Havasu Falls. You have to have a permit and reservations to either the campground or the lodge before you can hike in. Plan ahead for this overnight adventure, the website reminds people this is not a day trip and does require a permit and reservations. Find out how to get a permit here. Those who have been there will tell you it is worth the trip!
Already mentioned lakes that are also great for swimming:
Patagonia Lake State Park: roped off swim area at Boulder Beach with white sand beach
Lake Mohave: year-round swimming because it is so warm
Best Lakes in Arizona for Scuba Diving
19) Canyon Lake, Apache Junction, 45 minutes E of Phoenix
This is a lesser-known dive site but Canyon Lake is 900-acre lake just east of Phoenix that is a fine spot for scuba diving. It is rumored that there are a lot of lost items at the bottom of this lake so divers have a good time finding interesting finds. You may also come face to face with a largemouth bass!
More popular dive spots are at lakes already mentioned on our list:
Lake Pleasant: used as a dive training site, check out the dam, Tech Island and wreck sites
Lake Mohave: visibility is very clear in the winter, look for the sunken school bus!
Best Lakes in Arizona to Live on
Most of the lakes in Arizona do not have private land available for residential areas. So if your dream is to walk out your back door to a lakefront property you may want to look in a different state. There are lakes that allow people to own houseboats on so that may be the best way to enjoy some of your favorite lakes year-round. Rainbow Lake does have a small community of lakeside homes:
20) Rainbow Lake, Pine-top Lakeside, 3 Hours NE of Phoenix
Rainbow lake is a man-made lake up in the White Mountains. It is a small 116-acre lake with the land around it being privately owned. At the time of print, there is a nice 3 bed 3 bath for a cool 1.35 million available. If you can't decide if you'd rather live on the lake or in the mountains this may be the best compromise!
Also check out these already mentioned lakes to live on:
Lake Havasu
Manmade Lake Communities like Dobson Ranch in Mesa, or Lakes Community in Tempe
Houseboat on Lake Mead
Houseboat on Lake Powell
Summary Of The 20 Best Lakes In Arizona For Fishing, Boating, Camping, And More
| # | Lakes | Location |
| --- | --- | --- |
| 1 | Bartlett Lake | Rio Verde, 50 miles NE of Phoenix |
| 2 | Big Lake | Springerville, about 200 miles E of Phoenix |
| 3 | Lake Mead | Border of Arizona and Nevada 24 miles E of Las Vegas |
| 4 | Lake Mohave | Border of Arizona and Nevada, about 100 miles SE of Las Vegas |
| 5 | Theodore Roosevelt Lake | Roosevelt, 2-hour drive NE of Phoenix |
| 6 | Martinez Lake | Yuma, 3 hour drive SE of Phoenix |
| 7 | Lake Pleasant | Morristown, 45 miles NW or Phoenix |
| 8 | Watson Lake | Prescott, 2 hours N of Phoenix |
| 9 | Saguaro Lake | Mesa, 40 minute drive E of Phoenix |
| 10 | Fool Hollow Lake | Show Low, 3 hours NE of Phoenix |
| 11 | Canyon Lake | Mesa, 50 miles E of Phoenix |
| 12 | Lake Powell | Page, 200 miles N of Flagstaff, Utah Border |
| 13 | Tempe Town Lake | Tempe, just south of Scottsdale |
| 14 | Lake Havasu | Lake Havasu City, 200 miles NW of Phoenix |
| 15 | Apache Lake | Apache Lake, Roosevelt, 2 hours NE of Phoenix |
| 16 | Patagonia Lake | Patagonia, 75 miles S of Tucson, near the border of Mexico |
| 17 | Lyman Lake State Park | Springerville, about 200 miles E of Phoenix |
| 18 | Havasu Falls | Lake Havasu City, 200 miles NW of Phoenix |
| 19 | Canyon Lake | Apache Junction, 45 minutes E of Phoenix |
| 20 | Rainbow Lake | Pine-top Lakeside, 3 Hours NE of Phoenix |
Up Next:
More from A-Z Animals
---
The Featured Image
---