Key Points:
Lake Texoma receives about 6 million visitors annually and is home to approximately 70 species of fish.
Lake Buchanan is not only impressively large, but deep and impressively clean, with gravel beaches which make it ideal for sunbathing.
Located in Palo Pinto County for the most part, Possum Kingdom Lake is more than 400 meters above sea level. It is renowned for its hilly backdrop and clear water.
Texas may be known for its hot temperature that complements its famous barbeque, but it is also home to dozens of freshwater lakes that can be utterly refreshing, especially when paired with the sultry climate. Hosting a plethora of man-made lakes, Texas offers several opportunities for freshwater fishing and lakefront vacations through its collection of lakes that range from hundreds of hectares to over a hundred thousand acres in surface area. It isn't surprising that the state provides a home to several rivers, streams, mountains, and lowlands, as the site is the United State's second-largest state. But if you think that all of Texas's 268,596 square-mile-wide state only boasts of land, then you are wrong. Apart from stunning cities and ranching lands, Texas is also home to rich marine biodiversity harbored by its enormous freshwater lakes. So, which lakes in Texas are the biggest? Below, we will explore 20 of the largest lakes you can find in the state.
The 20 Biggest Lakes in Texas
1. Toledo Bend Reservoir
Covering an area of 289 square miles or 185,000 acres, the Toledo Bend Reservoir is the largest lake in Texas. It is, however, only a man-made lake, also making it the state's biggest man-made lake. Measuring a maximum depth of 34 meters, the lake also holds the largest water volume among all lakes in the state. 
2. Sam Rayburn Reservoir
With a total surface area of 114,500 acres or 179 square miles, the Sam Rayburn Reservoir is the state's second-largest lake in Texas. Like the Toledo Reservoir, Sam Rayburn is also a man-made lake. The lake is famous for its several recreational activities open to the public, such as camping and fishing. 
3. Falcon International Reservoir 
Commonly called the Falcon Lake, the Falcon Reservoir measures 154.63 square miles, making it the third-largest lake in Texas. This man-made lake hosts numerous camping spots that offer recreational activities to visitors at the Falcon State Park. It is built for the construction of the Falcon Dam to be a source of flood control, irrigation, hydroelectricity, and water conservation. 
4. Lake Texoma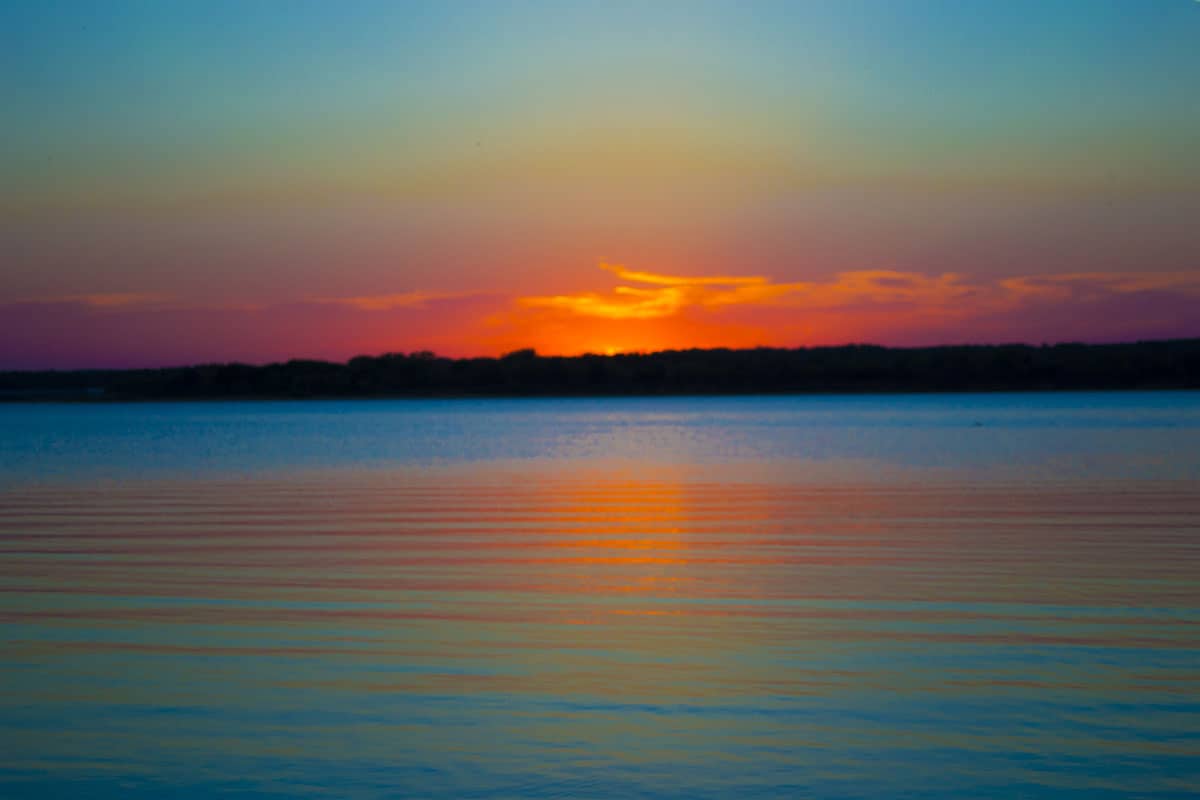 With a total surface area of 139 square miles or 36,000 acres, Lake Texoma is a highly developed lake covering Texas and Oklahoma counties. Lake Texoma hosts many small islands where about 70 fish species can be found. Some of the most abundant fish in the lake include catfish and bass. Lake Texoma is quite famous to tourists, as nearly 6 million visitors come here annually.
5. Lake Livingston
Lake Livingston is another reservoir fully managed by the Trinity River Authority of Texas. It is located in the East Texas Piney Woods and measures 129.73 square miles. The lake is the second-largest lake in Texas that does not touch other counties or states. It was built mainly to provide freshwater to Texas residents, but it is also used for industrial, municipal, and agricultural purposes. 
6. Amistad Reservoir
Constructed back in 1969, Lake Amistad measures 101.4 square miles and is located where Rio Grande meets the Devils River, along the Mexican border. The lake was constructed along the dam and is now famous among U.S. residents and tourists for its natural beauty. Fishing, scuba diving, swimming, and water skiing are some of the most popular recreational activities in this man-made lake.
7. Richard-Chambers Reservoir
Covering a total surface area of 64.63 square miles, the Richard-Chambers reservoir is one of the largest lakes in Texas both by surface area and by water volume. It is also the third-biggest inland reservoir that provides rich fishing opportunities. Some of the most prominent fish caught in the lake include carp, crappie, catfish, bass, and smallmouth buffalo.
8. Lake Tawakoni
If you are looking for a freshwater lake surrounded by sandy beaches, Lake Tawakoni is the perfect place! Measuring 57.33 square miles or 37,879 acres, this reservoir in Northeast Texas offers an excellent getaway for its recreational activities such as swimming and boating. Five miles from the lakeshore, you can find sandy beaches that often pique tourists' interests. 
9. Cedar Creek Reservoir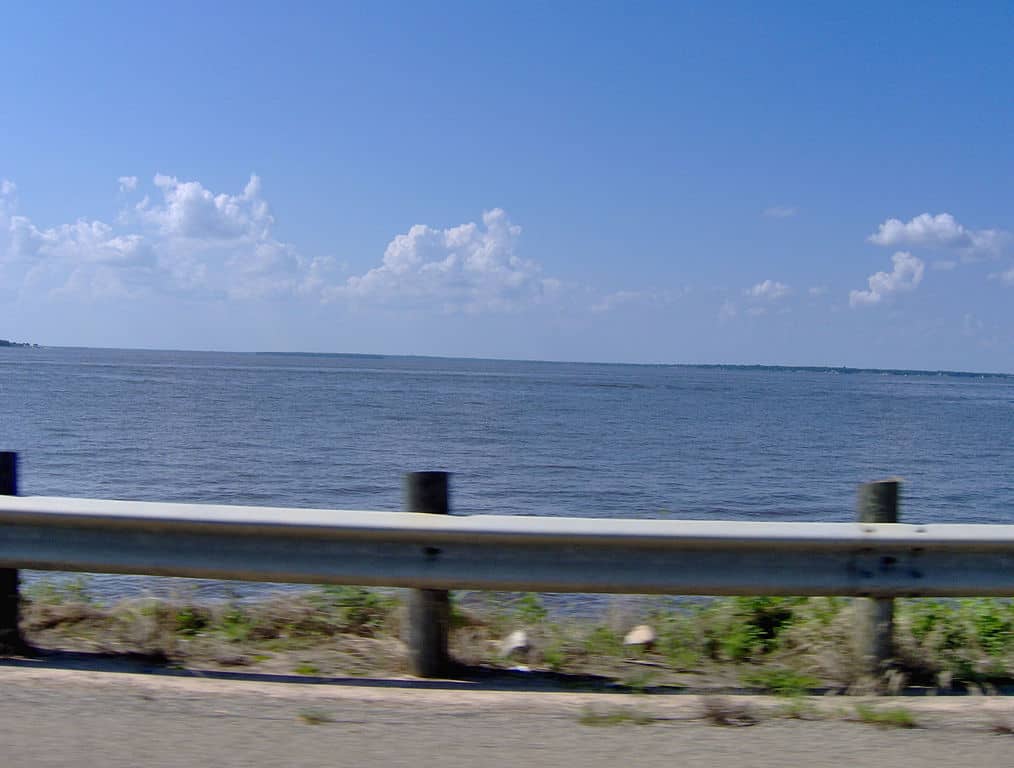 Another reservoir makes it to the list as Cedar Creek Reservoir snags the 9th spot on the biggest lakes in Texas. Covering a total surface area of 51 square miles, the lake has several large coves perfect for fishing, swimming, and skiing. This 32,000-acre reservoir is built on Cedar Creek, flowing down to Trinity River through a gated spillway. 
10. Lake Lewisville
Measuring 46.25 square miles, Lake Lewisville makes it to the top 10 largest lakes in Texas. Lake Lewisville is a reservoir located in North Texas and was initially engineered as Lake Dallas in 1927. Between the 1940s and 1950s, the lake was expanded and renamed Lewisville. Covering a surface area of nearly 12,000 acres, the lake boasts an impressive shoreline with numerous camping facilities, restaurants, golf courses, and lodges.
11. Lake Fork
Located in Texas's Wood, Hopkins, and Rains counties, the Lake Fork Reservoir expands to 43.28 square miles. The reservoir is one of the main tributaries of the Sabine River and is owned by the Sabine River Authority of Texas. Lake Fork was built to save water and for other municipal and industrial purposes. The water in the lake is moderately clear, making it a good spot for fishing. Some fish species inhabiting the lake include white bass, sunfish, largemouth bass, white and black crappie, and channel catfish.
12. Lake Palestine
Lake Palestine, a freshwater reservoir located in northeast Texas, has a total surface area of 40 square miles. The lake is famous for its largemouth bass tournaments, so it offers vast opportunities for the fishing industry. Like other reservoirs, Lake Palestine was built for recreational, municipal, and industrial purposes. 
13. Caddo Lake
Caddo Lake is a lake and bayou or wetland that borders Texas and Louisiana. It measures 39.7 square miles or 25,400 acres. The lake used to be a settlement for the Southeastern culture of Native Americans called Caddoans until the 19th century. The lake's wetland has one of the biggest flooded cypresses in the United States, which is why the area is internationally protected. Incredibly, Caddo Lake is considered the only natural lake in Texas, and while originally natural, today has a permanent damn installed.
14. Lake Ray Hubbard
Lake Ray Hubbard covers a total surface area of 35.54 square miles or 22,745 acres. The lake is the largest lake you can find within the city of Dallas and currently has a full storage capacity of 600 million cubic meters. Fishing is the activity that makes the lake famous, and if you are looking for a great fishing spot in Dallas, then this lake will most likely be the first one to come up.
15. Lake Buchanan
Apart from being one of the deepest lakes in Texas, Lake Buchanan also boasts a vast surface area of 34.9 square miles. Although man-made, Lake Buchanan consists of granite gravel shores ideal for swimming and sunbathing. The site is also clean, making it an excellent spot for camping and hiking. 
16. Lavon Lake
With a surface area of 33.47 square miles or 21,400 acres, Lavon Lake serves as a water source and flood control for thousands of residents settling across Northern Texas. The freshwater reservoir was also built for recreational purposes and was initially called the Lavon Reservoir.
17. Lake Conroe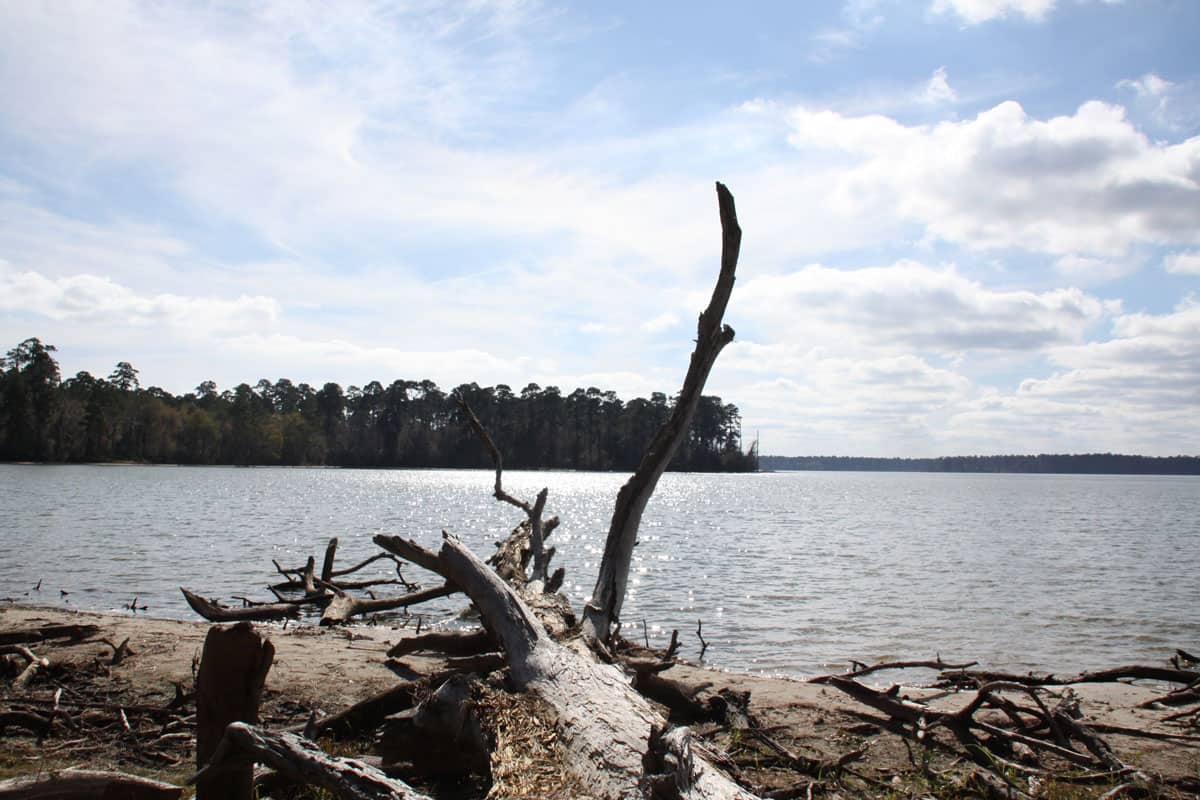 Covering 32.81 square miles, Lake Conroe is a beautiful lake surrounded by hills and trees. Apart from other common activities done in most lakes, Lake Conroe is a stunning view during a road drive because of the diverse web of animals inhabiting the area. There are also plenty of marinas that offer boat rentals to discover and explore the lake. 
18. Possum Kingdom Lake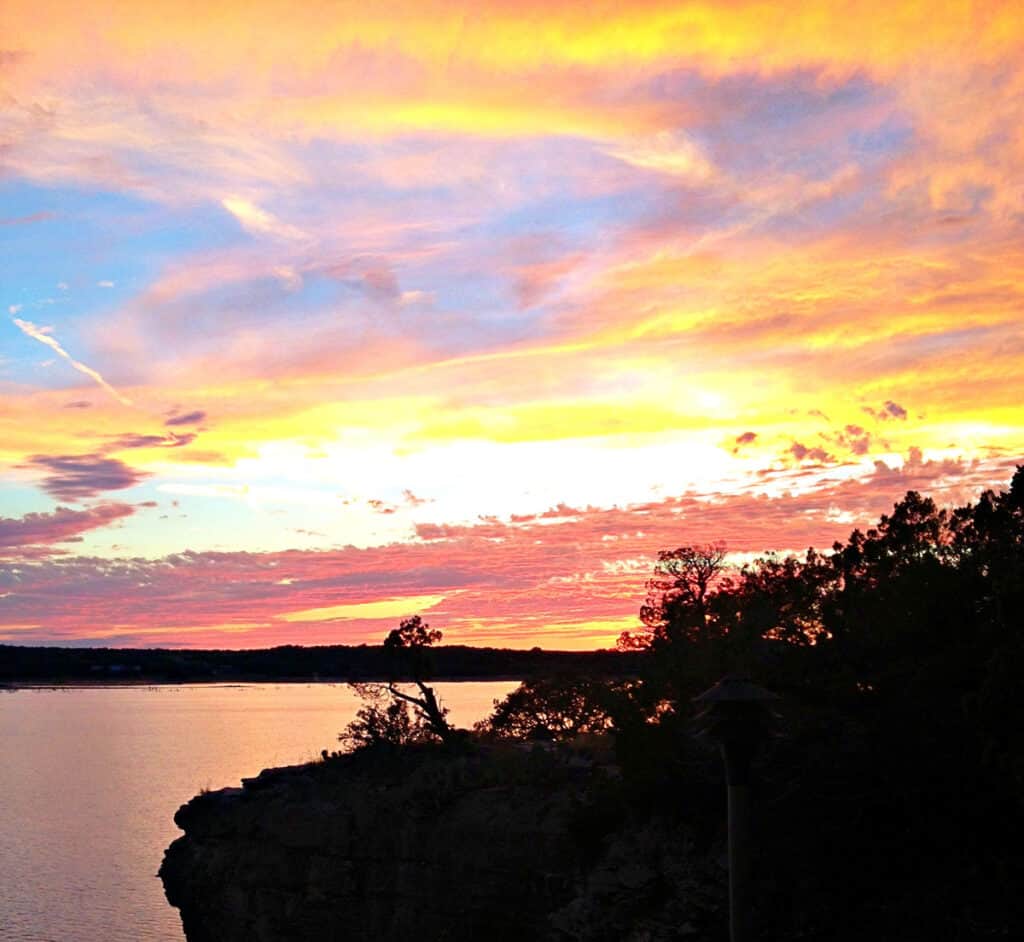 The Possum Kingdom Lake is a 30.93-square mile or 17,000-acre reservoir on the Brazos River that is seated beyond 400 meters above sea level. It is a picturesque lake located primarily in Palo Pinto County that hosts a unique ecosystem. The lake is famous for its watersports like fishing and boating and its surrounding rolling hills and clear water.
19. Lake Travis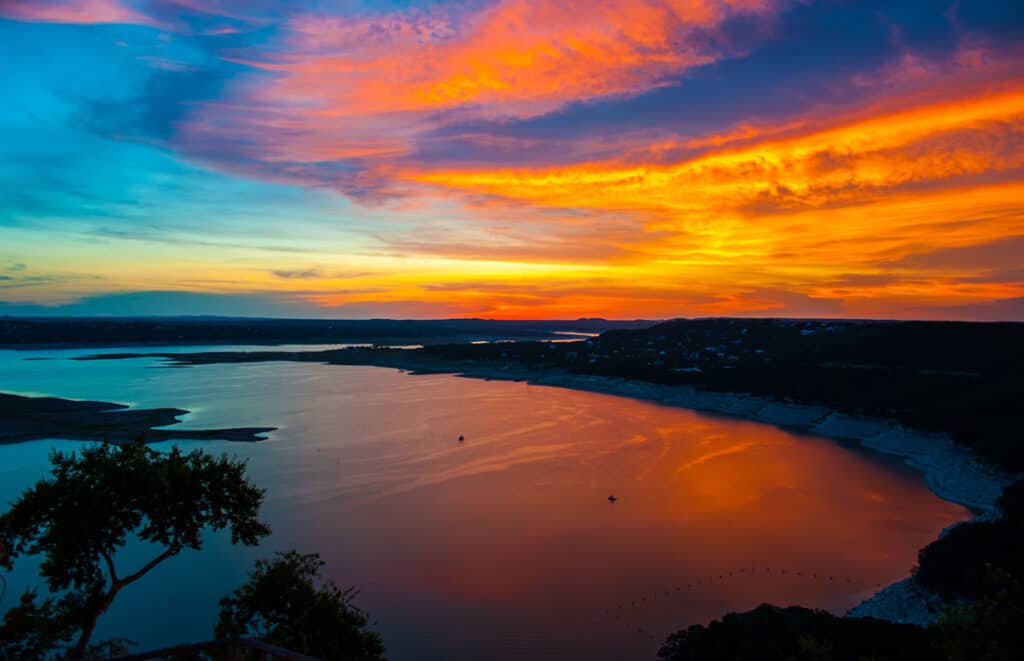 Lake Travis is a reservoir seated on the Colorado River, built mainly for flood control. It measures 29.58 square miles in surface area or 18,900 acres. The lake also boasts an extensive shoreline that measures up to 400 kilometers. Though man-made, Lake Travis is home to various fish species like sunfish, bass, and catfish. Tourists also visit it annually for recreational activities such as scuba diving, swimming, and boating.
20. Lake O' the Pines
Lake O' the Pines is named after its beautiful surroundings that boast many beautiful pine trees. Covering a total surface area of 29.19 square miles or 18,680 acres, this reservoir on Big Cypress Bayou is a well-known spot for fishing. Various fish species can be found in the lake's depths, including chain pickerel, bass, and catfish.
Summary of the 20 Biggest Lakes in Texas
Here's a recap of the 20 largest lakes in the state of Texas and their total surface area:
| Rank | Lake | Size |
| --- | --- | --- |
| 1 | Toledo Bend Reservoir | 289 square miles |
| 2 | Sam Rayburn Reservoir | 179 square miles |
| 3 | Falcon International Reservoir | 154.63 square miles |
| 4 | Lake Texoma | 139 square miles |
| 5 | Lake Livingston | 129.73 square miles |
| 6 | Amistad Reservoir | 101.4 square miles |
| 7 | Richard-Chambers Reservoir | 64.63 square miles |
| 8 | Lake Tawakoni | 57.33 square miles |
| 9 | Cedar Creek Reservoir | 51 square miles |
| 10 | Lake Lewisville | 46.25 square miles |
| 11 | Lake Fork | 43.28 square miles |
| 12 | Lake Palestine | 40 square miles |
| 13 | Caddo Lake | 39.7 square miles |
| 14 | Lake Ray Hubbard | 35.54 square miles |
| 15 | Lake Buchanan | 34.9 square miles |
| 16 | Lavon Lake | 33.47 square miles |
| 17 | Lake Conroe | 32.81 square miles |
| 18 | Possum Kingdom Lake | 30.93 square miles |
| 19 | Lake Travis | 29.58 square miles |
| 20 | Lake O' the Pines | 29.19 square miles |
Up Next
Interested in finding out about other impressive lakes? Click on the links below:
More from A-Z Animals
---
The Featured Image
---