The most beautiful lakes in California shine with magnificent natural attractions among the numerous stunning outdoor settings across the state. California's multiple reservoirs and freshwater lakes provide various recreational opportunities such as boating and swimming. Resort destinations in the state also include the nicest lakes for a holiday vacation. From Northern California lakes, like Lake Shasta and Lake Tahoe, to Southern California lakes, like Silverhead and Big Bear, all of the state's main cities are within easy reach of a beautiful body of water.
California's lakes offer a diverse roster of functions that benefit both humans and the wildlife living in and surrounding them. But of all the lakes in the state, which of them is the largest? This article will explore the 20 largest lakes in California and other facts about them.
The 20 Largest Lakes in California
20. Camanche Reservoir
An artificial lake located in the San Joaquin Valley in California, the Camanche Reservoir has 12 sq mi or 31.16 sq km surface area. Camanche Dam, constructed in 1963, keeps its waters in check. Camanche Reservoir provides flood control and a source of water for industrial and municipal needs.
19. Lake Isabella
Lake Isabella is another reservoir located in California. It sits in Kern County and was formed by the Isabella Dam. Also known as Isabella Lake, the Californian lake has a total surface area of 17.18 sq mi or 44.52 sq km. It was created in 1953 when the United States Army Corps of Engineers dammed the Kern River at Whiskey Flat, where its two branches meet.
18. Folsom Lake
Folsom Lake measures 17.89 sq mi or 46.34 sq km in surface area, making it another massive reservoir in California. The lake is located in the Sierra Nevada foothills and lies 25 mi or 40 km northeast of Sacramento. Folsom Lake, along with the neighboring Folsom Lake State Recreation Area, is one of California's most popular parks. The California Office of Environmental Health Hazard Assessment has issued a safe eating advisory based on mercury levels observed in fish captured in the lake.
17. New Melones Lake
Located in the northern Sierra Nevada foothills on the Stanislaus River, New Melones Lake is a reservoir covering 19.53 square miles or 50.59 square kilometers. Hydroelectric power, flood management, irrigation water, and wildlife habitat are all provided by the reservoir.
16. Tule Lake
Tule Lake covers 20.31 sq mi or 52.61 sq km, precisely the same size as the Don Pedro Reservoir. The Tule Lake National Wildlife Refuge and the Klamath Project are both located on the lake. The Klamath Project's water deliveries have helped rescue ducks and other species inhabiting the lake.
15. Don Pedro Reservoir
Also known as Lake Don Pedro, this reservoir measures 20.31 sq mi or 52.61 sq km, making it sixth of the biggest reservoirs in the state. The artificial lake is situated in the Sierra Nevada foothills. Moccasin and La Grange are two of its adjacent local communities.
14. Lake Oroville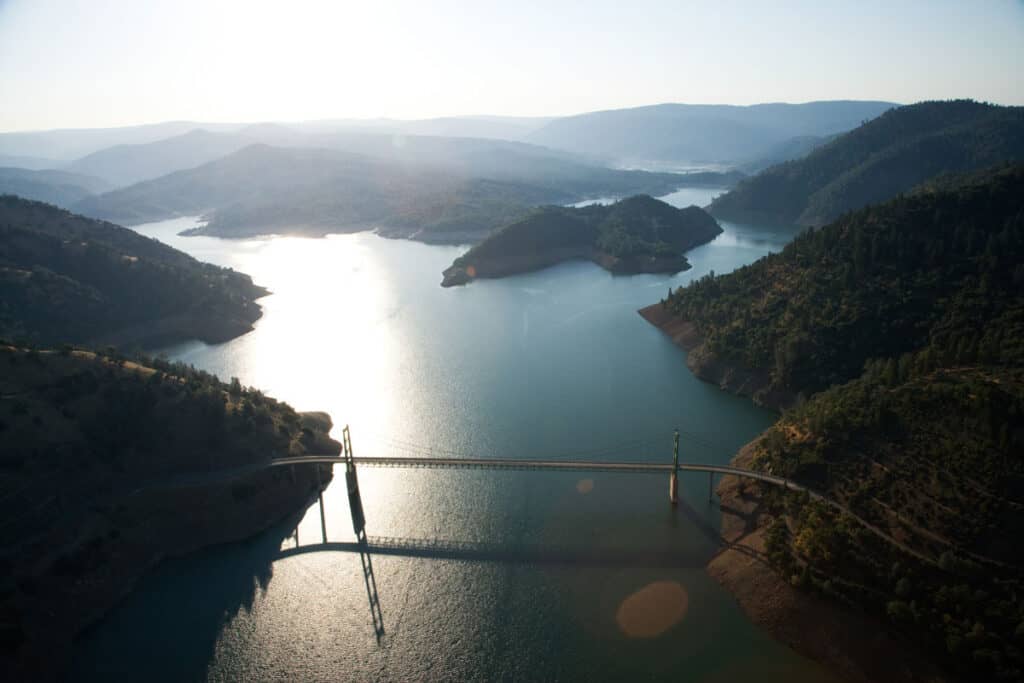 With a surface area of 25 sq mi or 64.75 sq km, Lake Oroville is a huge reservoir within the Lake Oroville State Recreation Area. By holding water, and controlling flood, recreation, and freshwater releases, Lake Oroville is recognized as a cornerstone facility within the California State Water Project, helping to prevent saline intrusion into the Sacramento-San Joaquin Delta and conserving fish and animals.
Read about the Oroville Dam, which creates Lake Oroville.
13. Trinity Lake
Encompassing 25.8 sq mi or 66.91 sq km of surface area, Trinity Lake in Trinity County snags a spot in California's biggest lakes list. It is an artificial lake created by the Trinity Dam for irrigation and hydroelectric power. The lake is also one of California's largest reservoirs. Apart from offering excellent water-skiing opportunities, Trinity Lake also exhibits numerous little arms and clear inlets.
12. Lake Havasu
Lake Havasu measures 30 sq mi or 78.1 sq km and is shared by the states of California and Arizona. Many of the most notable desert vistas surround the lake. Lake Havasu is still the longest lake in California as of now.
11. Lake Berryessa
With a 32.3 sq mi or 83.77 sq km surface area, Lake Berryessa is the largest lake in Napa County, California. When complete, the lake covers around 20,000 acres or 8,100 hectares and has a shoreline that stretches to about 165 miles or 265 kilometers.
10. Eagle Lake
Eagle Lake is an endorheic alkaline lake located in Lassen County, California. With a surface area measuring 37.5 sq mi or 97.12 sq km, it is the state's second-largest lake situated entirely within California, next to Clear Lake.
9. Clear Lake Reservoir
Clear Lake Reservoir is a man-made lake located in northeastern Modoc County, California. It is part of the Klamath Basin and the Modoc National Forest and measures 40.23 sq mi or 104.2 sq km. The dam's reservoir has an average depth of just around 20 feet or 6 meters at maximum capacity, resulting in a highly rapid evaporation rate.
8. Lake Almanor
While Lake Almanor's total surface area encompasses 44 sq mi or 113.3 sq km, it is considered the state's widest lake. Recreational opportunities abound in Lake Almanor. Camping, hiking, and fishing are just a few of the popular recreational activities available at this lake.
7. Shasta Lake or Lake Shasta
Lake Shasta is California's largest man-made lake, covering a total surface area of 47 sq mi or 121.4 sq km. The Shasta Reservoir, which sits above the Sacramento River, was built in conjunction with the Shasta Dam construction, which was established to generate hydroelectricity.
6. Clear Lake
Clear Lake ties with Mono Lake when it comes to surface area, with 68 sq mi or 180 sq km in total. However, Mono Lake is more massive when it comes to water volume. This natural freshwater lake in Napa County and San Francisco is the biggest natural freshwater lake located entirely within California's confines. It is also North America's oldest lake, having been formed about 2.5 million years ago.
5. Mono Lake
Mono Lake is a massive, shallow saline lake covering 68 sq mi or 180 sq km of total surface area that originated as a terminal lake in an endorheic basin around 769,000 years ago. Because the lake has no outlet, significant volumes of salt have accumulated. Mono Lake's water is alkaline due to its high salt content. With its unique ecology, it allows brine shrimp to thrive.
4. Honey Lake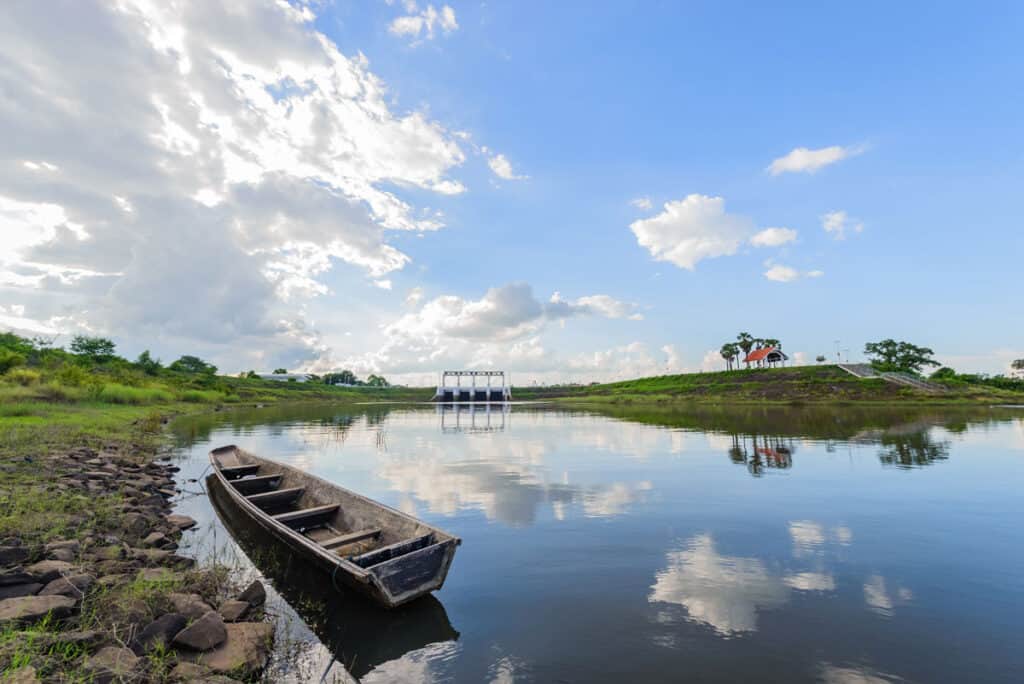 An endorheic sink in the Honey Lake Valley, Honey Lake has a total surface area of 86 sq mi or 220 sq km. It is located near the Nevada border in northeastern California. Due to evaporation, the lake is decreased to 3,000 acres throughout the summer months, resulting in a dry lake. Hiking, warm-water fishing, bird watching, waterfowl hunting, camping, and picnicking are all popular recreational activities on Honey Lake.
3. Goose Lake
Goose Lake is the third largest lake in the US state of California, with a surface area of 147 sq mi or 380.7 sq km. The vast saline lake is located in the Goose Lake Valley, close to the California-Oregon state boundary. However, the majority of the area around the lake valley is privately held agricultural land.
2. Lake Tahoe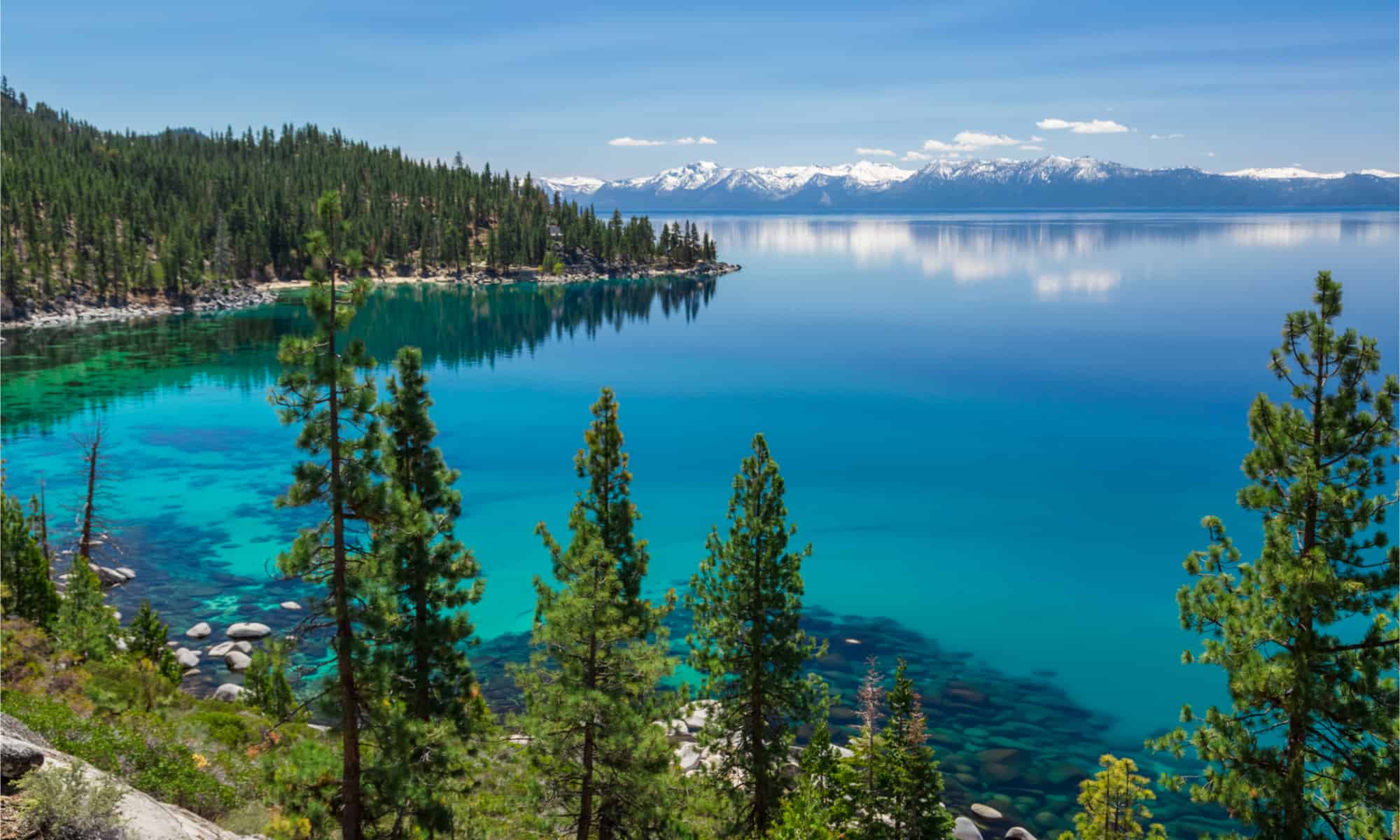 Covering a total surface area of 191.58 sq mi or 496.2 sq km, Lake Tahoe is the second-largest lake in California by surface area but is the largest freshwater lake when it comes to water volume. Lake Tahoe is famous in the United States as it is one of the deepest lakes in the country and one of the deepest lakes in North America as well.
Apart from these ranks, Lake Tahoe also makes it to the list of the largest lakes in the entire United States as it holds a massive volume of water. Lake Tahoe sits in the Sierra Nevada, between Nevada and California, and has a volume of 150.7 cubic kilometers. The Californian lake is also famous for its insanely clear and pure water with 99.994% purity, almost as pristine as distilled water, which measures 99.998%.
1. Salton Sea
The Salton Sea, a shallow, salty, endorheic lake with a surface area of 343 sq mi or 889 sq km, is the largest lake in the state of California. As it is landlocked, it doesn't have other waterways or outflow to drain its waters, and it only loses its waters through evaporation, thus its high level of salinity. The water in Salton Lake has a salinity of 44 grams per liter, higher than the Pacific Ocean, which only has a 35 g/l salinity level.
The sole native fish species in the sea, the desert pupfish, is a federally classified endangered species in the United States. This freshwater fish is known for its capacity to resist the Salton Sea's escalating salinity. It can survive salinity levels varying from freshwater to twice as salty as saltwater.
Summary Of The 20 Largest Lakes In California
| Rank | Lake | Size in Square Miles |
| --- | --- | --- |
| 20 | Camanche Reservoir | 12 |
| 19 | Lake Isabella | 17.8 |
| 18 | Folsom Lake | 17.89 |
| 17 | New Melones Lake | 19.53 |
| 16 | Tule Lake | 20.31 |
| 15 | Don Pedro Reservoir | 20.31 |
| 14 | Lake Oroville | 25 |
| 13 | Trinity Lake | 25.8 |
| 12 | Lake Havasu | 30 |
| 11 | Lake Berryessa | 32.3 |
| 10 | Eagle Lake | 37.5 |
| 9 | Clear Lake Reservoir | 40.23 |
| 8 | Lake Almanor | 44 |
| 7 | Shasta Lake or Lake Shasta | 47 |
| 6 | Clear Lake | 68 |
| 5 | Mono Lake | 68 |
| 4 | Honey Lake | 86 |
| 3 | Goose Lake | 147 |
| 2 | Lake Tahoe | 191.58 |
| 1 | Salton Sea | 343 |
Honorable Mention: Other Large Lakes in California
The Golden State is home to more than 3,000 named lakes, reservoirs, and dry lakes. They range in their definition of size, from the largest in the area covered, to the largest in volume, and while not all of them are of mammoth proportions, they are still quite impressive. These are a few other choices that while they may not have placed in the top 20 in size, still deserve an honorable mention.
Lake McClure – located in the Sierra Nevada foothills of western Mariposa County, this reservoir is 10.94 square miles and 7,000 acres. It was formed by the creation of the New Exchequer Dam, which then impounded the Merced River for irrigation and hydroelectric power production. There are plenty of outdoor activities at this lake, from boating and fishing to swimming and camping.
Big Bear Lake – this reservoir is located in the San Bernardino Mountains in the town of the same name in San Bernardino County. Surrounded by the San Bernardino National Forest, this reservoir, fed by snow and rain, is 10 square miles. It is a popular area for fishing, boating, and water skiing.
Pine Flat Lake – this is an artificial lake, or reservoir, located in eastern Fresno County, in the Sierra Nevada foothills. This 9.328 square mile reservoir was formed in 1954 by the U.S. Army Corp of Engineers by the creation of the Pine Flat Dam on the Kings River. It is a popular recreational and fishing area.
The photo featured at the top of this post is © iStock.com/Poly Isepan
---