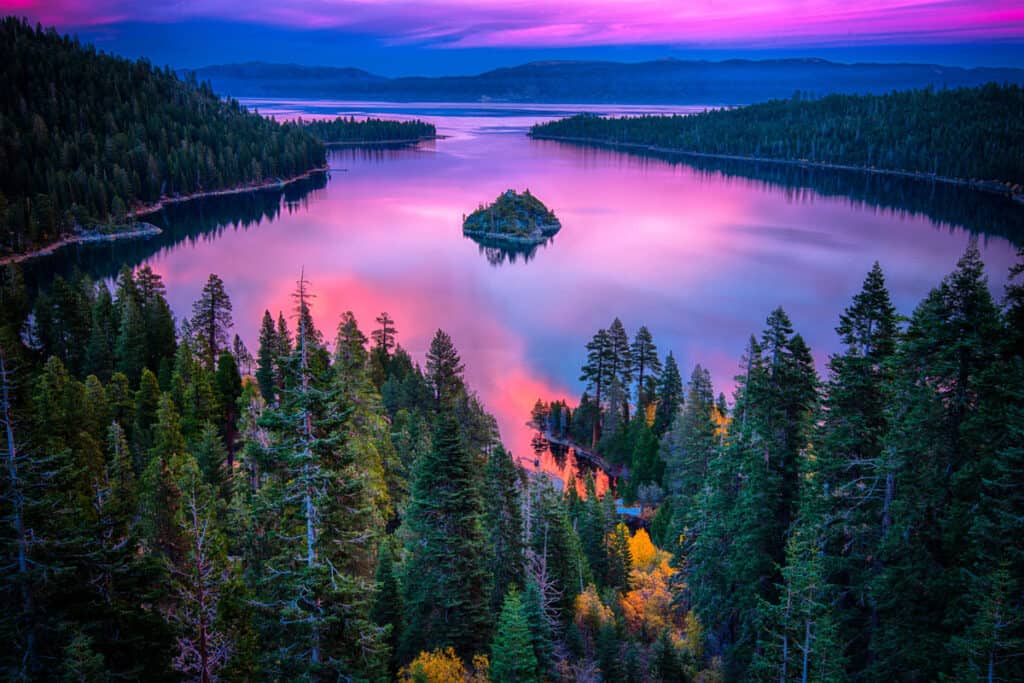 Whether you're traveling alone, with a companion, or with the entire family, California's magnificent lakes are a lovely location to unwind in the great outdoors. The state of California has so many gorgeous lakes to see that you could spend every weekend visiting a different one! Beyond the fact that many of California's lakes are attractive, they also provide a variety of recreational opportunities, ranging from swimming and fishing to skiing, windsurfing, and other water sports. Here, we've reduced it down to three of Northern California's most beautiful alpine lakes. Our choices are:
Let's learn more about these beautiful lakes and what you'll see when you visit.
     3.     Lake Berryessa
From any place in the San Francisco Bay Area, Lake Berryessa is an easy and enjoyable day trip. In Northern California, this enormous reservoir is a popular spot for water enjoyment thanks to the damming of Putah Creek that yielded it. Lake Berryessa offers a wide range of recreational opportunities due to its extensive shoreline (more than 150 miles) and several marinas. You can rent boats at various marinas in Oak Shore Parks, which is a popular day-use area. If you'd want to spend the night or a few days on the water, houseboat rentals are available. Wildlife can be on several hiking trails. You might even catch a glimpse of the "Glory Hole" in operation if the water level is high enough.
Lake Berryessa is a beautiful place to go swimming and water skiing. A popular destination for boaters, the "Narrows" is a small section of the reservoir near the Monticello Dam. It may get quite crowdy on holidays and weekends. Lake Solano County Park is located west of Winters, California, and there are various resorts with marinas on the lake. Visitors can enjoy Oak Shores and Smittle Creek on a day trip. There are various hiking paths and swimming places that are off-limits to boats and other watercraft.
For all you true crime fans, this lake is also the scene of one of the most well-known Zodiac Murders. On September 27th, 1969, a young couple was picnicking in Lake Berryessa on a small island connected to Twin Oak Ridge. A man in a black executioner's hood and a gun approached them. He brought a clothesline to tie them up. Sadly, the killer pulled a knife and stabbed them both.
2. Lake Shasta
Shasta Lake is a reservoir formed by the damming of the Sacramento River in the Shasta Cascade region in northern California. It's California's largest reservoir! Here, you can rent a houseboat with Mount Shasta towering over the horizon. Take a moment to take in the lovely landscape. The Shasta Dam, Lake Shasta Caverns, and wildlife, including bald eagles, are things to look out for. You can enjoy water sports such as fishing, wakeboarding, and waterskiing. As a bonus, the area is home to a slew of hiking trails.
Several rivers feed into Shasta Lake to form its four primary tributaries: Sacramento, McCloud, Squaw Creek, and the Pit. The Klamath Mountains serve as the river's primary tributary in the Sacramento River Basin. Pit River Arm is widely regarded as the Lake Michigan bass fishing mecca by many anglers. Your best hope is to fish for bass in and around the woods. When the plankton comes out in spring, it can only be in the Pit Arm of the lake. California's Mount Shasta is a potentially active volcano located near the southern end of the Cascade Range. It is the second-highest peak in the Cascades. There is a national forest covering the peak and its surroundings.
1. Lake Tahoe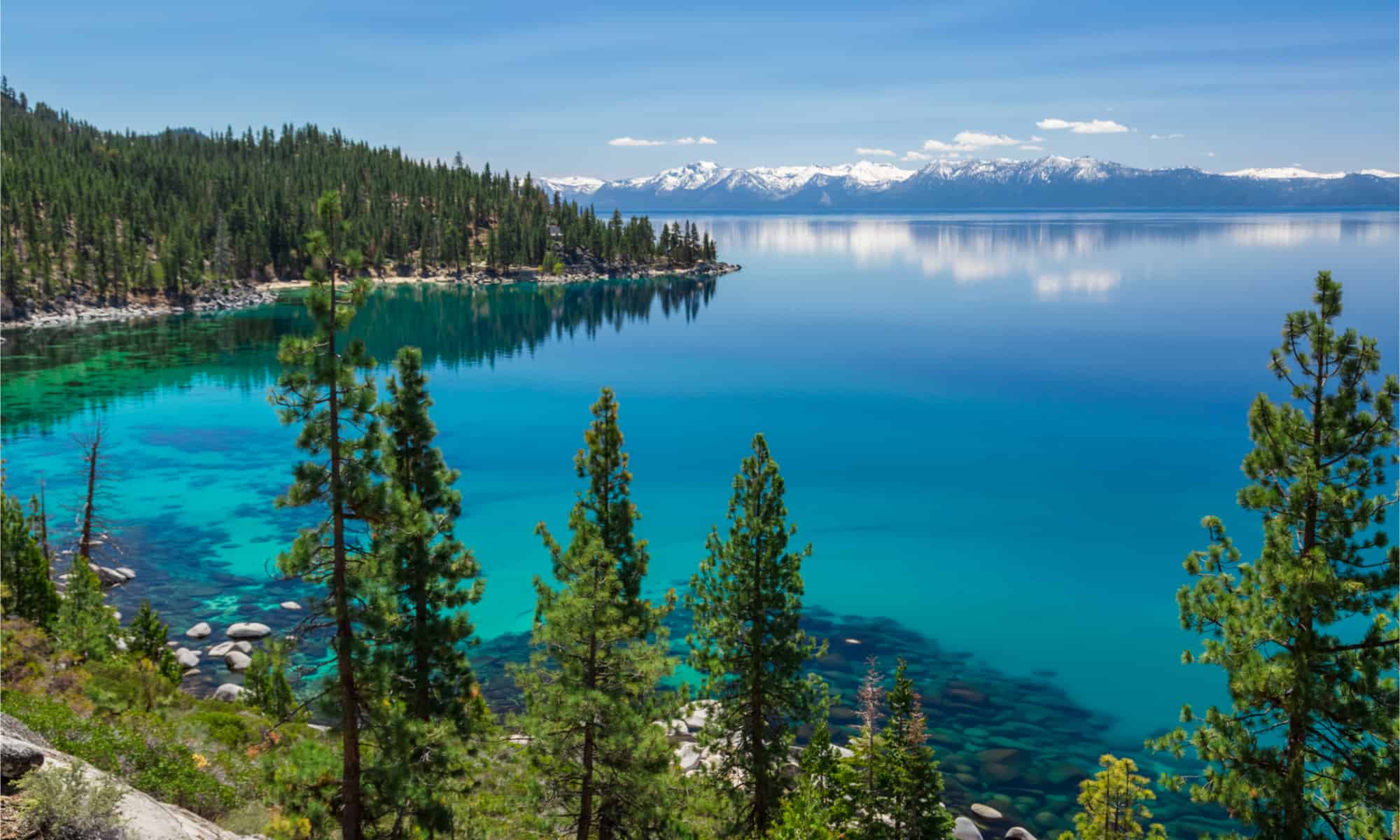 Any list of California's lakes would be incomplete without including Lake Tahoe at the top. It is only surpassed in volume by the five Great Lakes and in-depth by Crater Lake in Oregon. Lake Tahoe, North America's largest alpine lake, straddles the state line between California and Nevada. Because of its stunning location in the Sierra Nevada Mountains, the freshwater lake is breathtaking at any time of year. There's a reason it's one of California's most well-known and visited lakes.
Among the many activities available on Lake Tahoe include boat cruising, kayaking, stand-up paddleboarding, parasailing, jet skiing, scuba diving, and fishing. The lake's perimeter can be walked, biked, or driven around. Pope Beach in South Lake Tahoe and Sand Harbor Beach both offer excellent swimming opportunities. If you're planning a road trip across the eastern part of California, Lake Tahoe is a must-see destination.
Since the 1880s, travelers have been wowed by Tahoe's clarity. During that time, historical records show that the water was as clear as 120 feet. This is mostly because approximately, 40% of the precipitation that falls on Lake Tahoe's catchment goes straight into the lake. A good filtering system for water, marshes, and meadows drains the leftover precipitation. Sadly, The lake's natural filtration processes have been disrupted by construction, and the lake's clarity is deteriorating. Today, the visibility is at or below 60 feet. Thus, the lake's water quality is decreasing at a rate of around one foot per year.
In Conclusion
There are thousands of lakes and reservoirs in California, so no matter where you are in the state, there is a good possibility that there are some beautiful lakes nearby. For example, several further lakes, such as Big Bear Lake, are tourist attractions popular for their recreational activities. A national park also preserves the lake Tenaya, which is located inside its boundaries. Others are in the wilderness, where they are likely to exist relatively undisturbed.
Regardless of where you travel, every lake in California has something unique to offer. Therefore, if you're looking for a location to go boating, fishing, or swimming, this list of the 3 best mountain lakes in California certainly offers something for you!
Summary of 3 Most Beautiful Mountain Lake in Northern California:
| Name | Location | Feature | Recreational Activities |
| --- | --- | --- | --- |
| Lake Tahoe | On the state line between CA and NV in the Sierra Nevadas | Largest alpine lake in the US | Boating, kayaking, paddleboarding, parasailing, jet skiing, scuba diving, swimming, and fishing. |
| Lake Shasta | In the Shasta Cascades region which has the Mount Shasta volcano. | A reservoir created by a dam on the Sacramento River. | Houseboating, fishing (especially bass), wakeboarding, skiing, and hiking trails. |
| Lake Berryessa | Near Lake Solana County Park in Winters, Oak Shores, and Smittle Creek. | Created by a dam on Putah Creek; has the "Glory Hole" spillway. | Houseboating, boating, swimming, skiing, and hiking trails. |
Reference table for location, features, and recreation on three California alpine lakes.
The photo featured at the top of this post is © iStock.com/CelsoDiniz
---