The Sunshine State is almost entirely bordered by water. This means that there is an abundance of aquariums in Florida to help its residents explore nature up close and personal. With quite a few huge lakes and rivers crisscrossing the peninsula, we know there is much to learn about its water sources.
It can be easy to get lost in the beauty and wonder of Florida, the lure of its amusement parks, and its vast amount of party life and leisure. Yet, there is also the coastline, full of sea animals and plants to get to know.
Today, we're going to explore a few aquariums in Florida that will give you the full Florida experience, with two of them not as well known as the others but not any less exciting.
These include:
Florida Aquarium
Clearwater Marine Aquarium
St. Augustine Aquarium
Key West Aquarium
1. Florida Aquarium 
| Florida Aquarium | |
| --- | --- |
| Address  | 701 Channelside Dr, Tampa, FL 33602 |
| Animal to See | Sea Otters |
| Known For | Large Coral Reef Exhibit |
Located in Tampa, the Florida Aquarium is one of the best aquariums in Florida and fun options to see if you're visiting the state. There are more than 7,000 aquatic plants and animals to observe in this 250,000 square-foot aquarium. The aquarium is the seventh-largest in the United States.
Exhibits to enjoy are:
Wetlands of Florida
Journey to Madagascar
Bays & Beaches
Stingray Beach
No Bone Zone
Coral Reef
Reef Secrets
Waves of Wonder
Moon Bay
There are simulated beach environments, a huge aviary, stingrays, and moon jellies to visit. This aquarium in Florida could take more than a day to see if you're looking to uncover every secret.
The animal habitats they have represented start at the tree level and make their way down to the sea level. This is so you can be educated on how all of nature interacts together in Florida.
Historically, the Florida Aquarium helps with conservation efforts, including the desire to help replace the failing coral reefs. They also help facilitate sea turtle egg hatchings and helping to raise sea turtles so that they can make their lives out in the ocean.
Florida is full of fun, and there's no reason you shouldn't be able to educate yourself along the way as well.
2. Clearwater Marine Aquarium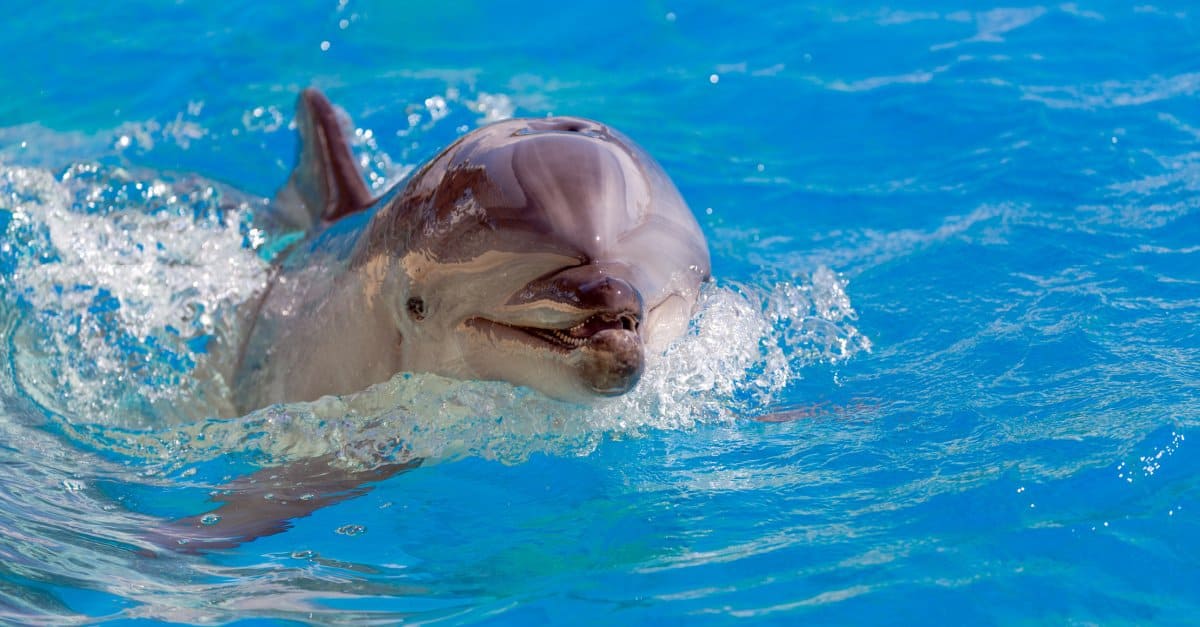 | Clearwater Marine Aquarium | |
| --- | --- |
| Address  | 249 Windward Passage, Clearwater, FL 33767 |
| Animal to See | Rough-nose Dolphins |
| Known For | Multiple animal care exhibits  |
This particular aquarium in Florida is known for its true purpose as a rescue and rehabilitation center for injured animals. They take in marine animals that are hurt or sick and nurse them back to health before releasing them, if able. 
The Clearwater Marine Aquarium's primary focus is to perform those duties. Many of the animals that make their home at this aquarium were too injured to be released back into the wild. These animals are permanent members.
You can see multiple exhibits to learn how they care for the permanent residents. If you so desire, you can get hands-on and learn how to feed rough-nose dolphins, care for a shark, or pet a stingray.
Their many exhibits include:
Aquaponics
Atlantis Theater
Dolphin Terrace
Mangrove Key Kids Zone
Mavis's Rescue Hideaway
Ocean Debris Wave
Otter Oasis
Rescue Deck
Rescue Town
Rufus Beach
Ruth & J.O. Stone Dolphin Complex
Sea Cavern
Shark Pass
Stingray Beach
Surgical Suite
Turtle Cove
There is a lot to take in at the Clearwater Marine Aquarium. From feeding animals to learning how they live, you won't be bored, that's for sure.
Now, here are a couple of more "under the radar" aquariums in Florida.
3. St. Augustine Aquarium
| St. Augustine Aquarium | |
| --- | --- |
| Address  | 2045 FL-16, St. Augustine, FL 32084 |
| Animal to See | Sharks |
| Known For | Snorkel Adventure |
This aquarium has an 80,000-gallon tank for those who aren't faint of heart to snorkel in! That's right, you can get as up close and personal as possible to many different types of animals. Don't worry, that's not the only way to explore. You can walk along and view the aquatic life in the tank as well.
There are designs for a newer building that will hold the main exhibits of the St. Augustine Aquarium. There will also be a shark cage for any brave adventurers who want to be dipped into the deep with nature's best predator.
Check their website out to see when these new additions will be ready in to add to one of the premier aquariums in Florida. It sounds like soon this could be one of the best places to visit in Florida.
4. Key West Aquarium 
| Key West Aquarium  | |
| --- | --- |
| Address  | 1 Whitehead St, Key West, FL 33040 |
| Animal to See | Nurse Sharks |
| Known For | First opened in 1935 |
This aquarium was a historical adventure, first thought of during the Great Depression and finally fully coming to life in 1935. The original concrete of the Key West Aquarium was mixed with saltwater because there wasn't enough fresh water to go around.
The hope was that this aquarium in Florida would bring scientists and tourists to Key West and help boost the economy. 
The exhibits at the Key West Aquarium are targeted toward all the local animals you can find around the Florida Keys. There is an exhibit dedicated to alligators, which everyone knows is a Florida staple. You can also learn about jellyfish, sharks, and touch stingrays in a touch tank.
There is a sea turtle conservation tour visitors can take as well. You can meet some of the sea turtles that are permanent residents of the aquarium. There are four turtles, and they are all different species. Two of those sea turtles have prosthetic flippers.
Other Florida Aquariums to Explore 
While we've highlighted above some outstanding aquariums in Florida, the state is home to more than 20 aquariums across the state. Here are a few more options worth keeping in mind: 
Gulf Specimen Marine Laboratory – Located in Sarasota, FL. This Laboratory is known for catching and sharing specimens with other scientists.
Mote Marine Laboratory– Located in Panacea, FL. There is an aquarium at this laboratory that is available for the public to visit and see.
The Seas with Nemo & Friends – Located in Disney World, FL. Would you believe that the second largest aquarium in the United States is located inside Epcot? If you're traveling to Disney World, make sure to take in The Seas with Nemo & Friends as it boasts an incredible 5.6 million gallons of water across a series of massive tanks.
---