After the pandemic has taken a toll on our lives, it's the best time to retreat to nature to relax and feel a sense of peace and calm again. If you used to love going out on adventures, we bet you would want to spend time in the great outdoors again after all that happened around us. One thing that could make your trip memorable and scenic is choosing from some of the best places you could ever go to.
In the United States, getting in touch with nature is pretty straightforward—from cross-country road-tripping to breathtaking hikes, there are many outdoor escapes to choose from. If you are a nature lover, you can enjoy fresh air, splendid mountains, crystal-clear lakes, beach getaways, island vacations, hiking trails, and camping across the 50 states of the country.
If you're finding it hard to choose from the countless places you could set your tent, we'll give you our roundup of the five best places in the United States that make excellent camping spots.
1. Big Bend National Park, Texas
| Big Bend National Park, Texas | |
| --- | --- |
| Size | 801,163 acres |
| Things to do | Hiking, Camping, Horseback riding, Bird watching, Rafting, Canoeing |
| Animals to see | Bobcat, Badger, Coyote, Mule Deer |
If you're looking for a place to go rafting, canoeing, camping, bird-watching, and more at the same time, then the most-visited Big Bend National Park in Texas is the perfect place for you. This place includes multiple campgrounds, allowing tourists and visitors to stay in an RV or tent. This 801,163-acre massive desert has a lot to offer, from recreational opportunities such as hiking 200 miles of its trails, scenic driving on its 100 miles of paved roads, and countless fun activities such as camping and backpacking, horseback riding, and bird watching.
Are you in for some wildlife adventure? This is also the best place for you to go. This park provides a habitat for 75 species of mammals, 56 species of reptiles, 11 species of amphibians, and over 450 species of birds. Some animals that can be seen here are the bobcat, badger, coyote, mule deer, black bear, jackrabbit, rattlesnake, woodpecker, quail, and sparrow. Some rare animal species can be spotted occasionally within this park, which is perfect for visitors who want to enjoy nature and the wildlife of this park at the same time.
2. Badlands National Park, South Dakota
| Badlands National Park, South Dakota | |
| --- | --- |
| Size | 242,756 acres |
| Things to do | Night sky viewing, Scenic driving, Camping, Hiking, Horseback riding, Biking |
| Animals to see | Bison, Bighorn sheep, Prairie dog, Rattlesnake |
The Badlands National Park features a unique landscape that makes nature lovers drive to South Dakota just to witness its beauty. The Badlands National Park is a go-to place for adventurers and science buffs as it offers many recreational and educational opportunities. This place has a relatively rough climate, but it is still worth the visit as it has many rock formations, two wonderful campgrounds to choose from, hiking and biking trails, and night sky viewing opportunities during the evening.
Suppose you are tired of all the recreational activities you tried out. In that case, you can unleash your inner science buff as you can visit the park's Fossil Preparation Laboratory, where you can engage with paleontologists and peek at some ancient fossils that are well-preserved here.
The wildlife in this park makes this place attractive to animal lovers, especially bird-watchers, as this place fosters 206 species of birds. Birds that can be freely spotted roaming the skies are the golden eagle, prairie falcon, short-eared owl, and burrowing owl. Several species of mammals are also found here, such as the pronghorn, bison, bighorn sheep, rabbit, and prairie dog.
3. Arches National Park, Utah
| Arches National Park, Utah | |
| --- | --- |
| Size | 76,679 acres |
| Things to do | Biking, Backpacking, Camping, Rock climbing, Stargazing, Photography |
| Animals to see | Porcupine, Desert cottontail, Squirrel, Eagle |
If waking up on a cold morning to see fresh snow set against beautiful red rock formations sounds like a dream, then you should try setting your tents in Arches National Park in Utah. Its only campground, called "The Devil's Garden," is home to 50 campsites where tourists and visitors can stay the night and relax. This park has many recreational opportunities with beautifully-structured stone arches, such as camping, supervised rock climbing, backpacking, biking, and even stargazing.
Spotting wildlife isn't a problem for animal enthusiasts, as this park has over 600 animals and precisely 75 sheep. Bird-watching is also a popular recreational activity as this place has 273 bird species to spot. Some animals spotted here during your visit are the porcupine, desert cottontail, squirrel, eagle, hawk, snake, lizard, chipmunk, and even coyote.
4. Crater Lake National Park, Oregon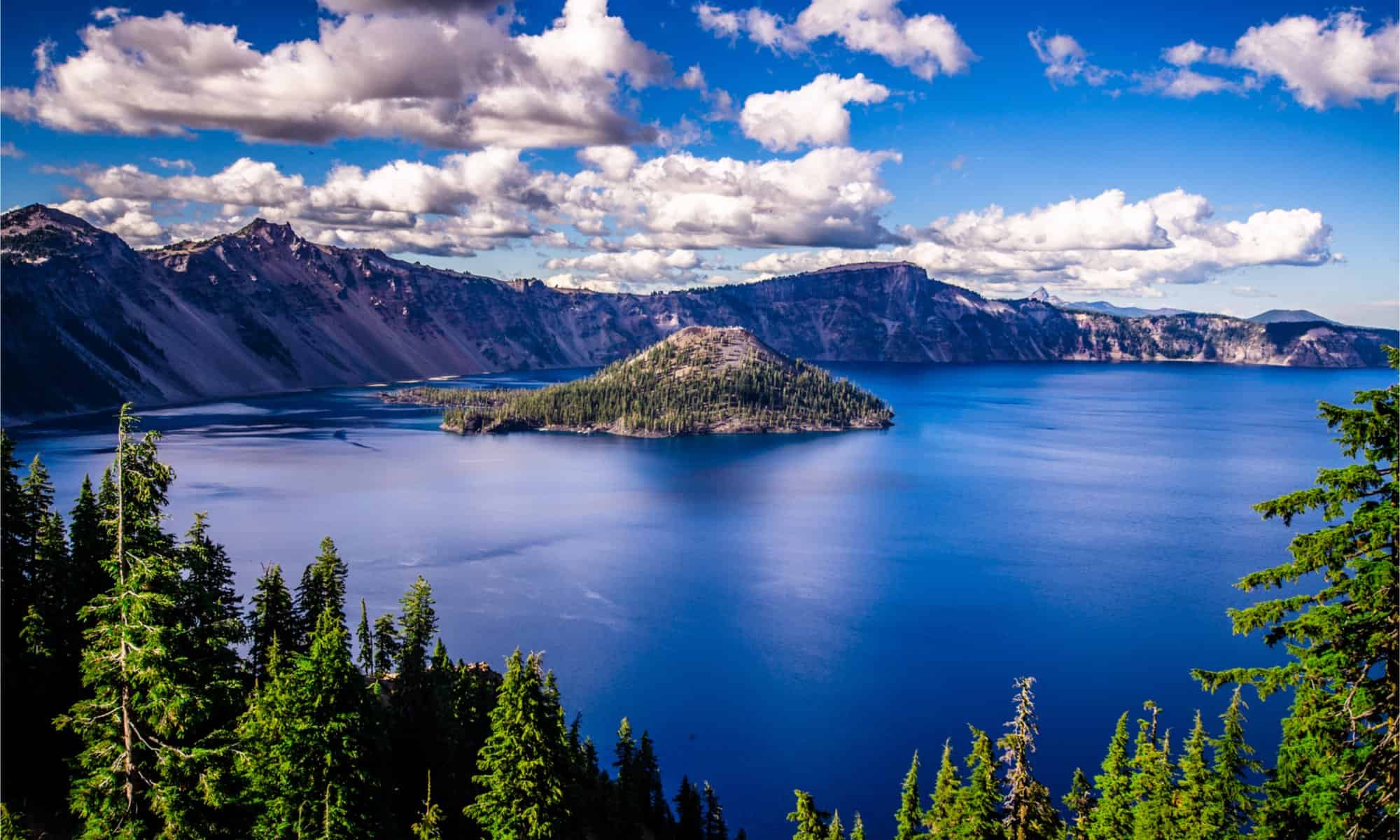 | Crater Lake National Park, Oregon | |
| --- | --- |
| Size | 183,224 acres |
| Things to do | Boating, Hiking, Biking, Camping, Fishing, Bird-watching, Scenic driving |
| Animals to see | Bear, Rabbit, Beaver, Fox |
Crater Lake National Park in Oregon, home to the deepest lake in the United States and a dormant volcano will take you on a breathtaking and chilling experience. There are several campgrounds to choose from; some allow visitors in an RV or tent camp, and some only allow tents. Aside from camping, other recreational activities within this 183,224-acre wonder include hiking, boating, fishing, bird-watching, and scenic driving along its paved roads.
The park is also rich in diverse wildlife. From mammals to birds and up to amphibians and insects, you can say that this park is home to lots of animal species. Some of the most commonly found in this place are the bear, rabbit, beaver, fox, mountain bluebird, bald eagle, peregrine falcon, pika, bats, and even skunks. Not only is it perfect to spot wildlife in both sky and land, but fish are an abundant component of the crater lake's waters, such as rainbow trout and salmon.
5. Glacier National Park, Montana
| Glacier National Park, Montana | |
| --- | --- |
| Size | 1,013,322 acres |
| Things to do | Biking, Hiking, Fishing, Camping, Boating, River camping, Cross-country skiing |
| Animals to see | Grizzly bear, Mountain goat, Moose, Wolverine |
The biggest of all five camping spots on our list. Montana's Glacier National Park offers a lot more than any other place. Encompassing over a million acres with parts of two mountain ranges and about 130 lakes, this place would be worth paying a visit if you are a non-stop adventurer who wants to learn new things every day. You can do activities such as hiking 700 miles of trails, biking, fishing, boating, cross-country skiing, and camping. Try to set your tent right up here and wake up to beautiful and fascinating views of glaciers and mountains.
The wildlife of this place showcases 71 species of mammals, 276 bird species, and countless numbers of fish that are a mix of native and invasive species. The animals that can be found here during your stay are the grizzly bear, mountain goat, moose, wolverine, elk, lynx, mountain lion, harlequin duck, osprey, toad, and rainbow trout.
Summary of The 5 Best Camping Spots In The United States
Here's a summary of the 5 best camping spots in the U.S. and what you can do at each location:
| Number | Camping spot | What to do |
| --- | --- | --- |
| 1 | Big Bend National Park, Texas | Hiking, Camping, Horseback riding, Bird watching, Rafting, Canoeing |
| 2 | Badlands National Park, South Dakota | Night sky viewing, Scenic driving, Camping, Hiking, Horseback riding, Biking |
| 3 | Arches National Park, Utah | Biking, Backpacking, Camping, Rock climbing, Stargazing, Photography |
| 4 | Crater Lake National Park, Oregon | Boating, Hiking, Biking, Camping, Fishing, Bird-watching, Scenic driving |
| 5 | Glacier National Park, Montana | Biking, Hiking, Fishing, Camping, Boating, River camping, Cross-country skiing |
The photo featured at the top of this post is © iStock.com/Kalichka
---