In Alabama, it's a class B felony to wrestle a bear! But it's perfectly legal to fish.
Anglers from all over the country make their way to Alabama during the summer. There are all sorts of prime fishing opportunities. Some of the best fish in Alabama come from artificial reservoirs managed with largemouth bass, crappie, sunfish, and more. It's an angler's dream.
Read on as we uncover the 5 best fishing spots in Alabama this summer.
1. Warrior Reservoir on Black Warrior River
Mean Surface Level Elevation: 96
Surface Acre: 9,100
River Basin: Warrior
Nearby Town: Eutaw
Kicking off our list of the best fishing spots in Alabama is Warrior Reserve. The reserve is a prime fishing spot featuring 8,580 acres of prime fishing. The reservoir is used for flood control, navigation, and recreation. If you want to make a day of it, there's primitive camping, hunting, and boating available at the warrior reservoir. You'll be able to enjoy eight public access areas with complete boat access.
Common Fish
The warrior reservoir is best known for crappie and bass. If you're looking for largemouth bass, look no further. There are plenty of 13-in fish swimming through the warrior reservoir.
Tips
Crappie in the Warrior Reservoir is the most active during the spring and the fall. However, you can still get a lot of action during the summer if you know where to look. Target deeper structure during the summer months for the best results.
2. Aliceville Reservoir aka Pickensville Lake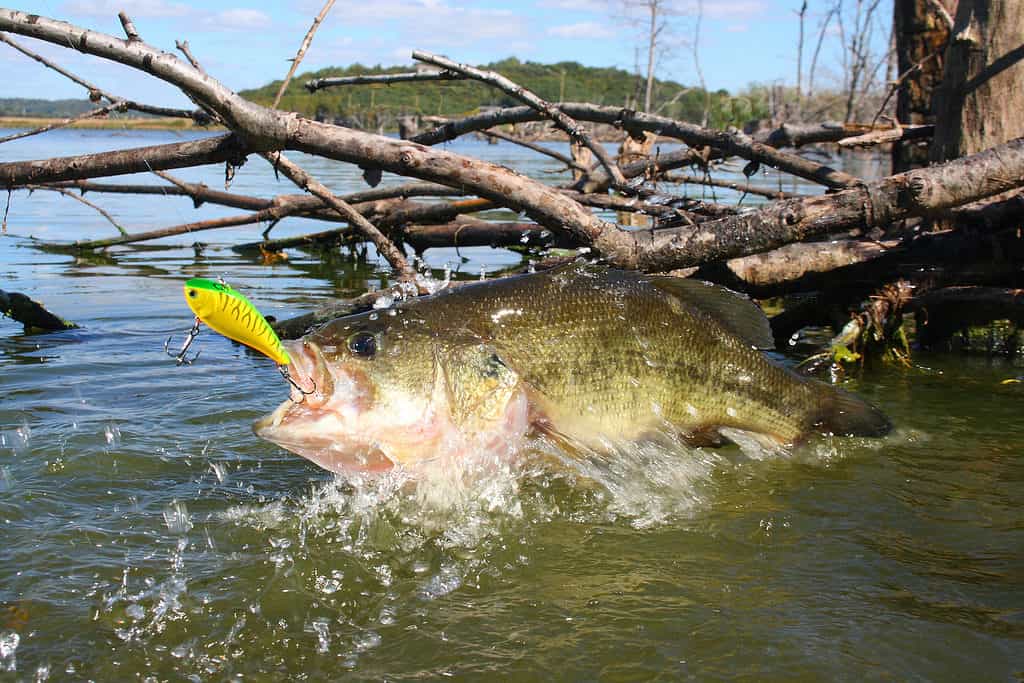 Mean Surface Level Elevation: 136
Surface Acre: 8,300
River Basin: Aliceville
Nearby Town: Tombigbee
Aliceville is an 8300-acre reservoir, 12 miles Northwest of the city of Aliceville. Anglers from Mississippi and Alabama enjoy this fishing spot since parts of it are located in each state. There are two public access areas with boat and bank access. There's only one user fee boating access service in Aliceville Reservoir. If you want to stay the night, there are primitive and modern campgrounds available. There are also day-use facilities located around the lake.
Common Fish
Largemouth bass and crappie are the most popular fish in Aliceville. However, even though there are a lot of large basses, catches tend to be less than 18 inches in length. You'll find the harvestable bass population is between 2 and 4 years of age, ranging between 10 and 18 inches in length. 
Tips
Do yourself a favor and spend a day fishing the tailwaters of Aliceville instead of the headwaters. There's a fishing pier on the West Bank of the reservoir, directly below the dam. You'll be able to catch all sorts of catfish, bass, drum, sunfish, and crappie at this location. The catfish are active in Alabama reservoirs, thanks to all the prey around. A catfish that's hunting for a meal is a catfish you can entice.
Sunfish in the Aliceville Reservoir respond well to small spinnerbaits and crickets. Put a few crickets on the line, and before you know it, you'll be reeling in regular catches.
3. Bankhead Reservoir
Mean Surface Level Elevation: 255.1
Surface Acre: 9,200
River Basin: Warrior
Nearby Town: Hueytown
Bankhead Reservoir is the second-largest lake located on the Warrior River. It's 9,200 acres in size and is only 15 mi west of Birmingham. The reservoir flows through Jefferson, Walker, and Tuscaloosa counties. The primary uses are hydroelectric generation, flood control, navigation, and recreation.
Common Fish
The Bankhead Reservoir headwaters are prime fisheries for catfish, rainbow trout, largemouth bass, spotted bass, and sunfish. There are modest numbers of spotted bass and largemouth bass. Crappies' growth rates are excellent, but their numbers are low.     
Tips
There's a lot of hybrid striped bass at Bankhead River. They range between 3 and 8 lb. They're best found at the reservoir headwaters, the Smith Lake tailwaters. 
4. Lake Harding aka Bartletts Ferry
Mean Surface Level Elevation: 521
Surface Acre: 5,860
River Basin: Chattahoochee
Nearby Town: Fairfax
Bartletts Ferry, also known as Lake Harding, is a 5,860-acre reservoir. If you're looking for a fishing spot that's not overcrowded, look no further. The reservoir isn't as heavily fished as its downstream counterparts; West Point Lake and Lake Eufaula. The Chattahoochee River sits right on the Alabama-Georgia State line. 
Common Fish
Since Bartlett Ferry's one of the best fishing spots in Alabama, it's no surprise you'll find largemouth bass here. There are also a few spotted bass swimming around. Since there are fewer anglers at Bartletts Ferry, the fish can grow to be quite large. Get ready to find abundant crappie populations too. The crappie populations are the most abundant in the spring and summer. Other fish species you'll be able to catch include channel catfish, shoal bass, striped bass, and white bass.
Tips
Since striped bass is temporarily protected from harvest in Alabama,  focus on finding largemouth and spotted bass. Largemouth and spotted bass have high catch rates around flowing water. If you're not having luck in one spot, try moving a few hundred yards up or down the stream.
5. Big Bear Lake, aka Bear Creek Reservoir
Mean Surface Level Elevation: 576
Surface Acre: 670
River Basin: Tennessee
Nearby Town: Red Bay
Bear Creek Reservoir is usually referred to as Big Bear Lake. The modest fishing location only holds 670 acres of water and is most full during the summer. Only 20 mi outside of Russellville and Franklin County, Big Bear Lake is one of Alabama's best-kept secrets. Anglers can enjoy a wild and scenic fishing experience without any residential developments along the shoreline. Encounters with deer, raccoons, rabbits, and turkeys are common. The forests are teaming with wildlife. There are two campgrounds located on the lake, and each of them has public access for launching boats. This spot is spotless, unlike other polluted lakes you might come across.
Common Fish
Once the reservoir filled in 2009, it was stocked with all sorts of fish species to supplement natural populations. That means at Bear Creek, you'll be able to catch channel catfish, bluegill fingerlings, Florida strain largemouth bass fingerlings, and more. There are also plenty of crappies, and it's easy to entice them to bite with minnows.
Tips
Before you can fish at Big Bear Lake, you'll need a special permit. It's called a BCDA fishing permit, which stands for Bear Creek Development Authority. The extra step of obtaining the permit is worth it, though. You'll be able to enjoy an adventurous summer fishing spot. Big Bear Lake has more than earned its title as one of the best fishing spots in Alabama.
Summary
| Rank | Lake/Reservoir | Fish | Location |
| --- | --- | --- | --- |
| 1. | Warrior Reservoir | Crappie, bass | Eutaw |
| 2. | Aliceville Reservoir (Pickensville Lake) | Crappie, largemouth bass | Tombigbee |
| 3. | Bankhead Reservoir | Catfish, rainbow trout, spotted & largemouth bass, sunfish | Hueytown |
| 4. | Lake Harding (Bartletts Ferry) | Crappie, channel catfish, spotted, shoal, striped, white, and largemouth bass | Fairfax |
| 5. | Big Bear Lake (Bear Creek Reservoir) | Crappie, channel cat, bluegill fingerlings, largemouth bass | Red Bay |
---
The Featured Image
---