Swimming is a wonderful way to enjoy a hot summer day. But where do you find a good lake for swimming?
There are plenty of great lakes in California that offer perfect spots for a refreshing dip.
So whether you seek a secluded place to take a swim or a popular lake with plenty of activities, we've got you covered with our list of the 5 best lakes in California for swimming.
So grab your swimsuit and sunscreen!
Get ready to enjoy some of California's best lakes for swimming! In addition to lake recommendations, we'll list some beach bag essentials for lake swimming safety – including what you'll need to treat a leech bite!
Lake Tahoe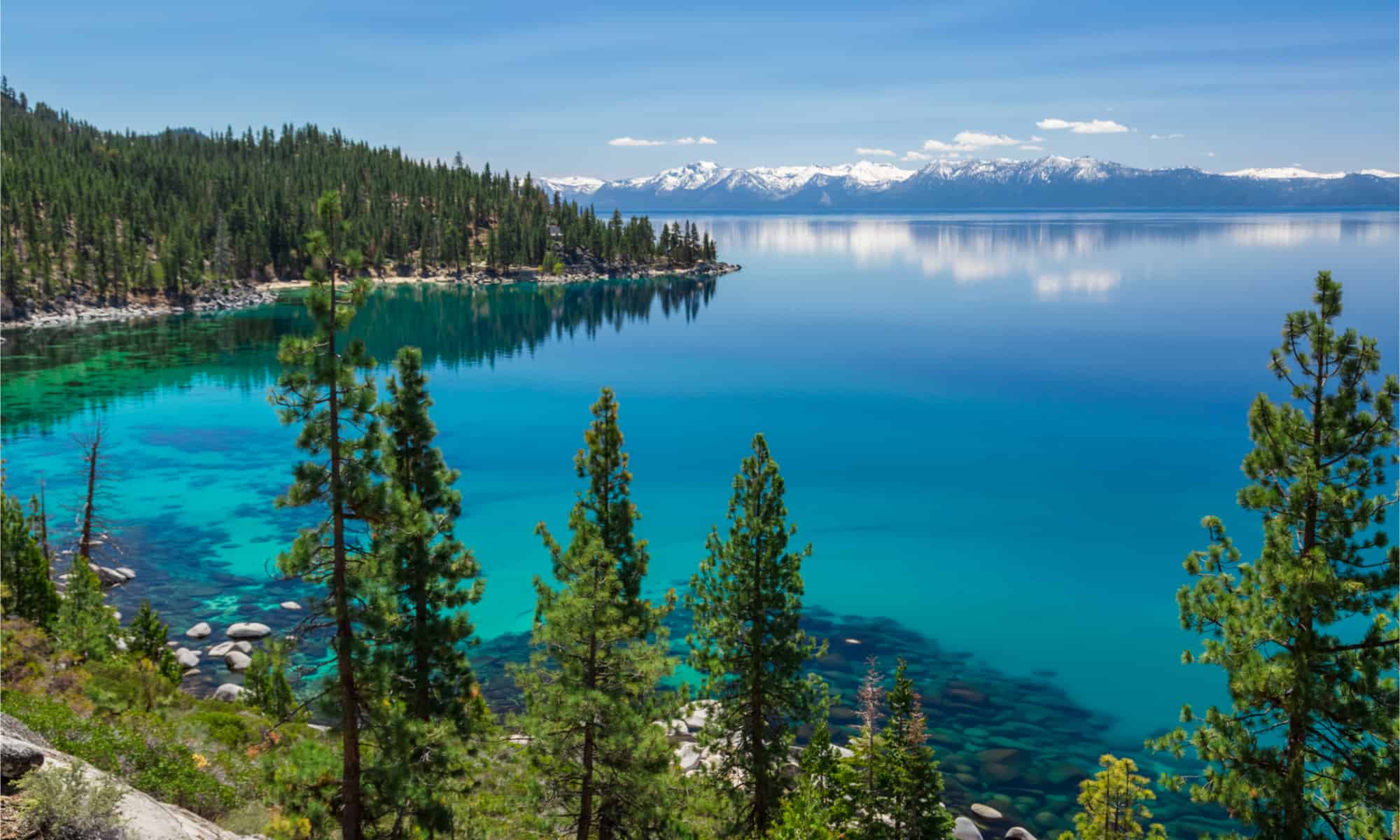 Beautiful Lake Tahoe is in the Sierra Nevada mountains and a good lake to swim in. It's the largest alpine lake on the continent, with clear water perfect for swimming. The area is also home to various wildlife, making it an ideal place to explore nature. In addition, the Lake Tahoe region offers many opportunities for outdoor recreation, such as hiking, biking, and camping.
Some of the best beaches for swimming at Lake Tahoe include:
Commons Beach – The Commons Beach in Tahoe City was established in 1925 and is one of the oldest public beaches in the state. Commons Beach has a park, playground, bbq area, and picnic tables. It's a popular spot for swimming and watching the sunset over the water.
Sand Harbor Beach – Located on the east shore of Lake Tahoe, this beach has a large sandy area perfect for sunbathing and playing in the water. It also has beautiful rock formations surrounding the coves. The water at the shore is shallow with gentle slopes, so this beach is an ideal spot for supervised children to swim.
Lester Beach – Lester Beach is a secluded spot in D.L. Bliss State Park that is great for swimming, fishing, and picnicking. It's a beautiful place to enjoy the scenery and relax in nature. Don't miss Calawee Cove Beach in this same park on the west side of the lake.
Pope Beach – Pope Beach is located on the south shore of Lake Tahoe and is a popular spot for swimming and a beach picnic. It has a large sandy beach area, a grassy area with picnic tables, and a public restroom. There are no rocks at the beach edge here, so it's a great place to go barefoot in the sand.
Lake Tahoe is a hotspot for swimming enthusiasts at the California-Nevada border. This lake is definitely one of the biggest lakes in Northern California. It has 40 beaches in all!
Shasta Lake
Shasta Lake is the largest reservoir in California and one of the best lakes for swimming, with a capacity of 4.5 million acre-feet. It sits in the northern part of the state, about 168 miles north of Sacramento. The lake is fed by the Sacramento River and controlled by the massive Shasta Dam. It's a popular recreation spot for swimming, boating, fishing, and camping.
Many beach-side campgrounds along Shasta Lake allow boat access only. However, some stretches of beach are great for swimming, like the Beehive Point Shoreline Campground.
In addition to swimming, Shasta Lake offers boating, fishing, and hiking along the scenic trails in the area.
Donner Lake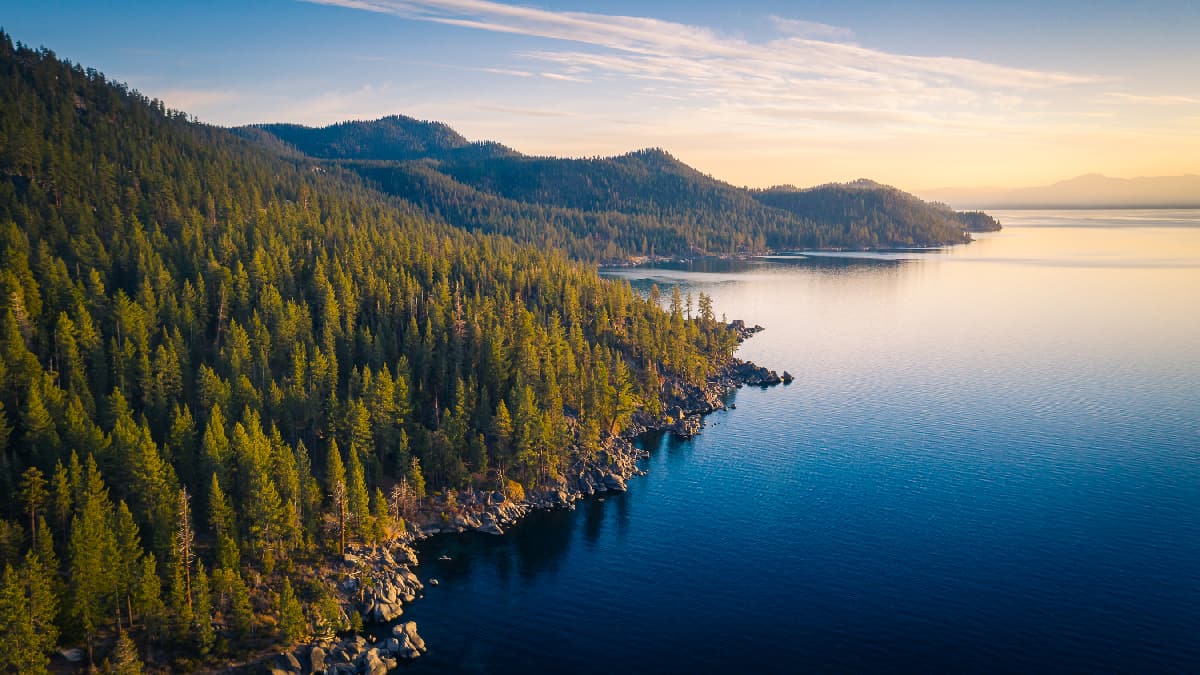 Donner Lake in Northern California is a great place to swim. It's about 20 miles from Lake Tahoe and sits next to Donner Memorial State Park. Lifeguards are on duty during the summer so that you can feel safe swimming here. The best time to swim at Donner Lake is from June to August when the water is warmest.
Donner Lake has two public beaches perfect for swimming:
West End Beach – This beach is located on the west side of the lake and features an expansive, sandy shoreline. It's an excellent spot for swimming and picnicking. Some lake enthusiasts claim this beach is great for open water swimming for beginners. Safety ropes and buoys mark the swim area at this beach.
China Cove Beach – China Cove is located on the east side of the lake and features a secluded beach perfect for swimming. It has a camping area with several hiking trails nearby.
The lake is fed by the pretty Truckee River and has a maximum depth of approximately 250 feet. Donner Lake is a wonderful option for those who want to escape the crowds and enjoy a more secluded swimming experience.
Silverwood Lake
Silverwood Lake Recreation Area is in the San Bernardino Valley of California. The recreation area surrounds Silverwood Lake, an artificial reservoir created in 1971. The lake is fed by the West Fork of the Mojave River and is a popular spot for fishing, swimming, boating, and picnicking. There are also several ideal hiking trails in the area. Plus, this lovely recreation area is open all year.
There are two beaches for swimming at Silverwood Lake in Southern California:
Cleghorn Swim Beach – This beach is located on the southern side of Silverwood Lake and offers a sandy beach area, picnic tables, BBQ grills, and restrooms. This beach is a fun spot for swimming, sunbathing, and picnicking.
Silverwood Lake Swim Beach – This beach is on the south side of Silverwood Lake and offers a sandy beach area, picnic tables, BBQ grills, restrooms, and a playground. Silverwood Lake Swim Beach is great for swimming and picnicking with the family.
Take note that Silverwood Lake is a popular spot for campers and boaters. For this reason, it can get crowded and loud pretty quickly, especially on holiday weekends in the summer months. It's a beautiful lake for swimming but maybe not the best camping area for a good night's sleep.
Lake Gregory
Another beautiful lake in the San Bernardino Mountains is Lake Gregory in Lake Gregory Regional Park. It's another popular spot in California for lake swimming, boating, fishing, and hiking. Several picnic areas and a playground make it ideal for families.
This part of California is a picturesque San Bernardino National Forest area for people wanting a gorgeous backdrop for their swim break. There are towering alpine trees as far as the eye can see.
There's just one beach for swimming at Lake Gregory, but it spans 4-acres. In addition, an entertaining feature at Lake Gregory is their "inflatable water park." Slides and other inflated playground equipment are anchored in a designated water park area, floating on the water.
San Bernardino County is one of the largest counties in the US, full of many beautiful places to visit.
Lake Perris
If you like a swimming lake surrounded by sagebrush and rocky hills, Lake Perris is for you. Lake Perris State Recreation Area is in Riverside County in Southern California. This lake is an artificial reservoir about four miles long and two miles wide and has a small island in the middle of it. Alessandro Island can be reached by boat and offers hiking trails, picnic areas, and restroom facilities.
Lake Perris is fed by the San Jacinto River and surrounded by small mountains. It's a popular destination for guided hikes to admire the wide variety of native plants and wildlife in the area.
There are two main swimming areas at Lake Perris:
Moreno Beach – This is the largest and most popular swimming beach at Lake Perris. It has a sandy bottom and is well-protected from the wind.
Perris Beach – This beach rests on the north side of the lake. It is smaller than Moreno Beach and does not have a sandy bottom, but it is less crowded and has a great view of the mountains. Both beaches have lifeguards on duty during the summer months. There are also several picnic tables and BBQ grills available for use.
Perris Lake is a great option if you're looking for a secluded spot to take a swim with more of a rugged landscape. Its scenic setting and tranquil waters make it the perfect place to relax and enjoy a refreshing dip.
However, recent visitor reviews of Lake Perris have complained of leeches in this lake. Though leeches and a few other bothersome creatures in the wild can sometimes ruin the lake swimming experience, many lakes have them.
Let's quickly explore what to do if you find leeches in your favorite California lakes and how to try and avoid them.
Lake Swimming with Leeches
Leeches live in many lakes across the country and serve a beneficial purpose. Most leeches feed on insect larvae, worms, and other creepy crawlies in the water. In this way, leeches make the lake better for swimmers. Yet nobody wants their refreshing lake swim to end with leeches attached to their skin.
To avoid leeches as much as possible, steer clear of shallow areas of the water with lots of vegetation. Shallow water is the leech's domain. Swim in deeper water to steer clear of leech feeding grounds.
If you find leeches on your skin, don't pull them off with your hands unless you know what you're doing. You might accidentally rip them apart with their mouth portions still attached. Or their tiny jaws might get left behind in your skin, which could cause irritation or infection.
To remove a leech properly with your hands, you'll need to gently slide a flat surface (your fingernail, a credit card, a dull knife) under the leech jaws to encourage it to let go. Or wait it out and the leech will eventually finish feeding and let go on its own.
Get in the habit of bringing a properly equipped first aid kit to the beach. Clean leech wounds with saline solution, apply antiseptic and then cover with bandages to keep them from getting infected.
In addition to a first aid kit, bring a bag of essentials for making lake swimming safe and fun for the whole family. Keep reading to see our list of what to pack.
What To Pack For Safe Lake Swimming
Swimming at the lake requires extra precautions for safety, just in case. We recommend bringing the following items in your car or beach bag to have on hand to prevent or treat sunburn, bug bites, minor injuries, and more.
Sunburn prevention and treatment:
Waterproof sunscreen
Wide-brim hats treated with SPF that attach under the chin with a cord
Full-coverage clothing in light fabrics to put on when avoiding sun exposure
Beach umbrella, canopy, tent, or sun shelter for shade
Ointment for sunburn treatment
Wildlife-caused injury prevention and treatment:
Non-toxic bug spray
Venom-extracting snake bite and bee sting kit
Bear spray
Anti-itch ointment for tick bites
General wound care:
First Aid kit
Extra bandages
Saline solution for washing wounds
Antiseptic for sterilizing wounds
For general safety:
Hard-soled water shoes with non-slip tread to wear while swimming
Closed-toe shoes appropriate for walking and hiking, in case you need to reach safer areas on foot
Whistles on lanyards to wear around the neck for everyone in your party. A loud whistle alert could help save someone's life in an emergency.
Life jackets, flotation belts, and inflatable swim bracelets to prevent drowning
Flares to keep in the car, camper, or tent
A satellite texting device or some way to reach emergency services in areas without WiFi
Safety precautions help everyone have a great time swimming in California's many beautiful lakes!
The Best Lakes for California Swimming
The 5 best lakes for swimming in California that we've listed here represent only a tiny percentage of the incredible lakes this state has to offer. Surrounded by picturesque mountains, foliage, and often close to amenities for campers, California lakes are a swimmer's dream.
---