The California scorpionfish (Scorpaena guttata) is worth catching for dinner. There's a mild flavor and dense texture. Fry it, steam it, roll it up in sushi—yum! It's an easy catch, too, if you know where to fish. Scorpionfish are carnivorous fish and go after almost any type of bait.
Lately, ghost shrimp seem to work also. But where should you look for these delicious fish? Read on to discover the 6 best fishing spots in California this summer.
1. Canyon Lake
One of the best places to find California scorpionfish is in the southern area of the state. Canyon Lake is one of Southern California's best fishing lakes, with 525 acres in size. Sitting in Riverside County, it offers all sorts of great fish species. Here you can fish for smallmouth bass, spotted bass, channel catfish, walleye, trout, blue catfish, and more. The lake offers gorgeous views too, and it's nestled within a quaint community.
You'll have access to a boat launch ramp and nearby lodging. Those are also available if you're looking for primitive campgrounds or RV hookups. There's a bait and tackle store nearby and a convenience store where you can buy everything you need. After a fun, long day of fishing, you'll be hungry. Head to one of the community's nearby restaurants for a bite. You can bet that fresh fish will be on the menu.
2. Diamond Valley Lake
Diamond Valley Lake has a service area of 4,500 acres and is only 10 miles from Temecula. It's popular for being one of the best tournament lakes in California and has a reputation for providing quality fish. Bass weighing over 10 lbs are regular catches. Since there's a limited shoreline, kayak fishing works the best here. Along with largemouth and smallmouth bass, you'll also be able to fish for channel catfish, blue catfish, black crappie, and white crappie. The lake is also home to rainbow trout, bluegill, green sunfish, redear sunfish, and striped bass.
You'll have access to a boat launch ramp and marina. The boat launch ramp is concrete and has six lanes. There's a bait and tackle store nearby. There are also boat rentals available and nice campgrounds.
3. El Capitan Reservoir
Another lake in southern California is El Capitan Reservoir, 1,500 acres in size. Located in San Diego County, the lake is the perfect spot for bass enthusiasts. Fishing for live bait has been happening in California since 1910. But El Capitan wasn't created until 1935 after the completion of the El Capitan Dam, and this reservoir has the largest capacity in the San Diego reservoir system. When full, the surface area increases to 1,562 acres, and its maximum water depth is 197 ft. There are also 22 miles of shoreline, so no boat is required.
You'll have access to a marina, boat launch ramp, and boat rentals at El Capitan Reservoir. The boat launch ramp is three-lane, and all parking spots are paid for. Are you bringing an RV with you on your fishing trip? Great! The reservoir has RV hookups as well as campgrounds available.
4. Clear Lake
Traveling up to Northern California, you can find Clear Lake. Here you'll be able to fish like channel catfish, black crappie, bluegill, green sunfish, white perch, and more. Clear Lake is a natural freshwater lake, and it's the largest one in California. With 68 square miles of surface area, you'll be able to enjoy an abundance of fish and wildlife sightings. About 2/3 of the fish in the lake are largemouth bass. The record belongs to a 17.52 lb bass, but that doesn't mean it'll stay the record for long. There are regular fishing tournaments at this lake, attracting talented anglers from all over the world.
It's always a good idea to check the water levels before your visit. They'll close the boat ramp if the water levels are too low. However, there's almost always vehicle access allowed to the day use facilities. You'll be able to access the parking lots, trails, and restrooms. There's also a museum. The museum opens in May and stays active through the summer. The park hours for the lake are sunrise to sunset.
5. June Lake
Hiking, camping, and fishing are all available at June Lake! It's one of the most fun locations on this list of the best fishing spots in California this summer. Get ready to take pictures because this lake looks just like a postcard! Its surface area of 320 acres makes it the largest lake in the region. This lake is also one of the few naturally occurring lakes in California. Here you'll be able to fish for cutthroat brown and rainbow trout. The lake is seasonally managed with rainbow trout, so the numbers are always good.
While you're there, go all out. Catch a Sierra Grand Slam– brook, brown, rainbow, and cutthroat trout– on the same day!
Take advantage of the boat launch ramp available at June Lake. While fishing from the shore can be productive, there isn't a lot of access. You'll have the best luck out on a boat trolling the waters. If you need a boat, there are boat rentals available. Make sure you swing by the nearby convenience store and stock up on drinking water before hitting the lake.
6. Lake Tahoe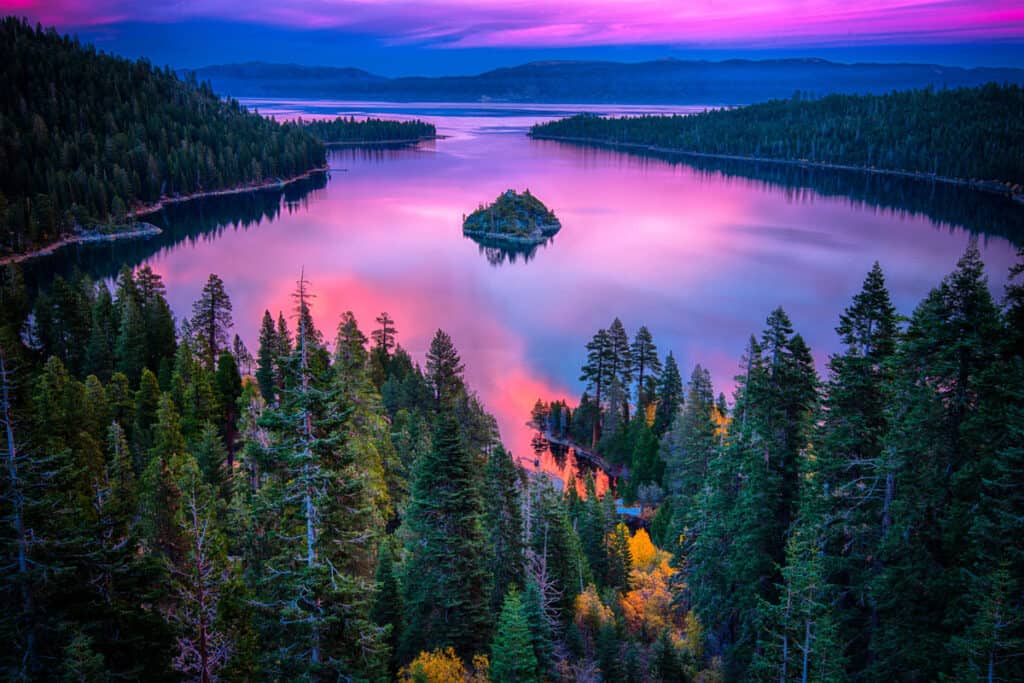 Now for a lake in the central part of California, Lake Tahoe. This lake is last but not least on our list of the best fishing spots in California this summer. The surface elevation is just over 6,200 ft and 1000 ft in depth. Famous for its breathtaking views, this lake attracts visitors from all over the world. The summer is the perfect time to fish the lake for large and smallmouth bass and trout. You might even catch a few kokanee salmon. The pristine (and chilly) water is home to some of the largest trout. The lake record for brown trout was 15 lb!
You'll have access to a lot of amenities. There's a boat ramp, boat rentals, and a marina with public access. There are also nearby campgrounds, RV hookups, and lodging. Since it's a popular tourist destination, anything you need is a short drive away. You'll find that Sand Harbor is one of the most popular ways to access Lake Tahoe. The sandy beaches, boat launch, and group-use facilities make it a popular spot.
Summary of the 6 Best Fishing Spots in California
Here's a recap of the six best places to catch a fish in the summer in California:
Number
Location
Fish
1
Canyon Lake
Smallmouth bass, spotted bass,
channel catfish, walleye, trout, blue catfish
2
Diamond Valley Lake
Largemouth and smallmouth bass, channel and blue catfish,
black and white crappie, rainbow trout, bluegill, green and redear sunfish, striped bass
3
El Capitan Reservoir
Bass
4
Clear Lake
Channel catfish, black crappie, bluegill, green sunfish, white perch, largemouth bass
5
June Lake
Brook, brown, rainbow, and cutthroat trout
6
Lake Tahoe
Large and smallmouth bass, trout, kokanee salmon
The photo featured at the top of this post is © Alaina Sharpshair/Shutterstock.com
---