↓
Continue Reading To See This Amazing Video
The white perch is Louisiana's state fish, and it's pretty tasty. If you've never had it before, white perch has a famous sweet taste. It's firm and crumbly and tastes a lot like a walleye, but better.
Summer is an excellent time to head over to Louisiana to catch white perch, crappie, sunfish, bluegills, largemouth bass, catfish, and tons of other fish. But you'll have to know where to look first.
Keep reading as we discuss the 7 best fishing spots in Louisiana this summer.
1. Chemin-A-Haut State Park
When it comes to finding the best fishing spots in Louisiana this summer, state parks are a place to start. For instance, you can fish from the bayou at Chemin-A-Haut. It's one of Louisiana's many great state parks. From April 1st to October 1st, you can catch and keep bluegill, redear sunfish, and bream. The park has some of the most breathtaking fishing spots available. The entire park sits on a high bluff. You'll enjoy a lofty view overlooking bayou Bartholomew.
Instead of a day trip, consider staying the night in a waterfront cabin. From there, you can fish the shorelines. The waterfront cabins have a deck where you can fish directly from the bayou. If you just want to come in and fish for the day, that's also available. However, you'll need to avoid the shorelines by the cabin area. You also aren't permitted to clean the fish on park grounds. 
2. Chicot State Park
Redear sunfish, bass, crappie, bluegill, and more are all abundant in the crystal clear waters of Lake Chico. Anglers will enjoy an accessible boathouse, three boat launches, and boat rental services. Do you want to do a bit of hiking too? There's a long backpacking trail that encircles the entire lake. Make sure to watch out for snakes, and bring plenty of water; the sun will be intense. Several primitive campsites are available along the way if you want to set up a spot for the night. 
At the North Landing, you'll be able to take advantage of a 400 ft fishing pier, dock, and boat launch. The East Landing is fully accessible from LA 106. It's not as well-developed as the other areas. However, the East Landing works best for daytime visitors since it's not as busy.
3. Lake Bistineau
When you're down in Southern Louisiana, head Northwest to fish in Lake Bistineau. You'll be able to catch redear sunfish, bluegill, yellow bass, black crappie, white crappie, channel catfish, and largemouth bass. There are a ton of different options for where to set up when fishing at Lake Bistineau. 
The 15,500 acres lake has tupelo trees lining 50 miles of shoreline. Catfish and yellow bass love this type of environment. There are two marinas available and six boat launch ramps. You'll also have access to gas and marina supplies along with various services. Whether you need bait, camping gear, or a quick meal, it's all accessible from the lake.
4. Lake Bruin
Lake Bruin provides freshwater fishing opportunities unparalleled by other lakes. On-site amenities include three large fishing piers, a boat shed, and a year-round boat launch. The lake has over 3,000 acres of water surface, and you'll have access to every acre. 
The various water levels provide unique challenges for anglers. White perch, the state fish, love to hang out around the piers and mats. They can be a ton of fun to catch. Bluegills swim around in the shallow waters at either end of the lake. If you wanted to do some sight fishing, this would be a good spot.
The entire site was designed as a fish hatchery. The largemouth bass is available all year round. Louisiana's waters have the perfect salinity for these fish to thrive. However, you'll have the most action in April, May, June, September, and October. 
Suppose you want to stay the night, set up a tent. There are plenty of lakeside camping sites available. The location is also a paradise for birders. 
5. Lake D'Arbonne
Lake D'Arbonne is a popular Louisiana destination, and for a good reason too. Anglers enjoy 15,200 acres of lakes right in the Northern section of Farmerville, Louisiana. You'll have over 100 miles of shoreline to adventure through and fish. 
The lake also has five fishing piers and breathtaking views. The gorgeous location was designed with the sole goal of preserving a piece of wilderness. As you experience the 655 acres the park offers, take advantage of the fishing piers and boat docks. 
Standing on a pier, you can regularly catch catfish, bream, crappie, and bass. However, you'll want to move around for the best results. Bass are always on the move.
If you're new to the area, investing in a local fishing guide is wise. They'll be able to simplify your experience by guiding you towards the right gear, boat, and bait for the perfect day of fishing.
6. Turkey Creek Lake
The right cover provides prime fishing opportunities, and Turkey Creek has all the right kinds. Turkey Creek Lake cover is perfect for housing large bass and crappie. The bass are comfortable with the fluctuating salinity levels in Louisiana waters above 5%, so they're very active in the summer.
You'll also find plenty of catfish and bluegill, growing quite large! Turkey Creek Lake is 4000 acres in size and sits in the Northeastern part of Louisiana. With over 40 miles of shoreline to fish from, you'll be able to find the perfect honey hole every time. There's a boat ramp at Turkey Creek Park, and it's in great condition. There are also fishing opportunities available from the bank and different public access points surrounding the lake.
7. Caddo Lake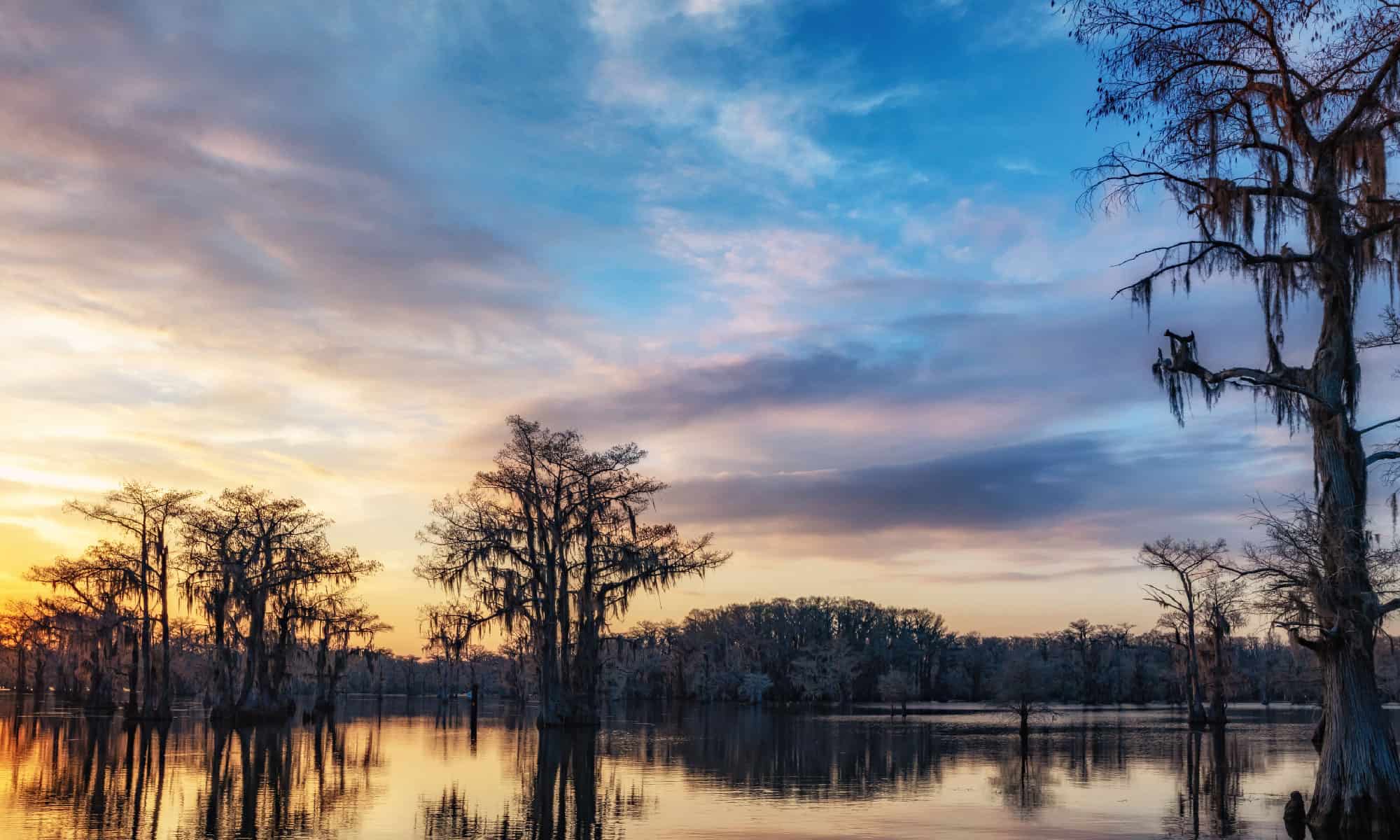 Are you looking for spotted bass, channel catfish, flathead catfish, and crappie? What about white bass, hybrid striped bass, chain pickerel, and long nose gar? For all of these fish species and a few more, make your way over to Caddo Lake. It's one of the largest locations on our list of the best fishing spots in Louisiana this summer. The popular fishing destination provides 25,400 surface acres.
Caddo Lake has lots of cover, thanks to the cypress trees and other vegetation. Access backwater fishing areas with the kayak or canoe. Many boats are available for rent directly at the lake. If you prefer to fish from the bank, Caddo Lake also has that. You'll have access to several spots along the shoreline for bank fishing. 
Up Next:
More from A-Z Animals
---
The Featured Image
---