Fishing is an outdoor experience everyone should try, and the state of Tennessee has some of the most inspiring lakes which are full of game fish.
The largemouth bass is in season during June and white bass during July. As August rolls around, the Mississippi River catfish steals the show. Whatever type of fish you're looking for, this article can help you find it.
Read on to discover the 7 best fishing spots in Tennessee this summer.
1. Kentucky Lake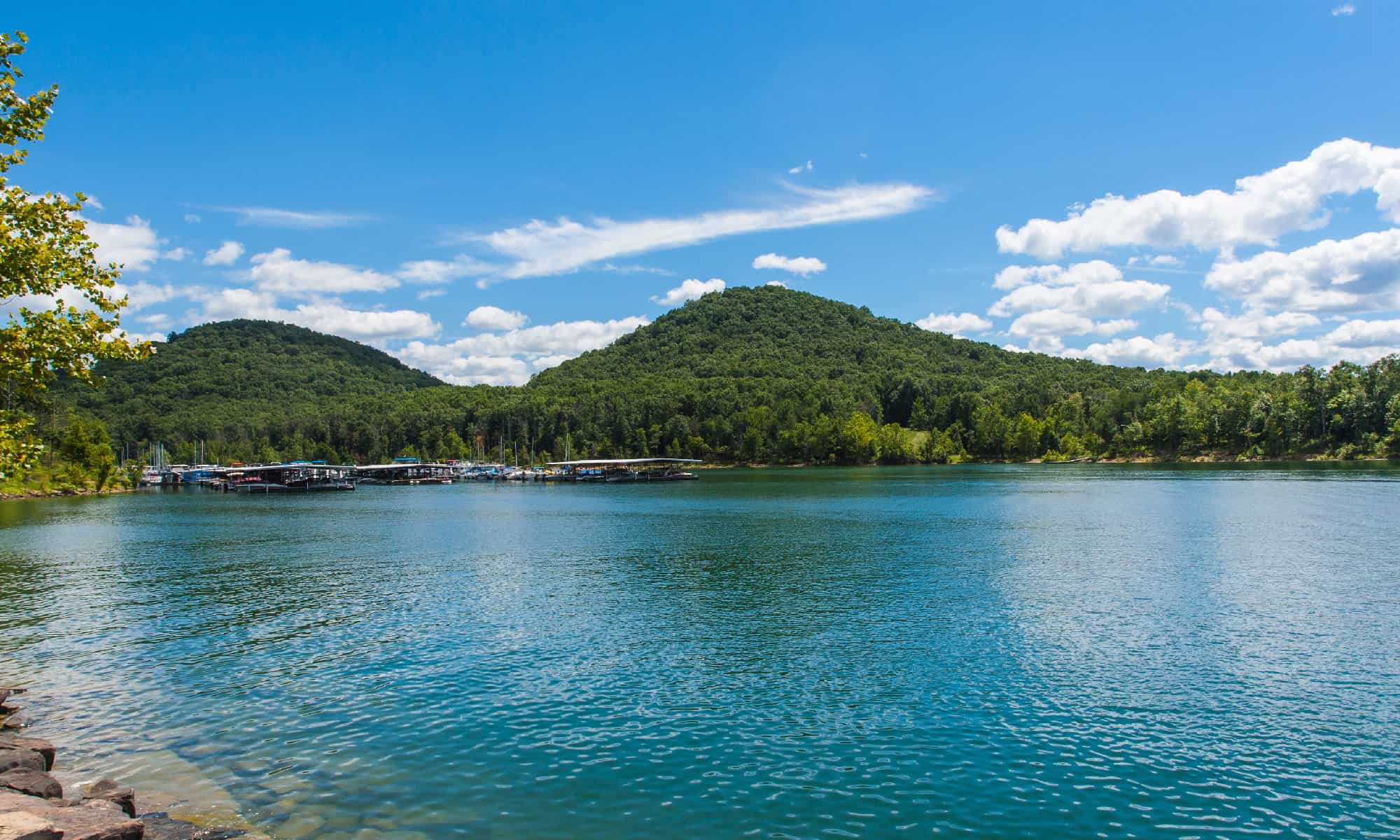 Experience world-class freshwater fishing at Kentucky Lake in Tennessee. You'll have access to 218,000 acres of water combined with Lake Barkley. Spend the day fishing for largemouth bass, catfish, bluegill, yellow and white bass, and more.
Come prepared for the heat. It's humid around Kentucky lake, and the temperatures can be sweltering. Lately, the surface temperatures have been around 88 to 90° F, and the color of the water is clear. Elevation projections usually rest around 357 ft but can be as much as 359 ft at peak summer pool. There are also frequent thunderstorms and high winds. Keep an eye on the sky, and don't go too far from the boat ramp when there are dark clouds. Also, don't expect any paddlefish here. The paddlefish populations in Kentucky Lake have been declining.
2. Douglas Reservoir
Douglas Reservoir has a surface area of 30,600 acres and 555 miles of shoreline. Looking out across the lake, you'll see homes, farmlands, and rolling hills. The Douglas Drainage Basin is 4,541 square miles and is the most significant tributary reservoir.
The summer elevation water levels are usually 1,000 ft above sea level. However, if there are heavy rains, the lake can rise as much as 20 ft in a day. You'll be able to catch bluegill, catfish, largemouth bass, and white bass at the Douglas Reservoir. The game fish here feed on all sorts of bait, but live bait tends to work the best. Bluegill, minnows, and gizzard shad will help you catch a lot of fish.
3. Reelfoot Lake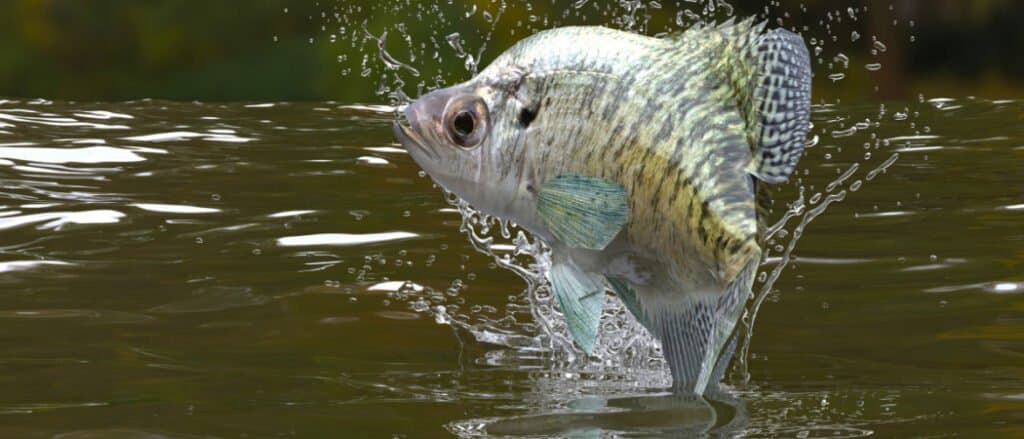 Visit the largest natural lake in Tennessee, Reelfoot Lake. It expands out across 10,427 acres of fish-friendly water. The majority of the lake sits right in the state of Tennessee. An earthquake formed the area during the 1800s.
Reelfoot Lake is famous for its crappie and bluegill fishery. White crappie is the most popular fish, averaging over three-quarters of a pound.
Black crappie catch rates are lower than white crappie. However, the black crappie present is large, reaching the 1 lb range. Other sport fisheries include channel catfish and yellow bass. However, crappie and bluegill will be the best bets when planning your catches. The best time to fish for bluegill is in May, June, and July.
Fish the day after a full moon, and you'll have a lot of success. Take advantage of the cypress tree bases, and use crickets for bait.
4. Pickwick Lake
Pickwick Lake is a favorite spot for locals, and it's home to national bass tournaments throughout the year. The 43,000-acre lake sits on the southern border of Tennessee. Here you'll be able to catch largemouth bass, smallmouth bass, spotted bass, and all sorts of catfish. The lake is full of channel, flathead, and blue catfish. You'll also have your pick of black crappie, white crappie, and walleye.
Did you want to catch paddlefish? What about warmouth? They're all here in Pickwick Lake. If you're looking for deep water sites, keep an eye out for buoys. The buoys indicate what areas have deep water, and they're refurbished consistently to maintain their effectiveness.
5. Cherokee Reservoir
Experience 30,300 acres of perfect water at Cherokee Reservoir. There are also 393 miles of shoreline. It's on our list of the best fishing spots in Tennessee this summer because it has a hodgepodge of fish species.
The high fertility level means you'll have more fish densities in this lake than anywhere else. There's an abundant population of large and smallmouth bass, Cherokee bass, crappie, walleye, and striped bass.
During the hot summer months, the oxygen levels in the waters deplete. It's difficult for fish to thrive at a depth below 30 ft. This is good news for anglers—the lack of oxygen forces the walleye and striped bass to cool, shallow waters.
The Tennessee Valley Authority owns a large portion of the reservoir up to the 1,075 ft elevation mark. They've helped make this a prime spot for anglers. You'll find there are all sorts of fish habitats constructed, such as smallmouth spawning benches, reef balls, and brush piles.
Refurbishing the natural fish habitats helps keep the reservoir fish-friendly. Bald cypress, swamp oak, and willow help create the perfect cover. When approaching rough cover (dense aquatic vegetation), use a strong fishing line.
6. Boone Lake
Boone Lake is only 4,520 acres. But don't let the lake's small size fool you. It's full of several types of fish. You'll be able to catch large and smallmouth bass, catfish, hybrid striped bass, and striped bass. Catfish are the most popular game fish, so prepare for some competition.
You'll want to use live bait right by the South Holston headwaters for the best results. Using live bait at 10 to 20 ft depths and surface fishing will help you get regular catches.
Health advisories for consuming fish change frequently. For instance, there are advisories out by the Tennessee Department of Environment and Conservation to avoid consuming catfish and carp. But that's not a permanent thing. It's always a good idea to check with the state of Tennessee for updates.
7. Center Hill Reservoir
Last on our list of the best fishing spots in Tennessee this summer, we have the Center Hill Reservoir. It was created in 1948 after completing the Center Hill Dam on the Caney Fork River. The lovely area provides anglers with 18,220 surface acres of water.
Artificial lures are great for catching big bass. Along with largemouth bass, you'll also be able to catch smallmouth bass, spotted bass, black and white crappie, bluegill, and walleye. There are also a few musky, but they're less common.
The angler catch rates during the summer for crappie are above average compared to past years. The black crappie here is more abundant than the white crappie.
The reservoir provides some of the most scenic sights and wildlife viewing opportunities, along with an abundance of fish. Elegant birds, mammals, reptiles, and more can be found in this picturesque wilderness. Keep an eye open for the Canada goose. It's the only goose that chooses Tennessee as a nesting spot.
Seriously, animals are everywhere around these fertile waters. This is the spot for you if you get a thrill out of seeing wildlife. Black bears love the warm summer waters too.
| | Fishing Spot |
| --- | --- |
| 1. | Kentucky Lake |
| 2. | Douglas Reservoir |
| 3. | Reelfoot Lake |
| 4. | Pickwick Lake |
| 5. | Cherokee Reservoir |
| 6. | Boone Lake |
| 7. | Center Hill Reservoir |
The photo featured at the top of this post is © iStock.com/Ifistand
---