Key Points:
Geneva Lake is about 7.5 miles long, with 5400 acres of water and a maximum depth of about 135 feet.
Lake Michigan is also vast, measuring about 22,400 square miles. That makes it the fourth-largest freshwater lake in the world.
Lake Superior is one of the best lakes for swimming in Wisconsin. It's the largest Great Lakes, allowing many public beaches.
When it comes to lake swimming, Wisconsin has no shortage of options. With over 15,000 lakes, the state is a popular spot for a refreshing dip. Discover the 7 best Wisconsin lakes for swimming on your next summer outing! Our list includes lakes with beautiful scenery, camping areas, hiking trails, and more.
Keep reading to discover some of Wisconsin's best swim beaches, plus learn how to identify occasional algae blooms that should be avoided. Many swimming lakes across the US develop a temporary coating of algae across the surface during the year's warmest months. We'll explain why algae blooms are a health risk and when it's safe to swim in your favorite lake again.
1. Geneva Lake
Geneva Lake is a beautiful freshwater lake in southeastern Wisconsin that's perfect for swimming. This pretty lake sits next to a resort town with a similar name – called Lake Geneva – in Walworth County. If you want to avoid confusion while visiting the area, make sure you have the correct names of the lake and the town. Here they are again, for quick reference:
Geneva Lake is the name of the lake.
Lake Geneva is the name of the resort town next to the lake.
Got it? Great! Now pack your floaties and swimming shoes because Geneva Lake receives wonderful reviews. Vacationers rave about this lake's picture-perfect water and scenic views.
Geneva Lake is about 7.5 miles long, with 5,400 acres of water and a maximum depth of about 135 feet. The lake is perfect for swimming because it's clean, clear, and relatively warm. The water temperature can reach up to 80 degrees Fahrenheit in the summer months! There are also many public beaches and swimming areas around the lake, so you can always find a place to take a dip.
In addition to the fantastic swimming at Geneva Lake, visitors can camp, hike, go boating, and enjoy all that the town of Lake Geneva has to offer.
A unique pastime at Geneva Lake is watching the mail jumpers. The mail is delivered in this area via a special practice called mail jumping. Some visitors to Geneva Lake say that the mail jumpers are fun to watch and put on a dramatic show. Here's how it works:
The mail carrier boats move from pier to pier.
At each stop, a person jumps onto the pier to deliver incoming mail to a mailbox and retrieve the outgoing mail.
Just as quickly as they brought the mail onto the dock, the mail jumpers hop back onto their boats and head to the next stop.
2. Lake Michigan
Swimming is a great way to enjoy the water and get some exercise, and there are plenty of good reasons to take a dip in Lake Michigan. The lake is one of the five Great Lakes, and it's the only one located entirely in the United States. That means it's a great place for Americans to enjoy swimming, boating, and other water activities.
The lake is also vast, measuring about 22,400 square miles. That makes it the fourth-largest freshwater lake in the world. And because it's so big, it has a lot of coastlines to explore. The Lake Michigan shoreline runs for 1,638 miles.
There are many great swimming beaches in Wisconsin at Lake Michigan. Here are two beaches that Wisconsin swimmers should check out.
North Beach – One of Lake Michigan's best swim beaches is called North Beach. This 50-acre beach rests just north of Racine. North Beach is wide, sandy, and perfect for swimming, sunbathing, and picnicking. Check out the volleyball court and snack bar. And note that North Beach has lifeguards on duty between mid-June and Labor Day Weekend.
Peninsula State Park Beach – Lastly, one of the best swimming beaches in Wisconsin is part of Peninsula State Park near Fish Creek. This park has a beautiful sandy beach where swimmers flock every summer. The park is also home to a lighthouse called Eagle Bluff Light that offers tours payable with a donation and park admission. You can also take a boat to Horseshoe Island to enjoy its scenic hiking trail.
3. Lake Superior
Lake Superior is one of the best lakes for swimming in Wisconsin. It's the largest of the Great Lakes, allowing for many public beaches. Three states border this massive lake, as well as Ontario, Canada. If you include the Apostle Islands' shoreline, Lake Superior's Wisconsin side spans 375 miles. The entire lake is over 700 square miles and has an average depth of nearly 500 feet. The water is clean and clear at many of its beaches, and the temperatures are usually comfortable for swimming.
This Great Lake has many great beaches for swimming. It's also one of the best lakes in the United States for boating. Here are two of the best sandy swim beaches found along Lake Superior.
Wisconsin Point – Here, you'll find a long, sandy beach spanning over two miles. The shoreline here is so ideal that Wisconsin Point Beach was voted the best beach for swimming and strolling in 2019 by Lake Superior Magazine. However, note that camping at Wisconsin Point isn't allowed other than during the annual smelt run. Fishing for rainbow smelt is a popular pastime on Lake Superior in the spring. The smelt run usually starts in mid-April and lasts for around two weeks.
Big Bay Beach – This beach includes approximately 4-miles of shoreline along Lake Superior. You'll find this beautiful park on Madeleine Island – the largest of the Apostle Islands. Big Bay Beach has optimal water for swimming. This island area also offers sandstone bluffs, hiking trails, and a mile-long boardwalk. Campers are welcome.
4. Mirror Lake
Beautiful Mirror Lake is a small, artificial reservoir near Wisconsin Dells, Wisconsin. The lake spans approximately 137 acres of surface area and with a mixed forest of deciduous and evergreen trees along the shore. The Mirror Lake park is a popular destination for swimming and boating.
Mirror Lake has one main swimming beach that's large and sandy. In the picturesque woodland around the lake are campsites and hiking trails. Boat rentals are available, including canoes and kayaks. Take note that no lifeguards are manning the swim beach, and pets aren't allowed.
5. Eagle River Chain of Lakes
The Eagle River Chain of Lakes in Wisconsin is a great swimming destination:
There are 28 lakes to choose from in this chain!
The water quality at most swimming beaches is ideal for swimmers.
There are many beaches and public swimming areas around the lakes, so you can find the perfect spot to suit your needs.
The Eagle River Chain is a beautiful setting, surrounded by forests, hills, and Wisconsin wildlife.
This chain of lakes has two main sections – the Three Lakes Chain and the Eagle River Chain. These two popular lake regions connect at Eagle River (the river, not the town) and Burnt Rollways Dam.
The Eagle River Chain consists of the following lakes:
Catfish Lake
Cranberry Lake
Duck Lake
Eagle Lake
Lynx Lake
Otter Lake
Scattering Rice Lake
Voyageur Lake
Watersmeet Lake
Yellow Birch Lake
The Three Lakes Chain consists of the following lakes:
Big Lake
Big Fork Lake
Big Stone Lake
Crystal Lake
Deer Lake
Dog Lake
Four Mile Lake
Island Lake
Laurel Lake
Little Fork Lake
Long Lake
Maple Lake
Medicine Lake
Planting Ground Lake
Range Line Lake
Round Lake
Spirit Lake
Town Line Lake
Whitefish Lake
Virgin Lake
The Eagle River Chain of Lakes in Wisconsin offers many beaches for swimming. Check the Wisconsin Department of Natural Resources for swim beach locations and availability at the lakes listed above.
6. Castle Rock Lake
Castle Rock Lake is the fourth biggest lake in Wisconsin, with over 16,000 acres of surface area! The lake is bordered by forests and bluffs, offering breathtaking views. The lake shoreline spans about 70 miles, including park areas with great swim beaches. The maximum depth of this manufactured lake is approximately 35 feet. Visitors also enjoy hiking, fishing, and boating at Castle Rock Lake. Plus, there are several campgrounds and resorts located in the area.
Swimming is so popular at Castle Rock Lake that it's often part of triathlon events. Vacationers love the many waterparks surrounding the lake, as well as the following favorite swim beaches:
Buckhorn State Park Beach – Located on the east shore of Castle Rock Lake, this sandy beach has a playground, picnic tables, grills, and restrooms.
Juneau County Castle Rock Park – This beach rests on the north shore of Castle Rock Lake. It has a bathhouse with showers and restrooms, a playground, picnic tables, grills, and over 300 campsites.
7. Lake Winnebago
Lake Winnebago is the biggest lake in Wisconsin and one of the largest inland lakes in the United States. It covers an area of nearly 138,000 acres and has a shoreline that spans 88 miles. This pretty but shallow lake near Oshkosh has an average depth of 15 feet and is surrounded by hills and forests.
There are many great beaches for swimming at Lake Winnebago in Wisconsin, but three stand out above the rest.
High Cliff State Park – This swimming area has a lovely sandy beach perfect for swimming and sunbathing. There is also a fun playground nearby for kids, but no lifeguard on duty.
Sunset Beach in Stockbridge – Sunset Beach is a great place to catch rays and dip in the water. The sandy beach is near a pier and some rocky landscape. The beach has picnic tables and grills for visitors to enjoy.
Fireman Legion Park in Stockbridge – Another Stockbridge rocky beach area with picnic tables and restrooms, this swimming beach on Lake Winnebago is another fun place to lounge on a hot summer day.
Take note that Lake Winnebago is one of many US lakes with occasional algae blooms. Keep reading to learn how to recognize algae on the lake's surface and why you should wait to swim until all signs of algae have disappeared.
Blue Green Algae: Lake Swimmers Beware
"Blooms" of blue-green algae are natural occurrences on the surface of many swimming lakes across the US. Though called algae, these floating blue-green patches are actually bacteria. Unfortunately, wide varieties of this lake-loving bacteria are toxic to humans and animals.
Some Wisconsin lakes develop blue-green algae blooms during summer, especially when the water is warmer than usual. These blooms can be harmful if swallowed or inhaled. Swimmers should avoid contact with any water that looks cloudy or has floating mats of algae. In addition, the lake might appear as if somebody spilled pea soup across the surface.
Algae blooms die off eventually. Sometimes they disappear within a few days, and sometimes, it takes up to a few weeks. Before traveling for a lake vacation, check with the local parks and recreation departments for reports of algae blooms in the area. If you're renting a vacation lake house, ask the homeowner or rental agency for algae bloom updates before arrival.
If you accidentally come in contact with toxic lake algae, rinse off immediately with clean water. Seek medical attention if you or your pets experience skin irritation, nausea, vomiting, or diarrhea. These symptoms are common health risks of swimming with algae blooms.
Enjoy your Wisconsin lake swim!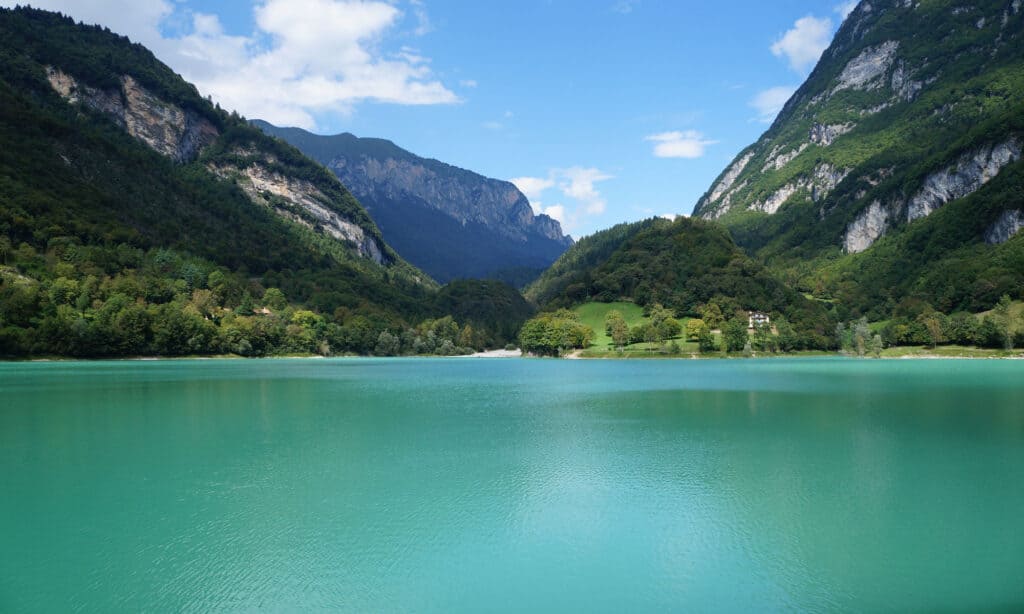 Wisconsin is home to many beautiful lakes, perfect for swimming and enjoying a summer day. Each lake offers something unique, from stunning views to great amenities. So, whether you're looking for a beach to take a dip or enjoy the scenery, one of these seven Wisconsin lakes for swimming is sure to please.
Animals Found in Wisconsin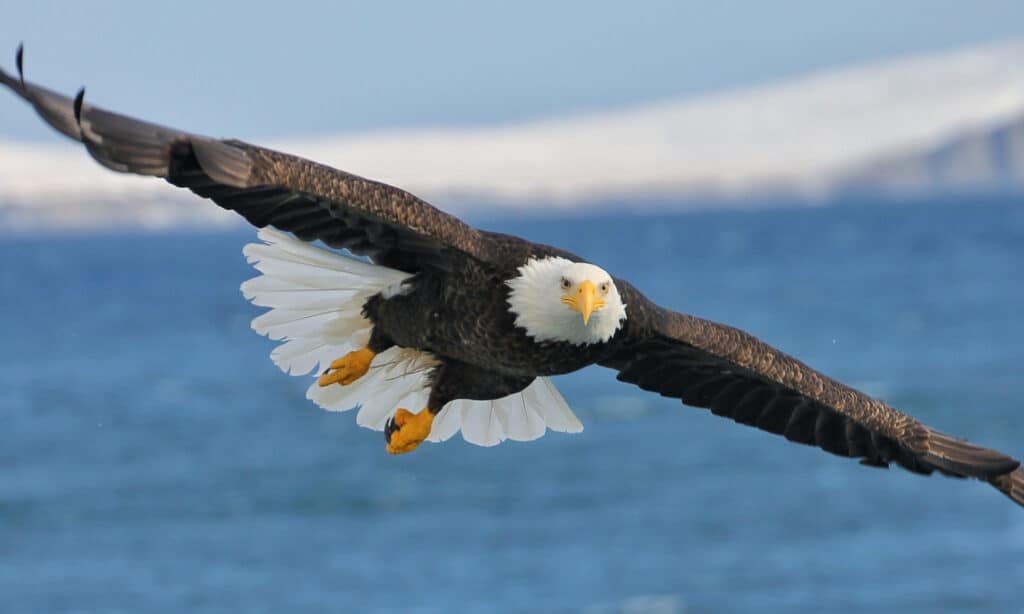 Wisconsin is home to a vast variety of animals and other wildlife. It isn't just the lakes that make this state full of natural beauty.
In fact, here is a list of some other animals found in Wisconsin:
Summary of the 7 Best Wisconsin Lakes for Swimming
| Lake | Size |
| --- | --- |
| Geneva Lake | 5,400 acres, 7.5 miles long, 135 feet deep |
| Lake Michigan | 22,400 square miles, 1,658 miles of shoreline |
| Lake Superior | 700 square miles, 375 miles of WI shoreline, 500 feet deep |
| Mirror Lake | 137 acres, 19 feet deep |
| Eagle River Chain of Lakes | 28 lakes in 2 chains: Eagle River and Three Lakes |
| Castle Rock Lake | 16,000 acres, 70 miles of shoreline, 35 feet deep |
| Lake Winnebago | 138,000 acres, 88 miles of shoreline, 15 feet deep |
The photo featured at the top of this post is © William Gottemoller/Shutterstock.com
---