Tennessee is a landlocked state in the southeast of the United States that is popular for its agriculture and tourism. It is a diversified state, with the Appalachian Mountains dominating its eastern region, the center being a dome, and the Gulf Coastal Plain in its western region. It is among the top 10 tourist destinations in the nation, thanks to its national parks, plantations, scenic trails, and vibrant cities. Tennessee's mild temperatures and abundance of picturesque lakes make it easier to enjoy the outdoors. And what better way to experience these than by visiting Nashville, the state's capital?
Although Nashville is well known for its rich music industry, it has more to offer than just live bands, fine dining, and lavish homes. The city is situated along the Cumberland River in the north-central region of Tennessee; thus, it is surrounded by various natural and man-made lakes that provide a fantastic getaway from the city's daily bustle. But which ones are the biggest lakes near Nashville TN? This article will explore the 9 biggest lakes near Nashville, Tennessee, and other interesting facts.
The 9 Biggest Lakes Near Nashville, Tennessee
9. Marrowbone Lake
Just 19 miles from Nashville is this 60-acre lake known as Marrowbone Lake. It is situated in Davidson County and serves as a breathtaking natural oasis just a short distance from the state capital. The abundance of fish species, including trout, bass, and channel catfish, along with the little lake's well-maintained fishing piers, launch ramps, and even on-site bait shops, make it a natural haven for anglers. The best part? Because Marrowbone is rarely crowded, fishing interruptions are at an absolute minimum.
The lake is surrounded by picturesque hiking trails, a picnic area with tables, and even a fine dining restaurant, while the drive to the lake is marked by winding roads with deep-green, lush vegetation. In addition, Marrowbone Lake is close to Nashville's popular attractions, including Hadley and Centennial Parks, making it a great place to spend an afternoon fishing after a morning of sightseeing.
8. Radnor Lake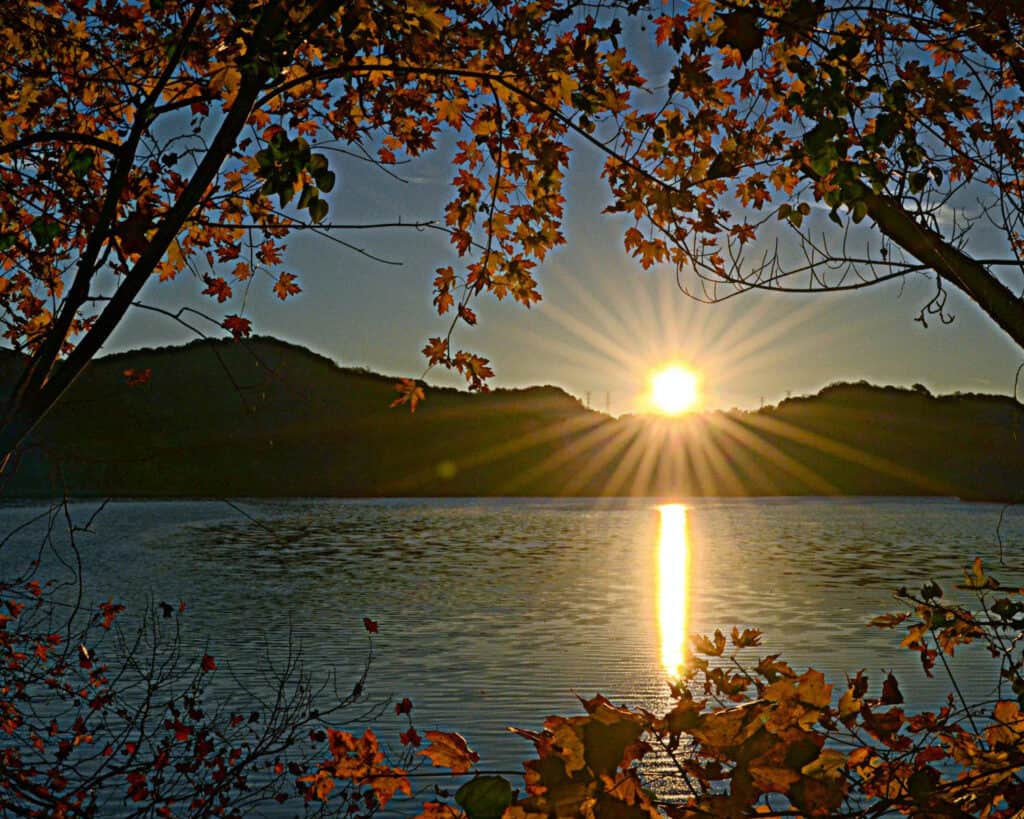 Radnor Lake, an 85-acre artificial lake inside the Radnor Lake State Park, is about eight miles from downtown Nashville. The Louisville and Nashville Company built the lake in the early 1900s to supply water for steam locomotives and livestock watering pens, but it is now one of the best places in the park for leisure.
Radnor Lake is also one of the best lakes near Nashville TN to go bird watching because it is home to several rare bird species, such as the Tufted Titmouse, Blue Heron, and Carolina Chickadee. A diverse range of mammals, including otters and beavers, as well as different amphibians, reptiles, and other creatures, call it home. Although swimming and boating are strictly prohibited at the lake, ranger-led informative canoe floats are provided three to four times weekly from Memorial Day to Labor Day.
7. Great Falls Lake
Named for the falls that plunge into the Caney Fork River just below the dam, Great Falls Lake in Tennessee sits on the border between Warren and White counties. The Tennessee Valley Authority owns and manages it as the only dam beyond the Tennessee River watershed, roughly 75 miles southeast of Nashville. A wide variety of freshwater fish species are nourished by this 2,110-acre lake.
The predominant species in the lake are bass and crappie, although there are also healthy populations of catfish, walleye, sunfish, muskie, and other fish. While there are some places to fish from the shore, fishing from a boat increases your chances of success. Anglers looking to exercise while fishing can use kayaks and canoes. Bass and crappie can find cover in the lake's boat docks and some of the trees and vegetation present.
6. Lake Watauga
Lake Watauga is one of the ideal lakes near Nashville TN that is simple to hike around and also boasts the honor of being Tennessee's highest lake by elevation. Watauga Lake, located in northeastern Tennessee, is about 2,000 feet above sea level at full pool, nestled between the Appalachian Mountains and Cherokee National Forest. The Centennial Park Lake Trail is a quick, easy walk that circles the lake.
You can observe some ducks and geese that live in this 6,430-acre lake and take in Centennial Park's exquisitely landscaped surroundings. Since a large portion of the shoreline is on protected land, the reservoir is not overly populated with vacation homes. Even so, Watauga Lake offers a variety of recreational activities along its more than 100 miles of shoreline, including swimming beaches, boat launches, and marinas.
5. Cheatham Lake
One of the best swimming spots close to Nashville is Cheatham Lake. You can go there while the weather is warm. This 7,450-acre lake is found in Dickson County, about 30 miles south of Nashville in Ashland City. Cheatham Lake is a sizable area of open water connected to other smaller bodies of water through sloughs and marshes. Cheatham Lake has given central Tennessee an abundance of leisure activities.
The lifestyles of the numerous people who visit Cheatham Lake for enjoyment involve recreational boating significantly. The lake has 320 miles of shoreline, ideal for swimmers and fishermen, and is a great spot for clear, freshwater scuba diving. Canoeing and kayaking are also popular activities along the numerous arms and constricting inlets that lead to protected public parks.
4. Cordell Hull Reservoir
Cordell Hull Lake is located along the Cumberland River in north-central Tennessee, not far from Carthage and about 40 miles east of Nashville. The lake was constructed by the United States Army Corps of Engineers for many uses, including recreation. It is roughly 12,000 acres in size, renowned for the caliber of the outdoor activities it offers, which includes camping, boating, fishing, picnicking, hiking, biking, horseback riding, and wildlife viewing.
In Cordell Hull Reservoir, there are many different habitat types, including stony banks, aquatic vegetation, bluffs, and points, as well as excellent feed sources, such as gizzard and threadfin shad, to support and encourage healthy fisheries. It is located in a huge riverine area with numerous smaller tributaries and embayments. A healthy population of largemouth bass, smallmouth bass, crappie, sauger, walleye, catfish, and bluegill thrive on this lake.
3. Percy Priest Lake
Percy Priest Lake, often referred to as J Percy Priest Lake, is situated about 10 miles east of Nashville. The 14,200-acre lake is home to three campgrounds, eleven picnic areas, twelve boat ramps, and eight marinas, making it a popular vacation spot for about five million people yearly. Anglers have two options for fishing: from the shore or from a boat. Furthermore, you can see various aquatic animals here, including trout, bluegill, sunfish, and other bass fish. If you don't like fishing, you can still choose from a wide variety of enjoyable activities.
If you want to experience the water, you may rent paddle boards from the Nashville Paddle Company or arrange a sailing lesson with River Queen Voyages. If you'd rather not get wet, go for a horseback ride or a hike along the shore. When you're satisfied with your time on the lake, go downtown to enjoy Nashville's sights and sounds.
2. Center Hill Lake
Another wonderful lake to visit in Tennessee is Center Hill Lake. It is located in Smithville, in the middle of the state, between Chattanooga, Knoxville, and Nashville. The US Army Corps of Engineers was responsible for constructing the lake, a man-made body of water, in 1948 to aid flood control and electricity production. The reservoir has a surface size of about 18,220 acres and a maximum depth of 58 meters.
Due to its magnificent emerald-like water and the unspoiled natural beauty, the lake annually draws tourists from all over the country. In this location, it's common to go kayaking, wakeboarding, hiking, picnicking, birdwatching, fishing, and engaging in other outdoor recreational activities. Crappie, smallmouth bass, catfish, walleye, trout, sunfish, and striped bass fishing receive positive reviews. The lake also has colonies of paddlefish and muskie for anglers who like to catch big fish.
1. Old Hickory Lake
About 25 miles northeast of Nashville, on the Cumberland River, there lies a reservoir called Old Hickory Lake. The lake, which bears President Andrew Jackson's moniker of "Old Hickory," was created when the Old Hickory Lock and Dam were built. This lake's 400 miles of shoreline provide practically endless recreational activities, from boating, wading, swimming, and fishing, to water sports like skiing.
One of the rental options for exploring the 22,500-acre water is a pontoon boat. Despite being close to the town, it offers outdoor enthusiasts seeking a break from the hustle and bustle of the metropolis a serene retreat. Along the lake's shores at Old Hickory Beach, there is a sizable picnic pavilion with grills and tables that can seat up to 100 people. The variety of species that congregate around this lake, such as ducks, white egrets, and blue herons, will undoubtedly delight visitors.
Up Next:
More from A-Z Animals
---
The Featured Image
---
FAQs (Frequently Asked Questions) 
What are some of the best lakes near Nashville?
The best lakes near Nashville include Radnor Lake State Park (easy access from the city), Cheatham Lake (great shoreline), and Old Hickory Lake (incredible fishing).