Welcome to the Lone Star State! Texas is a great place to camp. It has well-served parks with RV spots and electricity right through to primitive tent sites. However, sometimes you just need a touch of civilization to complement all that outdoor activity! Here's the absolute best camping near Austin, so you can make the most of both worlds.
1. McKinney Falls State Park
·       Distance: 13 miles south of Austin
· Where: South Austin between I-35 and the airport
· Electricity: yes
· Water: yes
· RV: yes
One of the absolute best camping sites near Austin is McKinney Falls State Park. It's 13 miles away from downtown and describes itself as Austin's backyard.
This park has 81 campsites and all have water and electricity hook-ups with lantern posts, nearby restrooms, picnic tables, and fire rings with grills too.
There's a space for primitive youth camping, but that's for non-profit sponsored groups. An article in the Environmental Health and Preventative Medicine journal states that forest bathing is beneficial to our immune systems, so it's great to see McKinney Park doing their best for children's health.
McKinney Falls State Park offers lots of activities including geocaching, bouldering, picnicking, hiking, and biking over its nine miles of trails. Swimming and fishing in Onion Creek is a treat, but do check creek conditions as it can flood after rainfall.
If you don't fancy camping and hiking you could rent one of their six luxury cabins and spend the day on the observation deck watching beautiful Upper Falls or touring the bat cave. There's an all-terrain wheelchair for hire if needed, but you have to book it in advance.
This is a good campsite if you want to be close to Austin because it's just 20 minutes away from the heart of downtown.
2. Pedernales Falls State Park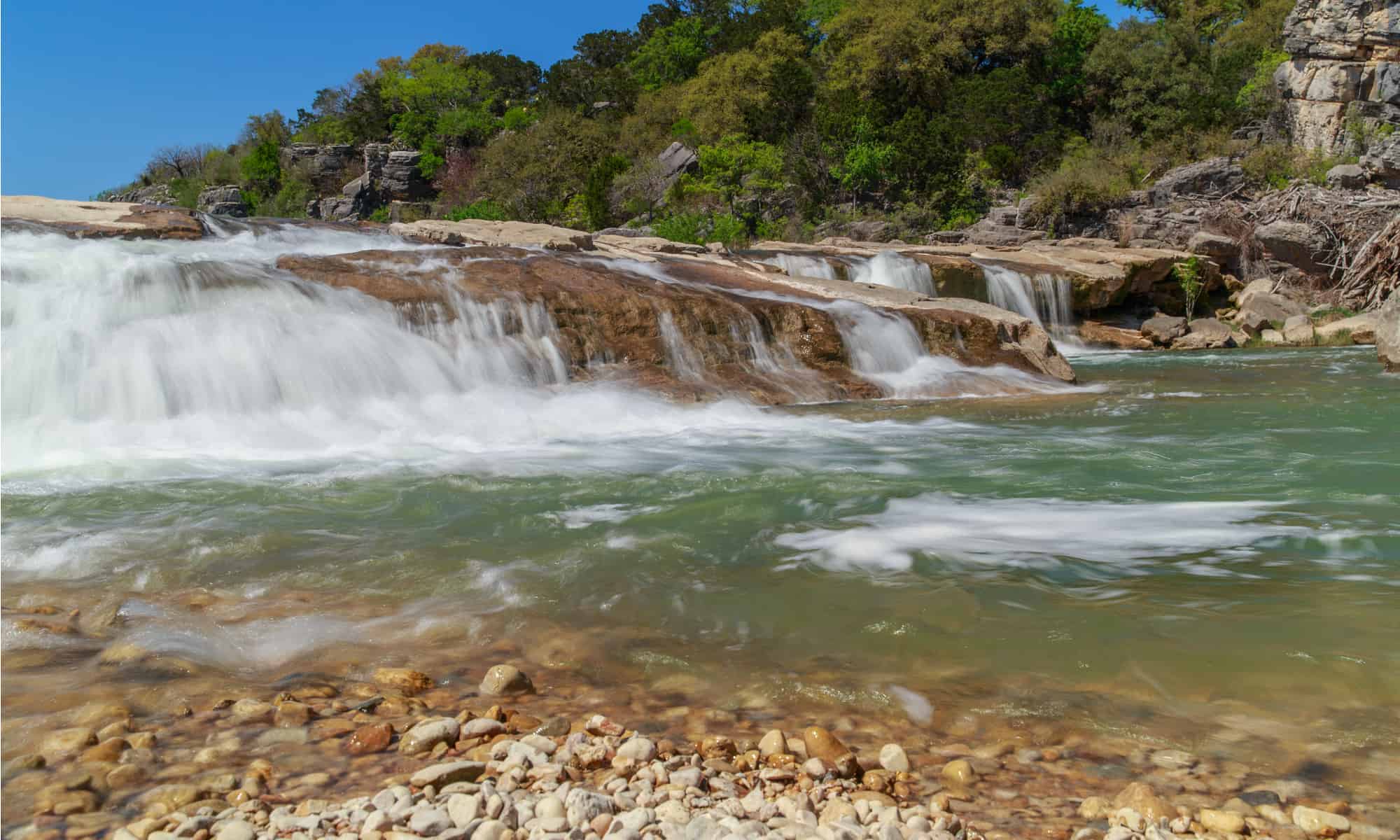 ·       Distance: 30 miles west of Austin
· Where: Blanco County between Dripping Springs and Round Mountain
· Electricity: yes
· Water: yes
· RV: yes
Another amazing camping site near Austin with a waterfall is Pedernales Falls State Park. It has 5,200 acres of natural flora and fauna such as massive limestone slabs, oak woods, rocky hills, cedar forests, and grasslands to explore. Tick turkey, deer, raccoon, and javelinas off your 'to see' list.
Choose one of the 69 hook-up sites with water and electricity or hike two miles to a primitive site above the creek where you'll struggle to find another person.
There are five miles of rivers and 20 miles of hikes near this camping spot in Austin. Mountain bikers can blast along the Wolf Mountain Trail or try the new 10-mile Juniper Ridge Trail with plenty of obstacles.
You can kayak all day, but there's no swimming near the falls due to potential flash floods. If you want to swim, look out for pretty spots along Bee Creek.
This campsite is a nature lover's paradise and best for campers who love the feel of a wide-open rugged space.
3. Lockhart State Park
·       Distance: 37 miles south of Austin
· Where: Clear Ford Creek
· Electricity: yes
· Water: yes
· RV: yes

Lockhart State Park is a golf course that was built in the 1930s by the Civilian Conservation Corps. It's a campsite near Austin that offers more of the urban lifestyle.
This campsite has 20 spots. Half have sewer hook-ups, water, and electricity for RVs and the rest have water and electricity for tents in a more wooded area.
Although it's an idyll, this campsite is very close to the Smitty's Market, Kreuz Market, and City Market in Luling for famous Texan barbeques with exhibitions and art installations to admire.
There's also a swimming pool, scenic hilltops, and of course golf with its associated luxurious golf club bars on hand.
Choose a multiuse site at the creek bottom to escape the summer heat. It's right on the easy hiking trails with lots of space and privacy and you can check out the man-made dams that create calm fishing pools. No license required!
Lockhart is a great spot if you like luxurious camping, BBQs, and lots of facilities on hand.
4. Fox Bottom Primitive Camping Area At Grainger Lake
· Distance: 45 miles north east
· Where: at the end of the Comanche Bluff Hiking trail
· Electricity: no
· Water: no
· RV: no
The clue is the name! This camping site near Austin is remote and primitive, you won't find much luxury here. This is a lake for fishermen and wild campers.
The camping site is a grassy grove with easy access to plenty of fishing spots from the banks or from a canoe. Each site has a tent pad, lantern hanger, and compost toilet. There are two centralized picnic tables, a double lantern pole, and a large group fire ring– that's it!
Spend your night star gazing across the river and your days fishing the peaceful waterways.
It's an escape from modern life here and one of the most relaxing natural spots you'll find in Texas. Fox Bottom is one of the best camping sites near Austin for solitude.
5. Inks Lake State Park
Distance: 68 miles northwest of Austin
Where: West Burnet
Electricity: yes
Water: yes
RV: yes
Inks Lake State Park is a beautiful Lake in Texas with 200 campsites near the lakeside. It's just an hour's drive from Austin with tents to RVs, primitive sites, and 22 cabins (two are ADA-accessible).
There are miles of hiking trails, kayaking, boating, fishing (the largemouth bass are big here), and swimming opportunities. There's also a store on-site for most camping requirements which is handy!
A real gem of place in Inks Lake State Park is the small canyon at Devil's Waterhole where you can swim and explore the upstream waterfalls if the creek is running.
Much of the infrastructure was built in the 1930s by the CCC and it also has a national fish hatchery you can visit, but if you fancy a quiet day there are excellent playgrounds for the kids to chill out in.
This camping site is great for kids because it has safe playgrounds and easy-to-manage trail hiking. Inks Lake always makes it onto the best camping near Austin lists.
6. Emma Long Metropolitan Park
Distance: Within Austin City limits
Where: RR2222 City Park Road
Electricity yes
Water: yes
RV: yes
Emma Long Metropolitan Park is one of the few camping spots inside Austin's city limits and it's a hidden treasure. It's not usually busy because only the regulars (and you) know it's here, but as it's fairly small you'd best book ahead.
The reason it's such a good spot is the beach. Yes, a beach. It's located on the Colorado River and it's so clean you can see the pebbles beneath your feet.
Emma Long has 66 tent sites and RV campsites with access to Lake Austin. If you're on a budget opt for a spot with no electrical or water hook-up in the primitive area, but if that's not your thing there are luxury spots too.
Activities include fishing, hiking, the volleyball courts, an almost ten-mile-long motorbike trail, or you can launch your own boat on the lake.
This camping site near Austin is best for families who want to experience remote hikes and life in the Texan capital all in one holiday. Who says you can't have it all?
Campers in Texas are spoilt for choice and because there are so many great camping spots it's difficult to narrow them down. If you're looking for the best camping near Austin you're going to love it at one of our top six picks.
The photo featured at the top of this post is © iStock.com/RoschetzkyIstockPhoto
---