↓
Continue Reading To See This Amazing Video
As most experienced growers will tell you, the first step to a showstopping garden is to learn which plants thrive in the area you live in. This is especially important when it comes to weather conditions, in particular heat and cold. For areas that fall within Zone 5, that means selecting plants that can handle cold snaps and unpredictable drops in temperature. This includes annual plants, which only have a limited window to thrive! In Zone 5, our picks for the best annual plants to grow are explained in this article. While some aren't always thought of when it comes to being cold and hardy, they all bring unique benefits to any Zone 5 garden!
What Are Plant Zones?
The United States Department of Agriculture (USDA) developed and maintains the Plant Hardiness Map. This map is split into 13 areas called zones to help gardeners select plants that will thrive in that area. Zones are organized according to the lowest average winter temperatures in those areas like a weather map. All zones are further classified as northern or southern as well. For example, Zone 5a indicates this is the northern part of the zone, while Zone 5b indicates the south.
In Zone 5, the growing season is short when compared to southern areas, with frosts being a threat until as late as mid-May and as early as October 1st in some areas. The average winter temperature falls as low as -20 degrees Fahrenheit, so cold hardy plants are crucial!
What Is An Annual Plant?
The two basic types of plants or flowers are annuals and perennials. An annual plant or flower blooms for one growing season. Perennials are plants that come back during their growing season year after year. The annual plants or flowers that you choose for your garden will need to be replaced every year. Depending on the zone you live in, some plants may be classified as perennial but are more popularly used as annual. Additionally, some plants and flowers are considered annuals in some zones but may be classified as perennial in warmer zones.
Best Zone 5 Annual For Beginners: Impatiens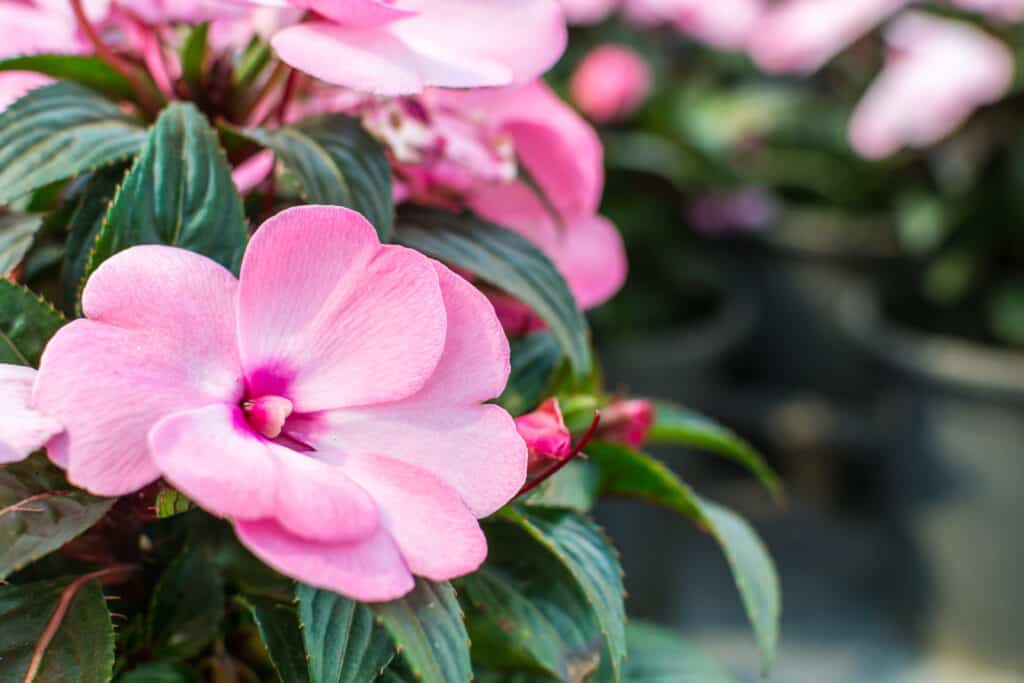 Impatiens are excellent annuals for beginners and are the most popular bedding and container flowers in the United States. The most popular overall is the common garden impatiens (I. wallerana). Mounded types are great for flowerbeds and container gardens, trailing types make great hanging baskets or window box plants, and the New Guinea variety has a taller stature and bigger blooms for places that need a larger plant. Impatiens grow from 6-24 inches high and are planted in spring, well after the last frost.
Best Zone 5 Annual For Sunny Places: Calendula/Pot Marigold
This is an excellent annual for late-season colors to transition into the winter months and is planted in early fall for bloom in late fall and winter. Calendula has double and semi-double blooms in shades of orange and yellow and is between 18-20 inches tall. This is a wonderful fall plant to grow in Zone 5, and you can start the seeds indoors to get early blooms six weeks before the last frost! Marigolds are sun-loving plants that light up any place you put them and make a gorgeous indoor plant.
Best Zone 5 Annual For Attracting Pollinators: Alyssum
Alyssum is used as an annual plant in Zone 5 and is an excellent option for ground cover. Sweet alyssum is one of the best plants for attracting and promoting honeybees, the top pollinator, and a vital part of the ecosystem and your garden! Sweet alyssum is a low-growing plant, that can be 12 inches high, with vibrant green foliage and small pink, lavender, or white flowers. Alyssum is a great option for adding foliage and small touches of color to container gardens as well.
Best Zone 5 Annual For A Unique Addition: Hibiscus
Hibiscus is not often thought of as a cold-hardy plant, and it is classified as a tropical plant. However, certain cultivars have been developed to be cold hardy! In Zone 5, hibiscus should be planted well after the last frost, in locations with adequate wind protection, such as within enclosed beds or in large containers. It is also important to note that hibiscus blooms last only one or two days but will return quickly.
These annual produce bright blooms in vibrant pinks, oranges, and reds with distinct petals and rich dark green foliage. Hibiscus is classified as a shrub, and the size depends on the individual species, between 3 to 6 feet tall.
Best Zone 5 Annual That Loves The Cold: Chrysanthemum
Mums are staple for fall gardens, and while chrysanthemums are classified as perennial plants, they are often used as annuals. Mums come in a wide array of blooms, ranging from big pom poms to delicate petals like daisies. Due to their high tolerance for colder temperatures, mums can handle the unpredictable frosts in Zone 5 with style!
Chrysanthemum plants can grow up to thirty-six inches high and produce showy and distinctive blooms in an array of yellows and reds. Even once the blooming season is done, the cut flowers can be dried and kept for decorating your home!
Other Articles You Might Like
If you would like to learn more about plants and gardening, check out some of the articles listed below!
The 5 Best Annual Flowers For Zone 9
The 4 Best Annual Flowers For Zone 8
The Best Annual Flowers For Zone 7
The Best Annual Flowers For Zone 6
---
The Featured Image
---