Maine probably is not the first place you think of when it comes to spending a day at the beach. Even though the water temperatures are cooler than California's beaches, getting in the water is just one of many fun and adventurous recreational activities to choose from. Maine's coastline has some of the most awe-inspiring and breathtaking beaches in all of the United States! From their rocky coastlines to the hidden coves along the shoreline, the best beaches in Maine can provide something fun to do for everyone. 
Whether you're looking for a spot to let your kids play and run around, a place to soak up the sun, or the right waves to swim around in, Maine's beaches have so many great places to explore.
Many of the best beaches in Maine are named and listed below, with some of the most popular activities and when to visit. This way, you can choose the best beach for yourself and your family's needs. 
Here's our lineup of the best beaches in Maine for you to explore so that you can head out and create memories that will last you a lifetime:
Long Sands Beach
Short Sands Beach
Note that when it comes to swimming at any beach, shore, or coastline, it's important to check out the local rules and regulations. 
Old Orchard Beach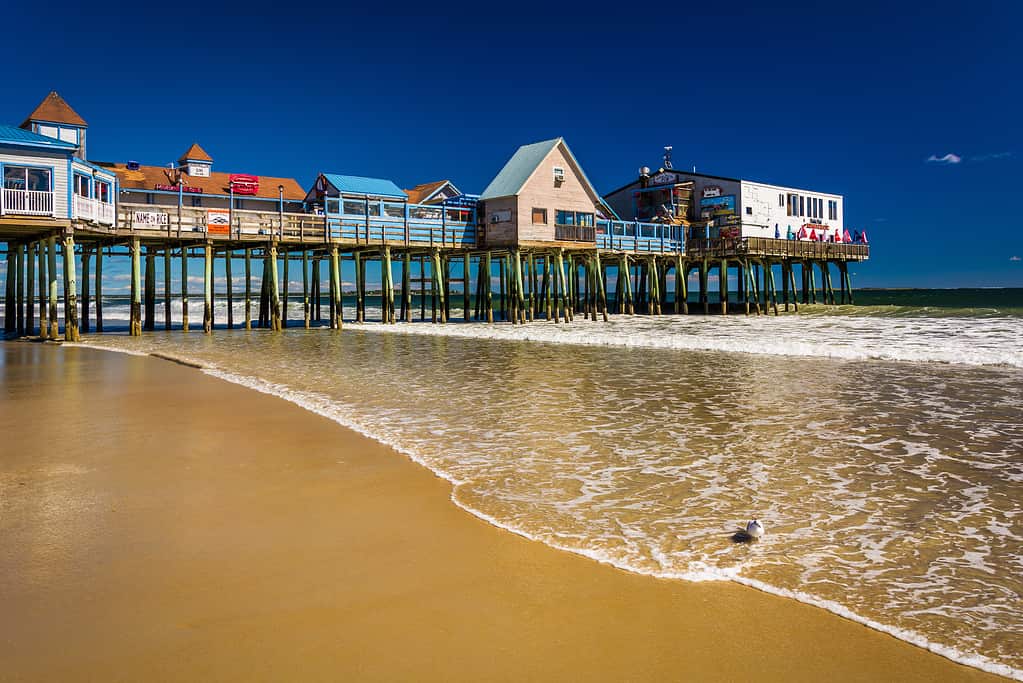 Home to an iconic pier, an amusement park, local seafood restaurants, and so much more, Old Orchard Beach is one of the best beaches in Maine with a 7-mile stretch of sandy beach. However, Old Orchard Beach is also the name of the town it's located in. This is great because it means there are also public restrooms, parking spots, gift shops, restaurants, etc. There are also places where you can get swimming gear (just in case you forgot yours). There's something to do for everyone at Old Orchard Beach! Here are a few quick features of Old Orchard Beach:
There are lifeguards on site, but swimmers need to bring along their own equipment. It is best to plan your trip between mid-May through early September (or else that water will be really cold).
The central part of the beach is a great place for swimming and sunbathing. However, you can also find people playing volleyball, jet-skiing, kayaking, body surfing, or even just strolling along for a nice walk.
There is both public and private parking available.
It's also important to remember that swimming regulations can vary based on the seasons. Sometimes regulations even change completely, so always double-check before blindly jumping in.
Crescent Beach
A great place to go if you're looking to relax, explore, or photograph the surrounding nature trails is Crescent Beach. The sandy shores of Crescent Beach are located in the Crescent Beach State Park. This makes Crescent Beach one of the best beaches in Maine. It is a great place for anyone who wishes to spend time in the sand and in nature. Plus, a beach located in a place like such is one for the whole family to enjoy!
Summer months are some of the best times to go if you wish to go swimming. Crescent Beach State Park is considered a public recreational area. It's located on the Atlantic Ocean in Cape Elizabeth and features a crescent-shaped beach that stretches for a mile long. This is perfect for sunbathing, swimming, fishing, or even sea kayaking. And when you're done in the sand you could go photograph nature on the many hiking trails.
Winter months are not bad either. Wintertime is perfect for whale watching and hiking. Many tourists come during the winter months specifically to hike the trails here and for a glimpse of the breathtaking frosty water forms created by the coves. 
Ogunquit Beach
The name Ogunquit means "beautiful place by the sea" in the language of Algonquin Indians. Ogunquit Beach is also the name of the 4-square-mile town on the coastline of Maine. With scenic views and miles of sandy beach coastline, Ogunquit Beach is one of the best vacation spots Southern Maine has to offer. So, let's look at some key features:
For those who want to do more than just play around on the sand, Ogunquit Beach is also known for its thriving art and theater scene. During the summer many of its stores and boutiques are very popular.
It's a perfect place for active tourists and visitors to enjoy nature and the outdoors. Walking, running, and biking are all possibilities here, and you can even find local kayak rentals and tours.
Visitors often say that low tide is perfect and there is lots of free parking available. The beach also provides a clean and flat stretch of sand for strolling along. This makes it an ideal spot for swimming and sunbathing!
Not every location at Ogunquit Beach is free to the public. Main Beach, Footbridge Beach, and North Beach all charge by the hour.
Long Sands Beach
The last two beaches on our list can be found in Maine's village of York. The longer of the two, Long Sands Beach, is one of the best beaches in Maine and stretches for 1.5 miles along the coastline. There are a few rocky spots and a couple of tide pools, but the majority of the beach is just a nice long stretch of white sand. This makes Long Sands Beach a nice place for lots of fun activities: 
Enjoy a swim or sunbathe on this sandy beach. 
Watch visitors at Long Sands Beach flying kites, playing volleyball, building sand castles, surfing, and kayaking throughout the summer. 
The busiest time to visit is from the end of June through Labor Day. This is also when there are lifeguards on duty at the beach.
A public restroom is available.
Even though it's too cold for swimming during the winter, Long Sands Beach is the perfect spot for sightseeing in Maine. It's also right by the Cape Neddick Lighthouse, which is one of the most popular lighthouses to photograph in the United States.  
Short Sands Beach
Short Sands Beach is much smaller, stretching for only about 0.25 miles. However, this also makes it a great place for younger kids and is one of the best beaches in Maine. Here are some of its features:
During low tide, there are lots of rocky areas and you can see colorful sea glass. 
Short Sands Beach has a big playground for kids, a carousel, an arcade, basketball courts, and even a park area with grass. 
During the summer there are sometimes free concerts at the beach.
There are lifeguards on duty from the end of June through Labor Day. 
Public restrooms are available.
Summary Of The 5 Best Beach In Maine
| Rank | Beach | Location |
| --- | --- | --- |
| 1 | Old Orchard Beach | Old Orchard Beach |
| 2 | Crescent Beach | Owls Head |
| 3 | Ogunquit Beach | Ogunquit |
| 4 | Long Sands Beach | York |
| 5 | Short Sands Beach | York |
Up Next:
More from A-Z Animals
---
The Featured Image
---