Alaska is the largest state in the United States, with a total area of 663,268 square miles. That makes Alaska larger than Texas, California, and Montana combined! Alaska also contains the most water of any U.S. state, with 91,316 square miles of lakes and rivers, making it around 14 percent water. According to the Alaska Department of Fish and Game, Alaska has over three million lakes! These lakes vary greatly in size, remoteness, and species of fish they contain. So, of this plethora of lakes, what are the best fishing lakes in Alaska?
Alaska is one of the best places in the United States for fishing and is well-known for its abundance of salmon and trout. This guide outlines five of the best fishing lakes in Alaska, including how to get there and what fish you can expect to catch.
1. Iliamna Lake
If you want to fish in the largest lake in Alaska, then Iliamna Lake is your destination. Iliamna Lake is a 1,000-square-mile lake on the Alaska Peninsula. At 77 miles long and 22 miles wide, this lake is gigantic. Iliamna Lake is between Kvichak Bay and Cook Inlet on the northern side of the Alaska Peninsula. It is 100 miles west of Seldovia, AK. The Iliamna River flows into Iliamna Lake. Iliamna Lake then drains into Bristol Bay through the Kvichak River.
Sport fishing is popular at Iliamna Lake. Several species of salmon, trout, and grayling are available. Large rainbow trout can be caught from August through September. The salmon species available at Iliamna Lake are sockeye, Chinook, coho, and chum. Iliamna Lake is a nursery for the largest sockeye salmon run in the United States. Interestingly, Iliamna Lake also has a rare population of freshwater harbor seals!
2. Becharof Lake
Becharof Lake is the second-largest lake in Alaska, behind Iliamna Lake. This massive lake is 37 miles long. Becharof Lake is on the Alaska Peninsula in the Aleutian Mountain range. The lake is 23 miles southeast of Egegik, AK. Becharof Lake is located in the 1,200,000-acre Becharof National Wildlife Refuge. The park contains an abundance of diverse wildlife species.
Fishing is year-round at Becharof Lake, and the lake offers many different species of fish. There are five species of Pacific salmon in Alaska, and all of them are available at Becharof Lake. The five species of Pacific salmon in Alaska are pink salmon, Chinook salmon, chum salmon, sockeye salmon, and coho salmon. This undoubtedly makes Becharof Lake one of the best fishing lakes in Alaska. Becharof Lake also has rainbow trout, lake trout, Dolly Varden, rainbow trout, lake trout, burbot, and northern pike.
3. Lake Clark
Lake Clark is a 40-mile-long lake in southwest Alaska. It drains into Iliamna Lake through the Newhalen River. Lake Clark is in the 4,030,015-acre Lake Clark National Park and Preserve. This national park is only accessible by boat or small aircraft because there are no roads leading to it.
The fishing season at Lake Clark is from May through October. July through August, when the salmon run, is peak fishing season. Ice fishing is also popular at Lake Clark in winter. Chinook, pink, and sockeye salmon are available at this lake. Additionally, grayling, burbot, northern pike, and lake trout are available.
4. Skilak Lake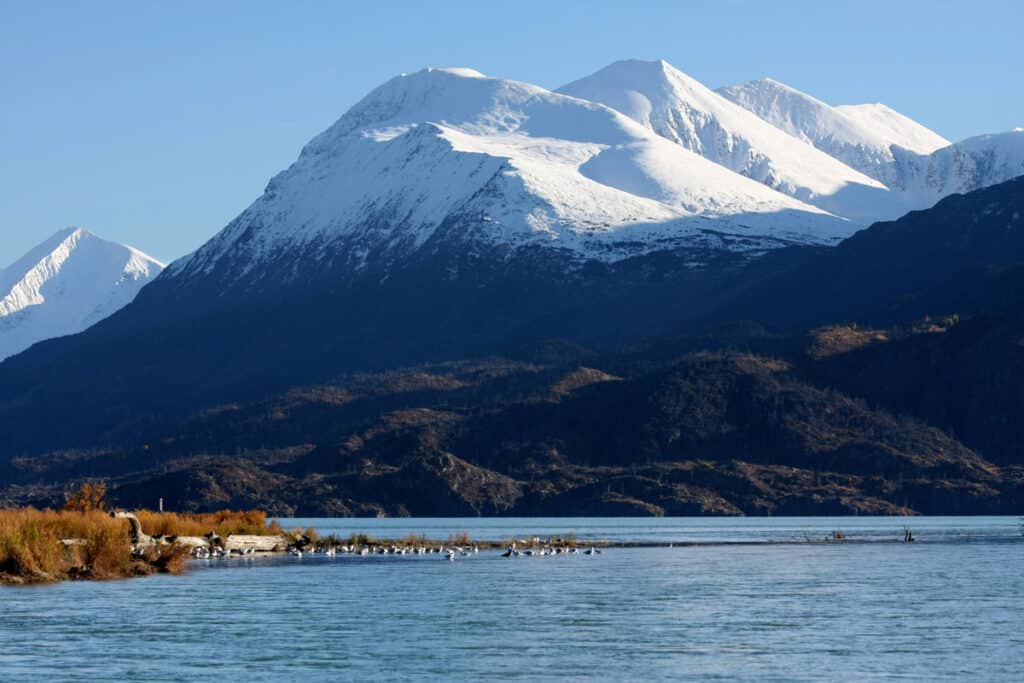 Skilak Lake is a 15-mile-long lake on the Kenai Peninsula. This lake is 528 feet deep in some places! It is in the Kenai National Wildlife Refuge, an incredible 1,900,000-acre wildlife preserve. The Kenai National Wildlife Refuge has a wide diversity of habitats and species. Skilak Lake has road access and is close to both Soldotna and Anchorage. The west entrance of Skilak Lake is an 18-mile drive east from Soldotna. From Anchorage, the east entrance is a 112-mile drive south. The Kenai River runs through Skilak Lake toward its outlet at Cook Inlet.
Fishing at Skilak Lake is year-round. The primary fishing species in Skilak Lake are sockeye salmon, coho salmon, pink salmon, Dolly Varden, lake trout, rainbow trout, and round whitefish.
5. Auke Lake
Auke Lake is a 160-acre lake located in Juneau, the capital city of Alaska. While many of Alaska's lakes are remote and challenging to access, Auke Lake is an excellent option for people looking to fish close to the city.
Auke Lake contains four species of salmon: sockeye, coho, pink, and chum. It also contains rainbow trout, cutthroat trout, and Dolly Varden.
Summary of The 5 Best Fishing Lakes in Alaska
| | Lake |
| --- | --- |
| 1 | Iliamna Lake |
| 2 | Becharof Lake |
| 3 | Lake Clark |
| 4 | Skilak Lake |
| 5 | Auke Lake |
---
The Featured Image
---