Nebraska has about 450 lakes and streams available for public fishing.
Whether you're looking for channel catfish, trout, largemouth bass, bluegill, or something else, there's a fishing spot out there for you. It's time to explore the best waters to visit for different fish environments and species. Before you know it, you'll have your own favorite place in Nebraska!
Dive in to learn the 10 best fishing spots in Nebraska this summer.
1. Box Butte Reservoir
This reservoir covers 2,212 acres, including a 1600-acre lake. The area is perfect for fishing, picnicking, camping, and bird-watching. It's one of the most popular nature preserves in the Nebraska panhandle.
The reservoir is part of a state park that sits in northwestern Nebraska. Here you'll be able to catch northern pike, yellow perch, rock bass, bluegill, smallmouth and largemouth bass, walleye, and catfish. All types of boats are permitted here. There are also two ramps and two docs available to the public.
2. Willard Meyer Recreation Area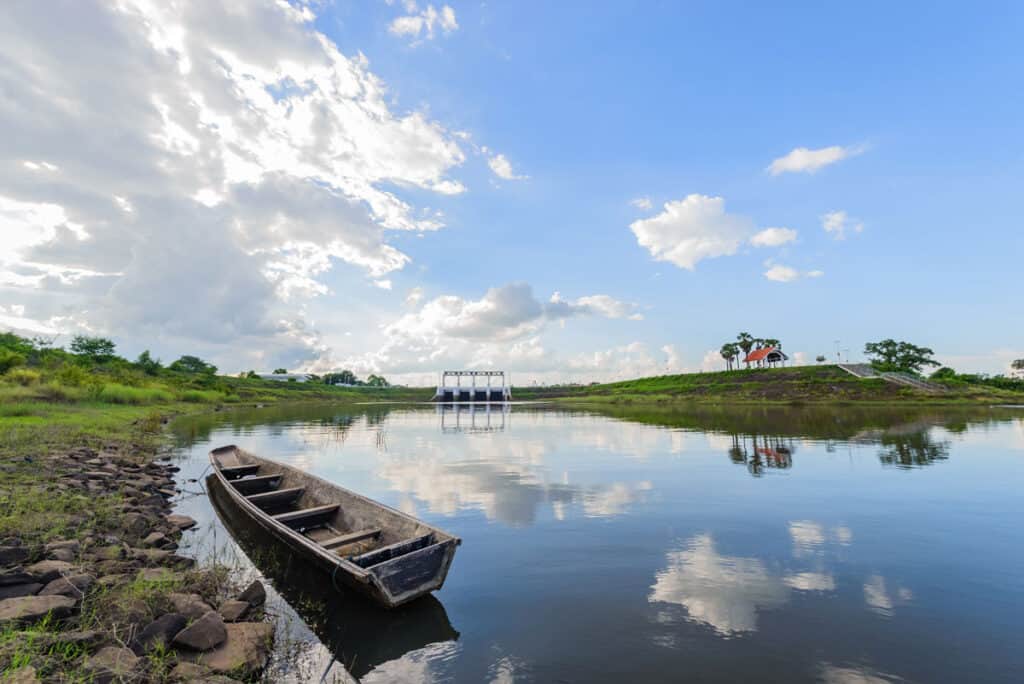 Willard Meyer's recreation area has a little bit of everything, including the best fishing opportunities. Anglers can access 195 acres of fishing, swimming, boating, and other outdoor activities. Since this area has one of the state's best fisheries, master anglers come from worldwide. There are opportunities for bluegill, largemouth bass, and channel catfish. If you're fishing from a boat, you must stay 50 ft away from the swimming area and the dam. The 5 mph speed limit also makes it a fish-friendly, no-wake zone.
3. Ellwood Reservoir
The 960-acre lake provides plenty of coves, cover, and creek channel opportunities. It's an angler's paradise for catching bass, northern pike, catfish, walleye, musky, crappie, and hybrid striped bass.
When you arrive at Ellwood Reservoir, areas along the lake are accessible for shoreline fishing. There are also campsites right by the lake, so plan on staying a couple of days. There's plenty of fishy-looking water here. Bring your kayak, canoe, or your favorite fishing boat.
4. Medicine Creek
Enjoy a gorgeous fishing spot at Medicine Creek. The entire recreation area is 5,665 ft long. Once you reach the top of the conservation pool, you can access the 1,768 surface area of the lake. There are also 29 miles of available shoreline. If you're looking for privacy, there are plenty of nooks and crannies you can fish from. This fishing spot also has outdoor buffs, matured stands of trees, and lush underbrush. Long bays pocket the winding shore, and small islands are hot spots for king-size crappie and panfish. Around June, things start to pick up for the walleye fish population. You can find them in the main body of the lake.
5. Goose Lake
Goose Lake is nestled in Holt county, Nebraska, and covers 176 acres, with a maximum depth of 57 ft. Fish include largemouth bass, walleye, northern pike, panfish, and muskie. Anglers have the most luck here between 4:00 and 7:00 a.m. and 9:00 and 11:00 p.m. The water clarity is low, so don't plan on sight fishing.
6. Swanson Reservoir
Swanson reservoir features 5,000 acres and has a lot of walleye and white bass. You can fish from the shoreline or take a boat out on the water. Swanson Lake permits all boats, so it's also an excellent place for enjoying water sports. Fishing boats, bass boats, kayaks, canoes, and pontoons work great here. Along with the walleye and white bass, you'll also be able to try your hand at catching yellow perch, blue catfish, and northern pike. There aren't any boat rentals nearby, so make sure you come prepared. There is a public access boat ramp, as well as available campgrounds. Suppose you forget anything at home, no worries. The nearby convenience store, bait, and tackle shop will have everything you need.
7. Merritt Reservoir
Merrit Reservoir is 3,000 acres, with a maximum depth of 111 ft and an average depth of 25 ft. Year-round, the water levels are stable. However, they lower significantly during the summer season.
During warm summer, anglers will have plenty of opportunities to catch bluegill, yellow perch, and pumpkin seed fish. Walleyes are also regularly available; they can be more challenging to find.
8. Missouri River
Large size, beauty, and fertile waters, this famous fishing spot attract visitors from all over. The Missouri River is 2,540 miles long, with about 400 miles bordering Nebraska. The mighty flowing river helps define the border between Missouri and Nebraska. There's plenty of public access along the banks. When you count both sides of the river, there are over a hundred general sites for fishing.
9. Maple Creek
Maple Creek is 557 acres in size and features a 160-acre reservoir. The maximum depth here is 30 to 35 ft. Some of the fish species you'll be able to find include channel catfish, crappie, bluegill, northern pike, walleye, and largemouth bass. Along with fishing opportunities, Maple Creek is famous for its camper pads, biking trails, and swimming beach. This is a no-wake boating area, so the fish are active.
10. Yankee Hill
Enjoy 5 miles of shoreline when you fish Yankee Hill Lake in Nebraska. The lake has 200 acres of surface area and 5 miles of shoreline. Only boats with electric motors are available on this lake. There's a public access boat ramp as well as camping opportunities.
Yankee Hill Lake earned its spot on our best fishing spots in Nebraska this summer, thanks to its scenic views and fish diversity. You'll be able to catch bluegill, northern pike, walleye, channel catfish, largemouth bass, and more. The facility is a wildlife management area, too, allowing you to escape the busy city life. Get ready to see beautiful woodland creatures, birds, and fun fish! There are also snakes and abundant insect populations. You can expect the weather to be extremely humid during summer, so bring plenty of water.
| | Fishing Spot |
| --- | --- |
| 1. | Box Butte Reservoir |
| 2. | Willard Meyer Recreation Area |
| 3. | Ellwood Reservoir |
| 4. | Medicine Creek |
| 5. | Goose Lake |
| 6. | Swanson Reservoir |
| 7. | Merritt Reservoir |
| 8. | Missouri River |
| 9. | Maple Creek |
| 10. | Yankee Hill |
Up Next:
More from A-Z Animals
---
The Featured Image
---