The state of Michigan has the world's longest freshwater coastline, so if you're seeking for lakes to explore, you're in luck. This state has a plethora of lakes available to both locals and visitors.
Some have been created by glaciers and others by humans. They can be found throughout Michigan. We've found the best sandy beaches in Michigan to ensure your visit is the best it can be. Let's take a look at the top 10 options! 
Read on for more detail about these beautiful lakes.
1. Lake Michigan
What better lake to start us off for the best sandy beaches in Michigan than Lake Michigan itself? One of the top vacation destinations in the state is Lake Michigan. It is among the four Great Lakes that border the state.
Lake Michigan is one of the biggest freshwater lakes in the world. There are numerous beaches along the western shoreline of Lake Michigan. Excellent beaches can be found throughout Lake Michigan's 35 miles of beachfront in Sleeping Bear Dunes National Lakeshore.
Popular activities on the 22,000-square-mile lake include sailing, yachting, and fishing. It is also well-known for its fall and springtime salmon fishing. Visitors enjoy walking on nature paths, bird-watching, and enjoying the stunning natural landscape.
2. Lake Huron
If you plan an excursion to Mackinac Island, you can take in Lake Huron. This is among northern Michigan's most stunning lakes. Diving is a popular pastime in the lake because of the many different shipwrecks that are located at its bottom.
If you're looking for a more relaxing pastime, consider a sunset cruise. The stunning sunrises that may be seen along Lake Huron's Sunrise Coast are what gave it its name. A different option is to start paddling down the shoreline at Standish and join the Huron Shores Coastal Water Trail.
For 200 miles along US-23, the Huron Shores Heritage Route travels along the shore of Lake Huron. There are plenty of sandy beaches along this stretch where visitors can enjoy a classic day at one of the best sandy beaches in Michigan.
3. Lake Erie
Third on our list is the great lake known as Lake Erie. One of the nicest lakes to explore in southeast Michigan is just outside of Detroit. It is a Great Lake for boating and has easy-to-find swimming spots. The renowned Lake Erie walleye is another prized catch in Lake Erie. Fishing charters are widely offered.
Within Lake Erie, there are a number of islands that are fun to explore on day trips. There are wonderful beaches for swimming, and practically all water sports are offered. A nice place on Lake Erie to enjoy hiking and bike paths, a swimming pool, playing golf, and amenities such as bathrooms at Lake Erie Metropark.
4. Lake Charlevoix
Among the biggest sandy lakes in Michigan is the stunning Lake Charlevoix. It is close to the quaint town of Charlevoix, which is a great spot to come following an excursion on the water and get something to eat.
With many white sand beaches, Lake Charlevoix is a lovely lake that is great for families. This place has 56 miles of shoreline. This makes the lake perfect for boating, jet skiing, and even kayaking in some of the smaller streams that feed into the lake.
Lake Charlevoix has a lot of fishing opportunities because it gets fairly deep in some places.
5. Lake Leelanau
One of the most beautiful lakes in Michigan. You'll find this gorgeous lake in the northern portion of the state. Visitors love to swim and boat at this family-friendly lake close to Traverse City in the Lower Peninsula.
If you want to book a holiday on the water with amenities easily within reach, the lake is the perfect location as it is surrounded by numerous vacation homes and rentals. As you can guess, there's no reason why this lake isn't one of the best sandy beaches in Michigan!
Lake Leelanau is divided into two portions, each having unique depths, temperatures, and fish species.
Although South Leelanau is the larger region and North Leelanau is the smaller portion, both offer opportunities for water activities. You may take a trip to Sleeping Bear Dunes National Lakeshore from the lake because it's so close!
6. Big Glen Lake
Among Michigan's cleanest and purest lakes is Big Glen Lake. Northeast Michigan's little community of Glen Arbor is nearby. When Lake Michigan was still filled with ice throughout the ice age, Big Glen Lake and Little Glen Lake, its sibling waterway, were formerly an element of it.
Currently, a sizable sandbar divides them, but from there, Lake Michigan and the Manitou Islands are accessible by boat. Big Glen Lake is a great lake for swimming and canoeing due to its glacial waters.
You may unwind on the sandy beaches and neighboring sand dunes, or you can rent a water vessel. Perch, lake trout, bass, and northern pike fishing are plentiful in Big Glen Lake. Rental options for beachfront villas are also a fan favorite.
7. Torch Lake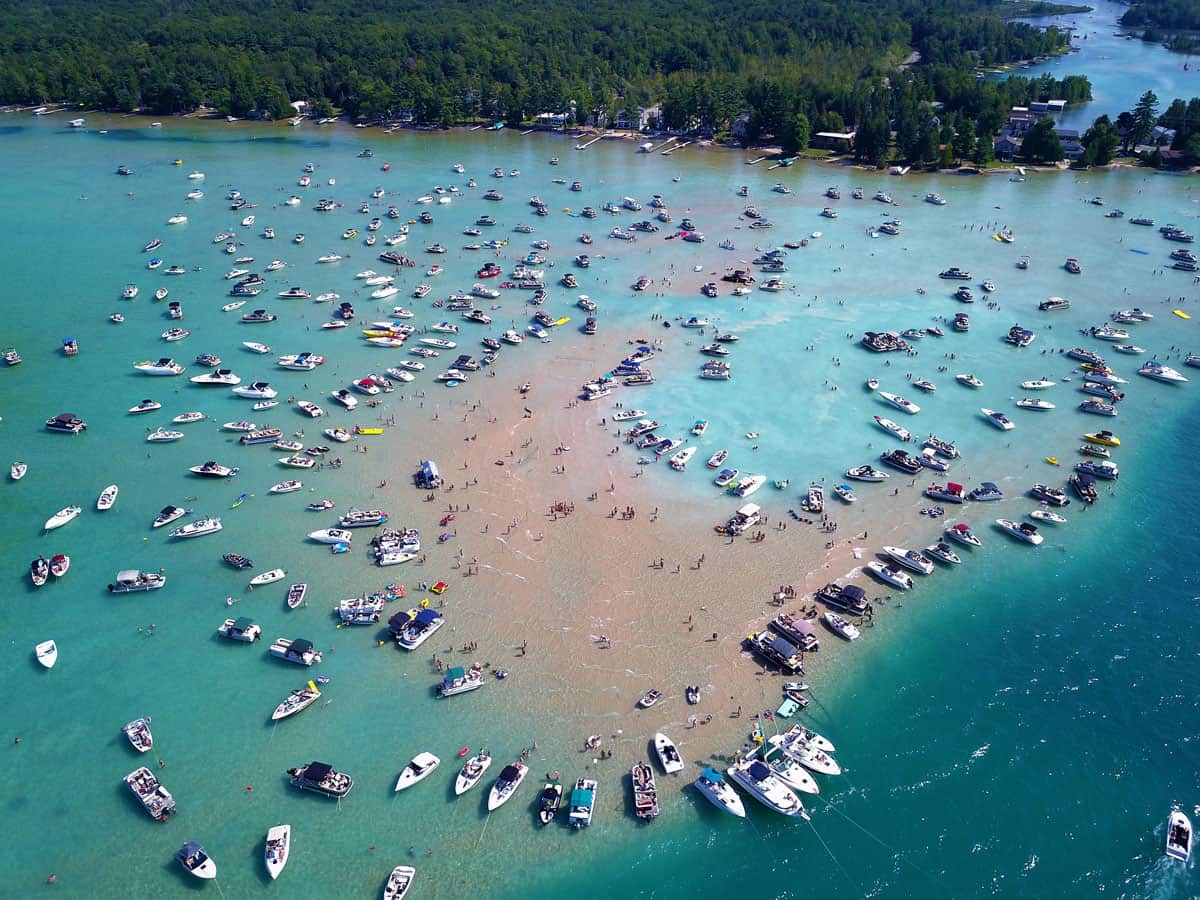 Did you know that Torch Lake is the deepest and longest inland lake in the state? This place is a stunning, crystal-clear glacial lake. The 19-mile-long lake has various sandbars where people like to swim and interact with those who are enjoying the water.
It is situated on the Lower Peninsula, near Traverse City and Charlevoix. The south end of the lake has a two-mile sandbar that is a well-liked swimming area. On Torch Lake, paddling and canoeing are popular pursuits.
When you arrive, you can rent gear and get some windsurfing instructions from a local outfitter, or just enjoy tanning on the beach.
8. Lake St. Clair
The Lake St. Clair freshwater border between the coastlines of Michigan and Canada is located immediately outside of Detroit. In the past, it served as a shipping route connecting Lake Huron and Lake Erie, but nowadays it is a well-liked lake for outdoor activities like fishing.
There are numerous sandy beaches along the lake for people of all ages. With 430 square miles and towns that are geared toward life on the water, Lake St. Clair has become one of the most beloved lakes by locals.
The lake facilitates easy access to neighboring ports, and there are numerous waterfront eateries. Numerous tributaries and small canals make excellent places for kayaking and taking in the scenery.
9. Higgins Lake
Higgins Lake's glacial waters are so incredibly blue that it is difficult to tell that it is a lake instead of the ocean. It is situated in north-central Michigan next to Roscommon, a tiny community.
The natural lake is nice for swimming and has lovely sandy beaches. Since the water is so transparent, snorkelers are frequently spotted. Both ends of Higgins Lake feature a state park with campgrounds, sandy beaches, and boat accessibility.
Kneeboarding and water skiing are both excellent on this lake. One of the best lakes in the state for ice fishing is Higgins Lake, where fishermen can reel in northern pike, bass, and trout. You can spend some time admiring the stunning natural surroundings around Higgins Lake and take a hike on one of the nearby trails.
10. Lake Muskegon
If you want to incorporate a variety of lake activities into your trip, Lake Muskegon is one of the best lakes in Michigan to explore. The lake lies close to the small city of Muskegon in western Michigan.
Water skiing, paddling, pontoon sailing, and canoeing are all popular activities on the lake. On Lake Muskegon throughout the summer, regattas and competitions involving sailboats are frequent. In addition to kayaking access locations, this is one of the best sandy beaches in Michigan.
Another well-liked sport on this lake is fishing.
When visiting Lake Muskegon, think about arranging an afternoon trip to Milwaukee, where you can take part in further water sports in Wisconsin. The Lake Express ferry will bring you directly there!
Summary of the 10 Best Lakes in Michigan That Have Sandy Beaches:
| Lake | Closest City |
| --- | --- |
| Lake Michigan | Traverse City |
| Lake Huron | Point Edward |
| Lake Erie | Detroit |
| Lake Charlevoix | Charlevoix |
| Lake Leelanau | Traverse City |
| Big Glen Lake | Glen Arbor |
| Torch Lake | Traverse City |
| Lake St. Clair | Detroit |
| Higgins Lake | Roscommon |
| Lake Muskegon | Muskegon |
The photo featured at the top of this post is © AMCImagery/Shutterstock.com
---