Key Points:
The Poconos are a popular summer vacation area with multiple resorts and bridges.
Wineries and breweries are common in the mountains and usually host events with lodging options.
In the Poconos alone there are about 150 lakes.
If you want to have your breath taken away, spend a few days in the Pocono Mountains in Pennsylvania. There is something for everyone in these large mountains. The surface area of these mountains is 2,394 square miles, while the highest point is 2,215 feet. Probably the best part about the Poconos is the marvelous lakes in between the mountains, rolling hills, and thick, green forests. In the Poconos alone, there are about 150 lakes.
Follow along to learn more about this mountain range and the best lakes in the Poconos.
Things To Do in the Poconos
The Pocono Mountains are more than just a bunch of rivers and lakes. You can enjoy many recreational activities like skiing, fishing, boating, hiking, camping, and bird watching. It is a popular summer vacation area with multiple resorts and bridges. Bushkill Falls has many waterfalls and bridges that connect them together. If you are brave enough, there is also a fun and fast zip line throughout the mountains. Wineries and breweries are common in the mountains and usually host events with lodging options.
What Animals Live in the Poconos?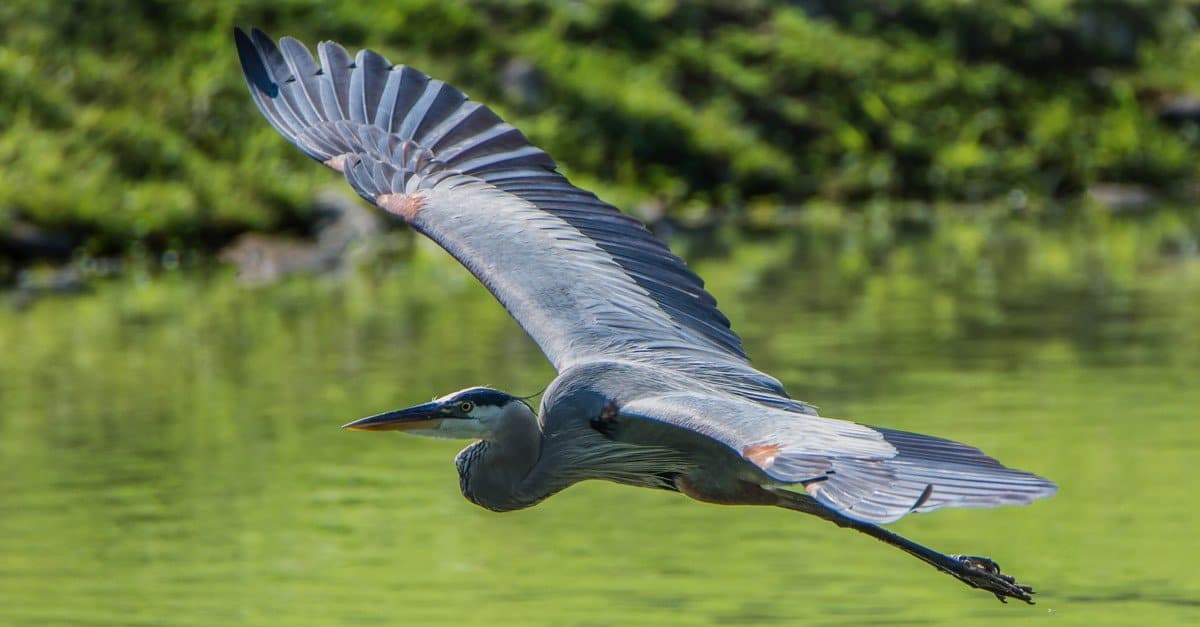 You won't have to look too hard for animals in the Poconos. Foxes, weasels, large deer, beavers, otters, bobcats, coyotes, and snakes are common in the mountains. Since this space is so large, they hide well and camouflage. Be careful when taking a hike as there are poisonous snakes like the copperhead and timber rattlesnake. Black bears also live in the mountains, but they typically stay away from humans and loud noises.
There is also plenty of fowl afoot and in the air. From the great blue heron and the bald eagle to turkey vultures, loons, and mallards, there's no shortage of game to keep an eye out for.
Fast-running rabbits also live in these mountains and can run as fast as 18 mph. Southern and northern flying squirrels glide from tree to tree up to 300 feet. Interestingly, raccoons are frequent in the mountains and live in colonies of up to 20 where they swim, eat, and hunt together.
Animals are not the only wildlife to live in the Poconos. There are lots of native and gorgeous plants that call these mountains their home. The mountains have lush green forests, soaking wetlands, and tall grass hills. Take a walk anywhere in the Poconos and you can find daylily, Jordan de Asso's daffodil, and fairy fan flowers.
The Top Best 5 Lakes in the Poconos
1. Lake Wallenpaupack
First on our list of the best five lakes in the Poconos is Lake Wallenpaupack. This lake is massive and is the second-largest lake contained in Pennsylvania. It is 13 miles long and has a maximum depth of 60 feet. Lake Wallenpaupack was formed in 1926 by the Pennsylvania Power & Light Company (PP&L) for hydroelectric purposes and flood control. While it was made for other purposes, it is now a massive tourist destination in the Poconos Mountains. The area surrounding Lake Wallenpaupack is home to a large deer population. This lake is also mentioned in a lot of pop culture shows, including the office. While the TV series The Office had an episode about visiting the lake, it was not filmed there.
2. Lake Harmony
Next, we have Lake Harmony. If you and your family are looking for thrills and fun, Lake Harmony is a great place to visit for a few days! Most of the lake is private and owned by hotels and cabins, but you can reach the lake through one of the many hiking trails. Anglers will love the many fishing opportunities as bass, pike, and walleyes are common in the lake. Lake Harmony's water is pristine and crystal clear. Just a few miles away from this amazing lake is Hawks Falls, a popular destination.
3. Lake Naomi
Lake Naomi is a 277-acre lake with many recreational activities. The lake looks like something off of a postcard, with sparkling water and lots of green. When you grow tired of swimming, fishing, or boating in the lake, you can enjoy the many dining and shopping options on the 2,600 acres surrounding the lake. It is a peaceful place where people go kayak and enjoy the quiet and serene views. When winter rolls around, you can still enjoy Lake Naomi. People from all over the country travel to this lake and the Poconos to ice skate when the weather permits. Black bears are also common here since it is surrounded by thick forests.
4. Stillwater Lake
With a maximum depth of 8 feet, Stillwater Lake is a large shallow reservoir that is about 315 acres. It has a unique history and is artificial. Before the lake was created, the area was a swamp called the "Klampeechen Chuppecat," which translates to "dark swamp." The lake's purpose was to transport lumber and wood. By the 1900s, companies used this lake for ice harvesting. You can still see old ice-harvesting buildings and factories while driving near the lake. Fishing is allowed on this lake, and they frequently stock it with yellow perch, tiger muskies, and smallmouth bass.
5. Locust Lake
Locust Lake is an outdoor haven with plenty to do for you and your whole family. This lake is located in Locust Lake State Park. The lake is 52 acres and is behind two large campsites for easy access. Many clean and beautiful hiking trails also lead to the lake. The maximum depth of the swimming area is 5.5 feet and children are allowed to swim, but always supervise children while swimming. Wildlife is abundant in the state park surrounding the lake. In Locust Lake alone, there are at least 100 species of birds, including red-shouldered hawks and screech owls. As its name suggests, wild locusts are growing, including a stunning black locust plant.
Summary of the Five Best Lakes in the Poconos
Here are the top five lakes located in the Poconos.
| Rank | Lakes |
| --- | --- |
| 1 | Lake Wallenpaupack |
| 2 | Lake Harmony |
| 3 | Lake Naomi |
| 4 | Stillwater Lake |
| 5 | Locust Lake |
The photo featured at the top of this post is © iStock.com/EdBrennan
---