Texas may be known for its hot weather, which goes well with its world-famous barbecue, but it also has many freshwater lakes, which can be incredibly refreshing, especially given the state's arid climate. Many inhabitants travel to one of the state's many lakes to escape the heat and partake in boating, fishing, or swimming. Texas lakes also offer lots of space for other activities like scuba diving, camping, and skiing.
The Texas Parks and Wildlife Department (TPWD) oversees the management of the state's waters, which provide a diversity of fish and wildlife with healthy habitats. If the lakes in East Texas are mostly known for their beauty and recreational activities, the best lakes in West Texas are often recognized for their rich fishing opportunities. Below, we list 10 of the best lakes in West Texas and where to find them.
Background on West Texas
Generally speaking, West Texas refers to the area of the state that lies west of the line formed between the cities of Wichita Falls, Abilene, and Del Rio. Although most Texans are familiar with these names, these regions' borders are not formally recognized, and therefore any two people are likely to characterize them differently.
West Texas is frequently separated into sections based on unique physiographic characteristics. Between eastern and western Texas, the Rolling Plains and Edwards Plateau areas serve as transitional zones. In addition, West Texas includes the Franklin Mountains, Guadalupe Mountains, and Monahans Sandhills State Park, the only dune park in the state.
The 10 Best Lakes in West Texas
1. Lake Amistad
Lake Amistad, built in 1969, is a 101.4-square-mile body of water at the Mexican border where the Rio Grande and the Devils River converge. The lake was built alongside the dam and is now well-known among citizens and foreign visitors for its breathtaking natural beauty. Indigenous Americans once lived in the region, and there are still cave drawings to be found there. Some of the more well-liked leisure pursuits on this man-made lake are fishing, scuba diving, swimming, and water skiing. An annual fishing competition with domestic and foreign contestants is also held there. Around the lake, there are many boat ramps, and the area's natural setting offers opportunities for hiking, camping, and nature hikes.
In January, you can see bass swimming in 10 feet of water as the water there is clear and closer to the dam. The lake also boasts a stunning landscape. The warm winters that come with Amistad's location in southwest Texas can also result in amazing fishing patterns.
2. Lake Alan Henry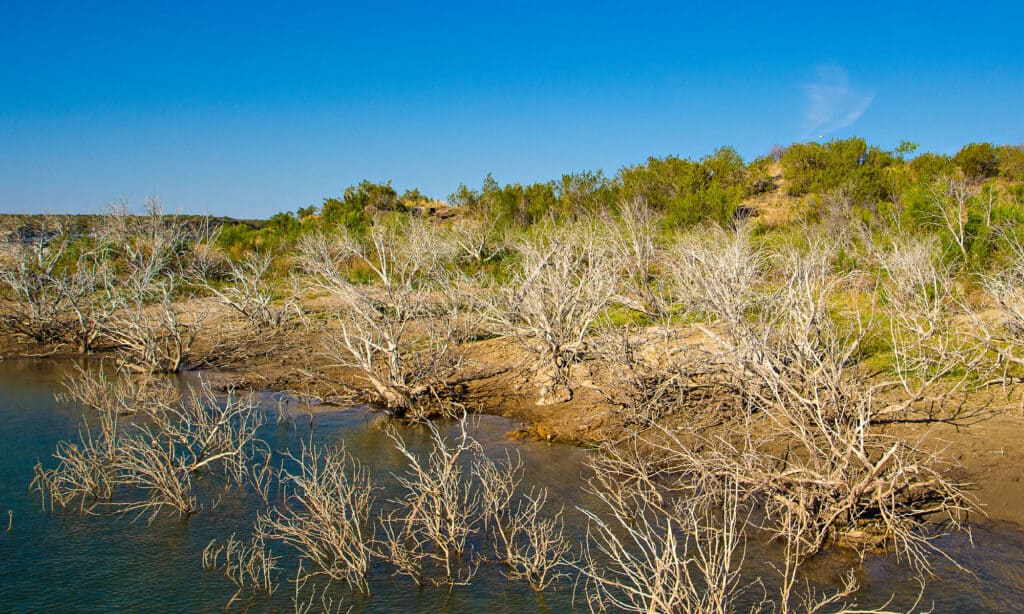 The reservoir known as Lake Alan Henry is located in West Texas' upper Brazos River Basin. Lake Alan Henry is stunning, and it has excellent fishing. Over the past 20 years, this lake has produced much larger fish than is fair. It was built in 1993 due to the John T. Montford Dam project, and the city of Lubbock, Texas, uses it for recreational purposes and as a potential tertiary water source. To promote fishing and recreational activities, a variety of fish populations have been stocked in Lake Alan Henry. The lake was first stocked with adult shads and gizzards in 1993. The ideal time of year to catch bass is spring when the water is between 55 and 60 degrees.
3. Lake Fort Phantom Hill
Lake Fort Phantom Hill is a great lake for a variety of fishing all year round. Phantom, as the locals refer to it, is a bass-producing location just north of Abilene. Blue catfish, hybrid striped bass, and white crappie provide the most consistent fishing opportunities at Fort Phantom Hill. Sometimes, largemouth bass might be an excellent catch. Massive boulders near Fort Phantom can accommodate some pretty enormous fish.
Additionally, docks offer decent cover, and fishing with crankbaits in and around them can be successful. The reservoir's west side features acres of black willow trees and several aquatic vegetation whenever the lake is full. Other lake regions are mostly stony, with some brush piles and boat docks.
4. Lake Leon
Also known as Leon Reservoir, Lake Leon is formed by a dam on the Leon River in Eastland County which is situated halfway between Abilene and DFW just south of the town of Ranger. Undoubtedly, we are extending the definition of "West Texas," but it would be unfair to exclude this small gem just because it is in the middle.
On the reservoir, boating and fishing are common activities, and the rich loamy soils support a range of tall grasses near the lake. Bass fishing is excellent in Lake Leon, and its cover and structure differ, making it an excellent area to experiment with various methods and presentations for various situations.
Lake Leon is the spot to fish if you like a variety of fishing covers. Boat docks, large trees, creek channels, aquatic plants, rocky outcrops, riprap, and bushes can all be found there.
5. Lake Balmorhea
A reservoir on Sandia Creek, Balmorhea Lake is located 2 miles (3.2 km) southeast of the town of Balmorhea in Reeves County, Texas. The lake is 556 acres in size and has a maximum depth of 25 feet. The reservoir serves as a water source for agriculture and is a well-liked local recreation area. The lake, also known as Lower Parks Reservoir, is frequently stocked with channel catfish, largemouth bass, crappie, and sunfish. Since poisonous golden algae blooms have severely harmed it, fishing is regulated until the lake has been refilled in favorable conditions.
6. Red Bluff Reservoir
Red Bluff Reservoir sits on the Pecos River in the counties of Loving and Reeves, 40 miles (64 km) north of Pecos, Texas. The Red Bluff Water Control District built a dam in 1936 to create a reservoir for supplying water for irrigation and hydroelectric generation. The lake is frequently used for recreational fishing; Texas state laws govern the activity, and fishing licenses are necessary. 
7. Twin Buttes Reservoir
West of San Angelo, in Tom Green County, is where you'll find Twin Buttes Reservoir. The reservoir was created by building the Twin Buttes Dam, which was finished in 1963. The fishing in Twin Buttes Reservoir varies due to water level changes, frequently with murky water conditions. Twin Buttes is a good choice if you like to fish away from the crowd.
White bass, largemouth bass, white crappie, channel,  flathead, and blue catfish inhabit the lake, whose waters are surprisingly clear. The Twin Buttes Reservoir was built in Tom Green County to serve San Angelo and the other municipalities as an essential supply of drinking water, agriculture, flood control, and water management. The lake is also a destination for boating, swimming, and fishing. Many locations around the lake offer boat launching. However, the majority are undeveloped.
8. Lake Nasworthy
The small municipal lake, Lake Nasworthy, is situated in Tom Green County, southwest of San Angelo. The man who sold the land where the lake is situated is remembered by the lake's name, John R. Nasworthy. The lake's maximum depth is 29 feet, and its surface area is 1,596 acres. Bulrushes and alligator weeds line the shoreline's expansive stretches. The reservoir also has coontail, star grass, and sago pondweed. Channel catfish, flathead catfish, white bass, largemouth bass, striped bass, and white crappie inhabit the lake's water, which has a faint hue.
Fishing is fair, although hybrid striped bass needs to be routinely supplied. Fishing for catfish and white bass is good, while crappie and largemouth bass are typically productive. The recreation areas at the lake, which the City of San Angelo maintains, include Knickerbocker Park, Mary Lee Park, Middle Concho Park, and Pecan Creek Park.
9. Lake Meredith
Lake Meredith is a reservoir on the Canadian River created by the Sanford Dam in Sanford, Texas. It is located in the Texas Panhandle, about 30 miles (48 km) northeast of Amarillo, Texas. Amarillo and Lubbock, Texas, located roughly 150 miles (240 km) to the south, along with many smaller communities in between and close by, rely heavily on Lake Meredith as their primary source of drinking water. It is also the home of the Texas state record walleye. Anglers seeking a variety of fish species are tempted by the lake's more than 100 miles of shoreline. This flourishing fishery is home to walleye, crappie, bass, trout, and sunfish.
10. White River Reservoir
White River Reservoir, a 1,642-acre lake located 40 miles east of Lubbock, is a possibility for fishing in the Texas panhandle's northern region. The reservoir also features a fishing house, a cleaning station, 4 camping sites, 2 R.V. sites with water and electricity only, and picnic areas with 30 tables. Anglers who fish from a boat can access about 25 miles of shoreline, and fishing from the bank is possible in many locations. White River Reservoir offers great largemouth bass fishing, with regular catches of fish weighing over 8 pounds. Regular walleye spawning occurs, with the best fishing months being April through June.
Up Next:
The 7 Most Dangerous Lakes in Texas
More from A-Z Animals
---
The Featured Image
---
Sources

All About Fishing, Available here: https://www.aa-fishing.com/tx/west-tx-fishing-lakes.html
The Perfect Combo Fishing, Available here: https://theperfectcombofishing.com/the-best-bass-lakes-in-west-texas-epic-desert-fishing/
Planetware, Available here: https://www.planetware.com/texas/top-rated-lakes-in-texas-us-tx-179.htm