Ready for some splashing and fun in the sun? Look no further than New York's beautiful lakes, offering a refreshing and relaxing escape for all ages. Besides, you'll never get bored with so many exciting things to do nearby, including kayaking, fishing, and hiking. This summer don't miss out on creating unforgettable memories in some of the best New York lakes for swimming!
Best Season for Swimming in New York
When diving into the refreshing waters of New York's lakes, timing is everything. While June may offer cool swimming, it is the trio of July, August, and September that truly steal the show. As the sun graces the sky with its warm embrace, these months gift us with the perfect blend of pleasant weather and ideal water temperatures.
Great Sacandaga Lake – Northville, NY
Nestled amidst the majestic Adirondack Mountains lies Great Sacandaga Lake, a hidden gem boasting breathtaking scenery and untouched charm. With its extensive 125-mile shoreline, this pristine lake showcases a harmonious blend of sandy beaches and rocky coves.
Because the lake's shallow depths attract swimmers of all ages, it is known as a haven for aquaphiles. Among the top swimming spots is the renowned Northampton State Campground and Day Use area on Houseman Street, renowned for its inviting natural sand beach. The lake is also perfect for indulging in waterskiing, kayaking, jet skiing, and fishing adventures.
For those seeking an idyllic getaway, June and September offer pleasant water temperatures around 65°F.
Oneida Lake – Oneida County, NY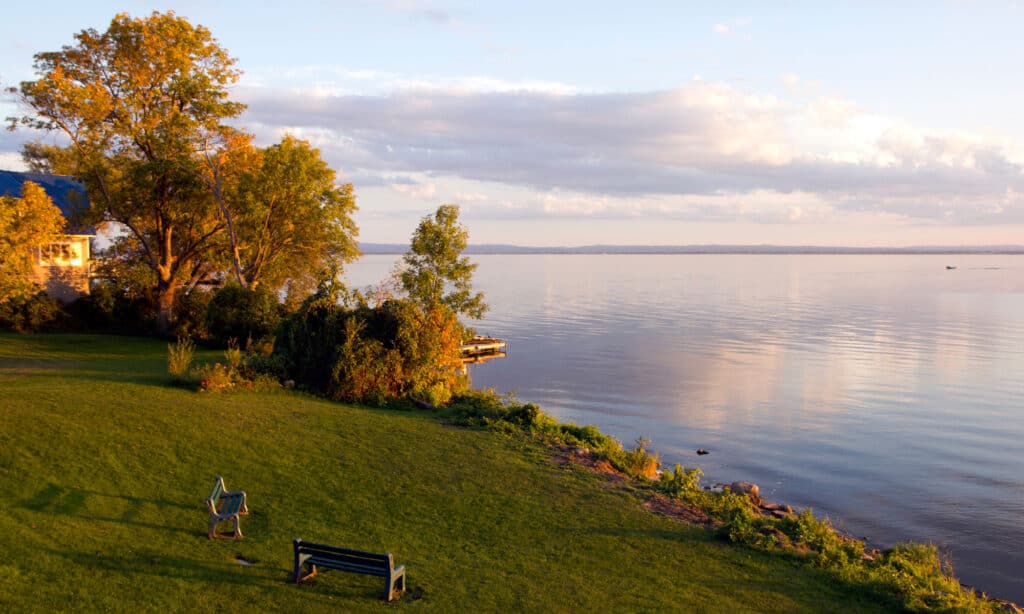 Oneida Lake, 10 miles northeast of Syracuse, is a magnificent natural gem within New York state. Due to its vast expanse of 79.8 square miles, it proudly holds the title of the largest inland lake entirely within the state.
This captivating oasis offers a delightful sandy beach where fun and relaxation abound. For example, visitors can enjoy the dynamic Driver's Village Playground, embrace the refreshing breeze at the picnic grounds, and engage in lively volleyball matches.
Discover serenity and recreation amidst the sandy waterfront! As a bonus, these areas come complete with a supervised swimming area. Additionally, there's an inflatable zone, a convenient bathhouse, and an inviting children's playground. Swimming hours are scheduled, ensuring safety with vigilant lifeguards, while the months of July and August boast pleasantly warm water temperatures.
Francis Lake – Lewis County, NY
Francis Lake, nestled in the foothills of the Adirondacks, is a hidden gem offering easy access without the crowds. With a maximum depth of 18 feet and an average depth of 5.2 feet, this shallow lake attracts swimmers from far away. Nature enthusiasts will be captivated by the beaver meadow in the southeast bay, adding to the lake's allure.
To embark on your adventure, head to the car-top launch site in the north corner, conveniently located off Stillwater Road. Though the parking area is small, the dock is just a short walk away. Don't forget the joys of backcountry camping, fishing, picnicking, bird watching, and wildlife spotting.
Beat the summer heat by planning your visit between July and September, when Francis Lake is at its finest.
Heart Lake – Adirondack Park, NY
Welcome to Heart Lake in the Adirondacks! Due to its family-friendly environment and excellent accommodations, this popular destination draws thousands of visitors annually.
Because this lake is pristine, visitors can swim, fish, or paddle in the clear waters. Hike Mount Jo for breathtaking views from its 2,876-foot summit, choosing between a gentle 1.3-mile trail or a steeper, rugged 1.1-mile path.
Mount Van Hoevenberg offers stunning vistas of the High Peaks Wilderness. It even hosts an Olympic bobsled run and training facility. Stay at the campground, surrounded by nature, with cozy campsites and well-maintained trails.
Paradox Lake – Essex County, NY
Paradox Lake, spanning 1.42 square miles, is a captivating destination renowned for its excellent fishing opportunities. The area also offers a range of invigorating trails, such as Spectacle Pond Trail, Berrymile Pond Trail, and Pharaoh Mountain Trail, perfect for hiking and biking adventures.
During the summertime, visitors can delight in popular activities like swimming and boating. With a host of amenities such as hot showers, flush toilets, boat rentals, and a picnic area with pavilion rental, along with 58 campsites and a convenient trailer dump station, visitors are guaranteed a comfortable and enjoyable stay in the midst of nature.
Meacham Lake – Franklin County, NY
Experience endless adventures and embrace the beauty of Meacham Lake State Park and its inviting campground. However, the true treasure lies in the enchanting lake itself. Immerse yourself in relaxation on the sun-drenched sandy beach, where lounging and picnicking become sheer bliss.
Even at its deepest point, the lake's sandy bottom remains a mere 6 feet below the surface, offering a sense of security. Despite its popularity, the beach area maintains a peaceful ambiance, complemented by the awe-inspiring views of the majestic surrounding mountains.
Meanwhile, the campground welcomes you with a remarkable selection of 224 campsites, convenient boating access, and an array of enticing amenities. Plan your visit in July or August to relish the perfect water temperature of 66°F, ensuring an unforgettable swimming experience.
Thompson's Lake – Albany County, NY
Thompson's Lake is a perfect getaway tucked within the magnificent Thacher State Park. This outdoor haven offers 140 idyllic campsites nestled among lush forests, sandy shores, and striking limestone formations.
Nature enthusiasts will revel in the harmonious blend of hardwood and conifer trees, while adventure seekers can indulge in endless fun. Dive into the crystal-clear waters of the sandy beach, challenge friends to a thrilling game of volleyball, or try your hand at horseshoe pits. With plenty of open fields, swing sets, and nature trails, there's something for everyone.
Whether it's summer camping or exhilarating winter escapades like cross-country skiing and ice fishing, this year-round haven in New York caters to all your outdoor desires.
Lake Minnewaska – Ulster County, NY
Lake Minnewaska, situated within the scenic Minnewaska State Park Preserve, is a true gem surrounded by magnificent rocky terrain. Its breathtaking beauty makes it an ideal destination for families seeking a memorable summer swimming experience.
The beach is open from 11:15 a.m. to 6:45 p.m., with attentive staff ready to assist visitors throughout the season. You'll find three distinct roped-off areas that mark different water depths. As you step onto the beach's smooth gravel bed, you can plunge into the refreshing waters of the lake.
Remember to uphold the Clean, Drain, Dry principles to protect the lake from invasive species. Please note that coolers, picnicking, and pets are not allowed on the beach.
Lake Awosting – Ulster County, NY
Escape to the pristine beauty of Lake Awosting, another hidden gem within Minnewaska State Park. This secluded swimming spot can only be reached by traversing the park's scenic trails and carriageways.
Its distinguishing feature is a unique, flat rock slab beach that gradually slopes into the cool, refreshing water. Lifeguards are on duty from 11:00 a.m. to 5:30 p.m. during the summer season, ensuring your safety within the large roped-off swimming area that extends to a depth of 10 feet, 1 inch.
Immerse yourself in the breathtaking scenery of the Shawangunks escarpment while exploring the park's miles of additional trails. Don't miss the spectacular display of mountain laurels in June.
Canopus Lake – Putnam County, NY
Escape the summer heat and head over to Canopus Lake, a hidden gem in the heart of Clarence Fahnestock Park. This serene oasis offers a sandy beach and a refreshing swimming area, surrounded by breathtaking natural beauty.
Start your day with a hike on one of the park's many trails, then treat yourself to a few hours of lakeside relaxation. Canopus Beach is a popular spot, so be sure to arrive early to secure a parking spot. Embrace the tranquility as you bask in the sun, dig your toes into the sand, and take in the wooded surroundings.
For a little adventure, rent a rowboat or explore the vast 14,000-acre park through its scenic trails. Need a break from the water? Cold Spring, just a short drive away, offers charming shops and restaurants, as well as the fascinating West Point Foundry Preserve. Whether you're seeking a serene getaway or an action-packed day, Canopus Lake and its surroundings have something for everyone
Lake Welch – Rockland County, NY
Just a short 45-minute drive north of New York City lies Lake Welch, a stunning summer spot brimming with activities for all. Step into a world of serene beauty as you explore the sandy beach and soak up the warm sunlight.
Dive into the pristine lake for a thrilling swim. Additionally, you can try your hand at stand-up paddleboarding or embark on a peaceful canoe ride. Nature enthusiasts can venture into nearby wildlife trails, uncovering the rich diversity of plants and animals along the way.
If hiking is your passion, picturesque trails await, offering breathtaking views for leisurely strolls or challenging treks. Lake Welch is the perfect haven for those seeking relaxation, outdoor excitement, and memorable experiences.
Nine Corner Lake – Fulton County, NY
Embark on a captivating journey to Nine Corner Lake, a hidden treasure in the heart of the mesmerizing Adirondack region. A scenic one-mile hike awaits you from the Route 29A parking area.
Follow the path meandering alongside a charming creek, graced by enchanting waterfalls that will leave you in awe. While the hike is generally easy, watch out for muddy stretches after rainfall and occasional tree roots along the way.
Once you reach the tranquil lake, be prepared to be mesmerized by its crystal-clear waters. You can take a refreshing plunge using the rope swing, adding a touch of adventure to your experience. Also, the shoreline boasts stunning rock formations, offering a breathtaking backdrop.
For those seeking a longer trek, the trail continues alongside the southern edge of the lake, promising endless possibilities.
Owasco Lake – Cayuga County, NY
Owasco Lake, nestled in New York's Finger Lakes region, holds the title of being the sixth largest and third easternmost among its scenic counterparts. While its unique shallow waters create a summer paradise, the region offers warm temperatures. These factors invite swimmers and boating enthusiasts to its refreshing embrace.
If you find yourself at the northern end, you won't want to miss Emerson Park. This delightful destination boasts sandy beaches, playgrounds, boat launches, and also a dog park. Head to the southern tip of the lake, and you'll discover the serene Owasco Flats, which is a haven for birdwatching, kayaking, and nature trail exploration.
Fishing enthusiasts will be delighted by the abundance of walleye, perch, bass, trout, northern pike, and salmon that call this lake home. And when winter arrives, the frozen wonderland at the northern end becomes an ice-fishing paradise.
Greenwood Lake – Orange County, NY
Greenwood Lake, previously known as "Long Pond," is a beautiful natural reservoir straddling the border between New York and New Jersey.
Because this scenic lake is renowned for its exceptional bass fishing, it draws anglers from all over. Besides largemouth and smallmouth bass, you can reel in yellow perch, chain pickerel, and catfish in its abundant waters.
On the New York side, there are two inviting public beaches where visitors can also engage in activities like volleyball and swimming. Additionally, lifeguards are present in some beach areas, ensuring a safe experience. Additionally, the lake boasts lakeside marinas and a variety of restaurants, providing ample opportunities for relaxation and dining.
During winter, the lake transforms into a serene setting for ice-fishing and skating, offering a quieter atmosphere.
Summary Of The Best New York Lakes For Swimming
| Number | Name | Location |
| --- | --- | --- |
| 1 | Great Sacandaga Lake | Northville |
| 2 | Oneida Lake | Oneida County |
| 3 | Francis Lake | Lewis County |
| 4 | Heart Lake | Adirondack Park |
| 5 | Paradox Lake | Essex County |
| 6 | Meacham Lake | Franklin County |
| 7 | Thompson's Lake | Albany County |
| 8 | Lake Minnewaska | Ulster County |
| 9 | Lake Awosting | Ulster County |
| 10 | Canopus Lake | Putnam County |
| 11 | Lake Welch | Rockland County |
| 12 | Nine Corner Lake | Fulton County |
| 13 | Owasco Lake | Cayuga County |
| 14 | Greenwood Lake | Orange County |
The photo featured at the top of this post is © iStock.com/DebraMillet
---