Communities have flocked to hot springs for generations; even Native American records show tribes regarding the pools of mineral water as sacred healing places. Hot springs have become top-priority destinations for many vacationers — including seniors. Much more relaxing and restorative than a pool or hot tub, hot springs provide senior travelers with a mineral-rich soak that's effect carries through the duration of a vacation.
For seniors planning a hot spring trip, consider California. The Golden State has over 100 natural hot springs to soak in after a long, weary day of traveling or adventuring through wineries, historical sites, or fast-paced city streets.
Keep reading to discover the 11 best senior-friendly hot springs in California, and find out exactly what benefits hot springs bring seniors.
What Are Hot Springs?
The National Parks Service defines a hot spring as a pool of water that is heated by geothermal heat from the Earth's interior. Some hot springs, like those around Yellowstone National Park, are too hot for humans to enter. Situated in volcanic areas, water can quickly become superheated — resulting in significant burns or even a fatal injury.
Across the world, different cultures and communities consider different bodies of water hot springs. It doesn't have to be a spring of groundwater heated by shallow magma or other geothermal activity; it can simply be a natural spring of water that somehow has a temperature above 99 degrees Fahrenheit.
The Best 11 Senior-Friendly Hot Springs in California
A-Z Animals conferred with travel experts and native Californians to discover the best senior-friendly hot springs in California — from popular spots to hidden gems.
Brockway Hot Springs
According to Fabian Mendoza, a decades-long world traveler and the editor of the Orlando Guide, "The best hot springs in California for seniors are the Tahoe Hot Springs, Wilbur Hot Springs, and Sierra Hot Springs."
Lake Tahoe has several different hot springs to enjoy. However, the best natural hot spring for seniors in the area is the Brockway Hot Springs on the north shore of Lake Tahoe. It's a bit of a hike, with some of the hot springs located on private property, but the views are unmatched. Usually, water runs around 100 degrees. It also has mineral-rich sediment for cleansing mud baths.
Wilbur Hot Springs
The Wilbur Hot Springs Resort and Spa, located in Williams, California, fulfills the definition of an off-grid vacation focused on relaxation. Priding itself on encouraging guests to engage in a "total digital detox" while on the property, Wilbur remains a solar-powered health sanctuary with the express purpose of providing calming, healing experiences. The temperatures of the hot springs range between 100 and 109 degrees Fahrenheit; perfect for seniors to take a 20-minute soak.
"Wilbur Hot Springs offers a tranquil oasis with both hot and cold mineral pools," informed Stephanie Webb, a travel expert and guide who primarily works with SeeSight-Tours.com. "The serene atmosphere and wellness-focused amenities make it an excellent choice for senior travelers seeking relaxation."
Guests must make reservations to soak in the geothermal springs at Wilbur.
Sierra Hot Springs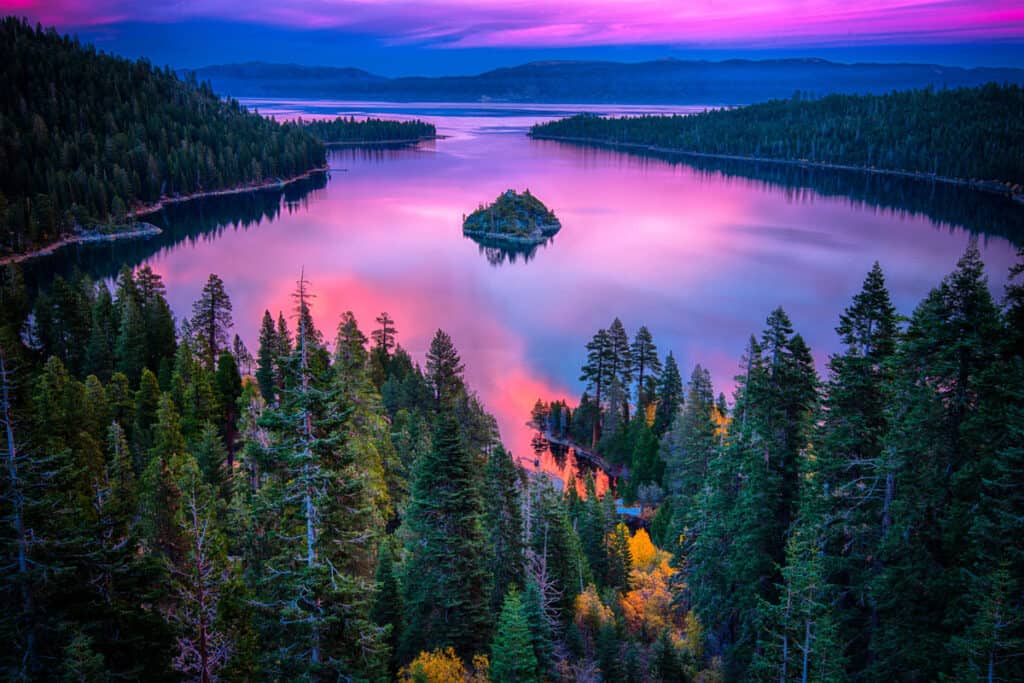 Remotely located in Sierraville, California, Sierra Hot Springs is a retreat and workshop center that offers day passes and two-day lodging accommodations for eager hot spring visitors. It requires a reservation — but once you're in, the tranquil, smoother-than-silk waters beckon you to stay as long as possible. The resort provides massage therapies in addition to the hot springs.
Sierra Hot Spring's natural pool, the Temple Dome, has a naturally warm Hot Pool between 110 and 112 degrees Fahrenheit. Outside of the dome, the Warm Pool bubbles between a balmy 98 and 100 degrees.
Indian Springs Resort and Spa
Mendoza added to his list of recommendations, "If you're looking for some hidden gems, then consider Indian Springs Resort and Spa, which is located in Calistoga. The resort offers a variety of activities including wine tasting, hiking, and spa treatments for seniors."
While guests of the resort won't swim or soak in the hot springs themselves (as they're too hot and inaccessible), the springs feed both the outdoor pools. The Main Pool runs around 10 degrees warmer than the Adult Pool, but both sit in the range of 92 to 102 degrees Fahrenheit.
Calistoga Hot Springs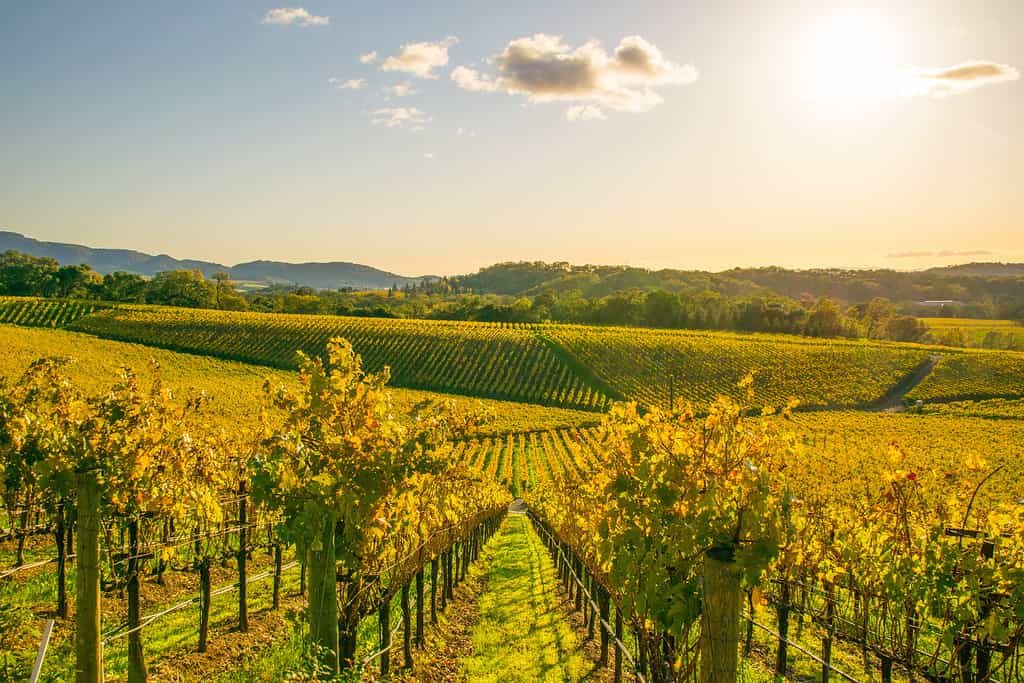 "Calistoga is renowned for its geothermal hot springs and mud baths," informed Webb. Located in Napa Valley, the small town of Calistoga has an astounding number of naturally occurring mineral hot springs for locals and tourists to enjoy. One of the best is the Calistoga Spa Hot Springs, where seniors can relax by spring-fed pools, get a volcanic ash mud bath treatment, enjoy a Wine Train experience, and much more.
The luxury resort Calistoga Spa provides mineral-rich pools like the Indian Springs Resort and Spa. This resort remains a great choice for seniors who prefer a total care and spa package. Calistoga also provides a new type of program: an extended pool pass that allows guests to check out of their rooms but continue using the pool until 9:00 p.m. This enables visitors to get the most out of the mineral-rich, hot spring-fed waters at the resort. The waters are warm, between 70 and 90 degrees depending on the time of day.
Harbin Hot Springs
Wine Country visitors on the hunt for a senior-friendly hot spring need to look no further than Harbin Hot Springs, a rustic hot spring retreat located in Middletown. Like many of the other retreats, reservations are required to enjoy the hot springs and spring-fed pools on the property. Harbin has three historic pools, each of different temperatures, as well as several ADA-compliant facilities. The waters of the hot spring run around 100 degrees.
"Harbin Hot Springs is a tranquil retreat nestled in the hills of Northern California," Webb shared. "It offers a range of hot pools, saunas, and cold plunges. The serene environment is ideal for seniors looking for a peaceful getaway."
Mono Hot Springs
Named for the Mono Indians who brought European settlers to the region for healing treatments, the Mono Hot Spring lies between Yosemite and Kings Canyon. It provides cabins, as well as places to camp.
Mono Hot Springs provides a unique way to experience the natural spring: it pipes the hot spring water into the bathhouse on the property for mineral-rich tubs, showers, and spa soaks. The temperatures of the water range between 100 and 104 degrees Fahrenheit.
Orr Hot Springs
Seniors who want a rugged, close-to-earth experience should consider the Orr Hot Springs Resort located in the hills of the Mendocino Coastal Range. The entirely clothes-optional resort provides 27 lush acres with rooms, yurts, cottages, and more. Guests can choose to stay in a room with a private tub or venture into the public bathhouse to mingle with other visitors. Both the bathhouse and the private tub have warm waters between the high 90s and low 100s.
Jeyn Dashner, a lifelong traveler, as well as the founder and 13-year operator of WanderFever, shared several different recommendations with A-Z Animals, including Orr Hot Springs.
"Orr Hot Springs is a quiet and rustic retreat with clothing-optional pools nestled in the redwoods of Northern California. It's a serene escape from city life."
Deep Creek Hot Springs
Located in the San Bernardino National Forest, the Deep Creek Hot Springs has long been a favorite public, natural hot spring. Seniors with a thirst for adventure will enjoy the hike to the springs and camping opportunities around the forest on the Pacific Crest Trail.
"Deep Creek Hot Springs is a natural, clothing-optional hot spring in the Mojave Desert," shared Webb in their extensive list of recommendations for senior-friendly hot springs in California. "Although it requires a hike to reach, the experience of soaking in the warm pools surrounded by the desert landscape is worth it."
Recently, USDA's Forest Service website shared that water quality tests found a rare and potentially fatal disease called primary amoebic meningoencephalitis and have asked visitors to not submerge their heads or drink the water.
Esalen Hot Springs
For an educational experience diving into spiritualism, plant medicine, leadership, and more, Esalen Institute provides a holistic retreat. Not to mention, a great natural hot spring that overlooks the Pacific Ocean known as Slates Hot Springs. If seniors don't want to join in on the workshop or programs offered by Esalen, they can still use the hot spring pools between 1:00 a.m. and 3:00 a.m. The water runs between 102 and 104 degrees.
Tecopa Hot Springs
Active seniors who enjoyed Deep Creek will also enjoy Tecopa Hot Springs, located near Death Valley National Park. Its adjoining campground has "glamping" cabins, as well as campgrounds, to enjoy the natural hot spring. If you're local to the area, the campground offers daily, weekly, and monthly bath-only passes to the site.
Dashner suggested Tecopa as a way to relax sore muscles after an adventurous, strenuous hike. "Tecopa Hot Springs, near Death Valley, provides several natural and developed pools with varying temperatures. It's a great place to unwind after exploring the desert."
The waters are around 100 degrees Fahrenheit warm. Tecopa Hot Springs Campground shares the mineral water content from the last measured test. It includes calcium, magnesium, boron, selenium, sodium, potassium, carbonates, bicarbonates, sulfates, and chlorides.
Summary of the 11 Best Senior-Friendly Hot Springs in California
| Hot Spring Name | City |
| --- | --- |
| Brockway Hot Springs | Kings Beach |
| Wilbur Hot Springs | Williams |
| Sierra Hot Springs | Sierraville |
| Indian Springs Resort and Spa | Calistoga |
| Calistoga Hot Springs | Calistoga |
| Harbin Hot Springs | Middletown |
| Mono Hot Springs | Mono Hot Springs |
| Orr Hot Springs | Ukiah |
| Deep Creek Hot Springs | Apple Valley |
| Esalen Hot Springs | Big Sur |
| Tecopa Hot Springs | Tecopa |
Hot Springs Benefits for Seniors
The benefits of hot springs for seniors range from pain relief, to lower blood sugar, to temporary healing of skin conditions.
Pain Relief
Heat relaxes muscles, which may have a pain-relieving effect on many seniors. During a 2021 study, 1,300 people with joint and muscle pain, including conditions like rheumatoid arthritis and fibromyalgia, soaked in a hot spring and indicated its effects on their pain levels. A whopping 83% asserted they received, at minimum, a temporary respite from their regular symptoms by the end of the bath.
Positive Effects on Cardiovascular Health
Entering a hot spring inherently raises a body temperature without the human performing a type of exercise. This rise in temperature facilitates a reduction in inflammation and blood sugar, as well as improved circulation. For seniors, heart health remains crucial to enjoying their golden years — especially for those who can't engage in strenuous exercise activity that would otherwise improve cardiovascular health.
Positive Effects on Certain Skin Conditions
Depending on the hot spring seniors choose to soak in, the water may have naturally high amounts of silica in it that soften rough or dry skin. In addition to silica, sulfur-rich hot springs can help skin conditions like psoriasis and eczema.
Overall Relaxation
At a minimum, soaking in a hot spring provides seniors with full-body relaxation. Study upon study has proven that the act of bathing helps people sleep more soundly — which is great for seniors with altered circadian rhythms.
Considerations for Seniors in Hot Springs
As beneficial as hot springs are, seniors should consider a few factors before stepping into a spring.
Safety
When humans age, their balance becomes worse as the cells in their inner ear die off. As such, seniors have a higher risk of falling than younger hot spring visitors.
"It is important when visiting hot springs for seniors to prioritize safety and comfort," said Webb. "Always check if the springs have facilities catering to seniors, such as handrails, non-slip surfaces, and easy access to the pools. Additionally, be aware of the water temperature and soak for an appropriate duration to avoid overheating."
Because many hot springs are clothing optional and surrounded by wet rocks, some seniors may run the risk of slipping.
Temperatures
Seniors should check with their doctor before entering a hot spring to ensure their bodies can handle it. Hot springs are essentially giant, natural hot tubs — but the owner and operator of the hot spring can't control the water's temperature.
For some seniors, 100 degrees is more than hot enough. At this temperature, they shouldn't stay in the hot spring for longer than 25 or 30 minutes at a time. As the temperature of the water increases, the acceptable soak time decreases. Scalds can happen at temperatures as low as 120 degrees, so knowing a senior's skin type and tolerance will help to determine how long they should stay in.
Microorganisms
Unfortunately, humans aren't the only animals to enjoy a long soak in a natural hot spring. Seniors need to watch out for two microorganism threats in particular: red spider mites and bacteria.
Red spider mites are nearly imperceptible at a minuscule one millimeter large at their adult size. Their bite greatly outweighs their appearance — injecting a toxin under the skin that can cause itching for weeks. These crimson mites crawl on the rocks around a hot spring, often hitching a ride back to your hotel on discarded towels or clothes, and float on top of the water. For most healthy adults, their immune systems can fight off the spider's toxin. However, immunocompromised seniors may be at more risk for complications from bites.
Similarly, immunocompromised seniors with deep cuts or wounds should avoid hot springs entirely. A few different bacteria (namely Escherichia coli and Enterococci) can survive in the high temperatures of the springs and thereby infect any person with an open wound.
Reservations
Make sure you check your hot spring's availability before traveling there, and ensure you have a reservation if you need one. Some of the most popular hot springs fill up fast, especially on weekends, holidays, and days with cooler weather. Seniors should ensure their reservation date, time, and address to avoid confusion day of.
Dashner provided a few other considerations seniors should take. "When visiting these hot springs, it's essential to check their current operating status, accessibility, and any age restrictions or special accommodations for seniors, as policies may change over time. Additionally, some may require reservations, so it's a good idea to plan ahead. Always follow any posted rules and guidelines to ensure a safe and enjoyable experience."
Soaking it Up in California
California's senior-friendly hot springs offer comfort, relaxation, and mineral-rich waters. From Napa to Apple Valley, these restorative springs provide wellness atmospheres that soothe sore joints and muscles. However, before stepping into a hot spring, seniors should educate themselves on the risks associated with prolonged immersion in high-temperature water and bacteria.
The photo featured at the top of this post is © CSNafzger/Shutterstock.com
---