Maine is the largest state in New England and its size takes up nearly half of the region. And since the state has the lowest population density out of the whole area, it has a lot of trees, with about 90% of its land covered in forests, and few people. This makes leaf peeping in Maine an excellent fall activity!
The first couple of weeks of October often sees the peak of the foliage, which moves from north to south. Maine provides visitors a distinct something in the form of the striking contrast of cliffs, ocean, and foliage, even though Vermont and New Hampshire pull more visitors from New York and Boston.
Additionally, lobster is most prevalent in the fall. Maine is frequently at its finest in the fall, with thousands of miles of beautiful, empty roads, over 12 million acres of woodland, dozens of gastronomic and cultural festivals, and other outdoor activities. Whether you wish to watch the leaves turn by a peaceful pond, a seaside village, or the unspoiled mountains of the state's magnificent woods, there is an escape for everyone. 
Outdoor outfitters all around Maine offer various opportunities to engage with nature, and many state and national parks offer organized excursions designed with foliage hunters in mind. Oh, and whatever you do with the rest of the day, there will be steamed shrimp and chilled beer waiting for you.
Here are the best spots for leaf peeping in Maine!
Acadia National Park
Acadia National Park is undoubtedly beautiful all year round, but in autumn, when the leaves are turning orange, yellow, and red, is when it really shines. In general, the Bar Harbor area is ideal for a quick fall foliage stroll. The region, which sits on Maine's central coast, is renowned for its spectacular vistas of the changing hues of the autumn leaves as they dance across the mountains and are reflected in lakes and ports. 
A fantastic time to visit the national park is during the fall because there are fewer visitors than during the hotter summer months. Get the most out of Maine's fall beauty by going on a hike and setting up a tent under the stars.
Rangeley Lakes Scenic Byway
One of the best spots in the Northeast to see fall color is Rangley Lakes Scenic Byway, where New England's natural splendor comes to life. Here, you may enjoy the lush mountain scenery as well as the breathtaking views of the sizable Rangeley Lake. A land of expansive natural beauty, it offers a fantastic setting for your travels and endless chances to take part in outdoor pursuits including biking, hiking, canoeing, kayaking, birding, and moose spotting. 
Explore all 52 of this byway's incredibly scenic miles, stopping along the way to admire Rangeley's charming wooden buildings, visit the modest but charming Outdoor Heritage Museum, and have a meal by Rangeley Lake.
The Height of Land viewpoint, which offers one of the most stunning vistas in all of New England, is the place to go for classic Maine leaf panoramas. There are mountain peaks on the horizon, a blanket of leaves in the front, and the lake's azure window in the background. You must absolutely visit this area for leaf peeping in Maine because it is amazing here.
Baxter State Park
The must-visit location on your autumn foliage tour is Baxter State Park, which is situated in northern Maine close to the town of Millinocket. The park's over 200,000 acres of forested and mountainous terrain surround you on all sides with brilliant reds, oranges, and yellows. The greatest views are at higher elevations, so visit the park and embark on one of the many treks there. 
Throughout the day, walk the park's trails to see waterfalls and streams, rivers, and Instagram-worthy views of all the vibrant hues. Set up camp at the South Branch Pond Campground to awaken immersed in the fall foliage. Learn everything there is to know about Maine's pet-friendly policies. The trails are also great for bringing pets on.
Katahdin Woods and Waters National Scenic Byway
If you have to pick just one site in Maine to see the leaves change color, make it Katahdin Woods and Waters National Scenic Byway. The highest peaks, most breathtaking vistas, and unending woods are all accessible throughout this 89-mile span. Your heart begins to race as you gaze upon Katahdin, the tallest mountain in Maine, towering spectacularly above this enchanted setting. 
This region is most vibrant in the fall when the forests burst with orange, yellow, and brown hues. Due to the area's extensive forestation, you can enjoy some of the most spectacular foliage in the entire United States here. Additionally, because it is a huge and natural area, there are many outdoor activities available, giving you a wide range of options.
Katahdin Woods and Waters is there to deliver the best outdoor experience for leaf peeping in Maine, whether it's just gazing at the leaves from the window of your car, going on forest hikes, going on a moose expedition, camping in the wilderness, or rafting in the raging streams.
Fort Kent
Go way up north to Fort Kent, a logging and fishing community in the state of Maine. You may be sure that Fort Kent has some magnificent fall colors thanks to the 3.5 million acres of undeveloped area in the North Maine Woods. The town is surrounded by vast forests, rivers, and canals, and a sweeping landscape ready to astound you. 
Experience one of the many outdoor adventures on hand while you're in town, such as hiking, kayaking, or canoeing. Once the weather turns cooler, Fort Kent also hosts winter dog sled races.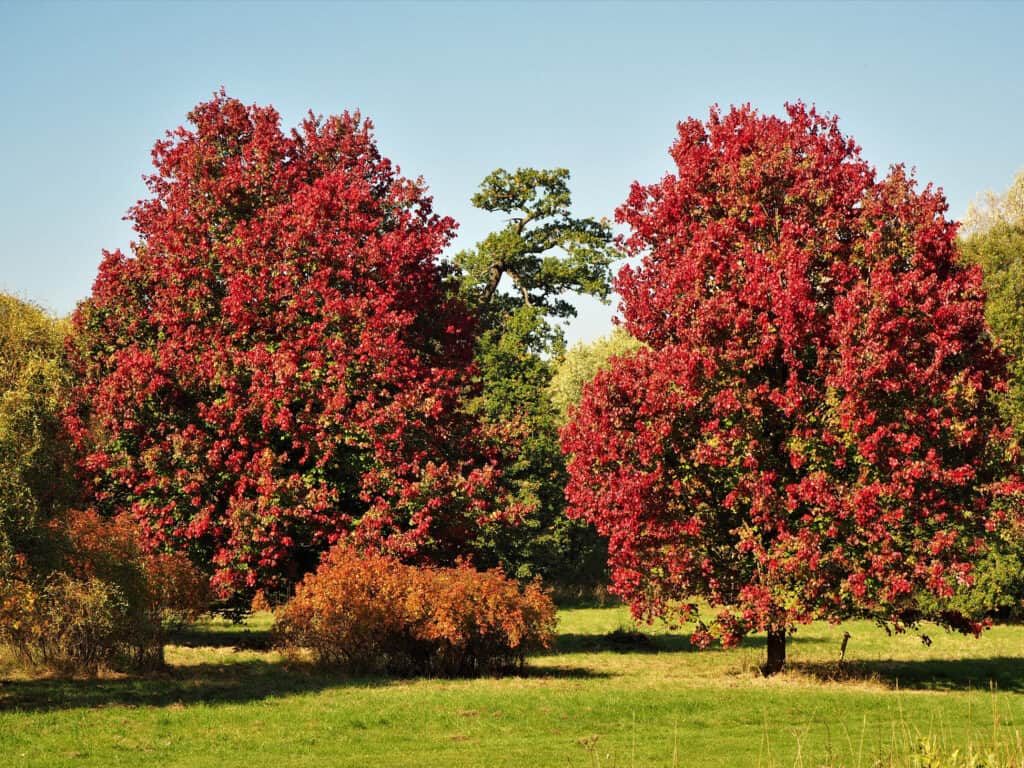 Honorable Mention: Grafton Notch State Park
If you like to walk a lot while enjoying the fall colors in Maine, Grafton Notch State Park might be for you. It's wild, large, and very magnificent, with woods, mountains, waterfalls, and spectacular animals. It's close to the border of New Hampshire. This area is the ideal setting for spending time alone with the amazing natural world, and a stunning spot for leaf peeping in Maine.
You truly don't want to miss the beautiful scenery; therefore it makes sense that the changing of the leaves' colors takes place here first during autumn. It's heaven for backcountry hikers, with difficult trails and secluded, undeveloped views. There is a Grafton Notch Scenic Byway that makes it simple to observe the area's breathtaking views while saving energy if you're not in the mood for long hikes.
Traveling Through Maine in Autumn
The leaves start changing in northern Maine, before progressing to the south of the state. Typically, the last week of September through the first week of October sees peak conditions in northern Maine. Indigenous Peoples' Day week/weekend finds leaves peaking in the central and western mountains of Maine at or near their highest elevation. Mid-to-late October is often when coastal and southern Maine experiences peak or almost peak conditions.
The already lovely Maine countryside is painted with a blast of vivid fall colors. Bright red maples, yellow elms, spectacular orange oaks, and stunning gold birch leaves are used to embellish the Pine Tree state. The waters along the coast offer a sharp contrast with their deep, dark blue color. 
Hillsides in the mountains and lakes of Maine sparkle with fiery October hues among the evergreens. A beautiful reflection of the vegetation often appears in the calm, blue waters. You'll want to take pictures of the hues to frame as a memento for yourself or to share on social media with your friends back home.
Don't forget to dress warm, pack a camera, and plan for a hike. Find out how enjoyable it is to ride a bike down an ancient dirt road while the crisp fall leaves crunch beneath your tires. It's enjoyable and reviving!
Lastly, fall is a great time to go on a schooner or sailboat cruise since it's beautiful to watch the colorful leaves on the shore while sailing a boat propelled by the wind. You should have a very nice haul or reach since the wind tends to kick up in the fall as well.
Up Next
More from A-Z Animals
---
The Featured Image
---