Arizona, known for its arid desert landscapes, may not be the first place that comes to mind when you think of swimming. However, this southwestern state is home to a surprising array of water bodies that provide ideal swimming opportunities. Arizona offers diverse options for water enthusiasts seeking to escape the heat, from tranquil lakes to meandering rivers and hidden swimming holes. In this comprehensive blog post, we will explore the best swimming spots in Arizona, highlighting the ideal seasons for swimming, the most popular locations, and the unique features that make each spot a must-visit destination.
The best season for swimming in Arizona is typically from late spring to early fall when temperatures soar and the days are long and sunny. During this time, the average high temperatures range from the high 70s to mid-90s Fahrenheit (25-35°C), creating the perfect conditions for enjoying the water. The water temperatures in lakes, rivers, and swimming holes remain refreshingly cool and provide a welcome respite from the desert heat.
Let's break down the most popular swimming areas between swimming holes, lakes, rivers, and beaches.
Swimming Holes
Swimming in Arizona provides plenty of opportunities to swim in natural swimming holes that are spread out throughout the state. These scenic locations offer a unique and immersive swimming experience in a pristine natural environment.
Fossil Creek
Fossil Creek is undoubtedly one of the best swimming spots in Arizona. This hidden gem offers a serene and picturesque swimming experience with crystal-clear, turquoise waters. Surrounded by a lush riparian habitat in the Coconino National Forest, Fossil Creek provides a refreshing escape from the desert heat. The creek's water temperature remains cool year-round, making it an ideal spot for swimming, snorkeling, and simply enjoying the beauty of nature.
Slide Rock State Park
Slide Rock State Park is famous for its natural water slide formed by slippery red rock formations along Oak Creek. Visitors can slide down the smooth rocks, plunging into the cool waters below. Aside from the exhilarating sliding experience, the park also offers designated swimming areas along the creek, where visitors can relax and soak in the natural beauty of the surrounding canyon walls.
West Clear Creek
Near Camp Verde, West Clear Creek is a hidden paradise for swimming enthusiasts. Accessible via a moderate hike, this pristine swimming hole rewards adventurers with its clear waters, scenic cliffs, and peaceful ambiance. The canyon walls provide shade during the hot summer, making it a popular spot for cooling off and enjoying the tranquil surroundings.
Wet Beaver Creek
Near Sedona, Wet Beaver Creek is an excellent spot for swimming under the Arizona sun. Its crystal clear waters are fed by natural springs, giving swimmers an incredible way to explore the wildlife that inhabits this tranquil retreat. Perfect for those who want to make a day out of it, Wet Beaver Creek offers plenty of spots to picnic and relax between dips in the shallows.
Havasu Falls
Located in the Havasupai Indian Reservation, this paradise has an oasis of waterfalls and blue-green waters. The falls are cascades that empty into stunning turquoise pools surrounded by limestone walls. While it's more challenging to access than other locations on our list, the incredible beauty of this spot is well worth the journey.
Lakes
Arizona features several stunning lakes, each with its unique characteristics. Some offer calm waters perfect for kayaking and fishing, while others feature breathtakingly beautiful views.
Lake Powell
Lake Powell is a large reservoir located on the Colorado River that spans between Arizona and Utah. It boasts stunning red rock formations and clear blue waters, making it an excellent location for swimming. The shoreline is dotted with sandy beaches like Lone Rock Beach and Wahweap Swim Beach, which offer perfect spots to swim, picnic, and soak up the sun.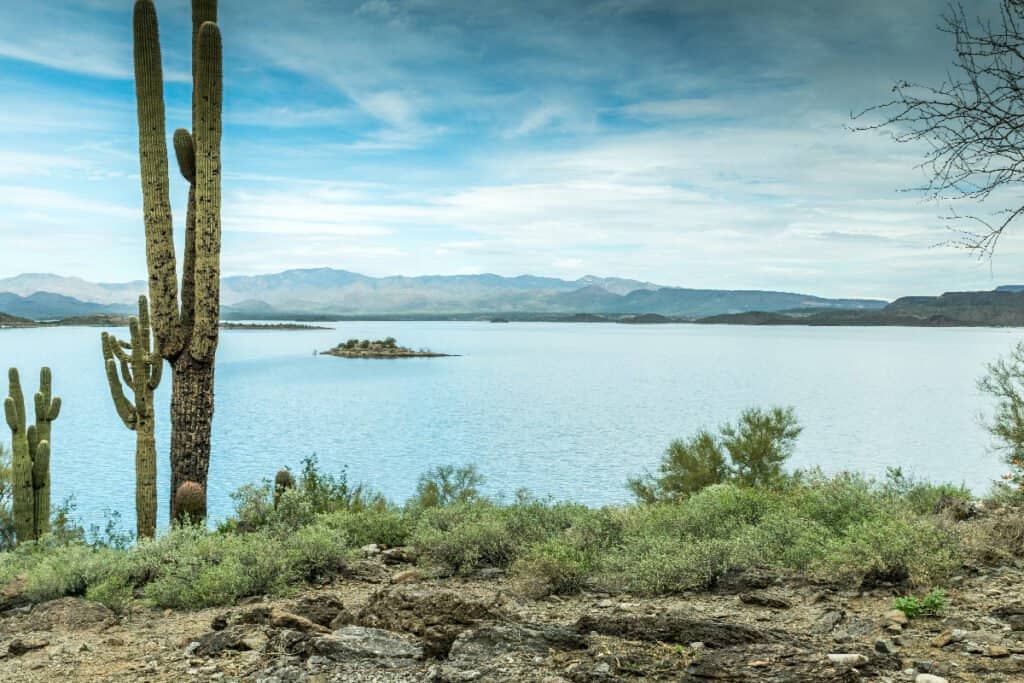 Lake Pleasant
Located in the northwest of Phoenix, Lake Pleasant is a vast lake providing fishing, boating, kayaking, and hiking opportunities. Besides, nearby hiking trails are ideal for land adventures. Don't forget to witness the breathtaking sunsets here!
Saguaro Lake
In the Tonto National Forest, Saguaro Lake offers a scenic retreat for swimming and water-based activities. Stunning desert landscapes and iconic saguaro cacti surround the lake's clear waters. Visitors can swim near the lakeshore or rent a boat or kayak to explore the lake's hidden coves and pristine swimming spots.
Rivers for Swimming and Floating
Arizona has some scenic rivers offering plenty of swimming and floating opportunities. From winding canyons to rapid-filled rapids, you can explore the state's unique river systems while cooling off in its refreshing waters.
Salt River
The Lower Salt River, flowing near Mesa and Phoenix, is a popular destination for swimming and floating. Tubing down the river is a beloved pastime, providing a leisurely and refreshing way to beat the summer heat. Several access points along the river, such as Water Users Recreation Site and Phon D. Sutton Recreation Site, offer opportunities for swimming, picnicking, and enjoying the scenic beauty of the surrounding Sonoran Desert.
Verde River
The Verde River, one of Arizona's last free-flowing rivers, meanders through a scenic and ecologically diverse landscape. It provides a tranquil setting for swimming and floating. Beasley Flat, near Camp Verde, is a popular access point where visitors can swim and enjoy the river's gentle currents. Further downstream, near Clarkdale, the Verde River's calm waters invite visitors to relax, soak in the surroundings, and take a refreshing dip.
Beaches
Arizona has many stunning beach options, including secluded coves, sun-drenched sandy stretches, and open desert landscapes.
Tempe Town Lake
Tempe Town Lake is a place in Tempe where you can enjoy a beach day. You can swim in the lake, rent kayaks or paddleboards, or hang out on the sandy beach. This lake is perfect because it is near downtown Tempe, so you can go shopping, dine, or get entertained right after a fun day at the beach.
Watson Lake
Watson Lake, located in Prescott, provides a scenic beach-like experience surrounded by rugged granite boulders. The lake's clear waters and sandy beaches make it an ideal spot for swimming and sunbathing. Visitors can also explore the lake by renting a kayak or paddleboard, enjoying the picturesque views and tranquil atmosphere.
Bartlett Lake
Bartlett Lake, found in the Tonto National Forest, has sandy shores and specific areas where swimming is allowed. The lake's distant location creates a peaceful atmosphere for those who want to swim and experience the water. Bartlett Lake is a secret beach paradise for enthusiasts because of the impressive desert views and the chance to go boating and fishing.
Can You Go Fishing in Any of the Lakes or Rivers in Arizona?
Yes, fishing is allowed in all of Arizona's lakes and rivers. The state has a variety of fishing opportunities, from small streams to large reservoirs, which provide anglers with some of the best trout, bass, catfish, sunfish, and crappie fishing around. In addition, plenty of public access points throughout the state provide access to great fishing spots. Some multiple public lands and forests offer plenty of opportunities for anglers to enjoy their favorite sport. Whether you're looking for a peaceful afternoon or an exciting adventure, Arizona offers something for everyone regarding fishing.
Some popular fishing spots are:
Saguaro Lake
This lake is a popular spot for bass and other species. It also has a boat launch ramp and campgrounds that offer plenty of amenities.
Patagonia Lake
If you enjoy trout, Patagonia Lake offers many opportunities to catch this fish. It is also home to various bird species, making it an ideal destination for nature lovers.
Apache Lake
This lake has some of the best fishing opportunities for bass and other warm-water species. It has two boat ramps and plenty of camping spots available.
Roosevelt Lake
This lake is located in the Tonto National Forest and is one of the largest reservoirs in Arizona. It offers a variety of recreational activities, including fishing, boating, camping, and hiking.
Apache Trout Wilderness
This wilderness area sits on the Mogollon Rim and provides excellent opportunities for catching trout. The area has several lakes, streams, and a variety of wildlife.
Summary of the Best Swimming Spots in Arizona
Here are the Best Swimming Spots in Arizona:
| Rank | Best Swimming Spots |
| --- | --- |
| 1 | Fossil Creek |
| 2 | Slide Rock State Park |
| 3 | West Clear Creek |
| 4 | Wet Beaver Creek  |
| 5 | Havasu Falls |
| 6 | Lake Powell  |
| 7 | Lake Pleasant  |
| 8 | Saguaro Lake  |
| 9 | Salt River |
| 10 | Verde River  |
| 11 | Tempe Town Lake  |
| 12 | Watson Lake |
| 13 | Bartlett Lake |
Conclusion
Arizona is a state full of beauty and outdoor recreation. With its diverse geography, Arizona offers plenty of opportunities to explore the outdoors, including scenic beaches and lakes. Arizona has it all if you're looking for a remote lake with sandy shores or a beach with breathtaking views. With its stunning landscapes and endless outdoor activities, Arizona is a great place to enjoy some time in nature. So grab your beach towel and head to one of Arizona's many spectacular beaches or lakes. You won't regret it!
---
The Featured Image
---